Some links on this page are monetized by affiliate programs - see disclosure for details.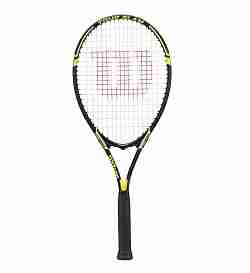 On a beautiful spring or summer day, sitting inside of a gym just isn't that fun. Taking your fitness routine outdoors is a breath of fresh air, letting you stay in shape while enjoying the beautiful weather outside. In fact, many people participate in sports for the fun and health benefits, and tennis is no exception. Whether you're aspiring to play Wimbledon and the French Open, or just want to rally for fun, a rousing game of tennis can provide you with an excellent workout, and it can be a lot of fun. All you need is a good tennis racquet and a ball (and yes, someone to play with on the other side of the net).
If you are serious about the sport, you can even play in a recreational league for a bit of friendly competition. Whether you're competing or just hitting a ball around for fun, you can't play tennis without a high-quality tennis racquet.
The Top Rated Tennis Racquets of 2021

Selecting the Best Tennis Racquet: An Introduction
A tennis racquet is a piece of equipment that is used for practicing or playing a game of tennis. It is similar to a baseball bat in the sport of baseball in that you use it to strike a ball. Similar to, but different from racquetball racquets, tennis racquets have long handles that fit comfortably in your hand, and a round or ovular head that has criss-crossing strings.
These nylon strings are designed to strike the tennis ball when it comes to your side of the court, giving it just the right amount of speed and bounce to make the game more fun.
What Are the Different Types of Tennis Racquets?
Like other types of sports equipment, there are different types of racquets to choose from. You'll want to pick a racquet mostly based on your skill level and what you hope to achieve with your shot. When selecting a new racquet, you have three different types available to you.
Power racquets
These are designed to provide you with more power with less effort, which is perfect for beginners who are working on their power shots. These have oversized heads, a stiff construction, and a light frame that's easy to maneuver.
Control racquets
If you want a more accurate shot, this is the best choice for you. If you have a powerful shot and just want to have more control over your racquet, this is the type you need to choose. These models are characterized by a smaller head, a shorter length, and a more flexible frame.
Tweeners
This is the common term for racquets that are "in-between." These offer the best of both worlds, giving you a bit more power balanced with slightly better control. It have a mid-size weight, length, and head size.
Can You Use Other Racquets for Tennis?
The short answer is no. You can't practice your serve or engage in a game of tennis without a racquet. This, along with tennis balls, are all you need to play the sport. No other types of equipment, including racquets for other sports, are appropriate for the game. While other racquets may seem to be the same, they can break or not give you an accurate and powerful shot when used with heavier tennis balls. In other words: you'll want to use a good tennis racquet whether than trying to make the game work with a paddle or squash racquet or a makeshift device.
Whether you're just getting started with the sport or you've been playing for years, a great tennis racquet is essential to the quality of your game.
How Can You Make Your Tennis Racquet Last Longer?
Tennis racquets need some professional maintenance in the form of restringing if you use them frequently. Restringing and string tightening are fairly cheap, but it requires professional equipment, so don't attempt to do maintenance on your own.
If you play tennis for roughly an hour per week, you should expect to get professional restringing or string tightening at least once per year to ensure that your racquet is hitting balls with the correct force.
When your racquet strings become loose, it can cause additional stress on the frame of your racquet closest to the point of the looseness. While this is unlikely to make the racquet break, it can lead to warping of the frame if you don't fix the problem and keep playing for a long period.
Top 3 Best Tennis Racket Contenders for 2021
As a beginner, you want a quality racquet for your game, but you don't want to spend a lot of money just yet because you have to get used to holding a racquet and perfecting your shot. Once you figure out your own strengths and weaknesses, you can invest in a more high-end racquet, but in the meantime, this entry-level model is the right price and packs a lot of great features. You can choose from four different grip sizes and two different colors when you decide to purchase this one. It has power strings, less shock, and performs very well for a racquet at such a low price point.
Once you've gotten a few games under your belt, your beginner's racquet may not be doing the job anymore. While skill and talent have a lot to do with how well you perform at practices and in competitions, having the right equipment can easily give you an advantage over your competition. When you're ready to upgrade, this racquet has what you're looking for. You can choose from six different grip sizes for the perfect fit, a durable and high-performing titanium and graphite design, and even weight for the perfect balance during your most intense games.
Once you've reached the top tier of competition, just any old racquet won't do the job anymore. This is when it's time to invest in a top-of-the-line piece of equipment that gives you the power you need to clobber the competition. This racquet is easy to control, has excellent maneuverability, comes with your choice of five different grips, and gives you the right amount of balance for the perfect swing every time.
What Makes a Good Tennis Racquet?
Now that you're becoming more familiar with the types of racquets available on the market, it's time to make your purchase. But before you drop a lot of money on just any old racquet, you want to make sure that you're armed with the knowledge you need to make a smart purchase. You don't have to engage in hours of extensive research to find the best tennis racquet that suits your needs. Instead, keep these few things at the forefront of your mind to ensure you make the best purchasing decision.
Price
Price should always be a consideration but it should never be the only consideration. Sure, the less expensive racquet may be appealing, but it can cost much more if it breaks easily and needs to be replaced. You should purchase a racquet that is the proper size, weight, and offers high performance.
Weight
A racquet that is too heavy can be difficult for you to swing and lead to early fatigue in your game, while one that is too lightweight can alter your control. Look for one that feels comfortable in your hands without being too light. The best tennis racquets should feel easy to swing, without feeling like you're losing control.
Head size
If you're new to this sport, you'll want to choose a larger head size (a.k.a. the hitting surface). If you're an experienced player and you want more control, a smaller head is exactly what you need to hit your best shot.
Length
A shorter racquet is easier to control but a longer one provides you with a more powerful shot if you don't yet have the power needed to lob the ball at your opponent. A shorter racquet is also usually great for a kids tennis racquet, since their hands are smaller. Still, many adults use shorter tennis racquets too. Choose one that feels most comfortable to you.
The Best Tennis Racquet Brands, Compared
Here's how our picks for top tennis racquets break down by feature and function.
Price
Wilson Tour Slam
This is a great entry-level racquet for adults that does not cost an arm and a leg.
Head Ti.S6
This is a mid-priced racquet that will only set you back a bit more than the Wilson model.
Babolat Pure Drive 2021
The most expensive in the group. But if you're serious about your game, invest in this racquet.
Weight
Wilson Tour Slam
The 11.5 ounce weight is ideal for most players.
Head Ti.S6
You'll get full control with this lightweight racquet that weighs in at just eight ounces.
Babolat Pure Drive 2021
This unit weights just 11.3 ounces when strung.
Head size
Wilson Tour Slam
The head on this model is 110 inches, which is oversized and just right for beginners who are learning to hit the ball.
Head Ti.S6
You get 115 square inches of space, which provides you with the perfect amount to lob the ball back to your opponent.
Babolat Pure Drive 2021
The smaller head makes it easy to control, providing you with 100 square inches in which to hit the ball.
Length
Wilson Tour Slam
The total length of this is 27.25 inches.
Head Ti.S6
This racquet measures in at 27.75 inches.
Babolat Pure Drive 2021
This is the shortest of the three at just 27 inches.
What is Our Top Pick for Best Tennis Racquet 2021?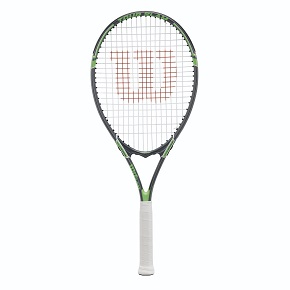 As a newbie to the court, you want a racquet that is easy to control, not too heavy, and has the right head size to get you accustomed to hitting the ball. This model from Wilson, a world leader in tennis equipment, is just right for men or women. It has a lot of features you'll find on high-end professional racquets, but it's available at a fraction of the price.
This racquet has power strings that let you hit the ball with more power, volcanic frame technology, and stop shock pads to reduce the shock upon impact. It is lightweight, so it's easy to control as you learn the sport, and it has an oversized head and longer length that make it easy to learn and improve your game. You can have your choice from Black/Green and Black/Yellow, as well as grip sizes in 4 ½, 4 ¼, and 4 3/8 grip sizes.
Pros:
Very affordable
Perfect for beginners
Fairly lightweight
Easy to swing
It comes with multiple grip sizes
It can be used by men or women
Larger sweet spot than smaller racquets
Great for casual use and beginners
Well-balanced and easy to maneuver
Cons:
The head may be too heavy for some players
The strings break quite easily during intense games
It is not a good choice for more advanced players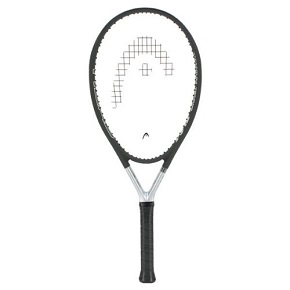 If you've passed the point of being a beginner and you want to upgrade your racquet, you won't go wrong with this one, which boasts a low price tag and great performance. It is weighted very evenly throughout, so it's a good choice for those who have a slower swing. The head isn't overly heavy, so it's easy to swing and maneuver. It is lightweight, and while it's ideal for intermediate players, it's also superb for those who want to learn as well.
You can choose from several different grip sizes to get the right fit, including 4 ½, 4 ¼, 4 1/8, 4 3/8, and 4 5/8. Other notable features of this model include a large sweet spot, an oversize head, great vibration control, and flexibility, making it a superior choice for practices or competitive games. It is available in a neutral black and silver color combo.
Pros:
Affordable
Well-balanced so it's very easy to control
It is perfect for beginner to intermediate use
Reduced vibration when compared to cheaper models
It is very easy to break in and get used to using
Provides plenty of extra power to increase the quality of your game
It can be used by men and women of all ages
It is lightweight, so it's easy to use and it can reduce your number of injuries caused by using a heavier racquet
Cons:
The strings are a bit weak
The shock absorber is fragile
Frame may crack over time with intensive use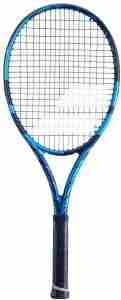 Take control of the ball and your game with this great racquet, which has all of the features you're looking for in a top-quality piece of equipment. This model utilizes Advanced Cortex Technology which provides you with a smoother stroke and more comfortable swing. It provides you with extra power you need to really push your game to the next level.
It is well-strung, so you can easily ping the ball right off of your racquet. This unit has a lightweight design that makes it easy to control during your most intense games. It comes in your choice of grip size so that you can always have full control.
Pros:
It is well-balanced for the most advanced player
Provides you with more power to increase your game
Easy to control
Smooth and easy to swing
Just the right weight for most intermediate to advanced players
It has a smaller head for better control
Comes with a cover for protection when not in use
Cons:
Expensive
Needs a vibration damper, sold separately
Conclusion
You just can't play a rousing game of tennis or even hit around a few balls at the local tennis court without a great racquet. Make sure that when you make your purchase, you buy one that is tailored to your skill level, isn't too long or heavy, and perfectly fits your grip to not only help you play better but to help you avoid injuring yourself while having fun or competing. If you're ready to upgrade your old racquet to something new that will help you play at your best, the Babolat Pure Drive 2021. Even though it is a bit on the expensive side, its overall performance will help you take your tennis game to the next level.