Some links on this page are monetized by affiliate programs - see disclosure for details.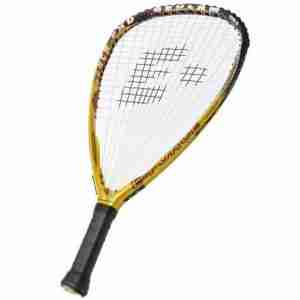 When you participate in sports, you have to have the right gear before you hit the field. From running shoes for a marathon to a stick for hockey or lacrosse, coming to the rink, court, field, or track unprepared will leave you sitting on the sidelines.
Racquetball is a sport that doesn't require a lot of fancy gear, but you do need a court to play on, a ball to hit back and forth, and of course, a racquet which is used to lob the ball back to your opponent.
The Top Rated Racquets of 2019

Introduction to Racquetball Racquets
Racquetball is a game that is very similar to tennis, but it also has many differences that makes it unique. While some tennis matches are planned indoors, all racquetball games are played in smaller rooms with four walls that are also used to play handball. This game uses a hard ball that is hit back and forth using a racquet that is similar to those used for tennis, but has a shorter handle.
What are the Advantages of Having a Quality Racquet?
If you play this type of sport, you have to have a high quality racquet. Without one, you will not be able to practice, play a friendly match, or compete in a game or tournament. Using other types of racquets simply will not work. For example, you cannot substitute a tennis racquet because these have loner handles and do not give you enough control to hit the ball in this game.
Whether you're new to the game or you've competed for years, you can't play without the right equipment.
What are the Different Types?
The primary way that racquetball racquets are categorized is by their weight. Although they come in different colors, have different grip sizes, and are made by different manufacturers, weight is one of the most important things to evaluate when choosing your new racquet. There are three main types of weights.
Light – These racquets measure between 150 and 165 grams. They are best used by those who have a fast swing, and they're also a great choice for beginners.
Medium – 170 to 185 grams is what classifies a product as medium weight. These balance control and power, and they are the most common type sold.
Heavy – Heavy racquets in at over 185 grams, and they are most often used by professional and very experienced players.
Pay Attention To The Grip When You Buy A Racquetball Racquet
You're going to be using your grip every time you hit the court, which means that grip comfort is very high on your list of priorities when picking a racquet. Remember that not all racquets are intended for extended use.
Some racquets will have rubberized or synthetic materials on the grips which appear to have additional padding. This may make them seem like they would be more comfortable, but resist this thought.
The additional padding on the grip will make your hand sweat and therefore make you more prone to blisters and also accidentally dropping your racquet.
While it may be counterintuitive, the racquets which will be the most comfortable during a long play session are the ones with only very minimal padding or none whatsoever.
Which Models are the Best on the Market in 2019?
Head Liquid Metal – Available in weights of 170 grams, 180 grams, and 190 grams, this Head racquet is sure to have a size that fits your style and game. With a 106 sq. inch head, it provides you with plenty of room to connect with the ball with power.
Head i.165 – Put some more power into your shot without spending a fortune with this model from Head, which has a design that is made to reduce bending for an increased response and extra power to add the edge to your game that you've been looking for.
Ektelon O3 SS – If you're serious about your game, you need a serious racquet, and this one packs all of the features you want to beat your competition. This is a racquet that has a great balance of control and power and a larger sweet spot, so you'll be playing like you never have before every time you pick up this model.
Features to Think About when Choosing the Best Racquetball Racquet
If you hate the racquet you pick out, you may not want to play or your game may suffer. Instead of getting stuck with a model that doesn't work for you, it's important to do a bit of research to find one that best fits your needs. If you've played the game before, you may have your own list of criteria. If you're new to the sport, get started by looking for these four important features in every product you consider purchasing.
Price
If you've ever shopped for this type of equipment before, you know that there are a wide range of prices out there, and it's important to note that generally, you get what you pay for. If you're new to the game, you can easily find a racquet for well under $100. However, if you want a higher quality piece of equipment for your most important matches, you may spend several hundred dollars. If you're a serious player, never sacrifice quality just because of pricing. Instead, make sure you get a racquet that's the perfect match for you.
Weight
As mentioned, there are three different weight classes for this type of equipment. If you're new to the game, you want a light racquet. If you want a nice balance and you've been played a few times, a medium weight model will work best for you. Experienced players may find that they have more success with a heavier weight.
Length
The length of your racquet is important because if it's too small or too large, you won't be able to be fully in control. If you've played before with racquets that you like, you can purchase the same size. If you've never played, look for a longer model that has a larger head.
Composition
The composition, or what the racquet is made of, is important for a number of reasons, but mainly, it determines the quality of your racquet. Graphite and composites are generally more expensive, but they are also made to last through game after game.
Price
Head Liquid Metal
This Head Liquid Metal is expensive, but fairly affordable for a racquet of its ilk.
Head i.165
This model is priced in the mid-range when compared to other products in this category.
Ektelon O3 SS
This is one of the more high-end racquets designed for the more serious player.
Weight
Head Liquid Metal
This racquet is available in weights of 170, 180, and 190 grams.
Head i.165
This is a light racquet that weighs just 165 grams.
Ektelon O3 SS
At 170 grams, this is a standard-weighted racquet.
Length
Head Liquid Metal
The 22-inch length is a good choice for players of all skill levels.
Head i.165
This has a 22-inch length, so it is ideal for players that are new to the game.
Ektelon O3 SS
This one measures in at 22 inches.
Composition
Head Liquid Metal
Made out of a combination of titanium and graphite, this Head racquet is both lightweight and durable.
Head i.165
This is a composite model made of titanium and graphite.
Ektelon O3 SS
This product is made with graphite, which is the most durable material for this type of equipment.
Our Final Racquet Reviews
Racquetball racquets are available in all different price ranges. If you're looking for an affo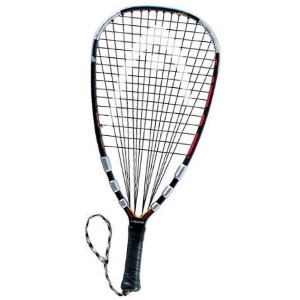 rdable, but high-level racquet, you might consider this model by Head. Made out of titanium and graphite, it is both lightweight and highly durable. With a rather large 106 sq. inch head, it can easily connect with any ball in its general vicinity.

Pros:
It's appropriate for players of all skill levels
Both lightweight and durable
Has an oversized sweet spot
Cons:
Doesn't come with a cover
Once you're ready to upgrade your cheap, beginner racquet, you might not be ready for the professional ones just yet – and neither is your wallet. Instead, you can upgrade to this model from Head, which is more solid than the cheapest racquets but is very affordable and is good enough for beginner and intermediate players.
This has a lightweight design and is made with a composite of titanium and graphite. The ComforTac grip keeps your hand in place during the most intense games, and this model is designed to help you improve your game. This is primarily because bending is reduced at impact, allowing you to hit the ball with more force. It comes pre-strung and ready to use, and it's an overall great value for the price.
Pros:
It is affordable
Feels very durable and well-made
Has a solid feel when making contact with the ball
The weight allows for a full swing and follow-through
Cons:
The grip may fall apart quickly with heavy use
The head is a little too light for very powerful hits
Once you've become serious about this sport, you'll fully understand the type of racquet that you need, and the cheap ones made for beginners just won't make the cut. If you are a regular player of this sport, you'll want to invest in quality, and you'll find that and more in this model from Ektelon, beginning with the durable graphite frame.
This has a lightweight design that allows you to really put power into your shot. You can really return the ball with force without straining your arm like with heavier products. More advanced players will be able to have more control over the ball while maintaining that powerful shot that is necessary to win. It has a good swing, it has a big sweet spot, and it can help add noticeable improvement to serious players. For those reasons, this is our winner for the best racquetball racquet overall.
Pros:
It is very durable
Multiple grip sizes for ultimate comfort
It's very lightweight
It has a large sweet spot
Easy to swing
It has a solid, tacky grip
Despite its lighter weight, it still has the potential to pack a lot of power
Cons:
The tacky grip may take some getting used to
It is quite expensive but a worthy investment for those who take their game seriously
Closing Thoughts
You can't show up at the racquetball court without being properly prepared, and the most important thing you can bring to the game is a high-quality racquet. Without a good racquet, you won't be able to show off your skills, and you may have difficulty with control and scoring against your opponent. If you're an experienced player, you'll want to bring a competitive racquet, and you can't go wrong with the Ektelon O3 SS. This product is very lightweight, easy to swing, has a large sweet spot, and can dramatically improve your game when used properly. Even though it is a bit expensive, it's certainly a good investment if you want to gain an edge on your opponents while out on the court.