Some links on this page are monetized by affiliate programs - see disclosure for details.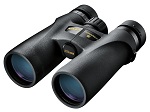 With so many types of binoculars available on today's optic market, it can be difficult for a buyer to make an informed choice on what to purchase. Especially if you're unsure on what type of binoculars you even want. Do you settle for the cheaper, but heavier pair that promises more focus power? Or do you spring for the pricier option that comes in lightweight packaging and promises improved image clarity?
This all depends on what you want to use your binoculars for. We hope that this handy comparison guide can help you make an informed decision on what to purchase for your needs.
What are the different types?
Most binoculars fall into one of three classes: compact, standard or high-powered specialty binoculars. Each of these classes is made distinct by a multitude of factors, including weight, level of magnification, objective lens diameter and ease of use.
Some classes may share traits like level of magnification or lens diameter, but ultimately be used for different hobbies due to other features like focusing add-ons or the ability to be mounted onto a tripod.
See Also: This Year's Guide to The Most Awesome Rifle Scope
What are the advantages of having a good pair?
Compact binoculars generally sacrifice premium quality for size and weight. They may not boast the higher levels of focus or image quality that their larger brethren have, but some pricy options attempt to pack high quality into the smaller casings. A number of compact binoculars fit comfortably into a pants pocket or daypack. These portable binoculars are good for a day at the racetrack, a night at the theater, or even a family outing to the park.
Standard binoculars are designed for more advanced purposes and are made to be longer lasting under more intense conditions. These binoculars are more durable, but can be weighty if one looks towards the lower end of the quality spectrum. Standard binoculars are frequently the go-to choice for any outdoorsman or birdwatcher and good options expertly balance a wide Field of View with steady focusing capabilities. High-powered specialty binoculars fall into the highest price range. These binoculars feature high levels of stabilization and may include computerized focusing or thermal imaging. At this price range, law enforcement, military, or enthusiast astronomers primarily use these options.
Read: The Hiker's Guide to the Best Hiking Backpack
Which products are contenders for best binoculars?
Nikon 8248 ACULON A211 10×50: These binoculars are cheap and heavy, but feature multicoated aspherical lenses designed for clearer viewing and BaK4 prisms built for delivering high-resolution images throughout all lighting conditions.
Vanguard Endeavor 10x42mm Binoculars w/ ED Glass: These stylish optics are fog/waterproof and feature ED (Extra-Low Dispersion) glass along with BaK4 phase-coated prisms and fully multi-coated lenses. A locking diopter ring helps to ensure your eyes remain focused without fear of accidental jostling.
Nikon 7576 MONARCH5 8 x 42mm: These glasses also feature premium ED-glass along with Dielectric High-Reflective Multilayer Prism Coatings for crisp and bright images. The Monarch5 also comes with a number of improvements designed for ease-of-use, including turn-and-slide rubber eyepieces for custom-fit comfort for every user.
Things to Consider
Certain points must be taken into consideration when buying any pair of binoculars, regardless of their intended use. While we consider points like price and durability important when considering the best binocular options, we consider those to be points generally good for any product that we buy. So, taking into special consideration what binoculars are used for and how effective they manage to be, these are the major points that we consider the most important when choosing the best pair.
Weight
The weight and size of a pair of binoculars are crucial to the person holding the optics. Imagine having to hold steady a five-pound weight as you attempt to focus on a bird sitting in a faraway pine stand. Lighter binoculars are easier to keep steady and more comfortable to hold for longer periods of time, ensuring that you'll get the most out of your optics. Heavier binoculars may also be a byproduct of poor production quality as little optimization has been done and the lens quality may be inferior, though this is not always the case.
Magnification
Level of magnification is basically the sole reason to buy binoculars in the first place. The first number in binocular descriptions such as 10×40 is the level of magnification you can expect from that pair. Any level of magnification above 10x is nearly impossible to hold steady using your bare hands and these binoculars are usually designed for use with a tripod. Standard binoculars generally keep a focus range between 8-10x. Lower level options may reduce magnification abilities, but to offset the loss, also give an increase in image stability.
Field of Vision
Field of Vision refers to the horizontal range of your surroundings that are captured in the binoculars' lenses. Binoculars with a higher field of vision pick up a larger range of scenery and are designed for things like landscape viewing while binoculars with a lower field of vision help keep a sharper focus on pinpoint spots in your surroundings. The FOV is determined by the power of the binoculars along with the size of the objective (front) lens. In binocular descriptions such as 10×40, the latter number is the size of the objective lens in millimeters. Larger objective lenses allow for more light to enter the binoculars and thus increases your FOV. More powerful magnification decreases your FOV though, so well-made binoculars balance objective lens size with magnification power to give the appropriate amount of FOV needed.
Image Quality
The quality of the image you see through the binoculars can make or break a purchase. Cheaper binoculars may tout a high FOV but are generally short on focus, meaning you only get to see slightly closer yet still blurry surroundings. Or you could end up with binoculars that claim high focusing abilities, but have too small of an objective lens to allow you to see a bright and clear image. Good binoculars find a balance between FOV and focus to increase the brightness and clarity of the image. They also use high quality prisms and numerous lens coatings to allow the greatest range of light and scenery to reach the viewer's eyes, meaning you get crisp and clear images whether you're looking at an entire mountain or a lone eagle perched on a rocky crag.
Weight
Nikon Aculon
These binoculars are the heaviest of the bunch weighing in at 2.76 lbs pounds. The added weight may trouble users for long-term use and some describe the body casings as feeling somewhat cheap and plasticky.
Vanguard Endeavor
This is a lighter model weighing in at around 1.6 pounds. Quality hasn't been compromised though as the lightened load adds some well-loved upgrades such as twist-up eyepieces and a locking diopter ring to allow individual optimized focus for each eye.
Nikon Monarch5
This model manages to come in at a surprising 1.34 pounds. It's a few ounces lighter than the Endeavor but feels somewhat sturdier thanks to its rubber-armored body.
Magnification
Nikon Aculon
These tout a 10x magnification level perfect for birders but due to the extra weight, the optics are difficult to hold steady and are prone to jerkiness, which keeps it somewhat difficult to keep objects in focus.
Vanguard Endeavor
These also comes with a 10x magnification and enjoys smoother focus capabilities.
Nikon Monarch5
This one only has an 8x magnification which may be a detriment to some looking to view objects across vast mountain ranges. Most note however that the decrease in magnification allows for an increase in steadiness and the ability to better focus on closer objects.
Field of Vision
Nikon Aculon
These comes with an apparent field of vision of 59.2 degrees thanks to its 50mm objective lens, making it nicely suited for landscape viewing or capturing a fan's favorite sports game.
Vanguard Endeavor
The 42mm objective lens surprisingly gives the user a wide 65.3 degree field of viewing despite the smaller size. It's a well-optimized package designed to give a more complete picture of your surroundings. Some users report problems with the field of view being slightly warped however.
Nikon Monarch5
These give a 47.5 degree field thanks to the 42mm lens and smaller focus range. The FOV may be smaller, but users report it being better able to focus on particular objects in the scenery opposed to focusing on only the scenery itself.
Image Quality
Nikon Aculon
These give a decent image quality, especially for its price point. Its large objective lens and decent focusing allows for brightly lit images.
Vanguard Endeavor
This Vanguard model couples 10x focusing with a 42mm objective lens in an effort to provide good image quality in a multitude of settings, indoors or outdoors. It largely delivers though there's some chromatic troubles and degradation in sharpness around the edges of vision.
Nikon Monarch5
The Nikon Monarch5 is capable of bright and clear imaging whether looking at far away scenery or focusing on the details of nearby birds and dragonflies. Its 42mm lens is comparatively large to its 8x magnification, meaning you get an exceptionally bright image even in lower lighting. Experienced optics users mention that detail of the image quality on the Monarch5 rivals that of expensive options.
Conclusion: Our Binocular Reviews Are In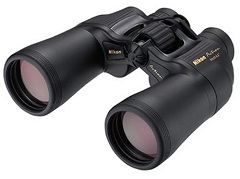 If you're tight on budget or looking for a decent pair of beginner binoculars, this is the pair for you. The 10x magnification and 50 mm objective lens means you can capture a fairly large view and focus on your surroundings effectively enough.
The Action suffers from some jitteriness and the fact that the lenses aren't water or fog proof may deter some looking for more durable options. The larger objective lens does allow for some nice bright images however.
Pros:
Cheap. Great for budding birdwatchers, sports fans in the bleachers or basic general use. Wide Field of View.
Cons:
Heavy and not the most comfortable option. Jittery and hard to focus. No fog/waterproofing and little shock absorbency means these optics will have to be handled carefully when in use.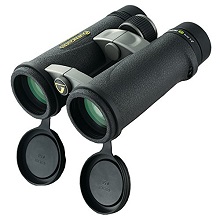 This pair of binoculars clocks in at a slightly higher price point than the Nikon Actions, but they manage to pack so much more into the smaller, more lightweight body. The binoculars are nitrogen-charged and o-ring sealed to make the optics fogproof and waterproof. The lenses are fully multicoated to allow the greatest range of light to pass through and there are various enhancements.
Unfortunately, there's some degradation of focus as objects tend to blur around the edges of vision and some users report noticeable chromatic aberration and an oddly warped FOV. Still, the option to replace defective pairs under Vanguard's warranty makes this a fine choice for those looking for a mid-tier option.
Pros:
Lightweight and comfortable enough to use for extended periods of time. Wide Field of View. Higher, more durable quality of construction.
Cons:
Noticeable blurring and chromatic aberration at times due to its warped FOV. Some complaints about the focus adjustments being unable to stay locked in place. Some jitteriness for those with naturally shaky hands. Not as bright as other options.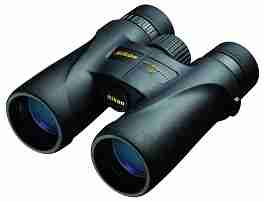 At first glance the lower numbers on the Monarch5 may seem like a detriment. Only 8x magnification? Only 42mm objective lenses? However, experienced optics users know that an 8x magnification is more than enough for the majority of hobbyists and offer plenty of steadiness no matter how shaky one's hands can be. The 42 mm objective lenses may seem dull on 10x or 12x options, but when married with the 8x level of magnification there's a lovely increase in brightness and clarity.
The entire housing is nitrogen filled and O-ring sealed for completely waterproof and fogproof viewing. The Dielectric High-Reflective Multilayer Prism Coatings allow for an astonishing level of brightness and color. Binoculars like the Monarch5 know how to effortlessly blend the levels of light and magnification with the quality of their lenses to create images bursting with color and clarity that some users claim are nearly as bright as seeing through their naked eye.
Special mention also goes to the turn-and-slide eyepieces that allows users to custom fit the eyecups for maximum comfort and FOV.
Pros:
Lightweight and extremely comfortable. Durable rubber-armored water/fogproof housing. Remains steady no matter the level of focus. That rare blend of bright and well-focused images.
Cons:
Nothing detrimental, though some complain about being unable to properly fit the lens caps onto the eyepieces.
All in All
No matter what sort of binoculars you're looking to purchase, it's important to weigh the pros and cons. If you're looking for something cheap and simple, optics like the Nikon Action may suit your needs best. Or you might want something to last for a couple years with a bit more capability than the cheapest option. In that case, the Vanguard Endeavor may be your pair of binoculars.
However, if you're looking for the maximum quality that can be had in an affordable packaging, you can't go wrong with the Nikon Monarch5. Stylish, durable and incredibly bright and clear image quality comes packaged in this offering, making it the ideal choice for any situation or level of hobbyist. We hope that you found this list of offerings and their pros and cons useful in your search for the best binoculars.