Some links on this page are monetized by affiliate programs - see disclosure for details.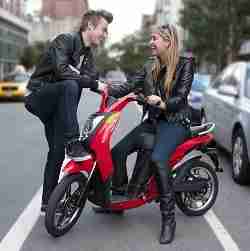 Adventures with riding a bike start when you're a kid. A bike gets you from point A to point B before you're even able to drive a car. Bicycles are great for not only getting you where you need to be faster, but they're also great for exercise, which is why they're so popular with adults of all ages.
Whether you're riding your beach cruiser on the sand or peddling your mountain bike up to the peak for a challenging workout session, a bike is a great vehicle to own, whether it's for your personal transportation, a way to get some fresh air, or to keep yourself healthy. Sometimes, though, you may wish you could go further with less work. If you really want to go the distance, consider purchasing an electric bike.
Compare: The Top Ten Best Electric Bikes of 2018

What is an Electric Bike?
An electric bike is just like a traditional bicycle with the addition of an electric motor. You will still have to steer and peddle just like you would on any other bike, but the motor allows you to go faster and further with less physical work. This is a great way to go longer distances without wearing yourself out or to get to wherever you need to go fast.
What are the different types?
If you love spending time outdoors exploring on your bicycle, an electric bike really goes the distance in letting you get a good workout and view new sites you've never seen before. You can go further than ever before with this type of bike. If the idea sounds appealing to you and you think you might like to invest in one of these products, the first thing you need to do is determine which of the two types of motorized bikes, also known as e-bikes, has what you're looking for.
Pedelec – This type of bike is most like a regular model. The difference is that it's equipped with a motor that assists in peddling when you need a little extra help. If you slow down because you're tired, the motor kicks in to help you make it the extra mile.
Twist-n-go – This bike doesn't detect when you slow down or pedal more slowly. Instead, the motor is activated with the flip of a switch.
What are the Advantages of an Electric Bike?
The biggest advantage of owning one of these e-bikes is that you can go further than you ever have before. If, for example, you struggle to hit your three mile mark, the motor of an e-bike can kick on and assist you, so you don't have to do as much work and tire yourself out.
You'll be able to go further and won't have to struggle and work as hard during your ride, making for a more enjoyable ride that allows you to fully enjoy the sights and sounds of the great outdoors.
Who are the Top 3 Electric Bikes Available on Amazon?
Reach speeds of up to 15 miles per hour and go up to 20 miles on average with this budget-friendly e-bike. This bike is available at a very affordable price, and it has a lot of great features found on more expensive models. Its gender-neutral design is perfect for men, women, and teens of all ages. It has a 6-speed design for different terrains, and you can change the setting for pedal assist or the twist-n-go setting that kicks the motor on with the flip of a switch when you need assistance.
If you're low on space, this model is a great choice. When in use, it's a full-size e-bike, but when it's not being used, it folds in half for easy storage. This bike goes up to 13 mph, so you can easily explore new places, and you can go up to 20 miles on just one charge. The bike is low-maintenance, and the polished aluminum frame is attractive and sturdy.
If nothing less than the best will do, you should consider buying this great bike. The modern design comes in your choice of 12 colors, and the frame and motor are very sturdy and dependable. You can hit up to 20 miles per hour and each charge lasts a full 40 minutes. This bike is similar to motorized scooters, but it is much more affordable and requires no special license or registration requirements.
Considerations for Choosing the Right Bike
If you've been browsing for a new bike and you think one that features a motor for assistance will best fit your needs, you're almost ready to make your purchase. However, before you make the plunge, make sure you know exactly what you're purchasing by evaluating different features that may be important to you. With just a little bit of research, you can make a more informed purchase of a product you can enjoy for many years to come.
Maximum speed
If you're new to using e-bikes, the maximum speed might not matter much to you as you learn the ropes. However, if you want to be able to cruise easily through the neighborhood or your local bike trails, look for a bike that has a higher maximum speed.
Riding time per charge
How long do you plan on riding your bike? Most e-bikes can go for just under an hour on one charge, so you won't be able to use the motor the entire time if you plan on going for a longer outdoor ride. If you do plan to go longer distances, make sure you get plenty of riding time and that the bike will work without the motor if necessary.
Charging time
If you don't want to spend a lot of time off of your bike, make sure you purchase a model that charges quickly within a few hours.
Maximum speed
NAKTO 26" City Electric Bicycle
This e-bike can reach a top speed of 15 mph.
Cyclamatic Bicycle
You can go up to 13 mph with the motorized assistance equipped on this bicycle.
Jetson Electric E-Bike
In favorable conditions, you can reach up to 20 miles per hour on this model.
Riding time per charge
NAKTO 26" City Electric Bicycle
You can ride approximately 20 miles with just one charge. The weight of the rider, usage of the motor, and terrain contribute to how far you will be able to ride with the assistance of the motor.
Cyclamatic Bicycle
You should expect to ride approximately 20 miles if the weather is favorable, you're on even terrain, and you aren't carrying a heavy load. If any of these conditions apply, you may not go quite as far.
Jetson Electric E-Bike
You should expect to travel around 40 miles using the motorized assistance on this e-bike. Of course, as with other motorized bikes, weight, weather, and terrain may alter how far you can go.
Charging time
NAKTO 26" City Electric Bicycle
The battery takes approximately 4 to 8 hours to charge.
Cyclamatic Bicycle
When fully discharged, it takes about seven hours to fully charge this bike again.
Jetson Electric E-Bike
Your bike will be fully charged after just four hours.
Conclusion: All Our Electric Bike Reviews Are In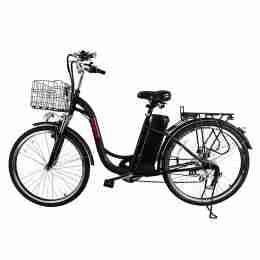 This is a superb entry-level e-bike that isn't too expensive but performs well enough to exceed your expectations. This bike has a gender-neutral design, and the 26-inch design is ideal for teens, men, and women of all ages and sizes. It comes with an easy shift gear set that has six gears that work with the motor to power through different terrains.
You can go up to 15 miles per hour with the assistance of the 250 watt motor that is powered with a 36V 10Ah battery. The battery is removable, but it doesn't have to be removed to charge it, so it's very easy to recharge when you're ready for another ride. With a choice of pedal assist or the variable speed throttle, this bike is very versatile and allows you to fully customize your ride.
Pros:
It has a very durable frame.
Adjustable seat and handlebars for a one-size-fits-all fit.
Front basket and rear cargo rack for storage.
Assistance can be adjusted for pedals or through the twist throttle.
Lights, horn, and bell are included.
It is affordable when compared to similar products.
Cons:
The bike is heavy.
Assembly can be difficult as the instructions are not very clear and there are multiple small parts.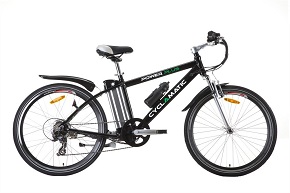 The one downside to owning a bike is that it's difficult to store. If your garage is full and you don't have any indoor space, you might avoid purchasing a new bicycle because you just don't have the storage space for it when it's not in use. With this e-bike, you won't have to worry about storage, since it folds completely in half when not in use so you can store it just about anywhere.
The folding design isn't the only great thing about this bike. It is powered with a brushed motor that can provide you with up to 20 miles of assistance for tough terrains and long distances. If you exceed 20 miles, don't worry – this bike functions without the motor as well. You can choose from pedal power or assistance mode, and there are other great features that make this affordable bike stand out, including a rear luggage rack, durable aluminum frame, 20V 10Ah lithium-ion battery, six gears, a bell, and reflectors.
Pros:
It has dual options for assistance.
It has a gender-neutral, modern design.
Luggage rack for storage.
12-month warranty.
The battery is easy to remove and charge.
It works with or without the motor.
It folds up and unfolds quickly.
Affordable.
Cons:
It is quite heavy.
There are no shocks.
The assistance does not work well on very steep hills.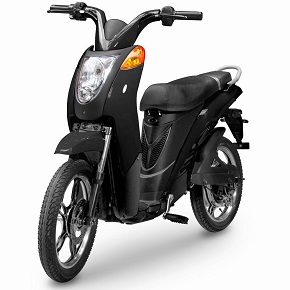 Get to wherever you need to go fast on this e-bike, which is built for performance. This high-end bike travels at speeds up to 20 mph and can take you up to 40 miles. It charges quickly, taking just 4 hours to fully charge using a standards 120V outlet.
This bike features ergonomic handlebars for comfort and a multi-function dashboard. The LCD display shows your speed, battery power, and whether your blinkers are on so you can stay safe.
This bike is fully equipped with a powerful 500W motor, shock absorbers, and disc brakes for smooth riding and stopping. Let the motor assist you in riding, or do the work yourself. This is one of the most versatile bikes you'll find, and it's available in your choice of color, including Black, Cotton Candy Pink, Hunter Green, Lime Green, Magenta Pink, Midnight Blue, Orange, Purple, Red, Silver, White, and Yellow.
Pros:
It is one of the fastest e-bikes.
Available in multiple great colors.
It offers a smooth ride.
It's easy to use.
No assembly is required.
LCD display is easy to read and shows important information like battery power.
It charges quickly.
It is easy to remove the battery.
Looks very stylish.
Cons:
One of the more expensive bikes on the market.
It's very heavy.
The plastic dashboard feels a little cheap.
A Final Word
E-bikes are becoming all of the rage because they are easy to use, provide assistance during your longest bike rides, and are eco-friendly ways to get around town. If you think that an electric bike is something that will help you get outdoors to enjoy fun and fitness, the Jetson Electric E-bike is a great choice. Even though it comes with a higher price tag, the shorter charging time, faster speed, and the innovative design than other bikes makes it one of the top choices in modern e-bikes.