Some links on this page are monetized by affiliate programs - see disclosure for details.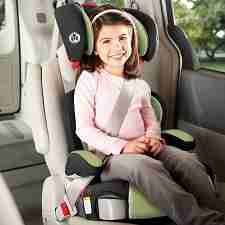 As a parent, grandparent, or caregiver of a young child, you don't have to be fearful every time you enter your vehicle with a child. If your child has outgrown a convertible carseat, a booster seat is the best way to keep a child properly restrained in the event of an accident, helping to prevent injury and keep your child safe.
With so many different seats available on the market, choosing the best and safest product can be a tough decision for any parent. However, with the information contained in this guide, selecting the best booster seat at a budget-friendly price is as easy as 1-2-3.
Compare: The Top Rated Booster Seats of 2018

Keeping your child safe at all times is of the utmost priority to you as a parent. From the time a child is brought home from the hospital at birth, keeping him or her properly restrained in a vehicle is one of the most important steps you must take every time you ride in a vehicle.
Even after your child outgrows a convertible car seat, he or she is still not large enough to be properly restrained using a traditional shoulder belt while riding in a vehicle. In fact, these belts have been known to cause even more injury when not used properly.
Introduction: What is a Booster Seat?
A booster seat is a type of car seat that you use  in conjunction with a car's seat belt. These seats are removable, so they can be re-positioned within a vehicle or removed when they are not needed. It is designed to help a vehicular seat belt properly fit a small child to prevent injury in the event of a crash.
Not only are booster seats required for safety, but they are also required legally, as every state has its own requirements for height and weight restrictions for children who use only the shoulder belt in a vehicle. Quality seats also keep a child's head supported and keeps a child comfortable during his or her ride.
See Also: This Year's Best Infant Car Seats
What are the Different Types?
There are three main types available on the market. These three types of seats are designed for different ages of children to provide optimum safety and comfort. The types available include:
Highback – These seats provide the most protection and are ideal for younger children who have just graduated from a convertible car seat.
Backless – Backless boosters are typically for older children and are a top choice because they are smaller, more lightweight, and more inexpensive than other boosters.
Convertible – These seats are designed to grow with a child. These boosters can be used for toddlers through school-aged children.
What are the Advantages?
The most important advantage to owning a booster seat is ensuring a child's safety while riding in a vehicle. Accidents can happen at any time, and it is any parent's worst nightmare to see their child injured. A booster seat helps reduce the impact on a child from a car accident and helps lessen the chance of becoming injured.
In addition, a booster seat also helps a parent stay legal while on the road. All states have their own laws regarding restrained children in vehicles, and keeping a child in a proper booster seat not only keeps the child safe, but also helps the parent avoid a hefty traffic ticket.
Read: 2018's Most Awesome Single Strollers
Which Products Should You Consider?
Graco Backless TurboBooster Car Seat – The Backless Turbobooster offers superior protection from ages 4 to 10, is ultra-portable, and offers many great features found on more expensive seats at a budget-friendly price.
Recaro Start Jay One Rot Black RC 370.001 – The RECARO Start Jay fits the bill. This seat easily converts from a front facing seat with a 5-point harness to a high-back booster that envelopes children from 20 to 120 pounds in both comfort and safety.
Britax Frontier G1.1 Clicktight – With safety features that utilize the latest technology, this seat is designed to give parents peace of mind with each car trip.
Features to Think About
With so many different choices, which is the right booster seat for your child? When choosing from the many types and brands of booster seats, there are a few important considerations that should be taken to narrow down the selection. This ensures that you get a seat that meets the needs of you and your child, enhancing safety and comfort for every car trip.
1. Safety features
The primary purpose of a booster seat is to keep a child safe. Not all booster seats are built alike, and safety should never take a backseat to style or price. Is the booster seat made of durable materials that have been tested thoroughly in varying degrees of impact? Is the seat designed to be easily installed right out of the box, or does it require adjustments for optimum protection? Seats that are equipped with tethers for a vehicle's LATCH system offer easy installation and added safety. For younger children, a harness may provide more protection, so a seat offering a 5-point harness is a must.
2. Comfort
While safety is top-priority, riding in a car with a child that just isn't comfortable is unpleasant for any parent or caregiver. Many booster seats are equipped with padded headrests to cradle and protect a child's head, while seat bottoms and backs are padded with cushy foam for a smooth ride. Easily adjustable harnesses for younger children prevent pinching and discomfort while properly restraining the child.
3. Convenience
A booster seat is designed to keep your child safe and comfortable, but it can also make your life easier while riding in the car. Added features like cup holders, easy installation, easy reclining mechanisms for naps during long rides, and twist resistant buckles rank high on the list for added convenience features that make car rides a pleasant experience for children and parents alike.
4. Price
You just can't put a price on safety. However, many parents do have to follow a strict budget. The most expensive seat may not necessarily be the right fit for your child, while the cheapest may not be the safest. While price is a consideration for all parents, other features, particularly safety features, should be considered when selecting the right booster seat.
1. Safety Features
Graco Backless TurboBooster
The Graco Backless TurboBooster is a no-frills booster seat that is designed for children ages 4 to 10. With weight limits of 40 to 100 pounds and height limits of 40 to 57 inches, this seat easily protects a child for years to come. This booster seat has been rigorously crash-tested to ensure that it meets or exceeds all U.S. standards for child booster seats.
Recaro Start Jay One Rot Black RC 370.001
This RECARO seat has all of the safety features you and your child need to feel safe on the road. The HERO harness system is designed to keep a child comfortably and safely positioned, while head wings and a padded headrest protect the head and neck in the event of a crash. The ergonomic seat design helps absorb impact, and reinforcements are built into the side, hip, and thigh area to minimize the chance of injury. This booster has surpassed international standards for child safety seats, and has a built-in LATCH system to provide more stability.
Britax Frontier G1.1 Clicktight
The Britax Frontier offers all the safety features a parent needs without sacrificing style. With SafeCell technology for side impact protection, impact absorbing base, energy-absorbing headrest, and tether system, this booster utilizes modern technology to provide a seat that is safe for children from 25 to 125 pounds. The Clicktight technology makes it easy to properly install the seat in any vehicle.
2. Comfort
Graco Backless TurboBooster
With a comfort seatpad, this top-rated Graco seat provides a smooth, cushioned ride. Adjustable armrests provide further comfort on even the longest car rides. Harness and buckle covers further enhance safety and comfort.
Recaro Start Jay One Rot Black RC 370.001
With Cloud Comfort Memory Foam padding, your child will feel like he's riding on air every time you strap him into this booster. The combination of temperature balancing fabrics ensure your child is never too hot or too cold in any season. The easily adjustable straps make it easy to keep your child strapped in perfectly without being too loose or too tight, and the HERO technology exclusive to this brand keep the head, neck, and shoulders comfortable and protected.
Britax Frontier G1.1 Clicktight
The foam headrest and deep protective shell in this best selling booster seat provide ultimate comfort and safety. A reclining feature provides a different position for a child without sacrificing safety.
3. Convenience
Graco Backless TurboBooster
This simple seat lacks some of the more advanced features of other seats, but it still has a few extras that you and your child will enjoy. Double cup holders provide a convenient space for sippy cups, snacks, or toys, and retract when not in use. The removable seat cushion is machine-washable, making cleaning a breeze.
Recaro Start Jay One Rot Black RC 370.001
This seat provides two convenient mesh pockets for holding snacks, cups, and toys. For parents, there is a Quickflip latch that reclines the seat easily. The Coolmesh Air Ventilation keeps your child cool, preventing overheating during the hottest summer months. Color coded belt guides and a safety strap that prevents twisted straps makes installing and using this seat easier than ever.
Britax Frontier G1.1 Clicktight
You'll no longer have to tug, pull, and fight with installing a booster seat with this booster's Clicktight system. Rest assured that your seat is installed in just minutes with just the click of a button. Two cup holders keep all of your child's items within arm's reach, and the recline feature allows your child to sit comfortably while remaining properly secured.
4. Price
Graco Backless TurboBooster
Parents looking for a safe and reliable seat on a budget will find that this models meets those needs. You don't have to spend a fortune to keep your child safe and secure.
Recaro Start Jay One Rot Black RC 370.001
Parents that don't mind spending more money for added features will not be disappointed with the RECARO seat. This mid-range seat, provides more comfort, safety, and convenience features than the lower-end seats. Since this seat is convertible, it can easily pay for itself when it's used from the toddler years through school ages.
Britax Frontier G1.1 Clicktight
When money is no object, Britax is a top seating choice for parents. The Britax Frontier grows with your toddler, providing years of use. With easy installation, safety features, and added comfort, the price is just right for a high-end seat that truly offers it all.
Final Results: The Best Booster Seats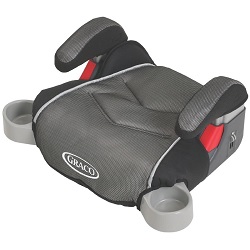 This booster seat combines safety, comfort, and affordability in one small package. This seat is extremely lightweight, weighing in at just one pound, making it easy to remove or switch from vehicle to vehicle. Added cup holders and adjustable armrests make it comfortable for your child, and a wide array of colors and patterns provide an added bit of style to this basic backless booster.
This crash-tested design provides the protection your child needs and is small enough to install in any backseat. This booster provides the perfect belt positioning for children from 4 to 10, ensuring total safety at a price that's just right.
Pros:
Lightweight and small enough to fit in any vehicle
Multiple colors and patterns for boys and girls
Designed for children ages 4 to 10, 40 to 100 pounds, and 40 to 57 inches
Meets or exceeds all safety standards
Seat and pad are easily washable
Cons:
Fabric padding is cheap and may fray or tear
Seat is not as padded and comfortable as higher-end seats
Backless design is not safe for younger, smaller toddlers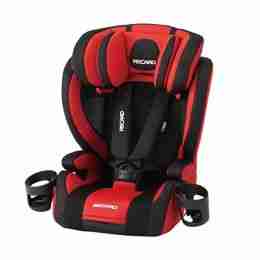 Parents willing to pay a little extra money for added comfort, durability, and convenience will find that this RECARO seat fits the bill. With a 5-point harness, this seat suits children from 20 to 65 pounds. Without the harness, it accommodates a child up to 120 pounds. With height limits up to 65 inches, this is the only booster a parent will need throughout adolescence.
Style is evident on this booster seat. Choose from color choices including Plum, Rose, and Sapphire for both boys and girls. Enhanced safety and comfort features keep your child comfortable while providing you with reassurance that he or she is safe on every car trip.
Pros:
Convertible design grows with your child
Features enhanced safety features like a built-in LATCH system, Safety Stripe System, color coded belts, and the HERO harness system
Memory foam seat is extra comfortable
Certified for air travel
Cons:
Reclining feature only allows slight recline, which could affect comfort
Seat belt installation may be difficult
Mesh cup holders cause leaks
Harness re-positioning is difficult
25 pound weight makes it cumbersome when removing or moving to another vehicle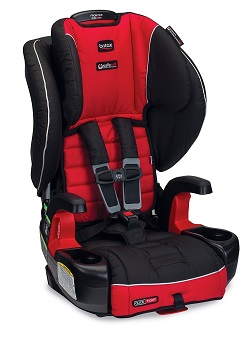 When it comes to safety and comfort, Britax is the front-runner of child booster seats. Synonymous with quality, these seats implement the latest technology into their design to provide a smooth, comfortable, and safe ride that is truly unparalleled.
The harness allows toddlers to ride safely, while using it as a highback booster is ideal for older children. With many fashionable colors and patterns, your child can ride in style while they're in your vehicle. Proper installation is easy, so you'll always know you're providing your child with the protection he or she needs.
Pros:
Clicktight technology makes installation quick and easy
Impact protection keeps your child safe
9-position harness and 2-position buckle provides years of use
Reclining option and quality materials provide added comfort
Cons:
Higher cost may be an issue
28.5 pound weight can be bulky and cumbersome in smaller vehicles
Belt adjustments are difficult for some
In Conclusion
Choosing a child's booster seat may seem overwhelming, but by weighing out the pros and cons, the choice is easier. By evaluating price, safety features, convenience features, and comfort, you can find a seat for your child that's durable, comfortable, and within your budget. With the enhanced safety features and easy installation, the Britax Frontier G1.1 Clicktight is a top-choice.
Though it may possess an expensive price tag, this seat will grow with your child. It gives you the convenience you need and the safety your child deserves on both long and short car rides.