Some links on this page are monetized by affiliate programs - see disclosure for details.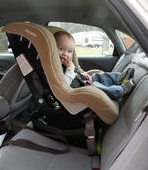 Upon receiving the exciting news that you have a new baby on the way, the list making begins for all the needs this pint-sized human being will have. Many baby items are optional or are not needed right away, but shopping for a baby car seat should be at the top of your list.
We know – taking a trip in the car with your family is exciting. You're seeing the world, spending time with your loved ones, and making memories that you'll cherish for a lifetime. As the parent or future parent of an infant, you know just how important it is to keep your child safe everywhere you go, especially when you're in a moving vehicle.
The hospital won't allow you to bring your little one home without one!
A Guide to Infant Car Seats
An infant car seat is a type of seat that is used in the backseat of your vehicle. Since babies are so small and lack the strength to support their own heads, special infant car seats are needed to keep them safe during rides. An infant car seat works with the vehicle's shoulder belt to keep the infant snugly in place and helps reduce the chance of serious injury if involved in a car accident.
Using an infant car seat is not only required for safety, but it's also required by law. In fact, hospitals won't allow newborn babies to leave unless an infant car seat is properly installed in the vehicle that he or she will be riding in to go home.
There are endless choices; and let's be honest here, it is quite overwhelming when weighing all of the options. We have chosen to review the top baby car seats in three different categories, based on independent research. We will present pros and cons based on customer reviews, as well as product ratings for safety, price, durability, and comfort. Our hope that our research and review of these car seats will help you make a better informed decision for your newborn as well as ease those new parent nerves!
Whether you're heading down the street for an hour or across the state for a week, an infant car seat for your baby is an absolute necessity. Keep your baby safe and secure by finding out more about infant car seats, what they do, and how to select the best product for your child.
What are the Different Types of Infant Car Seats?
Not all car seats are designed for newborns and infants. A special infant car seat designed to provide support for the smallest children provides the most protection in the event of a car crash. There are two main types of car seats that can be used by infants: infant car seats and convertible car seats.
• Infant car seats – Infant car seats are designed to be used during the first year of a baby's life. These seats come with two separate pieces: a base that is secured in the vehicle with the shoulder belt and a carrier that holds the baby. The carrier is easily removed from the base to bring the baby inside or to attach to a stroller designed for use with these seats. All infant car seats face to the rear of the vehicle to protect a child's head, neck, and spine.
• Convertible car seat – A convertible 3-in-1 car seat is a type of safety restraint that grows with your child. When used rear facing, many models are ideal for infants. As a child grows, the seat can be reversed to forward-facing, then convert to a highback or backless booster.
What are the Advantages of Owning an Infant Car Seat?
The most important advantage to owning an infant car seat is that you know you're protecting your child with every ride. A ride right down the street may seem okay without a proper car seat for your child, but the consequences if a crash occurs can be absolutely devastating. With a properly installed rear-facing infant car seat, you can keep your baby protected from the dangers of the road.
Every state also has laws requiring infants and children to be restrained in a car seat. Failure to do so results in large fines and possible jail time. To avoid all of these risks, every parent should have a high-quality infant car seat.
Who are the Contenders for Best Infant Car Seat?
Graco SnugRide Classic Connect Infant Car Seat – This top-rated infant car seat provides your baby with the snug ride that he or she deserves. This affordable seat is easy to install, comes in many great colors and patterns, and offers the safety features you expect for the best protection for your child. The Graco SnugRide Classic Connect Car Seat is considered an entry level or basic model seat at a low price. It is a rear-facing seat for newborns weighing five to twenty-two pounds. The Graco SnugRide is a high quality, well constructed seat.
Graco My Ride 65 LX Convertible Car Seat – If you want a sturdy, durable seat that you use past infancy, the Gracy My Ride 65 LX is a seat that you should consider. With enhanced safety features, modern styling, and comfortable seating, your child will enjoy every car ride.
Britax B-Safe Infant Car Seat – With a new baby in the home, you're too busy to worry about cumbersome seats that are impossible to install. The Britax B-Safe is lightweight, convenient, and provides all of the safety features you would expect from this high-end brand. The Britax B-Safe Infant Car Seat is considered an intermediate model seat, for a moderate price. It is also a rear-facing seat for newborns, four to thirty pounds. The Britax B-Safe is quite plush in comfort and easy to install in most vehicles.
Considerations for Choosing the Right Infant Car Seat
There are many things to consider when choosing the right car seat for your growing family. The first is safety standards and ratings. You want to make sure your infant is in the safest seat possible while traveling. The next consideration is the price. Although this may not be a factor for some families, it may be something to think about as the various expenses of a newborn accumulate. Ease off installations is a third feature to think about. Ease of transferring the base from vehicle to vehicle and carrying your baby in the seat are helpful factors when choosing a seat. The last consideration would be comfort. Your infant may not be able to talk, but you will know when the seat he is riding in is uncomfortable!
You know the importance of putting your child in an infant car seat, but now, you just don't know which one is right for you. Does a cheap seat put your child at risk? Do enhanced safety features really work? Are those little extras really worth the extra expense? With so many seats available, these may be just a few of the questions you have. To narrow down your selection, you first have to identify the most important features that you desire for your child's new car seat.
Safety
When purchasing an infant car seat, you can't sacrifice safety for price, style, or other features. Safety always comes first when it comes to your car seat. 5-point harnesses, level indicators for installation, and impact-absorbing materials are just a few things you should consider before making your purchase.
Carefully reading the safety features and U.S. Crash Test Standards is key to choosing the best seat for your child. All baby car seats have to meet the standards, but how well does the seat you are considering, exceed those standards? Is the seat equipped with energy absorbent padding? You can't always control vehicles or circumstances around you, so knowing your baby is safe, no matter what happens, gives a parent great peace of mind when travelling.
Ease of installation
No matter how good your car seat is, it's worthless if it isn't installed properly. Do you have to tug on straps, make adjustments, and you still have a seat that doesn't feel quite right? With the newest easy-install models, you can have your child's seat properly installed in just minutes, so you can always feel at ease while out on the road.
Depending on how often you are "on the go", you may want to consider how easily the car seat base can be installed and removed from your vehicle. Another feature to consider is how easily a seat can be buckled and unbuckled. If the straps open too easily, or are frequently twisted and tangled, it can be unsafe for the baby. The seat also doesn't need to be constructed for those who have an engineering degree to figure out. As your child grows, the infant seat can get heavy. It is already heavy, without your child in it, carrying him may be a challenge; inducing back problems, etc. Considering the actual weight of the seat is also something to factor in.
Price
Price shouldn't be the most important factor when purchasing safety seats for your child, but budgets should be considered before splurging. Decide what is most important to you, and look for seats with those features. If you're on a budget, buying a safer seat at a higher price isn't a bad idea, but paying more for something like a fancy design may be something you can do without.
Car seat prices can range from $45.00 to well over $300. Which is the best car seat for your baby budget? Depending on what you are able to invest, you can find quality seats for reasonable prices. Is the price worth paying if the seat will only be usable for a short period of time? Price options are a definite consideration.

Comfort
Your child should be secured, but this doesn't mean that he or she has to ride uncomfortably. When searching for an infant car seat, look for upgraded materials, extra padding, removable head rests, and other features that keep your child comfy and happy.
This may not be something you would naturally think about for your baby. They are tiny, how much comfort is necessary? When you are trying to get to a destination and your little one is screaming because his head or neck is not supported or the seat is sitting at a ridiculous angle, comfort is a must. Making sure the seat you choose provides adequate support is essential, for you and your newborn!
Safety
Graco SnugRide Classic Connect Infant Car Seat
The SnugRide Classic Connect is equipped with basic safety features like a LATCH-equipped base, level indicator for proper installation, and a 5-point harness.
The SnugRide has been crash tested to meet US Safety Standards. It is manufactured with energy absorbent EPS foam for impact energy management. Basically, this means there is a layer of Styrofoam to absorb impact in a crash, keeping the car seat (and your baby) intact. This seat has also been side impact tested to ensure that the five point harness keeps your little one in place. The seat also comes equipped with the LATCH system (Lower Anchor and Tethers for Children) which is compatible with all cars manufactured since 2002. This keeps the base attached securely to you vehicle and preventing the seat from moving around. The LATCH system provides more security than using a seatbelt with the car seat.
Graco My Ride 65 LX Convertible Car Seat
This convertible car seat is LATCH-equipped, is created with energy-absorbing foam, has went through rigorous testing to meet or exceed all safety standards, and has an adjustable 5-point harness.
Britax B-Safe Infant Car Seat
The Britax B-Safe seat features front, side, and rear impact protection that are the best in the industry. The energy-absorbing foam liner, 5-point adjustable harness, and LATCH connectors finish out the safety features for this model.
The Britax has exceeded all crash test standards. This seat provides front, rear, and side impact protection; using an energy-absorbing foam liner, fully containing your baby's head and body. The five point harness system helps him fit securely in the seat, protecting against crash forces.
Ease of Installation
Graco SnugRide Classic Connect Infant Car Seat
This seat is easily installed with your vehicle's shoulder belt or use the LATCH system for added security. You can check to make sure the seat is installed just right with the easy to read level indicator.
This seat is considered a newborn car seat, accommodating infants from 5 to 22 pounds. Again, the SnugRide is equipped with the LATCH system, allowing the car seat base to be connected directly to the back seat by hooks at the bottom of the seat. The car seat is easily placed in and removed from, the attached base. The seat handle is moved forward or backward by pressing in two buttons on either side of the handle. The handle is padded for extra carrying comfort. The Graco SnugRide is about 10 pounds, without the base.
Graco My Ride 65 LX Convertible Car Seat
Installation is easy with the LATCH system, which provides security for your child. A level indicator shows you if your car seat is properly aligned and installed.
Britax B-Safe Infant Car Seat
This seat is equipped with push button LATCH connectors, so you can rest easy knowing your child's seat is installed the right way.
The Britax is to be used for infants from 4 to 30 pounds. The easy install LATCH system simplifies transferring the base from one vehicle to another. The handle moves forward and backward, able to easily be locked in place. The handle is ergonomic, providing comfort while carrying your baby. This seat weighs about 10 pounds, not including the base.
Price
Graco SnugRide Classic Connect Infant Car Seat
As far as price goes, few models beat the Graco SnugRide. This infant seat provides the basic features that your child needs to stay relaxed and protected while riding in your car.
You can often find Graco products on special sales or with rebates. This is a newborn seat for infants, 5-22 pounds. A lower price is something to consider, especially if your child outgrows the seat quickly and needs something larger within his first year.
Graco My Ride 65 LX Convertible Car Seat
This seat is slightly more expensive than traditional infant car seats. However, the ability to grow with your child through toddlerhood makes this a worthy investment.
Britax B-Safe Infant Car Seat
Britax is known for being the best of the best, and the quality and features do come at a premium. This seat is more expensive than other models, but the convenience, design, and added safety features justify the extra cost.
The Britax price range is a bit higher. This seat comes with extra features such as, and ergonomic handle, harness pads, and a removable canopy. This seat also accommodates infants up to 30 pounds, making this seat more usable for a longer period of time, thus making the higher price more reasonable.
Comfort
Graco SnugRide Classic Connect Infant Car Seat
The adjustable harness is designed to fit any child perfectly, while the head support cushion is perfect for cradling your baby's tiny, delicate head.
This support can be removed as your baby grows. There is a canopy that pulls down over your infant, to protect them from bright sunlight or other elements. It can also help darken the seat to help you little one catch a nap while travelling. The five point harness keeps your little one securely in place instead of slumping over.
Graco My Ride 65 LX Convertible Car Seat
This seat provides plenty of padding that make even the longest car trips more bearable, while the removable headrest and comfortable, adjustable harness create a relaxing environment for your child.
Britax B-Safe Infant Car Seat
Removable comfort pads and shoulder pads provide your child with a comfy and cozy ride truly unlike any other. High-quality materials and extra padding create a heavenly ride for any infant.
Britax has four harness heights to adjust the straps as your child grows. A front tether strap, easily tightens the five-point harness. The seat comes with a removable pad for supporting the newborn's head, as well as padding on the harness straps for added comfort. The extra-large, removable canopy aids in protection from outdoor elements.
Conclusion: Our Infant Car Seat Reviews Are In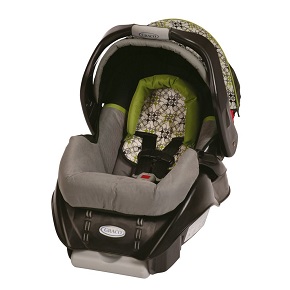 For the price, you can't beat the Graco SnugRide. It is the lowest in price of all of our top rated car seats. A lower price is something to consider, especially if your child outgrows the seat quickly and needs something larger within his first year. Many retailers will offer sales or rebates on Graco products. The SnugRide has met all crash and side impact standards and is constructed with EPS foam. The car seat comes with an infant head cushion to support your newborn as well as canopy to protect from the sun and other elements. The car seat is lightweight, for ease of carrying your little one as he grows.
If a no-frills infant seat is what you're looking for, you won't go wrong with the Graco SnugRide. This seat provides adequate protection for your child without the little extras that really add up. Budget-minded families can feel secure in their decision to purchase this seat.
This basic seat is anything but boring with a great choice of colors and patterns for boys and girls. With its safety harness, protective canopy, and sturdy base, this is a good seat for infants that weigh 5 to 22 pounds.
Pros:
Low Price; crash and side impact tested; comfortable, easy to clean fabric; sun canopy covers baby almost completely; lightweight construction
Rigorous testing shows that this seat meets and exceeds all safety standards. Removable insert and seat cover are machine washable, making cleanup a breeze. Compatible with Graco Classic Connect travel systems.
Cons:
Maximum baby weight is 22 pounds, other seats have a higher weight max; straps can only be tightened from the back of the seat; the angle of the seat is high which is uncomfortable for baby; the fabric is not breathable, making baby very sweaty and may get too hot on extended car rides. The canopy is smaller than on past SnugRide models. Straps may be difficult to adjust. Fabric is low quality.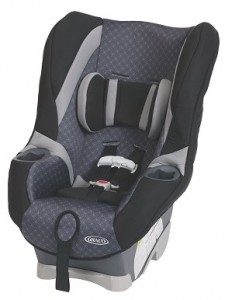 If you don't want to replace your seat after the first year, this convertible seat might be the perfect match for you and your family. To ensure performance, this seat has been put through multiple tests, including testing in different temperatures to ensure the seat isn't impacted by hot or cold climates.
This seat can be used rear facing for the first few years, and then turned forward when your child is a toddler. Cup holders are included, which are convenient for toddlers but not useful for infants. The removable body support and adjustable harness make this a great seat for children that weigh 5 to 40 pounds.
Pros:
This seat meets or exceeds all safety ratings. Convertible design gives you years of usage. Installation is simple. Machine washable cover and cushion make cleaning the seat easy. The seat is available in multiple colors and patterns. Seat has various recline options.
Cons:
Seat does not come equipped with an infant carrier. Straps are easily twisted. The larger size may not work in smaller vehicles. Tightening the straps may be difficult for some.
A little bit higher priced, the Britax offers high safety features, which overall, should be the deciding factor when choosing a car seat. The wider weight range, allows parents to use the seat longer, prolonging the necessity of another car seat purchase. The extra-large canopy and removable padding features, aid in a more comfortable ride for you baby. In usability, the ergonomic handle makes it less difficult to carry the baby in the seat, which can get quite heavy as your infant gets older. The seat and base are easily installed and removed from vehicle to vehicle.
Children from 4 to 30 pounds can sit comfortably in this premium seat, which features luxurious materials and more padding than competitors' models. Easy installation and a machine washable cover make cleaning and installing the seat easier on you.
Pros:
Seat is compatible with Britax strollers. Ergonomic handle makes carrying the seat easier than ever. Seat uses industry-leading materials for superior protection. Tangle-free straps are convenient and safe. High safety ratings; ergonomic handle; removable canopy and padding; easy installation; wide weight range
Cons:
The pricing may be out of some parents' budgets. At 10 pounds, the seat is heavier than most. Large size may not fit in smaller vehicles. The fabric is not breathable, making baby very uncomfortable; wide base is difficult to use in smaller vehicles; head pad provides little support; canopy must be pulled back in order to slide arm under handle for carrying
Protecting your child is the most important job that you'll ever have, which is why you should make sure that you provide your baby with the safest and most comfortable infant car seat available. With its extraordinary design and safety features, the overall best Britax B-Rite Infant Car Seat is an investment that is worth every penny.
All in All
Choosing the right car seat for your baby should be at the top of your baby needs list. Many features of seats are similar, such as safety standards and LATCH systems, but when it comes to price, comfort, and usability, there are a lot of pros and cons to consider. Also, different babies will have different needs.
One seat may function perfectly for one infant, while another might not be as comfortable. Price is a factor for some families, while others are able to make a larger investment. Usability may differ as well, depending on the parent or the style of the family vehicle.