Some links on this page are monetized by affiliate programs - see disclosure for details.
As a parent, you know the importance of keeping a close eye on your baby at all times. Whether you're enjoying milestone moments like his first laughs and smiles or protecting him from danger around your home or at the playground, it's hard to tear your eyes away for even just a second. However, as much as you'd love to never miss a moment, housework, other children, or sleeping just don't make it possible to hover over your child every minute of the day.
During naptime or bedtime, it's important to catch up on your own rest or tend to your daily responsibilities. When you can't be by your child's side, a baby monitor is the electronic assistant that you need. With a portable baby monitor, you can make sure that your child is still resting comfortably without even having to be in the same room.
What is a Baby Monitor?
A baby monitor is a portable electronic device that allows you to hear your baby when you're not in the same room. One baby monitor is placed near your baby, while the other monitor is kept near you. When set to the same frequency, you're able to hear every sound just as if you were in the same room with your child.
See Also: Awesome Baby Video Monitors
What are the Different Types?
Modern baby monitors utilize the latest technology to make them more advanced than ever. Gone are the days of reception interrupted by static, monitors that are not portable, and bulky designs that are cumbersome and take up too much space. Depending on your own needs as a parent, there are several types of monitors to choose from, including:
• Audio monitors – One receiver is placed near your child, while you keep the other receiver with you. All sounds from the baby's room are transmitted directly to your receiver, so you can hear every cry, laugh, and snore.
• Audio and video monitors – Instead of just hearing your baby, why not see him or her from another part of your home? With audio and video monitors, you can keep an eye on your baby without stepping foot in the nursery.
• Digital monitors – Many baby monitors rely on analog technology. While these work fine within your home, anyone on the same frequency may be able to hear the sounds that are transmitted. With the newest digital monitors, signals are encoded to prevent unwanted listeners.
What are the Advantages of Owning a Baby Monitor?
A baby monitor is a must-have item for busy parents. Babies are a lot of work, and unfortunately, other responsibilities don't simply disappear when a baby is in the home. Chores can pile up, daily tasks like online bill paying might get backlogged, and a new mother or father may miss out on must-needed rest. With a baby monitor, a parent can rest assured that his or her baby is napping or sleeping peacefully for the night without having to linger by the nursery door.
Read: The Comprehensive Guide to Best Diaper Bag
Considerations for Right Monitor
With so many options, choosing the right baby monitor for your home may seem like a daunting and overwhelming decision. However, by narrowing down a few key features, the decision is much easier for you and your household.
Range
Do you live in a larger home with spaced out rooms? Is your room and your baby's room on different floors, or do you spend the majority of your time in a section of your home that's quite far from your child's? If you do not buy a monitor with the proper range, your audio will become distorted, full of static, and ineffective.
Audio or audio and video
Does your child suffer from allergies or another condition that requires close monitoring? Maybe you find it hard to focus on other tasks when you don't know what your child is doing. While most parents may be content with an audio monitor, other parents may find that video is a necessity.
Ease of installation
Many basic audio monitors are easily set up by plugging one unit into the nursery or close to the baby, while the other portable unit is kept with the parent. Other baby monitors require more complex installation, including camera positioning and mounting.
Functional extras
Baby monitors of today are no longer as simple as they were years ago. While there are still many basic monitors that send and receive audio, most of the latest and top-rated monitors have added features for both parents and babies, including night vision and nightlights.
Range
VTech Safe & Sound Digital Audio Baby Monitor
This monitor provides a great range that allows you to hear your child from inside or outside of your home. You'll be able to hear every coo or cry from up to 1,000 feet outdoors and 150 feet indoors.
Philips Avent DECT Baby Monitor
This monitor provides you with a range of over 1,000 feet of clear reception. With its built-in out-of-range indicator, you'll always know when you're in and out of range.
Summer Infant Baby Sight Duo
With the Baby Sight Duo, you'll be able to see and hear your baby from a range up to 600 feet. If you've lost reception, the out-of-range alert lets you know immediately so you get closer to your baby for continued monitoring.
Audio or audio and video
VTech Safe & Sound Digital Audio Baby Monitor
This basic monitor offers sound, as well as LED lighting that indicates noise even when the parental unit is muted. While it does not provide video monitoring, the audio is clear and no white noise is transmitted.
Philips Avent DECT Baby Monitor
This monitor is an audio-only monitor and does not have video capability. However, the digital technology provides crystal-clear sound that is also private from any other listeners. This model is also equipped with LED lighting to indicate various noise levels, even when on mute.
Summer Infant Baby Sight Duo
The Baby Sight Duo has both audio and video capabilities. The infrared camera is mounted in your baby's nursery, and video and audio can be viewed and heard through the handheld parental monitor unit equipped with a 2.0" LCD screen.
Ease of installation
VTech Safe & Sound Digital Audio Baby Monitor
This VTech model does not require any installation. Simply plug in the baby unit and then take the parent unit with you wherever you go. The parent unit comes equipped with rechargeable batteries or can be used with AA batteries.
Philips Avent DECT Baby Monitor
Like the VTech Safe & Sound monitor, the Philips DECT Baby Monitor does not require any installation. Plug in the multi-function baby monitor, set it up on a dresser or other stable area, and then carry your own monitor (powered by two AA batteries) by your side or even around your neck with its neck cord.
Summer Infant Baby Sight Duo
The Summer Infant Baby Sight Duo does require some installation. The camera must be properly positioned to view inside a crib, bassinet, or other area of your baby's nursery, and then mounted with the included wall mounted hardware.
Functional Extras
VTech Safe & Sound Digital Audio Baby Monitor
The VTech monitor is a basic monitor that does provide some extra convenience features. This includes two-way transmission, so you can soothe the baby when coming into the room immediately is not an option.
Philips Avent DECT Baby Monitor
The DECT monitor provides many extra features that are unique for standard baby monitors. A built-in nightlight and lullabies soothes ad comforts your baby. Two-way transmission allows the child to hear your voice when needed. A temperature sensor also detects the climate of the room.
Summer Infant Baby Sight Duo
With its infrared lighting, this monitor allows you to always keep a close eye on your child. Need a closer view? With digital zoom, you can make sure that your baby is safe, secure, and comfortable with just the touch of a button. With a one-touch power button, you can easily turn off your camera when not in use to save on your energy bills.
Conclusion: Our Baby Monitor Reviews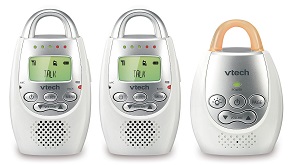 This monitor is a great value for parents on a budget. If you want a baby monitor that provides you with superior clarity and no extra frills, the VTech Safe & Sound monitor is an option you should consider.
With just one charge, you can hear your baby for up to 18 hours before having to recharge your unit. If your battery is low or you're heading out of range, you'll receive an alert so you never have to worry about missing a sound. This VTech monitor also comes with a 1-year manufacturer's warranty to protect your purchase.
Pros:
Basic design is easy to use and requires no installation. Attached belt clip on parental unit makes this monitor portable and easy to carry. The loop on the baby's unit also functions as a nightlight. LED lights and vibration mode allow you to be notified of your child's sounds without loud interruptions. DECT 6.0 digital technology provides you with high-quality audio.
Cons:
If battery discharges or power goes out, linking the monitors may be a hassle. Over time, battery life weakens, leading to replacements.
Parents that are looking for a mid-range baby monitor with lots of different features will not be disappointed with this model. Your baby can be soothed with the lullabies and nightlight built into this monitor, while DECT technology provides clear reception.
You'll never have to worry about your child's comfort with this model's temperature system, which alerts you when there are changes in your child's room. You can talk back to your child with the two-way transmission option, and recharging is simple with the included docking station.
Pros:
No installation is required. Reception is always crystal-clear and private. Five different lullabies can be played. LED lighting allows you to monitor sounds even when the unit is set to mute. This mid-range monitor offers lots of features without a hefty price tag.
Cons:
Batteries drain quickly. The low contrast screen can be difficult to read, especially in low lighting.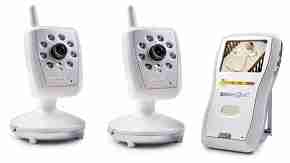 If simply hearing your baby just doesn't provide you with the security you need, this monitor will surely put your mind at ease. With two cameras, you can monitor two parts of your child's room or two different rooms if you prefer.
The portable monitor features a 2" LCD screen that provides you with a clear view and digital technology gives you interference-free audio. With the kick stand and belt clip, you can take your monitor anywhere within your home and still see and hear everything from your child's room.
Pros:
A 1-year warranty protects your purchase. Audio, video, and LED lighting always keep you aware of what your child is doing. Digital zoom allow you an up close view of your child, even in a darkened room.
Cons:
This monitor is pricier than other options. Installation is required.
Closing Thoughts
You always want to make sure your baby is healthy and happy. With a baby monitor, you can always check up on your child no matter where you are in your home. For the utmost security, a video monitor like the highly-rated Baby Sight Duo is an ideal choice for any parent. Even though it is priced above other models, the extra features and high-quality audio and video make this an investment that's worth every penny.