Some links on this page are monetized by affiliate programs - see disclosure for details.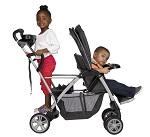 If you're the parent of more than one small child, you know how stressful going out anywhere can be. Trips to the park, going grocery shopping, or just strolling around the mall can be a hassle when you're trying to keep your family together and keep your eyes on all of your children.
Instead of a single stroller that only has room for one child, parents of small children, including twins, find that a double stroller is a great investment. Not only does a double stroller help keep your kids with you safely, but they also provide your child with a comfortable ride when you're outside of your home.
What is a Double Stroller?
A double stroller is a stroller that is designed for more than one child. Each child has his or her own seat and can be comfortably pushed around inside and out. Double strollers are a great way to transport baby twins around town, as well as being convenient for a new baby and an older sibling.
Double strollers are used for children that can't yet walk, and they are also used when children don't want to walk long distances, such as when they are visiting a theme park on a family vacation.
See Also: This Year's Most Loved Umbrella Strollers
What are the Different Types?
At one time, the selection of double strollers was quite limited. Older models were cumbersome, heavy, and not quite as convenient as they are now. Modern double strollers come in a variety of different styles that make usage and storage more convenient than ever. When shopping for a double stroller, there are a few types to consider.
Side by side stroller – These strollers feature two seats, placed side by side. These models are best for twins, as each seat is the same size. The design of these strollers allows the children to see and talk to each other while they are being pushed by a caregiver.
Tandem strollers – A tandem stroller features a seat in front and one in back. Because the front seat has more leg room and can recline, this setup is ideal for a baby and a toddler. Parents of twins may also opt to purchase a tandem stroller that is equipped to hold two infant car seat carriers.
Sit and stand strollers – A sit and stand model stroller offers more versatility for older toddlers. The front seat can be used by a baby, and many of these models have conversion kits that allow an infant car seat to be placed inside. The back seat can be used by a seated toddler, or he or she can opt to stand on the sturdy platform.
Sport, all-terrain, and jogging stroller – The active mom or dad that wants to enjoy the great outdoors will benefit from owning an all-terrain or jogging stroller. A jogging stroller has a special three-wheeled design that keeps it stable as a parent runs, while an all-terrain stroller has wider, more durable wheels designed to tackle rocks, roots, grass, and other bumps while enjoying the outdoors.
What are the Advantages of Owning a Double Stroller?
Convenience is the biggest advantage of owning a double stroller. If you have infant twins, you can easily navigate around the store or just go for an outdoor stroll with a double stroller designed to hold two baby carriers.
Trips are less stressful with a stroller, which provides parents with peace of mind knowing their children are safe and secure. Young children who get tired easily will also feel more comfortable riding in a stroller.
Read: The Critical Guide to the Best Travel System Strollers
Which Products Are Contenders for Best?
Baby Trend Sit N Stand Double – Give your toddler choices with the Baby Trend Sit N Stand. Your infant can sit safely in the front seat or in his or her baby carrier, while your older toddler can sit on the back seat. If he or she wants a little more freedom, the sturdy back platform allows them to stand and check out all of the exciting sights.
Britax B-Agile Double Stroller – This side by side stroller by Britax is lightweight and easy to handle, but still provides plenty of room for your two children.
Baby Jogger 2014 City Select Stroller – Whether you want to enjoy a walk outdoors or just want to shop till you drop, this stroller truly does it all. The versatile design makes it functional for parents and comfortable for children.
Considerations for Choosing the Right Stroller
Like other baby gear, double strollers come in different styles, colors, sizes, and brands. Even on the lower end of the pricing scale, double strollers are a pricey investment for any parent. By knowing the key features to look for while shopping for a double stroller, you'll be armed with the knowledge to get the best product for your family.
Size and weight
Two car seats, diaper bags, shopping bags, and other items may be in your car on a daily basis. If you drive a smaller vehicle, you'll want to make sure that you have a stroller that fits easily into your trunk, even with other items. Many parents also seek a lightweight stroller that's easy to fold up, store, and remove from a trunk without any hassles.
Usage
How do you plan to use your stroller? If your family camps out in the woods, you'll want an all-terrain stroller. For quick trips to the store and to the park, a lightweight, simple double umbrella stroller may do the trick. If you like to go on daily jogging trips, a sporty jogging stroller is the way to go.
Comfort for your children
A larger toddler needs much more room than a tiny baby, so a side by side stroller would be a poor choice. A child that doesn't like standing for long periods wouldn't benefit from a sit and stand model. Consider the ages and needs of your children in order to ensure optimum comfort while on the go.
Convenience features
Sometimes, it's those little extras that make all the difference. Do you need a cup holder for your coffee, or perhaps cup holders for your children to enjoy their own beverages? Do you need a storage compartment for your keys, wallet, and cell phone? Basic models may lack these features, but more advanced double strollers provide parents and children with extra convenience while out and about.
Size and weight
Baby Trend Sit N Stand Double
With a one-handed folding design, this stroller is easy to fold and unfold in a snap. With a weight of 39 pounds, the Sit N Stand is about average when compared to other double strollers.
Britax B-Agile Double Stroller
At 28 pounds, this double stroller is more lightweight than other available models, making it easy to get in and out of a car. The narrow design allows it to easily pass through doors, and one handed folding makes it convenient for parents who have their hands full.
Baby Jogger 2014 City Select Stroller
The City Select by Baby Jogger is the heaviest of the three, weighing in at 43 pounds. To fold the stroller, both seats will need to be removed before storing.
Usage
Baby Trend Sit N Stand Double
The Sit N Stand is a perfect everyday stroller for any occasion. This stroller is recommended for parents with children that are different ages, although parents of twins will also benefit from using this stroller.
Britax B-Agile Double Stroller
The B-Agile stroller is great for all uses. With its lightweight design and easy maneuverability, it's an excellent choice for short runs to the store or even longer day trips.
Baby Jogger 2014 City Select Stroller
The City Select is a great way to keep children comfortable. With its roomy and versatile design, children can relax in comfort for long periods of time, making this a great choice for vacations or any other occasion.
Comfort for your children
Baby Trend Sit N Stand Double
A reclining front seat is a great place for a sleepy baby to relax while out on the town. The sit and stand option for older children helps reduce boredom while on the go.
Britax B-Agile Double Stroller
The padded seats offer comfort and support for each of your children. Harnesses and headrests are easily adjustable for comfort on the B-Agile stroller.
Baby Jogger 2014 City Select Stroller
Multiple reclining positions and a multi-position footwell help make your children more comfortable. With different seating options, you can make sure that each of your children has plenty of space for a relaxing ride.
Convenience features
Baby Trend Sit N Stand Double
Attached cupholders and a parent tray are just two of the added features that make getting around more convenient for you.
Britax B-Agile Double Stroller
Zippered seat pockets and under seat storage provide you with plenty of space for your purse, diaper bag, keys, and other items.
Baby Jogger 2014 City Select Stroller
Large storage space makes bringing along your must-have items convenient. The interchangeable design allows you to create a stroller that works best for you and your children.
Conclusion: Our Double Stroller Reviews Are In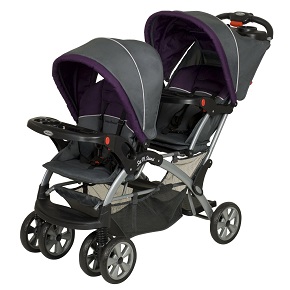 Kids at different stages can always feel comfortable when on the run with the Sit N Stand Double. This stroller works through various stages of your children's development, allowing you to use it from birth through toddler years.
This stroller is easy to maneuver, easy to fold and setup, and offers features found on many higher priced strollers. It's a great double stroller for parents of a toddler and an infant.
Pros:
Backseat is removable for versatility. Stroller accommodates two infant seats, one infant seat and one standing child, or one infant seat and one sitting child. 5-point safety harness keeps children secure. Parent and child trays are attached for holding cups, bottles, toys, and keys, and other items. Comfortably seats children from birth to 50 pounds.
Cons:
This stroller is not compatible with all infant seats. With a child in the backseat, storage is difficult to access. Front seat offers little support. When stroller is at capacity, it becomes very difficult to turn.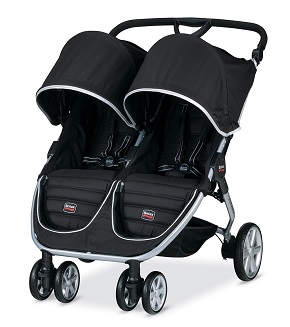 With its 5-part harnesses and adjustable head pads, you can rest easy knowing that your children are safe, secure, and comfy in the B-Agile. With all-wheel suspension, your kids can enjoy a bump-free ride, and you can easily secure the stroller in place with a single step.
The mid-range B-Agile stroller isn't just about safety. The narrow design makes it easy to maneuver, even when going through standard doors, and you can block the sun while keeping an eye on your children with the ventilated mesh canopies.
Pros:
Lightweight aluminum design makes this stroller easy to load and unload. Even with two children, this stroller is easy to maneuver. The sturdy design makes parents and children feel more secure.
Cons:
There is only space for one infant seat. Only Britax seats can be used with the included adapter. Other car seats require an additional adapter.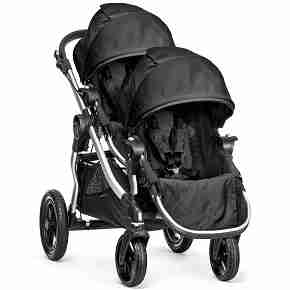 Despite its name, the Baby Jogger City Select isn't for jogging. However, it is a great stroller for any other occasion. The seats are designed for ultimate comfort, and the versatile design lets you easily remove and interchange the seats as needed. Provide your older child with more leg room and space just by changing the setup. The City Select is one of the most versatile double strollers available.
Add your infant car seats with the car seat attachments, or place each child in the comfortable padded seats. If you want to use the City Select as a single stroller, you have the option to do so.
Pros:
Durable design ensures years of use. 5-point harness provides safety. Versatile design lets you design your own layout for the most comfortable ride for your children. The one-handed brake engages easily for safety.
Cons:
This stroller has a larger, bulkier design than other strollers. Both seats need to be removed before folding. This stroller is one of the more expensive ones on the market.
Going out with more than one child doesn't have to be a chore. Instead, you can have fun and make precious memories with your loved ones with the convenience of a double stroller. All double strollers are investments, and while the initial investment is a little more than others, the City Select is a top-choice for a double stroller that grows along with your growing family.