Some links on this page are monetized by affiliate programs - see disclosure for details.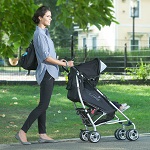 Imagine this: you're riding along in the car with your baby, who has just not been having a good day. With relief, you finally realize that your fussy baby has fallen fast asleep. Your plan is to pull your sleeping baby from the car seat and get to the crib as quickly as possible. The minute you took the harness release button, your baby's eyes pop open, and nap time (and your peace and quiet) is over.
If you've found yourself in an inconvenient situation like this, you know how frustrating it can be. Maybe you've also driven to the store just to have your baby sleeping when you get there. Do you sit in the car until your child wakes up? Go back home? If you had a baby travel system, you could move your child without any disturbances.
Comparison: The 10 Best Travel Strollers of 2018

What is a Travel System Stroller?
A travel system stroller is a top-choice for parents. It is one of the most popular items put on a baby registry because it is so convenient. A travel system stroller typically consists of three different pieces: a rear-facing infant car seat carrier that is used to protect your child while riding in the car, the car seat base that remains firmly strapped into place and holds the carrier securely, and a stroller that is used with the carrier. The travel system all has coordinating fabric and colors.
What are the Different Types?
When it comes to brands, colors, fabrics, and safety features, there are hundreds of different options for travel system strollers. However, there are three main types to choose from.
Travel systems with full stroller
This type of travel system has a stroller that is more versatile and grows with your child. You can snap the infant carrier into the stroller to transport your newborn around town, or when he or she is older, you can use the stroller without the carrier.
Travel systems with stroller frame
These systems are designed to be used with the baby carrier only. The frame is typically smaller and more lightweight than traditional strollers. However, it cannot be used once a child is no longer in his or her infant car seat.
Travel systems for twins
Most travel systems are designed for just one child. However, if you're the parents of twins, don't worry. There are a few different options available that allow you to securely lock two infant car seats into your double stroller.
What are the Advantages?
There are several reasons why a parent may consider owning a travel system stroller. The first advantage is that travel systems are typically less expensive than buying each item individually. With a travel system, a parent will have a safe car seat and a convenient stroller all in one package without having to buy additional pieces. Travel systems are also extremely convenient. You can move your child from the car into the store without disturbance, and you don't have to worry about making sure that your car seat and your stroller are compatible.
Who are the Contenders for Best Stroller on the Market?
Graco FastAction Fold Click Connect
If you're looking for affordable convenience, this Graco system offers easy, one-second folding, great safety features, and a budget-friendly price tag.
Chicco Bravo Trio Travel System
This mid-range travel system is built for safety, and its classic styling and colors are perfect for any little boy or girl.
Britax 2017 B Agile & B Safe 35 Elite Travel System
Keep your child safe and secure in this travel system, which features a lightweight design, easy folding capabilities, and the safety features your child deserves.
Considerations for Choosing the Right Stroller
If you've decided that you want the convenience of a travel system, you'll find that there are so many things to consider. How long will your child be able to use the system? Does it have any additional features that benefit you or your child? Does the price fit your budget? These four key features below are some of the most important things that parents look for in a quality travel system.
Safety
While a travel system should be convenient, safety is also important. Look for a well-built design that protects your child in the unfortunate event of a car crash; adjustable harnesses, and other safety features that put your mind at ease whether you're driving or walking.
Weight
A travel system isn't convenient if you have to struggle to lift the car seat or put the stroller into your trunk. Even the most lightweight systems are still extremely durable and safe, so consider the weight of both the car seat and the stroller before making your purchase.
Comfort
If your baby isn't comfortable and happy, you won't get the most out of your travel system. Look for extra padding in seats and strollers, straps that don't pinch, and adjustable leg rests for added comfort.
Convenience
Being a parent is hard, but getting products that are easy to use make your job a little bit simpler. Car seats that easily click into place, strollers that easily fold in just one step, and stroller storage pockets and baskets to hold your keys, purse, diaper bag, and other belongings may be features that you want in your travel system.
Safety
Graco FastAction Fold Click Connect
The harness that converts from 3-point to 5-point grows with your child to ensure safety. The 1-step brakes on the stroller are easy to use for added safety while your stroller is parked. The seat is latch-enabled, has met or surpassed all safety tests, meets all safety guidelines, and protects children from 3 to 30 pounds.
Chicco Bravo Trio Travel System
The included newborn insert adds extra comfort and protection for babies as small as 4 pounds. The car seat conforms to all US safety standards, and it is compatible with LATCH systems, has a 5-point harness, and has straps that are easy to adjust for the perfect fit. Energy-absorbing foam provides maximum protection for your child if you get into an accident.
Britax 2017 B Agile & B Safe 35 Elite Travel System
Side protection, energy-absorbing foam, and a tangle free 5-point harness all work together to keep your baby safe.
Weight
Graco FastAction Fold Click Connect
Weighing in at just 22 pounds, the stroller is one of the most lightweight full-sized strollers on the market. The car seat weighs 17 pounds, making it easy to transport your child from car to stroller.
Chicco Bravo Trio Travel System
Both the stroller and the car seat are extremely lightweight, weighing in at just 40 pounds together. It's easy to get your stroller out of the trunk and carry the car seat carrier wherever you need to go.
Britax 2017 B Agile & B Safe 35 Elite Travel System
The compact aluminum frame is lightweight, and the car seat is comparable to other models, making it easy to put in and out of your vehicle.
Comfort
Graco FastAction Fold Click Connect
The deluxe padded seat gives toddlers a more comfortable ride. The plush infant head support for the carrier cradles your infant's head. The seat itself is covered in soft, padded fabric.
Chicco Bravo Trio Travel System
The padded seat in the stroller is comfortable for toddlers, and the padding in the car seat makes the ride smooth for infants and babies. The infant insert is padded and keeps your child comfortably and securely in place. With memory recline on the stroller, you can find your child's favorite position. The stroller will never forget it, even after it's folded.
Britax 2017 B Agile & B Safe 35 Elite Travel System
The seats in both the carrier and the stroller are made of soft, padded material that keep your baby comfortable on every ride.
Convenience
Graco FastAction Fold Click Connect
Keep everything you need right at your fingertips when you use this stroller. The extra-large storage basket is the perfect place for jackets, diaper bags, shopping bags, or other large items, while the parent's tray has two deep cup holders and storage for your smaller items. Your child will have his or her own tray for drinks, snacks, and small toys.
Chicco Bravo Trio Travel System
One-handed folding makes this easy to load and unload, so there's no more struggling for mom or dad. You can adjust the stroller's handle for your height so pushing it is easy, and you can store your belongings in the basket underneath.
Britax 2017 B Agile & B Safe 35 Elite Travel System
Tangle-free straps make it easy to buckle your child in without hassles. The one-hand, quick fold design is extremely convenient for parents. A storage basket is located underneath.
Conclusion: Our Reviews Are In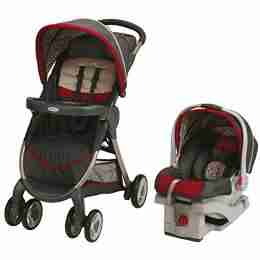 This Graco model is a great entry-level travel system with a price that's very appealing. Priced at around $200, this is one of the least expensive models available. But don't let that fool you; this system has all of the features that you and your child need for total safety, comfort, and convenience.
Choose from multiple pattern options, including the red Finley, purple Nyssa, pink Harper, or aqua Richmond. The lightweight Click Connect 30 Seat is easily installed with a seat belt or LATCH system and has been rigorously tested for safety. The stroller is easy to maneuver, and its lightweight design, combined with its one-second easy foldability, makes this a convenient choice.
Pros:
The stroller has multiple positions, including lying flat
Children up to 50 pounds can comfortably ride in the stroller
Sunshade protects baby's eyes while outside or riding in the car
With the parent's tray, child's tray, and basket, there is plenty of storage on the stroller
This set is priced much lower than many other models
Cons:
The car seat is not as padded and comfortable as other more expensive models
Reclining option on the car seat is hard to figure out
The sunshade tends to fall forward
The upholstery is not as soft as that found on other brands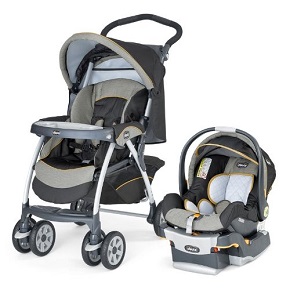 From the leveling foot to ensure your car seat is in place to the energy-absorbing foam and sturdy construction to the convenience of a one-pull tightening strap, your precious cargo will always be protected, whether riding down the road or going on a cross-country trip.
The lightweight-aluminum design of the stroller makes it easy for you to push, while the padding is comfortable for your child. This system isn't all work and no play, though. It's available in many stylish color combinations, including the light blue, navy, and yellow Sedona and the navy and lime Midori.
Pros:
This system offers enhanced safety and convenience features
Parent and child cup holders are available on the stroller
It comes with a water-repellent canopy to keep your child warm and dry
The rear brakes add extra protection
The backrest fully reclines for on the go naps or diaper changes
The $350 price is mid-range and affordable for many parents
Car seat installation is fast and easy
Cons:
Car seat is extremely large
Storage basket underneath is small when compared to other strollers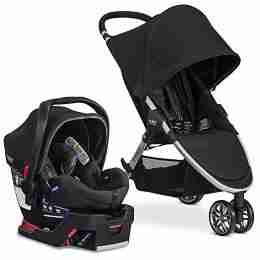 You just can't put a price on safety, and the Britax 2017 B Agile & B Safe 35 Elite Travel System is as safe as they come. That's why this model is our winner for best travel system stroller overall. The car seat has energy-absorbing foam, a rigorously tested design, a 5-point harness with three height positions, and distributes forces across the strongest parts of the body when a crash occurs for less chance of injury.
This system is available in a classic Black, is easy to install, provides great stability and control on any surface, and has many multiple accessories that can be purchased separately to fully customize this system.
Pros:
This is one of the safest seats on the market
The seat is easy to connect and disconnect from the stroller
Stroller is lightweight and handles perfectly
Each piece is made of the best materials for durability
Cons:
This system is more expensive, costing around $500
The storage basket is a little small
Final Word
When it comes down to it, the most important thing in your travel system is safety. Your baby will have the safest ride and so much more with the Britax 2017 B Agile & B Safe 35 Elite Travel System. The durable design ensures it will withstand years of wear and tear, the safety features are unparalleled, and the ease of use and comfort are added bonuses to this best overall travel system.
Editor's Note: This post was last updated for accuracy and comprehensiveness on January 29th, 2018.