Some links on this page are monetized by affiliate programs - see disclosure for details.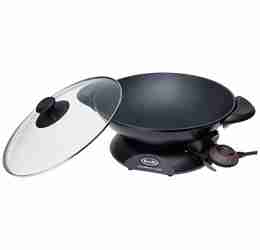 Have you ever tried to cook a meal in a frying pan, and you find that it's just too shallow to work with? If you're cooking a meal for your family that has a lot of ingredients, you may find that the frying pans you own are just too small, resulting in food falling out of the pan and onto the stovetop, meals that boil over, or food that isn't properly cooked and evenly heated all of the way through. Not only can this be dangerous if you're cooking meats and raw vegetables that may contain bacteria, but it's also a real hassle to clean up afterward.
Whether you're making a homemade stir fry, searing meats like steak and chicken, or creating a batch of soup, you'll find that owning a the best wok can make your daily cooking tasks much easier, not to mention cleaner.
The 10 Top Rated Woks of 2018

The Basics: What exactly is a Wok, anyway?
A wok is a type of cookware that originated in China. The use of this cooking utensil quickly spread to other parts of Asia and around the world. These days, a wok can be one of the most useful cooking tools you have in your kitchen, no matter where you're from. While these pans were originally designed to make traditional Chinese dishes, they have multiple functions and can be used for anything from cooking meat to stewing and steaming. This frying pan is much deeper than a traditional pan, and it is also characterized by its round bottom and deep, sloping sides, although newer products may come with a flat bottom.
This type of cookware also features handles that can be used to toss the food while cooking, or it can be stirred with longer ladles and utensils. Because of the length of the handles, a cook is less likely to burn himself or herself while preparing a meal. These can be used for cooking just about anything and may quickly become the most versatile cookware in your kitchen.
What are the different types?
Whether you've used one before or you're new to using this type of cookware and want to experiment in the kitchen, you first need to be aware of the different types available for purchase. By making sure you do your research on this type of cookware, you can relax when it's time to make a purchase because you'll know exactly what to look for before you buy.
Round bottom
These are the traditional types that were originally used in China. While these work great on gas ranges, they aren't the ideal choice for electric ranges, particularly those with smooth ceramic tops.
Flat bottom
These have the same overall design as the round bottom pans except the bottom is flat, so they can be used on electric ranges for even, thorough cooking.
Electric wok
These do not go on your stovetop. Instead, they have a built-in heating element that cooks your food without the use of a separate range. All you have to do is plug the cord into a standard outlet to get the heat you need. This is a great option if you don't have a range or want to free up space while you prepare other dishes.
What are the Advantages of Cooking on a Wok?
If you're making a large meal, you might find that it's hard to stir all of your ingredients in a smaller frying pan. If you need to toss your food, you might also find this task very difficult and messy with a regular pan. Because of its size, a wok can hold a large amount of food so it's easy to stir to ensure all of your ingredients are cooking evenly without some parts burning or not being cooked properly. The large design and the long handle also make it easy to toss your food, something you'll want to do when making dishes like stir fry.
Who are the contenders for Top Wok?
Cast iron has long been a popular choice in cookware because of its heat-retaining properties, allowing you to easily cook at higher temperatures and cooking everything evenly. This material is what makes this affordable pan stand out from other low-cost models. This large pan can be used on electric and gas ranges, as well as over grills. It is strong, durable and comes at a price that's very appealing.
This product looks just as good as it cooks. It is designed with high-quality stainless steel, which is known for its durability and modern styling. This particular product has an aluminum core that assists in even heating, and it comes with a lid that helps seal in the flavor of your food, allows your food to cook faster, and can even be used in the oven.
Whether you're at home or you're traveling, you can always enjoy a delicious meal cooked on this electric model. You won't have to worry about having a range handy with this model, which has a base with a heating element for fast, even cooking. The pan itself is heavy-duty, large enough for a meal for your family and cleans up easily. This unit doesn't require the hassle and mess of using your range, and it can even help you save energy.
Factors to Consider
Every kitchen needs to be well-stocked in order for you to make a satisfying and delicious meal. This includes having fresh ingredients, a recipe, and, of course, high-quality cookware. If you have other pots and pans that just don't seem to do the job when it comes to cooking your larger meals that are loaded with different ingredients, a wok is something you certainly want to add to your collection. Before you buy, though, make sure that you're getting exactly what you need for your favorite recipes by keeping the following four points in mind.
Price
You should expect to pay anywhere around $50 for a basic piece to over $100 for a high-quality stovetop or electric model. Price shouldn't be the determining factor when it comes to making your purchase. Instead, you should consider the overall quality, craftsmanship, and the size before you buy.
Type
As already mentioned, there are several types of woks available. If you live in a dorm or smaller apartment, an electric model may be best for you. If you want even cooking on your flat stovetop, look for a pan with a flat bottom. You want to make sure you purchase a piece that is convenient and easy to use.
Material
It's important to see what the cookware is made of for a number of reasons. If you don't want to go through the hassle of seasoning your pan, purchase one made with nonstick materials. If you want the most even cooking, your best option is a cast iron piece.
Size
You need to consider size to make sure that your ingredients will all fit and have enough room for stirring and tossing. You don't want to leave some of your guests or your family waiting because you have to make multiple batches. Make sure that you purchase cookware that is large enough for multiple portions if needed.
Price
Mr. Bar-B-Q 06106X
This piece is a great deal for a piece of cast iron cookware.
Calphalon Triply Stainless Steel 12-Inch Stir Fry
This is a higher end product that is priced as such.
Breville BEW600XL Hot Wok
This model will set you back, but it also includes a cooking element.
Type
Mr. Bar-B-Q 06106X
This a traditional pan that is used on top of your stovetop or over a grill.
Calphalon Triply Stainless Steel 12-Inch Stir Fry
This is a flat-bottom pan that is used on your stovetop to cook a variety of different dishes.
Breville BEW600XL Hot Wok
This is an electric model that does not require any additional heating element.
Material
Mr. Bar-B-Q 06106X
You can count on even heating with this piece of cast iron cookware.
Calphalon Triply Stainless Steel 12-Inch Stir Fry
This one is made with stainless steel that is both attractive and retains heat well.
Breville BEW600XL Hot Wok
This has a quantanium nonstick cooking surface that is made from durable die-cast metal.
Size
Mr. Bar-B-Q 06106X
This unit measures 10 ¼ x 9 x 10 ¼ inches in overall size and provides enough space to cook a pizza up to 9 inches in diameter.
Calphalon Triply Stainless Steel 12-Inch Stir Fry
This model features a roomy diameter of 14 inches.
Breville BEW600XL Hot Wok
With a 14-inch diameter, you can make a lot of food for your family or your guests in this small appliance.
Conclusion: Our Final Reviews Are In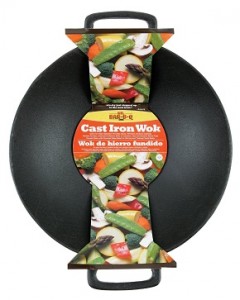 You don't have to spend a fortune for high-quality cookware, as you can see with this 14-inch cast iron piece of cookware. This piece is made with quality cast iron, which is renowned for its strength, durability, and heating properties. This is a round bottom pan that can be used on your gas or electric range, as well as over gas, charcoal, and electric grills.
This piece features two handles and curved sides that make it easy to toss and stir food. Once it is seasoned properly, it will have nonstick properties without the hassle of nonstick coatings that can flake or scratch over time. Despite its low price, this piece is designed to cook all of your favorite meals for many years to come.
Pros:
Very affordable
Comes with a 5-year warranty
Pure, high-quality cast iron
It has a large size, so it's big enough to feed your family
It has two sturdy handles for tossing and stirring
Can provide nonstick properties
Cons:
The rounded bottom may not work on all stovetops
It needs to be hand washed and dried after use, which can be time-consuming
Requires seasoning
It may crack over time with very heavy use or with repeated exposure to very high temps
It's quite heavy
Stainless steel cookware has recently become all of the rage because it is more durable than many types of nonstick cookware, and this piece is a good example of quality cookware. It is made with nonporous stainless steel with an aluminum core that is designed to heat up quickly and retain its heat for even cooking of meats, vegetables, and other foods.
This wok has a large 12-inch diameter, so it's perfect for most meals. It has a flat bottom, so it can be used on any gas or electric range, even smooth top models. It has a long stainless handle that makes it easy to toss and stir food, and it stays cool while cooking. The unit also comes with a tempered glass lid that allows you to finish cooking your food while it's covered or to keep it warm. It's also dishwasher-safe for easy cleaning and it comes backed with a limited lifetime warranty.
Pros:
It has a polished stainless finish, so it looks attractive
Large size
Comes with a lid
Can be used on all cooking surfaces
Very high quality
Retains heat well
Oven-safe
It is dishwasher-safe so cleaning it is easy
Extremely durable
The handle stays cool while it's on the stove
It is resistant to scratches and corrosion
It can be used on induction stoves
Cons:
Without oil, food will stick
It is a bit expensive
It's slightly smaller than other similar pieces, but it's still large enough to do the job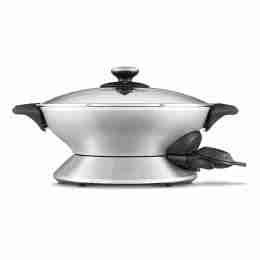 Whether you live in a dorm room that doesn't have a kitchen, want to whip up a quick and delicious meal in your hotel room while you're traveling, or you just want to cook without burning up energy and heating up your house by using your range, this electric model is an excellent choice. With this model, you don't need a stovetop. The wok itself sits on a base that has a heating element, so you can add your food, cook, stir, and mix with just this piece.
This piece is very large in size, so you can create a filling meal for the whole family. It has a 4-layer surface that retains heat, cooks evenly, and has a nonstick coating so you don't have to use butter or oils that can add fat and calories to your meal. It comes with a glass lid that is trimmed with stainless steel and has a steam vent. The element has 15 heating options and a sear option for your favorite meats. With the quick-release base and removable power cord, you can put this item right in the dishwasher for easy cleaning.
Pros:
Multiple heat settings
It has a nonstick coating
Very large in size
It has a built-in heating element, so it's great for places where you don't have access to a range
Comes with a tempered glass lid
Heats up to 425 degrees
Dishwasher safe and very easy to clean
Easy to use
Comes with very detailed instructions
Comes backed with a warranty
Cons:
It is more expensive than other cookware
The nonstick surface may scratch or chip over time and with heavy use
All in All
Whether you're making your homemade stir fry, soup, pasta, or you just want to sear a few cuts of meat, a wok is a tool you definitely need to have in your kitchen. This large pan makes it easy to cook a large meal without it overflowing onto your stovetop, and the specially-designed handles make it easy to cook and toss your food. The Breville BEW600XL Hot Wok is an excellent choice that doesn't even require a cooktop. With this unit, you have your own built-in heating element that allows you to easily cook your favorite meals anywhere, whether it's in your kitchen or in your RV. This unit saves energy, comes with a nonstick coating for easy cleanup and to prevent burned food, and performs well when preparing all of your favorite meals.