Some links on this page are monetized by affiliate programs - see disclosure for details.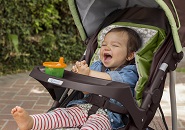 As a parent, you know how difficult it can to leave home with your baby. If you need to pick up a few items from the store, carrying your child can be difficult while you're juggling your necessities. A day trip to the park may turn into more of a chore when you're struggling to carry your child. Even older children may get cranky at a fun amusement park when they've been walking all day and their legs hurt.
Instead of staying at home and missing out on everything that the world has to offer, consider purchasing a stroller. A stroller allows your newborn, infant, or toddler to ride around in comfort, and pushing your child is more convenient for you while you're out and about.
What is a Single Stroller?
A single stroller is a buggy specifically designed to push a child around. In single models, there is seating for one child. Most strollers have four wheels, although certain models may have a different design. A stroller has a seat, a seatbelt or harness to keep your child safe, a footrest, and a handle that the parent uses to steer the stroller.
Strollers are ideal for use when shopping, taking walks indoors and out, or for any other purpose. They are great for children who aren't yet walking, as well as for toddlers that tire easily when walking long distances. Strollers are easier on a parent's back and shoulders than toting a heavy child.
What are the Different Types of Single Strollers?
Not only do you have a wide selection of brands, colors, and price points to choose from, but when purchasing a stroller, you also have several different types to consider. To determine which type of single stroller is best for you and your child, you need to first consider your primary reason for buying one.
Umbrella stroller – This stroller is lightweight, easy to fold, and easy to store. It takes up little space in your trunk, and it's ideal for quick trips.
Traditional single strollers – The most modern traditional strollers are lightweight like umbrella strollers. The difference is that traditional models typically have more safety and convenience features, like child-sized trays for snacking and cup holders for parent and child.
Travel system – Travel systems are made up of three pieces: an infant car seat, a car seat base, and a stroller. When the infant car seat is removed from your vehicle, it easily snaps into the stroller. It can also be used without the car seat.
Seat-carriers – If you want a stroller to use while your child is an infant, these lightweight frames work with your infant car seat. Unlike travel systems, these cannot be used without the car seat.
Jogging stroller – Want to stay active and bring your baby along for the ride? A jogging stroller will help you do that. Jogging strollers have three wheels, and they are designed to remain upright at higher rates of speed.
What are the Advantages of Owning a Single Stroller?
The biggest advantage of owning a single stroller is the convenience factor. Juggling items you are purchasing with your baby is not only a hassle, but it can be unsafe. With a stroller, your child is safely and securely strapped in place. Children that can't walk or who get tired of walking will also enjoy relaxing in a comfortable stroller.
Who are the Contenders for Best Single Stroller?
Graco Literider Click Connect Stroller – Designed to work alone or with the Graco Click Connect infant car seat, this model strolls through your child's first few years without breaking the bank.
Maclaren Triumph Stroller – If safety is your first priority, you won't go wrong with this stroller. In addition to safety, you'll also enjoy a bevy of features designed to keep you and your child happy.
Britax B-Ready Stroller – This Britax model is the Rolls Royce of strollers. This stroller has customization features so you can personalize it to fit the needs of you and your child.
Considerations for Choosing the Right Single Stroller
If you've narrowed down the type of single stroller you think will work best for your family, you'll still find that you have so many options available to you. By evaluating these key features, you're sure to find a stroller that you and your child will adore.
Size
Since your stroller will stay in your car and travel with you, its size is extremely important. If you drive a compact car, have a smaller trunk, or have limited space in general, one of the larger model strollers will not work for you. The weight of the stroller is also a factor If you struggle to hold heavy things, you'll want to select a lightweight model that's easy to get in and out of your trunk.
Age, height, and weight limit
How do you plan to use your stroller? If you just want a stroller for your infant, a car seat carrier stroller will work best for you. If you want your stroller to grow with your child, a travel system should be at the top of your list. Some strollers are designed for older children and are not suitable for infants, so make sure you check the height and weight limits before making your purchase.
Safety
Keeping your baby safe is always your top priority. While modern strollers go through testing to ensure they are safe for children, it is still your responsibility to ensure you protect your child. Is the stroller equipped with a 5-point harness? Is the brake easily accessible? Make sure that when you purchase a stroller, you find one that has the safety features needed to adequately protect your child from injury.
Price
If you have a budget, you'll need to decide what brands and features fit within that budget. Determine if there is something that you can live without, as well as pinpoint the features that you and your child simply must have to determine what stroller works best for you. Strollers range in price from under $20 to thousands of dollars, so there truly is a stroller for every budget.
Size
Graco Literider Click Connect Stroller
Weighing in at less than 20 pounds, this lightweight stroller is great for parents on to go. It is larger than an umbrella stroller, so if you have limited space, this may not be the right product for you. As far as standard strollers go, however, this is one of the more streamlined models that come packed with extra features to make your life more convenient.
Maclaren Triumph Stroller
At just 11.9 pounds, this stroller is a lightweight, but don't let that fool you. This stroller is strong enough to support a child up to 55 pounds. The streamlined design makes this stroller one of the easiest to push, fold, carry, and store in your vehicle.
Britax B-Ready Stroller
At 37 pounds, this stroller is the heaviest on this list, and outweighs many other comparable strollers. The stroller is also quite bulky, so it isn't the best choice if you drive a compact vehicle or have limited space.
Age, weight, and height limits
Graco Literider Click Connect Stroller
The Graco Literider is a stroller you can expect to last for years to come. This stroller comfortably accommodates children up to 40 pounds, there are no height restrictions, and it is compatible with Click Connect infant car seats, so it's ideal for newborns and infants as well.
Maclaren Triumph Stroller
Despite its small size, the Maclaren Triumph comfortably seats a child up to 55 pounds. This advanced umbrella stroller is designed for children ages 6 months and up.
Britax B-Ready Stroller
The Britax B-Ready is compatible with Britax infant car seats and bassinets, so it can be used from birth. When the car seat or bassinet is not in used, this stroller comfortably holds a child from ages 6 months and has a 55 pound weight limit.
Safety
Graco Literider Click Connect Stroller
If using this stroller with your infant car seat, the loud click that indicates the seat is locked safely into place is a great extra safety feature. For kids not in car seats, there is a 3 or 5-point harness that ensures they are kept safely in the seat. Lockable front wheels add extra safety to this budget-friendly model.
Maclaren Triumph Stroller
Maclaren sets high standards for safety, and this stroller meets all of those standards. A 5-point harness keeps your child safe, and you don't have to worry about your stroller rolling away while parked with the lockable front wheels.
Britax B-Ready Stroller
The five-point harness is easily adjustable and doesn't require rethreading, so it's a cinch to make sure your child is held in tightly. The one-step parking brake is easy to deploy while your stroller is parked.
Price
Graco Literider Click Connect Stroller
This top-rated stroller is very affordable. It offers the lightweight design of an umbrella stroller combined with many of the best features found on more expensive models.
Maclaren Triumph Stroller
While the Triumph is priced well above other umbrella strollers, the quality construction and extra features make this an investment that will withstand years of wear and tear.
Britax B-Ready Stroller
This stroller is definitely top-of-the-line. However, this model has many different configurations and can even expand to hold other children, so it may be the only stroller you ever have to purchase.
Conclusion: Our Single Stroller Reviews Are In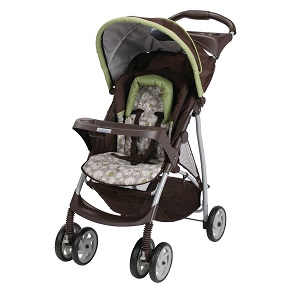 Inexpensive doesn't necessarily mean cheap, and the Graco Literider stroller proves this statement. This is a budget-friendly stroller that is anything but basic. You'll get years of use out of this stroller, as it is able to be used with Click Connect infant car seats, and it easily seats a child up to 40 pounds comfortably.
The attached harness keeps your child secure, while features like cup holders and a storage basket make your life more convenient while on the go. The multi-position reclining seat, soft fabric, and cushy padding provide your child with a smooth and comfortable ride, and front-swivel wheels and built-in suspension make handling this stroller a breeze.
Pros:
Stroller is extremely affordable. Stroller comes with parent tray and removable child's tray. Extra-large storage basket provides plenty of space. Lightweight design and one-hand folding make this easy to steer and transport.
Cons:
Reclining option is not convenient to access. Car seat may be difficult to remove smoothly from the stroller.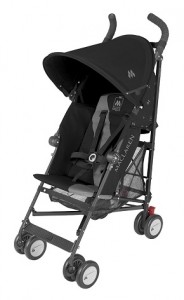 If your child is able to sit unassisted and you don't want the bulk of a traditional stroller, the Triumph is a great product to consider. You and your child will both feel safe when using this durable stroller, which was voted Safest in Its Class and is constructed of aircraft grade aluminum alloy.
Removing, loading, folding, and steering this model is smooth and easy. With the oversized UV hood to protect your child from rain, sun, wind, and bugs, your child will always ride in comfort.
Pros:
Washable seat cover makes cleanup easy. Oversized storage basket provides plenty of room for your belongings. Multi-position reclining helps keep your child comfortable. Stroller is available in multiple fashionable color combinations.
Cons:
Stroller is not for newborns and small infants. Does not include cup holder. When folded, wheels touch the canopy, making it get dirty easily.
With 14 different configurations and the option to expand, this stroller is perfect for a growing family. Convenience features like a cup holder and oversized storage are convenient for you, while enhanced suspension and foam filled rubber tires makes the ride smooth for your child.
This stroller is compatible with all Britax car seats, and two infant seats can even be used. It's great for parents with twins.
Pros:
Stroller expands with your family. Comes with 1-year warranty. Easy to fold and steer. Strong, durable materials are designed to last.
Cons:
Pricing is more expensive than other models. Heavy, bulky stroller may not fit in smaller vehicles.
In Summary
If you had to purchase just one stroller in your life, the Britax B-Ready provides everything you need to really go the distance. From birth through toddlerhood, your child will be safe and comfortably anywhere you go. With expansion options, you can use it with any other children you have, as well, so there is no need for two strollers. With so many different options, you'll never have to buy another stroller again.