Some links on this page are monetized by affiliate programs - see disclosure for details.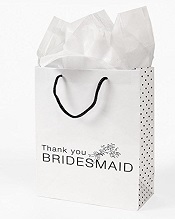 A wedding is a joyous occasion, and it's one that you want all of your most loved relatives and friends to enjoy with you. Your wedding party is typically made up of your closest friends and family members, from sisters to best friends to college roommates, you want the ones you love most standing at the alter with you while you recite your vows.
While weddings are a fun, emotional, and a great time for all, being a member of a bridal party can be quite the task. In most cases, bridesmaids have to purchase their own dresses, shoes, and accessories. They typically have to pay for their own manicures, hair stylists, and makeup artist. Not only that, but the bridal party is responsible for helping the bride with her planning, doing everything from searching through hundreds of dresses at bridal shops to hand-addressing hundreds of invitations.
The bridal party does more than just stand at the alter in beautiful coordinating dresses – they help the bride from the time she gets engaged to the minute she drives away to her honeymoon destination. Because bridesmaids do so much, it is only customary that a bride show her appreciation with a well-thought out gift.
Our Top 10 Gifts the Bridesmaid in Your Life Will Love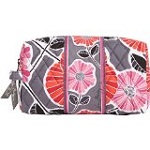 This cute fabric cosmetic bag is the perfect size for all of the essentials. It is plastic lined, so your bridesmaids don't have to worry about spills. This bag is available in 30 different patterns, so you're sure to find something that fits the style of each of your close friends and loved ones.
As an added bonus, fill each bag with makeup, brushes, miniature fragrances, and other beauty goodies.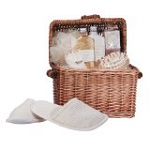 After the stress of a wedding, it's nice to just relax and wind down. With this loaded basket, your bridesmaids can soak in a relaxing tub after a long day of preparing for a wedding, standing at the alter, and dancing the night away at a reception.
This basket comes with bath gel, bath salts, lotion, sponge, and a massage tool for ultimate relaxation. You can also pair this gift with a fluffy robe, a silk robe, or a pair of soft slippers for a total at-home spa experience.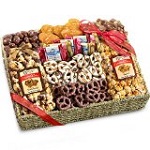 After watching a diet to look great in a dress, your bridesmaids will appreciate this delicious gift basket. It is loaded with decadent snacks, including caramel corn, peanut brittle, white chocolate and chocolate pretzels, and rich chocolate candy.
The seagrass basket is perfect for using for storage after all of the yummy treats have been gobbled up.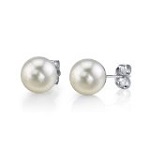 These classic pearl studs will look beautiful on your wedding day, but they're also great for everyday wear, transitioning easily from the office to a night out. The posts and backs are crafted in 14k gold, and you can choose from 7.00mm to 11.00mm depending upon your bridesmaids' style and your own personal budget.
You can even purchase a small engraved box or a basic jewelry box instead of traditional gift wrap.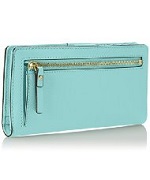 This stylish wallet is the perfect gift for a fashionable bridesmaid. It's 100 percent leather, so it's soft and durable, and it has plenty of space for money, credit cards, and more. It is available in seven great colors, including Black, Bright White, and Fresh Air, so you can select a different color for each of your friends.
If you want to go the extra mile with your gift, you can even stick a small note or a gift card for a favorite store or resturant inside before wrapping it.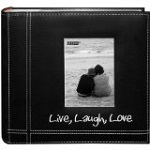 This is a gift that she will always treasure. Use this photo album to put pictures of the two of you together and all of your favorite memories. If you run out of photos to use, you can put down meaningful quotes or jot little notes on paper and insert into the photo slots for a gift she'll cherish for a lifetime.
You can choose different versions for each of your girls, making sure that you put different pictures in each one to reflect all of the great times you've enjoyed together.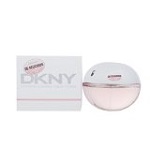 This fresh and fruity fragrance is one that she'll enjoy wearing every single day. It's light enough for daytime wear, but it's perfect for a night out as well. It combines delicious scents like apple, cucumber, and grapefruit to create a refreshing blend that smells, as the name suggests, quite delicious.
This is a great scent for every woman, but if she has different tastes, pick her favorite or find a similar fragrance that matches her own personality.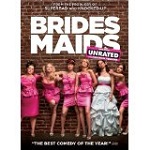 What better way to celebrate your bridesmaids than with the movie "Bridesmaids"? This comedy is an entertaining film that will make any problems at your wedding seem minor in comparison.
Make this gift even more special by packing it in a pretty basket, filling it with boxed candy, bags of unpopped popcorn, and a promise that a movie night together is in your future.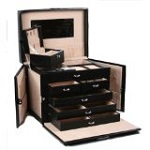 Give her a place to store her precious jewels and costume jewelry with this great jewelry box that's portable enough for travel. It is loaded with five slide out drawers, 20 different compartments, 10 necklace hooks, three storage pouches for delicate items, and removable earring holders so everything is kept neat and organized.
You can make this idea more personalized by putting a piece of carefully selected jewelry inside, as well as a handwritten note telling her how much she means to you.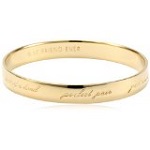 This beautiful bangle will sparkle on her wrist as she walks down the aisle, and she can wear it beyond the wedding as a reminder of your close relationship. This silver-tone bangle has a simple design that complements any outfit, and it is engraved with meaningful idioms, including "two of a kind" and "perfect pair."
It comes with a soft, stylish bag that's perfect for gift giving and protecting this beautiful bauble. If she prefers gold over silver, a gold-tone version in the exact same style is also available.
What makes a great Bridesmaid gift?
If you are purchasing gifts for your bridesmaids, it's important to remember that it doesn't have to be expensive. You can spend as much as you'd like. However, if you spend a lot of money on unnecessary gifts that will never be used, it's just a waste of money. Instead of worrying about how much to spend, focus more on the recipients.
In general, many brides choose the same gift for each bridesmaid, but you don't have to do this. You can buy the same general item with minor differences to reflect the personality of the recipient. You can even buy completely different gifts, if you wish, for bridesmaids with different interests and styles. When you're ready to shop for your bridesmaids to show them how special they are to you, keep the following things in mind to ensure you get the ideal gifts.
Something for the wedding that can be used later
A wedding is a big expense for anyone that's closely involved, including your bridesmaids. Some bridesmaids may spend hundreds of dollars to look perfect for your big day, so why not ease the burden? Pick out a great accessory or piece of jewelry that complements the chosen bridesmaid dresses that they can also wear past the wedding. You can choose different stones and styles to match each girl's personality for a more personalized touch.
Something from the heart
Your bridesmaids are in their position for a reason – because you love them and are close to them. Take the time out of your wedding and honeymoon planning to make something special for each of them. A small scrapbook, a photo album, or even art that you've made yourself (if you're crafty) is special and meaningful. This idea definitely takes more planning than other gifts, so make sure you get started early and leave yourself plenty of time to get it finished before your wedding or bridal shower.
Plan time together
During your wedding planning, it's easy to become consumed with every little detail and not spend time on your personal relationships. After the wedding and honeymoon are over, plan a special day or evening out with your best girls. Take them to dinner and a movie, concert, or play you'd all like to see or go for an all-day spa day where you can gossip and giggle during manis, pedis, and massages.
Consider each girl's interest
Does your maid of honor love to read? Buy her a book she'll love or a basic e-reader. If one of your bridesmaids loves photography, give her a photo album loaded with pictures of the two of you, or even a point and shoot camera for future memories. If she loves to work up a sweat, give her a gift certificate to a gym, Pilates class, or another class that will get her blood pumping.
Types of Gifts To Consider
Jewelry
Jewelry is a popular option because it can be worn for the wedding, as well as for any other occasion. Stick with classic pieces that go with just about anything. Dainty pearl earrings, delicate gold chains with pendants, and rhinestone bracelets are just a few of the items you can purchase for your wedding party. Personalized bridesmaid jewelry is also a great option, but make sure to pick something that she can wear beyond the wedding day. Otherwise, it won't get much use at all.
Beauty tools
Makeup and beauty items are great for a bridal gift because the girls can use the makeup for the wedding, but they can also use it any other day. A designer cosmetics case or a monogrammed makeup bag filled with makeup brushes and high-quality cosmetics makes an ideal bridesmaid gift. You can also add skincare items and perfume if you wish. Just make sure that everything you pick is carefully selected so it's something that she'll use.
Tasty treats
Shower your bridesmaids with gourmet food and drink. Buy each one a bottle of wine that she can enjoy after the wedding, or purchase large boxes of gourmet chocolates. If your bridesmaid loves coffee, gift her a basket of gourmet coffees or even a new coffee maker if it's within your budget. You can also present her with a gift card for her favorite restaurant or a place that she's been wanting to try.
Choosing an Awesome Bridesmaid Gift
It's important to always keep the interests and personalities of your bridesmaids in mind while you're shopping for gifts. Buying a generic gift just won't cut it, and you want to make sure they'll love it so it doesn't end up stuffed in a closet. Take the time to make the purchase – don't wait until the last minute. If you can buy the same gift for each girl and know they'll enjoy it, do so. However, don't try to force it.
If each bridesmaid is completely different, make an effort to purchase individual gifts that show how much you know them, as well as how much they are appreciated. No matter what gift you choose, make sure that you include a card or handwritten note that spells out exactly how much she is appreciated.
Conclusion
When you have your wedding, you don't only gain a spouse, but you also realize how many people are truly involved in your life. When you chose your bridesmaids, you chose carefully to pick the people you cared about the most, so it's just as important to carefully pick a gift that shows them exactly how much you love them and appreciate everything they've done for you throughout your life, including being a part of your wedding party.