Some links on this page are monetized by affiliate programs - see disclosure for details.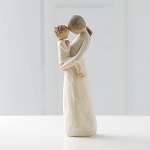 A new baby is a great time for celebration. A new baby is a new life that is brought into this world and is an innocent, precious bundle of joy that should be celebrated. New parents receive lots of gifts prior to a baby's birth at baby showers with friends and family. They may even receive baby gifts while they're still in the hospital immediately after birth.
However, sometimes in all of our joy over a new baby, we tend to forget about the mother who carried the child around for months and went through a lot to be able to hold her new baby. With the celebration of a new mother, new moms should also be celebrated, and what better way is there to show a new mom that she's loved and appreciated than with a great gift?
How To Choose the Perfect Gift for a New Mother
When selecting a gift for a new mom, try to think of something that will be useful her in the months or even years to come. It could be something as simple as a new perfume that helps her feel good about herself, even when she's just sitting at home with the baby, or a great new accessory that makes her feel stylish after months of wearing maternity clothes.
You don't have to empty your bank account to show a new mom in your life that you care. In fact, with a little ingenuity, you can find something for every budget that will make a new mom feel special and loved. Consider her personality, her own interests outside of being a mother, and even things that she wouldn't normally purchase for herself when you're trying to decide what gift is best.
Top 10 Gift Ideas the New Mom in Your Life Will Love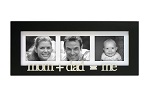 This cute picture frame spells out the perfect equation and looks great in any family's home. The black wood is accented with metal letters, so it matches any décor. It can be hung on a wall or displayed on a shelf, desk, table, or mantel. It has three photo openings for a picture of mom, dad, and the new baby. This is an inexpensive and thoughtful gift that a mom can enjoy for years.
You can leave the photo spaces open for her to insert her own pictures, or you can take some candid photos at the hospital or when they arrive home that you can add before wrapping and presenting her with the gift.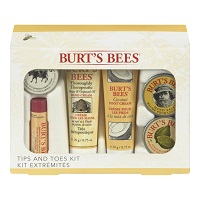 With this kit, she can pamper herself naturally from head to toe. This kit is fully stocked with pint-sized essentials, including hand creams, salves, cuticle creams, foot cream, and lip balm. It is extremely affordable, and it lets a mom take care of herself easily in between caring for her new baby.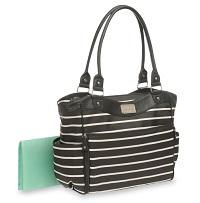 Who says a new mom has to carry a gigantic pastel colored diaper bag? Today's modern bags are so stylish, they look like a fashionable purse. This Carter's diaper bag is a perfect example of how far diaper bags have come in recent years. The striped design and double handles makes this diaper bag ultra-stylish, and best of all, it's very budget-friendly.
This bag has eight interior pockets, a soft changing pad, and side bottle pockets so she's always equipped with all of baby's essentials, as well as her own like a wallet, car keys, and cell phone.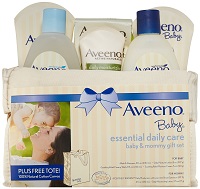 This is a great gift that mommy and baby both can use. This gift set from Aveeno contains body care items for mom and her child. For baby, the kit includes a daily moisture cream, a soothing moisture lotion, and baby wash/shampoo.
For mom, the kit includes a daily moisturizer and lotion that keeps her skin soft, smooth, and smelling fresh.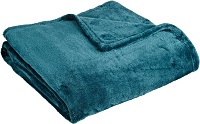 New moms struggle to get sleep each night, but this ultra-soft throw might just help her relax. She can use it at night in her bed for extra warmth, snuggle with her baby in the rocking chair, or cover up while reading a book and taking a quick break.
This soft throw is 50 x 60-inches, so it's big enough to keep her warm and cozy. It is also available in your choice of six colors.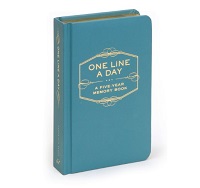 Keeping up with a baby's life can be tiring, but a new mom doesn't want to miss a minute. Instead of writing paragraphs in a traditional baby book, this memory book simplifies the process. There is just enough space to write a daily quote, jot down a quick memory, or record an important milestone.
With just seconds each day, any mom can keep up with the first five years of her child's life.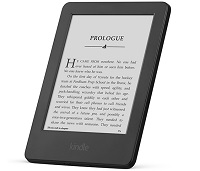 She can easily keep up with her favorite book with this affordable Kindle. The screen is designed to look like paper, and there is no glare, even in bright sunlight, so it's always easy to read. It is equipped with Wi-Fi so she can easily download bestsellers, mystery novels, biographies, and millions of other books directly from Amazon.
This e-reader is easy to use, so even moms that aren't tech-savvy can be reading in no time at all.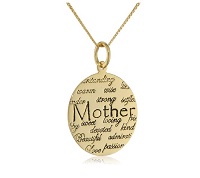 Remind her of her special job and all of her strengths with this classy (and affordable) necklace. The sterling silver disc is engraved with the word "Mom", as well as characteristics that make a good mother, including "warm", "wise", "strong", and "loving."
The pendant comes with a sterling silver box chain. It is also available in yellow gold tone over sterling silver.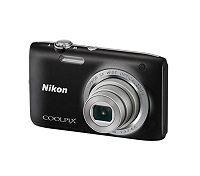 Every great family moment can be perfectly captured with this affordable point and shoot camera. It is available in six different colors, so you can choose her favorite. This camera shoots at 20.1 megapixels, providing crystal-clear photos that are perfect for printing or uploading to email or social media sites.
It also records in 720p high-definition clarity with just the touch of a button.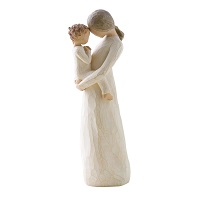 This sentimental statue is something she can display in her home even after her child is all grown up. This hand-carved figurine features a mother holding her child and sharing a special bond. This is a gift that she will cherish for a lifetime. It even arrives in a gift box with a gift card that can be used to give your best wishes to the new mother.
There are also other statues available showing the love between a mother and her children, so she can even begin a collection if she chooses.
What makes a great New Mom gift?
A new mom is going to be tired, stressed out, and unable to care for herself very much in between snuggling, hugging, loving, and caring for her new baby. There are a few options you can turn to when purchasing a gift for a new mom. You can choose to give her something that only she can enjoy, something she can share with her family, or something that will just make her life much easier.
In order to pick a fantastic gift for the new mom in your life, consider the following ideas.
A helping hand
Think about what could potentially make a new mom's life easier. If she's short on time, kitchen tools are great for the job. If she can't keep up with the cleaning in her home, a new vacuum or a steam mop let her keep her house sanitary and clean for her family much more easily and quickly than with her old mop and vacuum.
Pamper party
New moms don't get a lot of time to themselves, and taking a trip to the spa is certainly not something that a new mother has time for after having her baby. This doesn't mean she can't relax and take time for herself. Baskets of skin and body care items can easily turn her bathroom into a relaxing oasis for at least one night. Even a cozy rode and soft slippers can put her in a more relaxed mood after her bath or shower. This is a great reminder that a new mom is important. She should take care of herself as well as her newborn baby.
Date night
Many times after a baby is born, a women and her partner don't get any time to themselves. While spending time with the baby is important, it is just as important to nurture a romantic relationship. Present a new mom with a gift card to her favorite restaurant and even offer to babysit while she enjoys a few hours eating a meal she didn't have to prepare and can focus on her partner. Later, she can return feeling refreshed and ready to spend time with her child again.
Sentimental mementos
A baby grows up quickly, so that's why it's important to preserve these precious moments today. Present her with a beautiful silver or wood picture frame with a photo of her child or her entire family, a digital photo frame with storage space for all of her current and future memorable moments, or a scrapbooking kit she can use in her free time to record all of the milestones of her child.
Other Types of Gifts To Consider
Jewelry
Mother's jewelry has grown in popularity because it is beautiful. But it also displays to the world that a mom loves her child. Look for personalized peaces with touching quotes, sparkling birthstones, or engraved names and initials that she can wear daily as a proud mother. Find something that is simple enough for everyday wear and matches just about anything.
Books
A new mom doesn't have a lot of extra time, and most of the time she does have away from the baby is spent cooking, cleaning, tending to other kids, or just catching up on sleep. However, a good book is something simple that she can enjoy while her child is napping, playing, or just hanging out in a swing or bouncy seat. Buy her favorite novel or take it one step further by presenting her with an e-reader that she can use to download works from her favorite authors.
Musical gifts
Music is fun for the whole family, so why not present a new mom with something that allows her, as well as her baby, enjoy fun lullabies, oldies, and other favorites? A Bluetooth-enabled speaker works with her tablet, phone, or other device and allows her to play soothing music while rocking her child, or dance with her baby to the latest pop songs. If she doesn't have a quality music player, you can spend a little more and give her an MP3 player like the iPod Shuffle that's easy to use and can be loaded with her favorite songs.
Photography gifts
Pictures are a great way to keep up with a child's first milestones, and if she doesn't have a good camera, this would make a wonderful gift. Make sure to choose a lightweight camera that's easy to hold and reacts quickly so she never misses a moment of her precious child's life.
Conclusion
A new mom's greatest gift is her baby, but you can also show her just how special she is to you. Throughout the baby showers, the birth of the child, and the constant visitors that come in and out of her home after the baby is born, it's easy for the attention to go to just the baby. However, it's important to show the mom that she is loved, as well.
Whether it's for a friend, your sister, or another loved one, showing a new mom just how much she is loved and appreciated is a great way to make her feel even prouder to be a mother.