Some links on this page are monetized by affiliate programs - see disclosure for details.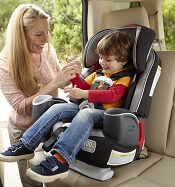 Keeping a child safe is every parent's priority. From locking up medications and cleaners at home to monitoring them while they nap, you always want to make sure your baby feels safe. Riding in the car is no exception.
No parent likes to think about being in an auto accident, but unfortunately, accidents happen when you least expect them. By securing your baby or child in a properly installed car seat, you lessen the chances of injury in the event of a car crash.
What is a Convertible Car Seat?
When you bring your infant home from the hospital, you might place them in an infant car seat. However, these car seats are very quickly outgrown once the child is just a few months old. Once this seat is outgrown, it's time to move them into a new, better fitting car seat. In most cases, parents opt for a convertible car seat.
A convertible car seat is a rear-facing seat that is designed for babies and toddlers. While height and weight limits vary by model, a child can generally go most convertible seats once he or she hits 20 pounds. Once the child outgrows the rear facing position, the seat converts into a front facing seat that keeps your toddler safe while out on the road.
What are the Different Types of Convertible Car Seats?
There are many different brands, models, and styles of convertible car seats. In general, there are two main types to look for. These are traditional convertible car seats and 3-in-1 seats. Knowing the difference between the two is helpful during the purchasing process.
Traditional convertible seats – A traditional convertible car seat is larger and heavier than infant car seats. Convertible car seats also do not have removable carriers like most infant seats and are designed to stay in your vehicle. A convertible car seat is placed in the rear-facing position during infancy and is then turned forward as a baby becomes a toddler.
3-in-1 convertible seats – A 3-in-1 seat, also known as an all-in-one, is used when a child is a baby up through his or her school years. Like a traditional convertible seat, a 3-in-1 seat can be placed in a rear-facing or forward-facing position. Once a child has outgrown the traditional front-facing seat with harness, 3-in-1 seats can be converted to a high back booster seat.
What are the Advantages of Owning a Convertible Car Seat?
The most obvious (and certainly most important) advantage of owning one of these car seats is that your child will always be safe on the road, whether you're driving down the road or across the country. With laws in every state governing children riding in car seats, you're also abiding by the law by keeping your child properly restrained.
When compared to other types of car seats, a convertible car seat makes the most sense. A convertible seat grows with a child, so from infancy through adolescence, your child will be well protected while riding in your car without the need to purchase multiple seats as they grow, which can become quite expensive. Many parents find that buying a high-quality convertible car seat is a great investment.
Who are the Contenders for Best Convertible Car Seat?
Graco Nautilus 3-in-1 Car Seat – Even if you're on a budget, you never have to sacrifice your child's safety. The Graco Nautilus is a stylish, comfortable, and safe seat that functions as a rear-facing seat, forward-facing seat, and booster seat.
Peg Perego Primo Viaggio Infant Convertible Car Seat – The Primo Viaggio seat provides all of the safety features you need, and with a wide range of color choices, the added bit of style you want in a convertible car seat.
Britax Advocate ClickTight Convertible Car Seat – This high-end seat cradles your child in comfort and has enhanced safety features that put your mind at ease.
Considerations for Choosing the Right Convertible Car Seat
When it comes to convertible car seats, there are a few key features that you can look for that helps make your purchasing decision easier. Of course, safety is top priority, but all of these modern seats offer their own set of safety features and have been impact-tested to meet or exceed all standards set forth by the American Academy of Pediatrics.
Height and weight limits
Every convertible car seat has different height and weight limits. Determining whether you need a seat that's designed for use from birth or if you need a seat to replace your infant carrier helps narrow your selections.
Comfort
Safety always comes first, but for longer car rides especially, you want to make sure your child is comfortable. Soft materials, padding, and roomier designs allow your child to always ride in comfort.
Convenience
Easy installation, attached cup holders, and easy recline mechanisms make installation and car rides less of a hassle for parents and children.
Price
You can't put a price on safety, and quality seats don't come cheap. However, there are seats available in all price ranges to easily fit within your budget without sacrificing your child's safety.
Height and Weight Limits
Graco Nautilus
The Nautilus' 3-in-1 design allows it to grow through all stages of your child's life. With limits of 20 to 100 pounds, this seat can be installed and kept in your vehicle for years to come. This seat is designed for children that are 27 to 57 inches tall.
Peg Perego Primo Viaggio
The Primo Viaggio is ready to go from the time your child comes home from the hospital. This seat keeps children from 5 to 65 pounds safe and secure during every car ride.
Britax Advocate ClickTight
You'll get plenty of use from this convertible seat, which comfortably accommodates any child that weighs 5 to 65 pounds. It's roomy enough for larger children, but not so large that smaller children feel unsafe.
Comfort
Graco Nautilus
The Nautilus features padded arm rests, an adjustable neck rest that offers comfort and support, while the padded seat helps keeps little bottoms in place and comfy through every trip.
Peg Perego Primo Viaggio
The Primo Viaggio is made of fabrics that provide ventilation and quick moisture absorption, so little ones won't get overheated on even the hottest days. Shock absorbing foam not only makes a more comfortable ride, but it also helps absorb impacts in the event of a crash, lessening the chance of injury.
Britax Advocate ClickTight
Plush foam padding cradles your child at every point on the Britax Advocate. Easy adjust straps keep children restrained without being held in uncomfortably tight. The reclining mechanism provides perfect positioning with every ride.
Convenience
Graco Nautilus
The Nautilus comes equipped with a single cup holder and storage area, which kids will love using for their sippy cup, snack, or small toys. As a child gets older, open loops allow for self-buckling without the hassle. The Nautilus also has tethers to be used with a vehicle's LATCH system.
Peg Perego Primo Viaggio
This seat comes equipped with a tether system for easy LATCH installation, and it also features adjustable Side Impact Protection. This option makes sure your child is as safe as possible, and it can even be adjusted while your child is seated.
Britax Advocate ClickTight
Britax's ClickTight technology has become well-known because it takes the burden out of the car seat installation process. With just a few simple steps, your child's seat will be properly secured without the need for kneeling, tugging, and fighting with straps. The quick adjust harness allows you to make your child safe and comfortable with just the touch of a button.
Price
Graco Nautilus
If you're on a tighter budget, the Nautilus is an option that may be right for your family. This seat offers the safety features your child deserves without putting a dent in your wallet.
Peg Perego Primo Viaggio
The Primo Viaggio is a mid-range seat. The added safety features and convenience features make this seat a top contender when compared to other convertible car seats.
Britax Advocate ClickTight
For a high-end seat with lots of features, the Britax Advocate fits the bill. This seat is more high-end than many others, but the added security is well worth the extra cost.
Conclusion: Our Convertible Car Seat Reviews Are In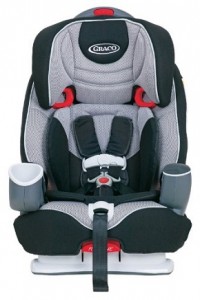 For many years, Graco has become a popular brand known for high-quality baby gear available at affordable prices. The Nautilus 3-in-1 is no exception. With a weight limit of 100 pounds and an extended harness, this seat is one that can be used for many years to come. This seat can last through all stages of your child's life, functioning as a rear-facing seat, forward-facing seat, high back booster, and backless booster.
With safety features including steel reinforcement, fully adjustable headrest, impact-absorbing foam, and full body support, this seat has met all safety standards and has been rigorously tested to ensure a child's safety.
Pros:
The price makes this a budget-friendly option. Single cup holder and storage compartment keep a child's items within arm's reach. Comfort features make every ride more comfortable. The seat is available in multiple patterns for boys and girls.
Cons:
This seat is designed for children that weigh 20 pounds and up. At 21 pounds, this seat is heavy and slightly cumbersome. Tilt option does not fully recline seat. Over time, the buckle may begin to stick.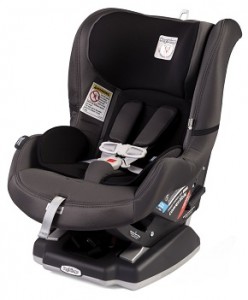 The Primo Viaggio is a great combination of function and style. With features like adjustable Side Impact Protection, shock-absorbing foam, and energy-absorbing foam, you know your child will be safe every time you're in your vehicle.
Many great color options, including Aquamarine, Black, and Rogue, are available for an added bit of style, while comfort recline allows your child to relax on longer trips. Installation is quick and easy for most vehicles, so you can easily remove the seat and install in another vehicle without stress and hassles.
Pros:
Seat can be used from birth. At 11 pounds, this seat is lighter than many others, making it easy to transfer from vehicle to vehicle. Fabric is easy to clean. Head rest is comfortable and easy to adjust.
Cons:
Cup holder is sold separately. Shoulder pads are stiff. Installation may be difficult in certain vehicles.
If quality is what you're looking for, you can't go wrong with Britax. Britax seats are known for being the best of the best, and the Advocate is no exception. With SafeCell Impact Protection and SafeCell Complete Side Impact Max, you have a full safety system ready to keep your child protected in case a crash occurs.
With 7-position recline, a quick adjusting harness, and ClickTight installation, keeping your child snug and secure during any car ride is a breeze with the Advocate.
Pros:
Elite safety features offer maximum protection in the event of a crash. 7-position reclining seat provides a comfortable ride. 14-position harness keeps your child firmly and comfortably in place. Cleaning the seat is simple.
Cons:
Cup holder is sold separately. Higher price point may not be realistic for budget-minded parents. Using LATCH installation may be more difficult than installing with the seat belt. Owner's manual is confusing.
In Summary
Whether you're traveling across town or across the state, you always want to make sure that your baby is provided with the ultimate in protection. There is no better way to protect your child than with a properly installed car seat. Despite its price tag, the Britax Advocate ClickTight is loaded with the latest safety features that are designed to protect your child, while also implementing easy installation so you always know your seat is installed properly.
This seat is ready to provide you with peace of mind, as well as the safety that your baby deserves.