Some links on this page are monetized by affiliate programs - see disclosure for details.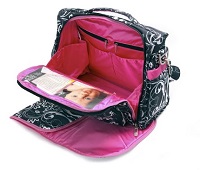 A diaper bag is a necessity that is slung across every mother's shoulder. With every trip to the store, vacation, or day at the park, there are so many items a baby needs, and a diaper bag keeps all of these items in one convenient place.
Diaper bags of the past have been more functional than fashionable, but modern diaper bags are taking on chic designs, provide storage space for mom and baby's items, and are even designed for men who are taking on more responsibilities with their children. With so many diaper bags available, picking the perfect one can be a hassle, but with a little insight, any mom or dad can be functional and fabulous with a great new diaper bag.
What is a Diaper Bag?
A diaper bag is bag designed to hold everything a baby needs when he or she is away from home. These totes are used to hold diapers, wipes, bottles, powdered formula, breast pumps, extra clothing, toys, or anything a child may need when out and about. A parent carries a diaper bag when out with the baby, or it is packed for a child when he or she is being dropped out with a relative, sitter, or other caregiver.
A diaper bag conveniently stores baby items so they're within arm's reach when they're needed. A diaper makes carrying a small child, infant carrier, and other items easy and convenient.
Read: Our updated guide to the top 10 best crib changing tables
What are the Different Types of Diaper Bags?
Modern brands are making diaper bags better than ever before. New designs make toting items easier while also adding fashionable appeal. There is a diaper bag to fit every parent's personal sense of style.
Diaper totes – Traditional diaper tote bags are still one of the most popular styles. Designed to sling over the shoulder, these bags are easy to pack and carry and come in a variety of sizes, colors, and patterns.
Messenger diaper bags – Messenger-style bags have shown up everywhere from on college campuses to fashion runways. Messenger bags are designed to fit across the body, so they don't easily slip off the shoulder like a tote bag. These diaper bags have become very popular with moms and dads alike.
Diaper backpacks – Instead of wearing your bag over your shoulder, a diaper backpack puts all of your necessities behind you. Designed like a school backpack, these bags free up your arms and hands, allowing you to carry other items, push a stroller, or play with your baby without the hassle of a bulky bag.
Fashion diaper bags – Fashion diaper bags are designed to look more like a purse or handbag than a regular diaper bag. These bags may be made by famous designers, are available in a variety of fabrics, and come in fashionable colors, patterns, and styles.
What are the Advantages of Owning a Diaper Bag?
A diaper bag is a must-have for every parent of a young child. It makes sure you always have your essentials with you while on the go, and it keeps everything perfectly organized.
A diaper bag also does double duty as a purse. Instead of struggling to hold your baby, car keys, a purse, and all of your baby's essential care items, everything can be packed into one diaper bag for easy portability and convenience.
Who are the Contenders for Best Diaper Bag?
Fisher-Price FastFinder Messenger Diaper Bag – This budget-friendly bag is roomy, stylish, and priced affordably. Best of all, the unisex design means that dads won't be embarrassed when carrying it.
Ju-Ju-Be B.F.F. Convertible Diaper Bag – If you want lots of compartments for everything you and your baby need while on the go, this convertible bag has what you're looking for. The convertible design easily takes this bag from a stylish messenger bag to a functional backpack.
Storksak Women's Olivia – You'll look and feel like an A-list mom when you carry this fashionable bag. Favored by celebrities, this lightweight bag carries everything you need and matches your favorite ensemble.
Considerations for Choosing the Right Diaper Bag
Much like purses and fashion accessories, there are many brands, styles, colors, and sizes of diaper bags available on the market. By understanding what to look for in a quality diaper bag, you can easily find a great bag that lasts throughout baby's first years.
Style
Being a parent doesn't mean you have to be frumpy, so why not get a bag that shows off your personal style? The newest diaper bags are available in trendy colors and grownup patterns. Do you carry a lot of items with you? A large messenger bag will fit your needs. Taking a quick trip to grandma's house? A smaller tote easily holds a bottle or cup, a small package of wipes, and a diaper or two. Does dad plan on carrying the bag too? Opt for a sophisticated unisex style that he'll feel proud to carry.
Storage
When it comes to storage, the first thing you should consider is size. For overnight trips, a larger bag is needed, while a small diaper bag or clutch holds just the necessary essentials. If you want storage for your wallet, cell phone, car keys, and other items, a bag with plenty of pockets is a must-have for your baby registry.
Material
When buying a diaper bag, you want to make sure you purchase a material that lasts. Cotton bags are easy to launder, but they may snag or tear more easily than other more durable materials. Nylon bags are waterproof and easy to clean. Leather bags are ultra-stylish, but keeping them clean may be a chore, as well as an additional expense.
Price
Diaper bags range in price from less than a hundred dollars to several hundred dollars for a designer label bag. If you plan on using your diaper bag often and want to be seen with something stylish, investing in a fashionable bag that's more expensive may be worth the price.
Style
Fisher-Price FastFinder Messenger Diaper Bag
The FastFinder Messenger Diaper Bag is a great unisex messenger bag for moms and dads. With its deep cocoa brown and spring green design, this bag combines fashion with its many functional features.
Ju-Ju-Be B.F.F. Convertible Diaper Bag
Are you torn between choosing a messenger bag or backpack? Get the best of both worlds with this stylish convertible bag. In just an instant, you can convert the look of this bag for the most comfortable fit.
Storksak Women's Olivia
If you want a diaper bag that doesn't quite look like a diaper bag, this one fits the bill. This trendy bag integrates functional pockets and a roomy design with stylish extras like faux leather trim for a bag that's truly unique.
Storage
Fisher-Price FastFinder Messenger Diaper Bag
With pockets galore, a convenient wipe dispenser, and various compartments, this bag lives up to its name. Find everything you need in just seconds with this convenient bag.
Ju-Ju-Be B.F.F. Convertible Diaper Bag
With space for books and a tablet, as well as compartments for everything your baby needs, you can easily spend the day away from home when you carry this diaper bag. This bag has many pockets and compartments, so you can stay organized while on the go.
Storksak Women's Olivia
Outer and inner pockets provide you with storage options that make this bag as functional as it is stylish. A detachable bag is an added bonus that allows you to store your own items, wet clothing, or anything else that you want to keep separate from other belongings.
Material
Fisher-Price FastFinder Messenger Diaper Bag
This nylon bag is waterproof, easy to clean, and ready for all of the messes that you can throw at it. The durable construction means it can last through years of vacations, road trips, and days at the park.
Ju-Ju-Be B.F.F. Convertible Diaper Bag
This nylon bag is washable, easy to wipe down when spills occur, and durable enough to withstand daily wear and tear.
Storksak Women's Olivia
The waterproof nylon on this bag has a pearlescent finish so you don't have to sacrifice style for function. The faux leather trim is a fashionable added detail.
Price
Fisher-Price FastFinder Messenger Diaper Bag
The FastFinder Messenger Diaper Bag is an affordable diaper bag option. This bag provides everything a parent needs without breaking his or her budget.
Ju-Ju-Be B.F.F. Convertible Diaper Bag
This mid-range bag offers you two different style options at just one price. This bag is the only one you'll need throughout your child's youngest years.
Storksak Women's Olivia
This diaper bag is considered a high-end bag. In fact, many celebrities have been photographed carrying this brand on the streets of L.A. and New York.
Conclusion: Our Diaper Bag Reviews Are In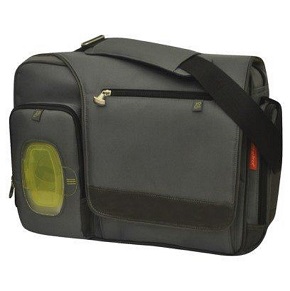 Fisher-Price has long been synonymous with quality baby gear, and their diaper bags are no exception. This unisex bag was designed to make a parent's life on the road easier, all in one convenient and stylish package.
At just 1.4 pounds, this bag is lightweight enough for carrying around all day, and provides plenty of interior space for everything your baby needs. The double straps are adjustable for comfort, and the pockets and zippered compartments provide enough room for clothing, bottles, snacks, sippy cups, and even your tablet and cell phone.
Pros:
This bag is easy to clean. Coms equipped with refillable wet wipe carrier. Roomy compartments and pockets provide plenty of spacy. Cushioned tablet holder protects your electronics. Changing pad is included. Insulated bottle holder keeps bottles at the right temperature. Affordable price is great for your budget.
Cons:
The wipe holder door may fall off. Bag doesn't have as many compartments as other options.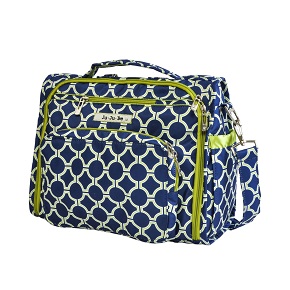 Get more bang for your buck with two different carrying options. The shoulder strap converts this bag from messenger to backpack and back again with ease. The anti-microbial lining prevents mold and bacteria from growing in your bag, keeping your baby's items safe and healthy.
Available in multiple colors and patterns, you can always look stylish when carrying this bag. Metal hardware is an additional touch that makes this bag more luxurious. Multiple pockets and compartments provide essential storage space for everything your child needs.
Pros:
Convertible style gives you two bags in one. At 2.4 pounds, this bag is lightweight and comfortable to carry. Memory foam changing pad is included for diaper changing on the go. This bag is easy to clean, and anti-microbial lining provides an extra layer of protection. Tablet storage is available for mom or dad. Insulated pocket keeps bottles and keeps cool or warm.
Cons:
Bag is smaller than many other diaper bags, so it's not a great choice for longer trips. When used as a backpack, overloaded bags may sag. Corners are prone to wear and tear.
If style is what you want, style is what you get with the Storksak Olivia bag. This trendy bag has great style that goes from the playground to a night out with ease. The lightweight design makes it easy to carry, and many pockets allow you to keep everything you need close at hand.
The comfortable shoulder strap keeps you comfortable as you're out and about, and the nylon design takes the work out of keeping your bag clean.
Pros:
Five outer pockets and multiple inner pockets provide you with many storage and organization options. This bag is available in many colors, including Black, Blue, Grey, Moss, Petrol Blue, and Mulberry to coordinate with any outfit. Bag comes with changing pad.
Cons:
The nylon is flimsy and loses its shape over time. The price is higher than average for a diaper bag.
Final Thoughts
Every mom deserves to treat herself to something that makes her feel fabulous. While babies are expensive, this doesn't mean that a mother can't get something that both her and her new child can enjoy. Despite its price tag, the Storksak Olivia bag provides you with the convenience of a diaper bag with a style that makes you look and feel great as you head out around town with your precious bundle of joy.