Some links on this page are monetized by affiliate programs - see disclosure for details.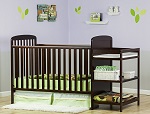 Decorating a child's nursery is a very exciting milestone in an expectant parent's life. Your nursery is where your baby will spend a lot of his or her time, and you want it to be as comfortable for your child as possible. However, with so many items to buy, including a crib, changing table, dressers, rocking chairs, and other large pieces of furniture, it's easy for your nursery to become cluttered.
Whether you live in a smaller home or apartment or you just want plenty of space for your baby to grow, combination furniture is the right choice for your home. Growing in popularity are cribs with changing tables, which combine the two largest pieces of furniture into one convenient, space-saving design.
Comparison: Our Top Crib Recommendations of 2020

Buyer's Guide: Choosing the Best Crib with Changing Table
Instead of two separate pieces of furniture, you can combine both pieces of furniture for a more streamlined look. You won't have to worry about how to place your furniture when you purchase this combination, which easily fits into a nursery or even your own room if baby is staying with you.
These products are available in a variety of sizes, finishes, materials, and styles, so it's easy for you to find a beautiful and functional piece that coordinates with your other nursery furniture and décor.
What are the Different Types?
Not only do you have a multitude of styles, brands, and finishes to select from, but there are also several different types of cribs with changing tables. If you're looking for a solid piece that provides you with maximum space, there is sure to be a type that fits your needs.
Traditional cribs – These typically function only as a crib with an attached changing table. Once your child outgrows the crib, a new bed will need to be purchased, and this one will need to be passed along to a younger sibling or someone outside of the home.
Convertible cribs – Get the most out of your nursery furniture investment with convertible cribs and changing table combos. The crib converts to a larger big kid bed, while the changing table functions as a shelf or nightstand.
Mini cribs – If you need more space, consider purchasing a mini crib combo, which provides the safety, comfort, and function of a standard crib in a smaller size.
What are the Advantages of Owning One?
If you just can't figure out how you'll fit all of your baby's furniture and belongings in one room, a crib with changing table combination solves that problem. You'll get both pieces of functional furniture that you need in a more compact, convenient size.
You also do not have to worry about coordinating each piece, as both are perfectly matched. In addition, you may even save money by buying a combination piece as opposed to purchasing each item separately. These combos provide your baby with a safe, comfortable bed and give you a convenient place for diaper changes, and it also provides additional storage for your baby's necessities.
Features To Look For In A Changing Table Crib
The main feature to look for in a changing table crib is additional storage space. You want to keep all of your baby changing gear in one place so that it'll be convenient every time you have to change the baby's diapers.
The more storage space your changing table crib has, the less you'll need to hunt around for the things you need. Rather than leaving your baby in despair for a few moments while you look for the wipes, having them on a shelf underneath the table will make it easy.
Likewise, you won't take up additional space in your home for baby equipment when you have everything stored directly underneath the changing table.
Picking a changing table crib that has a number of cabinets or shelves will make your life a lot easier, so there's no reason to go with models that don't have enough storage space.
Who are the Contenders for Best Crib on the Market?
This crib is small in size, but big on style. This crib and changing table combo provides you with durable, lasting furniture at a price that fits your budget.
This piece combines the beauty of a traditional sleigh crib with a matching functional changing table. This crib and changer combo grows with your child so he or she can enjoy having quality furniture for years to come.
If you want high-end luxury for your nursery, Sorelle really delivers. Details like bun feet make this combo, which converts to larger beds, a top choice for any nursery.
Considerations for Choosing the Right Crib
So you've decided that you want a crib with changing table, but you just can't narrow down your options. These top features are used by parents just like you to select the perfect crib for your precious child.
Price
Before you begin shopping for baby furniture, it's best to set your budget beforehand. You shouldn't just rely on price, though. A more expensive crib that converts to a toddler bed could save you money in the long-run over a crib that you can no longer use as your child gets older. Cribs that are more expensive are also typically built with sturdier, more durable materials and are built to last.
Finish
Crib and changing table combos are available in a variety of finishes. If you have other baby furniture, choose a piece that coordinates with your existing furniture. Don't forget to make sure that it also complements your nursery's theme.
Convertible options
Today's cribs are more functional than ever. Convertible cribs convert to toddler beds, twin beds, or even full-size beds. With a convertible crib, you make one initial investment and have a piece of furniture that will last for years without the need for costly replacement beds.
Quality
Ensure your baby's safety with a crib combo that is made with the most durable materials. This ensures your child has a safe, solid bed for naptime and nighttime.
Price
Dream On Me Casco 3-in-1 Mini Crib and Dressing Table Combo
This budget-friendly piece is priced very affordably for most budgets. It is one of the least expensive combinations, and it's also less expensive than purchasing each piece separately.
Stork Craft Portofino 4-in-1
This mid-range crib has a mid-range price tag Although there are cheaper pieces available, this one has many of the great and functional features found on more expensive combos.
Sorelle Cape Cod Crib and Changer
The price of this Cape Cod Crib and Changer is one of the more high-end cribs available. However, with this price you get quality construction and a timeless design that adds a touch of elegance to your child's room.
Finish
Dream On Me Casco 3-in-1 Mini Crib and Dressing Table Combo
You can easily match other pieces of furniture by choosing from one of the five colors available for this combo. The available colors are Black, Cherry, Espresso, Natural, and White.
Stork Craft Portofino 4-in-1
This crib combo is available in four finishes: Cherry, Espresso, White, and Dove Brown, so you can easily find a color that will complement other furniture.
Sorelle Cape Cod Crib and Changer
This crib is available in two finishes: French White and Espresso. These classic colors go wonderfully with other pieces and any color scheme.
Convertible options
Dream On Me Casco 3-in-1 Mini Crib and Dressing Table Combo
Once your child is ready for a big kid bed, this crib converts to a twin-size bed with ease.
Stork Craft Portofino 4-in-1
This piece offers you four different options for every stage of your child's development. It easily converts from a crib to a toddler bed, daybed, or full-size bed.
Sorelle Cape Cod Crib and Changer
This crib converts to a toddler bed, daybed, or full-size bed. When not used with the crib, the changer can be used as a matching chest.
Quality
Dream On Me Casco 3-in-1 Mini Crib and Dressing Table Combo
This portable crib combo is made with high-quality wood and features a lead-free, non-toxic finish that is completely safe for your baby. It is also CPSC certified.
Stork Craft Portofino 4-in-1
You'll find that the combination of solid wood and wood products make this a durable piece that's built to last for years to come. It is JPMA Certified, and all finishes are non-toxic and safe for your child.
Sorelle Cape Cod Crib and Changer
The New Zealand pine wood used to craft this crib provides you with a stable, durable piece of furniture that will last through every stage and milestone of your child's life.
Our Final Reviews Are In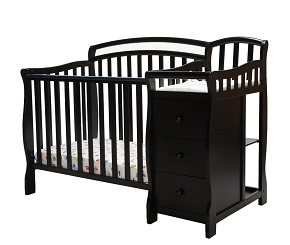 You don't have to forego quality furniture due to a lack of space. In addition to the space-saving combination design, this mini crib is smaller than a standard crib, so it fits in even the smallest spaces. Features like two crib height positions, a non-drop side rail, and a safety strap on the changer provide you with the security your baby needs.
Three drawers give you the space you need for diapers, wipes, and other essentials, and a changing pad is included. You don't have to worry about having the right tools in your tool box, as all tools required for assembly are included with your purchase.
Pros:
Small size is great for small spaces
 Converts to a twin bed
It comes in five beautiful finishes to match your nursery
It is solidly constructed
The price is just right for anyone on a budget
Cons:
Twin bed rails are sold separately
It does not use a standard crib mattress, and finding the right size may be difficult
Assembly is complicated
Children may outgrow the smaller size more quickly than standard cribs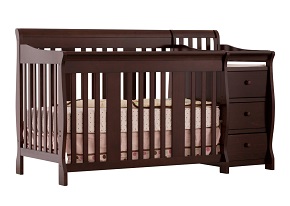 Buying furniture for a growing child can get quite expensive, but not with this 4-in-1 combination crib. For your infant, you have a convenient crib and changing table combined into one piece that saves space. Once he or she is ready to leave the crib, you can change it to a toddler bed or a daybed. For school-aged children and young adults, the full-size conversion is the perfect size. All this functionality makes this model our pick for best crib with changing table for the money.
This piece takes the beauty and simplicity of a sleigh crib and adds a functional changing table that comes with three large drawers so all of your diaper changing accessories are right where you need them. Your investment is covered with the 1-year limited manufacturer's warranty, so you can rest assured you bought a quality piece.
Pros:
Three height positions are available to grow with your child
The extra deep design of the changing table provides security and safety
Waterproof changing pad is included with your purchase
This design allows you to have a full-size crib and changing table without wasting extra space
Cons:
Full-size bed rails are sold separately
The parts aren't labeled, so assembly may be confusing
The finish may come off if a baby chews or scratches it hard enough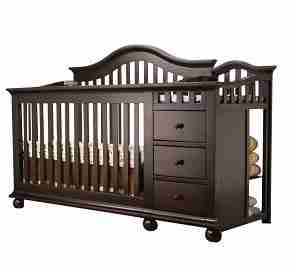 Start your baby off with the finer things in life with the Sorelle Cape Cod Crib and Changer. This elegant piece of furniture combines a crib and a changing table for a space-saving design that provides you with all of the functionality you would get from separate pieces. Once your child is finished with the crib, you can easily change it to three different beds. The changing table also can be used as a chest later in your child's life.
Your child will have sweet dreams in the comfortable crib, which uses a standard crib mattress, while you'll feel secure during diaper changes while using the sturdy changing table. The changing table has three convenient storage drawers and two adjustable open shelves to hold everything you need for your baby.
Pros:
The toddler rail is included for conversions
The finish is lead-free and non-toxic for your child's safety
This piece has a rich, elegant design that looks great in any nursery
Assembly is easy
It has quality added details, including scrolled rails and bun feet
Cons:
The higher price may not fit some budgets
Full-size bed rails are not included
Changing table top is slightly smaller than standard tables
In Conclusion
Quality, safety, and beauty are three important features that you should look for when selecting baby furniture. You'll get these three features and so much more, including incredible versatility, with the Sorelle Cape Cod. Even though the price tag may be a bit off-putting, this piece is designed to be used throughout your child's life, and it is a solid investment that will add beauty and functionality to your home for years to come.