Some links on this page are monetized by affiliate programs - see disclosure for details.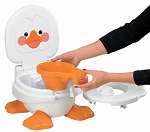 As a parent, you know how many choices there are when it comes to baby gear, and potties are no exception. While searching the aisles or browsing online, so many brands and designs make purchasing a simple potty a complicated process. When equipped with the knowledge about the best gear on the market, buying a potty doesn't have to be a hassle.
Compare: The Top Ten Best Potty Training Seats of 2017

What is a Potty Trainer Seat?
One of the biggest milestones a child will hit in his or her toddler years is using the potty for the first time. Kids gain more independence, while parents are no longer burdened with the expense, hassle, and mess that come along with diapers. Potty training for most children, however, is not an easy task. Transitioning from diapers to the big toilet can be a scary experience, and as a parent, the process may even be quite stressful. However, child-sized potty seats make potty training easier and increase the chance for a successful training experience.
A potty seat is designed to make potty training easier for a toddler. Unlike traditional toilets, potty seats are small and easy for a child to use with very little assistance. In fact, after just a few uses, even a very young toddler can use a potty seat without any help from a parent.
Potty seats are small and portable, so potty training can continue anywhere, whether it's on vacation or at a sitter's home. These seats are small enough to fit in any bathroom and are sized perfectly for tiny toddlers.
See Also: The Top 10 Most Awesome Baby Tubs
What are the different types of toilet training potty seats?
There are several different types of potty seats available. Some parents prefer one type over the others, while other parents may use a different combination to ensure potty training success.
Traditional – These seats are designed to snap inside of a traditional toilet seat. These seats often feature comfortable padding and also have a smaller opening that allows waste to fall through while keeping little bottoms snug and secure.
Potty chairs – Potty chairs are freestanding chairs that do not require another toilet. These products are designed like miniature toilets that are just the right size for toddlers. Unlike traditional toilets, potty chairs do not use plumbing and require regular cleaning and sanitizing.
Potty seat/chair combination – This type of seat is designed like a freestanding potty chair but also has a removable potty seat that can be affixed to a traditional toilet.
What are the advantages of owning a potty seat?
A potty seat simplifies the potty training process. With its smaller size, a child is allowed to be more independent during potty training. While supervision is required during use, parents no longer have to worry about a child falling into the toilet or being intimated by using the big potty.
Potty seats take the stress out of potty training. With fun colors, designs, and even different effects, modern potty seats and chairs are appealing to children, making potty training more rewarding and easier for the child and the parent.
Read: The Ultimate Travel System Stroller Guide
Who are the contenders for best potty training seat?
Arm and Hammer Secure Comfort Potty Seat – This seat is a basic, no-frills toilet training aid that makes training easier at a budget-friendly price.
Fisher-Price Ducky Fun 3-in-1 Potty – Kids will love the music and fun duck character on this cute potty, while parents will love the 3 different options, including potty seat, potty chair, and step stool, that grow with each new milestone.
Prince Lionheart pottyPOD – This advanced potty offers features that make cleanup easier for parents, while providing ultimate comfort for a child during every bathroom break.
Considerations for Choosing the Best Potty Seat
Not all potty seats are created equal, and there are a few key features that you should look for that make potty training less stressful but can also lead to a memorable and even fun bonding experience for you and your child.
Design
When shopping for a potty seat, the design of the product is important. Would a child be more excited to potty train if he or she had a potty with a fun character or favorite color? Is the potty designed to grow with a child, or is it appropriate for a certain age? The overall size of the potty seat, as well as the ease of storing it, is also an important consideration, particularly if you have a smaller bathroom space.
Comfort
Potty training is extremely time consuming, and for the best chance for success, a child simply must feel comfortable for long periods of time. A comfortable, padded seat makes long bathroom breaks bearable. The right size should also be selected to ensure that a child can sit comfortably without falling off or into the toilet or get pinched while using the potty.
Fun and functional features
Music and potty flushing sounds are very exciting for some children. Handles help a child (and parents!) feel more secure when a child is using the potty. Splash guards and easy clean designs make potty training less of a chore for parents.
Price
As with other baby gear, potty seats are available at many different price points. Budget-minded parents may opt for a simple seat, while other parents may choose to invest in a potty that is more appealing for their child. While pricing should always be a consideration, other features should be considered when making the final purchasing decision.
Design
Arm and Hammer Secure Comfort Potty Seat
The Secure Comfort Potty Seat is a basic potty seat that gets the job done. This seat is designed to fit securely within a traditional toilet, providing a child with a secure seat to use during bathroom breaks. The non-skid design prevents the seat from moving during use, and when potty time is over, the built-in feet provide stand up storage options.
Fisher-Price Ducky Fun 3-in-1 Potty
This smiling duck is ready to greet your child each time he or she is ready to use the potty. This freestanding potty seat makes potty training more appealing for toddlers. Its small design fits perfectly in most bathrooms, but for those needing extra space, removable legs make it easy to store when not in use.
Prince Lionheart pottyPOD
The pottyPOD is a potty chair that grows with your child. With adjustable heights, it can be the perfect size for toddlers of any age. The non-slip grip and sturdy base ensure the potty stays right where it needs to while in use.
Comfort
Arm and Hammer Secure Comfort Potty Seat
This seat is designed with handles that are easy for even the smallest hands to grip, offering that extra bit of stability and security that toddlers need during potty training. A backrest and contoured design provides added comfort.
Fisher-Price Ducky Fun 3-in-1 Potty
Flexibility with this 3-in-1 potty makes it easy to find the most comfortable use for your child. As a chair, the small design is just the right size for toddlers. If your child wants to use the big potty without slipping in, the detachable seat provides a comfortable training experience.
Prince Lionheart pottyPOD
The soft, cushioned seat of the pottyPOD provides a comfortable place for your child to potty train. Adjustable heights ensure the potty isn't too short or too tall for your growing toddler, so he or she can feel completely comfortable at any stage.
Fun and functional features
Arm and Hammer Secure Comfort Potty Seat
With its built-in splash guard, the Secure Comfort Potty Seat ensures that messes go in the toilet, not in the floor. With baking soda deodorizing discs, you can have an added level of sanitation that keeps your bathroom odor-free. This seat is easily cleaned without having to disassemble multiple parts.
Fisher-Price Ducky Fun 3-in-1 Potty
Kids love being rewarded for good behavior, and the Ducky Fun potty provides them with fun tunes with every successful potty trip. This potty also has three different functions: a potty chair, potty seat, and step stool, so it can easily last for years in your bathroom.
Prince Lionheart pottyPOD
The pottyPod has a removable bowl and shield for easy cleanup. Available in multiple colors, this potty is also appealing to young children, making potty training more exciting.
Price
Arm and Hammer Secure Comfort Potty Seat
If you're not sure if your child is ready to potty train and you don't want to invest a lot of money in a seat, the Secure Comfort seat is priced just right. While this seat isn't fancy, it's a great choice for a starter seat for parents who don't want to break the bank.
Fisher-Price Ducky Fun 3-in-1 Potty
This mid-range seat offers a lot of features at an affordable price. The 3-in-1 Potty provides fun features for kids and functionality for parents.
Prince Lionheart pottyPOD
When money isn't an issue, this top-of-the-line seat is a top choice for parents. The pottyPOD is more expensive than other brands, but with added comfort and superior durability, the pottyPOD may be worth the investment to parents who won't settle for less than the best.
Conclusion: Our Potty Seat Reviews Are In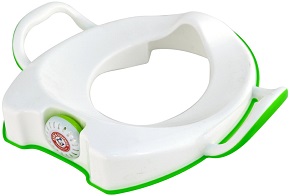 If you don't want to spend an arm and a leg on a potty seat, this Arm and Hammer seat is an option that you'll want to consider. While this seat lacks the features of the more expensive potty seats, it offers a comfortable and secure design that makes using the potty easier for your child.
At just 12.8 ounces, this seat is ultra-lightweight and portable, and it is easy to pack for overnight trips to a relative's or for vacation. Its small and slender design makes it easy to hang or store underneath a cabinet, a great option for smaller homes and apartments.
Pros:
One piece design makes usage and storage easy. The baking soda deodorizing disc adds an extra level of freshness. Non-skid design helps child feel secure. Seat is available in two colors, blue or green. The built-in deflector helps prevent messes.
Cons:
The basic design may be unappealing to children. While the seat fits on most toilets, it may not fit on elongated or non-traditional toilet seats. Baking soda refills have to be purchased, creating an extra expense.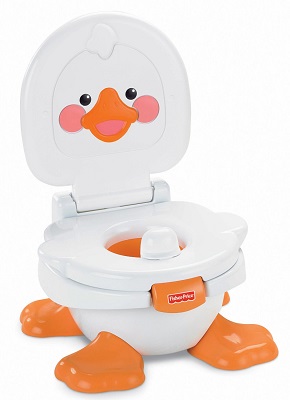 Kids that are more likely to succeed when rewarded, even in a small way, will enjoy using this 3-in-1 Potty. The fun musical sounds when the potty is used are enough incentive to help many kids want to continue potty training. The cute duck design is another bonus.
Avoid the headache of cleaning up with the easy clean bucket which is removable from the potty. The 3-in-1 Potty's different functions also aid in potty training and provide functional usage once potty training is completed. Toddlers can begin using the potty chair, move to the potty seat, and then use the step stool for brushing teeth after successfully training.
Pros:
The design and music make potty training appealing and fun. Three different uses make this seat functional after training is complete.
Cons:
The musical sensors are sensitive, and music may begin to play even when the potty hasn't been used. Disassembling multiple pieces for cleanup is required and may be time consuming. The splash guard is too short and at times may be ineffective.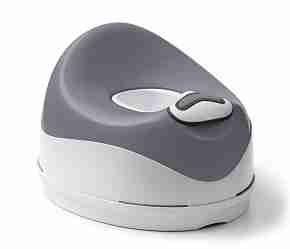 For a hassle-free potty training experience, the pottyPOD is the way to go. The soft, cushioned seat offers just the right amount of comfort for long or short potty breaks, while the sturdy, non-slip base provides the perfect amount of security.
Color choices include Berry Blue, Ash Grey, Blue, Pink, and Poppy Pink, so it's easy to find a color that appeals to your child. The removable shield and bowl make cleanup quick and easy for parents.
Pros:
An adjustable height option makes this seat the right size for younger or older children. The splash guard contours to prevent more messes than other seats. The seat material is soft and doesn't get as cold as traditional plastic seats.
Cons:
The pottyPOD is more expensive than other seats. The splash guard detaches if pulled and may lead to messes in the bathroom. The larger than average size may make storage difficult in smaller areas.
All in All
Potty training is one of the more exciting yet stressful milestones in a toddler's life. However, with the right potty seat, parents and children can enjoy this stage together. When choosing a potty seat, comfort and convenience are high on the list of ways to make the experience a great one, and despite being priced more expensively than other products on the market, the Prince Lionheart pottyPOD is the best potty training seat that helps ensure your child's potty training experience is hassle-free and memorable.