Some links on this page are monetized by affiliate programs - see disclosure for details.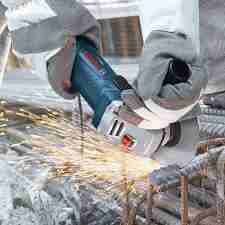 Whether you're a residential or commercial contractor or you're just tackling a few do-it-yourself projects at home, you know that you have to have the right tools for the job. From manual tools like hammers that are used for driving nails or a screwdriver for inserting screws to power tools like saws for heavy-duty projects, there are a lot of tools to choose from.
One of the most versatile tools that you can add to your shop is an angle grinder.
10 of the Best Angle Grinders of 2017

What is an Angle Grinder?
An angle grinder is a power tool that has a lot of different uses, so it's one of the most versatile tools that just about anyone should own. It is a small but very powerful tool, and as the name suggests, it does grind. However, it is also used for cutting and polishing, so it's ideal for use when working with a variety of materials, including ceramic tile and stucco.
What are the Advantages?
An angle grinder is designed to help you finish your project up faster and with better results. These are the primary advantages of owning one of these tools. Tile, pavers, and mortars can be cut easily, cleanly, and without breaking by using one of these tools. It is also very effective for removing rust without using harmful chemicals. It can also be used to cut and grind steel and various types of metal, which is great for cleaning up a weld and deburring metal. The tool can also be used to sharpen knives and other tools.
Because of its versatility, it is a great tool to add to your toolbox for your contracting jobs or even to tackle repairs at your own home.
What are the Different Types?
If you need to replace an old, broken, or outdated grinder or you just want to try one for the first time, the next step is making your purchase. Before you dive right into making your purchase, however, you should know what to look for. Not only does this help you find the product that best fits your needs, but it also helps cut down the time it takes to search through hundreds of different products. Simplify your shopping experience by first learning more about the four types of grinders on the market.
Electric
These have a plug, and they are powered by electricity. These are great because they are very powerful and you don't have to worry about recharging them or running out of battery power in the middle of your project. These are very limited by the cord, but you can use them with an extension cord to make them more useful. You also always have to have a power supply to use one of these models.
Battery-powered
Battery-powered models use a built-in battery that eliminates the hassle and fuss of a cord. These are extremely portable and convenient. However, you always have to ensure the battery is charged so it doesn't die in the middle of your project.
Pneumatic
These use compressed air, much like other pneumatic tools like an air wrench, to power them. These are very powerful, but you must have a pneumatic air setup in order to use them.
Gas-powered
These use gas to operate and do not require power or battery recharging. The drawbacks of these are that you have to always use the correct type of gas to avoid ruining the tool, and purchasing gas is an extra expense.
Which Angle Grinders are the Best Angle Grinder on the Market?
PORTER-CABLE PC60TAG 6.0-Amp 4-1/2-Inch Angle Grinder – For beginners or those who don't plan on using their grinders for large jobs, this model from PORTER-CABLE makes a great choice. Not only does it have a strong motor that produces fast rotation for quick grinding, polishing, and cutting, but it comes at a very affordable price. It has a durable design made for longevity, and it comes with a great warranty comparable to the ones you'll find with more expensive models.
Makita 9557PB 4-1/2-Inch Angle Grinder with Paddle Switch – Spend a little more and get a lot more power with this tool from Makita, which has a strong motor for fast, even grinding. This is designed to not allow dust and debris to enter the internal components of the tool, which can lead to premature failure. This design keeps your tool running stronger for longer.
DEWALT D28402K 4-1/2-Inch Small-Angle Grinder Kit – Power, comfort, and exceptional design define this model from DEWALT, a leader in the power and manual tool industry. You'll be amazed at the powerful motor, and pleased with the comfort from the ergonomic design. This model moves smoothly and evenly, and it is much quieter than less expensive ones.
Features to Evaluate
Now that you now you'd like to purchase one of these power tools, it's time to make your selection. But before you blow your money on a product that's too expensive, difficult to use, or just doesn't work the way you thought it would, you need to evaluate a few different features. To get started, check out these four features and compare them on every model you're considering.
Type
As mentioned earlier, there are several different types of grinders. If you want continuous power and you have access to an outlet, an electric grinder is a great choice. If you plan on moving from job to job, you might want to consider buying one that runs on battery power.
Warranty
You should expect your power tool to work right out of the box, and you should expect to get a reasonable amount of use out of it when it is used correctly. If you open the box to find the product doesn't work or it breaks after just a few days of light use, this is likely because of a defect, which would be covered by a manufacturer's warranty.
Motor
The stronger the motor, the faster you're able to grind. A bigger motor yields more power, so make sure that you choose one with a strong motor if you plan to use it daily or work on larger jobs. A basic model that is strong enough for smaller tasks is a better choice if you just plan on using your grinder a few times or want to perform very basic tasks.
Type
PORTER-CABLE PC60TAG
This is an electric model that requires a power outlet for use.
Makita 9557PB
You'll be able to grind continuously with this electric model.
DEWALT D28402K
This is an electric model that is powered using electricity.
Warranty
PORTER-CABLE PC60TAG
This comes with a 3-year limited warranty.
Makita 9557PB
A 1-year limited warranty backs up your purchase.
DEWALT D28402K
You'll receive a limited 3-year manufacturer's warranty.
Motor
PORTER-CABLE PC60TAG
This model is equipped with a 6.0-amp high-performance motor.
Makita 9557PB
This has a powerful 7.5-amp motor.
DEWALT D28402K
This model has a powerful 10 amp motor for your most heavy-duty jobs.
Our Angle Grinder Reviews
If you've never used a grinder before or you just want one for basic maintenance around your home, you likely don't want to spend a fortune, but you don't want to sacrifice performance either. Enter the PC60TAG grinder from PORTER-CABLE, a strong but affordable grinder that's an excellent choice.
The 6.0-amp motor allows this grinder to operate with 11,000 RPMs, so it's quite powerful and efficient, especially for a tool priced well below $100. It has a three-position side handle for comfort and convenience, an ergonomic design that makes it easy to use, and it comes with a grinding wheel and everything you need to use it right out of the box. It's also backed with a 90-day money back guarantee, a 1-year service contract, and a 3-year limited warranty for ultimate protection.
Pros:
It is extremely affordable. Comes with an excellent warranty, guarantee, and service contract. Comes with everything you need to start. It has a powerful motor for the money. It comes with a cutting wheel.
Cons:
The cut-off guard is sold separately. The lock button breaks easily. The switch gets clogged after several uses.
For those who need a little extra power but don't want to spend too much, this model from Makita offers plenty of power for grinding and polishing at a mid-range price point. This model comes with a 7.5 amp motor that provides power and efficiency for tougher jobs. It has a small barrel grip so it's easy to hold, as well as an extra-large paddle switch.
This has a unique zig-zag construction that prevents dust from entering the internal mechanisms, which can lead to failure of your unit. It can be locked on or off for safety or continuous grinding, and it comes backed with a limited 1-year warranty from the manufacturer.
Pros:
It has everything you need to start working right out of the box. It isn't too expensive. The motor is very powerful and efficient. It is comfortable to hold. It is a very comfortable weight. Runs on electricity, so you don't have to worry about loss of power from a dying battery.
Cons:
It may smoke or even fail with very heavy daily use.
If you grind, polish, or cut daily, you need a tool that has serious power, and that's what you'll get with the purchase of this model from DEWALT. Unlike other grinders at this price point, this has a powerful 10 amp motor with 11,000 RPMs for fast, efficient, and even grinding, cutting, and more.
This model runs smoothly and quietly, wheel flanges for the addition of various accessories, and a keyless adjustable guard. It has a revolutionary dust-rejection system and epoxy-coated motor to prevent failure from dust. It's lightweight, has a switch lock, and boasts an ergonomic design that makes it comfortable to hold.
This also comes with a 3-year limited warranty, a free 1-year service contract, and a 90-day money-back guarantee, so you know you're purchasing an exceptional product.
Pros:
It has a very powerful motor that can handle tough jobs. Compatible with multiple accessories. It is lightweight and has a comfortable handle. Doesn't clog up like other units due to its innovative design. It operates smoothly. It has an outstanding warranty and guarantee.
Cons:
Does not include a cutting wheel guard, which is an additional expense. It is a bit expensive. The case feels very cheap.
In Conclusion
Whether you want to grind the rough, burred ends of metal, want to cut through a pole, or just want to grind down concrete or stucco, you can do it all with an angle grinder. This versatile tool is a must-have for plumbers, welders, pipe-fitters, and other construction trades, but it's easy enough for any homeowner to use for DIY projects. When considering the different grinders on the market, the DEWALT D28402K is one that you should add to your list. This is a powerful tool that is simple enough for beginners but tough enough for heavy-duty tasks. This grinder is a bit more expensive than others on the market, but the smooth action, powerful motor, and versatility make it worth the extra expense.