Some links on this page are monetized by affiliate programs - see disclosure for details.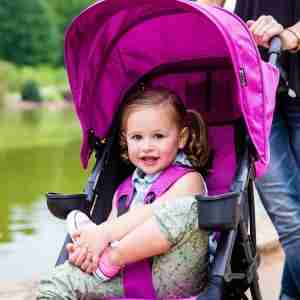 Any parent will tell you that mobility with a baby or young child can be a bit tricky. Whether venturing out for errands or a casual trip to the park, having gear that is user-friendly, easy to transport, and has plenty of cargo space for the necessities is essential. In turn, your outing will be a lot easier and more fun for everyone involved. This is especially true when it comes to strollers.
There are several factors to consider when selecting the best stroller to suit your and your child's needs. Features to look for include safety ratings, weight and dimensions, and ease of use. We reviewed the top ten best lightweight strollers on the market and narrowed it down to three to take the guesswork out of it for you.
Compare: The 10 Top Rated Lightweight Strollers of 2017

Selecting The Best Lightweight Stroller
Functionality wise, strollers are intended to allow the user to easily transport a securely restrained infant or small child. This allows families the ability to maneuver to and from activities or locations with relative ease.
There are a number of varieties and styles of strollers on the market. Similar to shopping for a car, it's best to do your homework when selecting a stroller. Determine what key features you want before you begin shopping and be prepared to take a few for a "test drive".
Types of Strollers
Car Seat Compatible Strollers
A stroller that can be used in conjunction with an infant car carrier and then allows the infant to graduate up to riding in the stroller once they've outgrown the carrier.
Lightweight Strollers
Any stroller that weighs less than 20 pounds, is easy to open and fold, convenient to store, and is user-friendly.
Standard Strollers
These strollers come with more bells and whistles and often weigh more than their lightweight counterpart.
Jogging Strollers
Jogging strollers are made for active families that enjoy running or walking and want to bring baby along.
Double Strollers
A double stroller allows families with more than one young child the convenience of two seats.
Umbrella Strollers
Very lightweight, does not include any storage and has minimal safety features.
Related: Our Guide To The Best Umbrella Strollers
Three Great Options
Summer Infant 2015 3D Lite Convenience Stroller – This 12-pound stroller is a top seller not only because it is light weight but also because it also can be used from birth up to 50 pounds. The 3Dlite stroller features an air-light aluminum frame that can withstand the demands put on it. It features multi-position recline, perfect for napping while out-and-about, and a five-point safety harness to prevent injury from falling out of the stroller. The adjustable (and removable) canopy has a sun visor that offers little eyes protection from the sun and there is both a large basket and pocket for storing the necessities. It's a great bargain too.
ZOE XL1 Deluxe Xtra Lightweight Travel & Everyday Umbrella Stroller System – The ZOE XL1 Deluxe stroller boasts the ability to be opened using just one hand! Thanks to its durable yet lightweight aluminum frame, it is just ten pounds and ideal for travel. The manufacturer offers a lifetime warranty and wheel guarantee. In fact, if you have any issues with the wheels, they will be fixed free of charge. Cup and snack holders, storage for a phone, keys, and roomy basket provide plenty of storage while on the go.
Graco LiteRider Click Connect Stroller – If you are looking for a stroller that is compatible with an infant car carrier, the Graco LiteRider can be used in conjunction with the Graco Click Connect infant seats. It will hold a child up to 40 pounds and features a padded, two-level reclining seat. Weighing in at a little less than 20 pounds, it is easily portable and convenient for an active family.
Top Considerations when Choosing a Stroller
Regardless of the style, you want to check to make sure that you take these points into consideration when selecting which of the best lightweight strollers is right for your family.
Safety
Products designed for infants and young children especially must meet industry-specific standards for safety. Testing is done to ensure that strollers are in compliance with national standards and include assessing stability, making sure the wheels lock or break, and that the harness system properly restrains the child.
Wheels
Make sure that the wheels are sturdy and not made of plastic, which will break down quickly on hard, rough surfaces. Wheel size should also be considered based on the different types of terrain you intend to use it on. Also, check to ensure that they easily swivel and have a locking mechanism to keep the stroller from rolling.
Weight
Another important consideration is the weight of the stroller. Not only when lifting if from your vehicle but also when pushing it with a child in it. A 40-pound child riding in a 20-pound stroller can be a hefty load to push around for extended periods of time.
Usage and Storage
Check to make sure that the unit opens and folds with ease. Any accessories that are attached, such as padding or a sun visor, should not create an obstruction when opening it or folding it back up for storage. It should also be compact when closed and stay that way in transit.
Price
Depending on the manufacturer, prices will vary depending on the style of stroller, the material that it is made from, and the addition of extra features such as cup holders or snack trays. Lightweight strollers are typically priced from $80 up to $150 which provides plenty of practical options regardless of budget.
Safety
Summer Infant 2015 3D Lite Convenience Stroller
With anti-shock front wheels and locking rear wheels, as well as a five-point safety harness, there is piece-of-mind knowing your child is protected from the risk of falling or that the stroller could end up rolling away.
Graco LiteRider Click Connect Stroller
This stroller features locking wheels to keep it stationary and there is a harness system in place to keep your baby safe and secure.
ZOE XL1 Deluxe Xtra Lightweight Travel & Everyday Umbrella Stroller System
Parents will be reassured to know that this stroller meets or exceeds all of the testing standards by the Juvenile Products Manufacturers Association and has met safety requirement certification.
Wheels
Summer Infant
This stroller boasts two anti-shock front wheels and two lockable rear wheels making it easy to maneuver. The locking mechanism will keep it from rolling away.
Graco LiteRider
Dual front wheels that swivel allows for simple navigation on most surfaces and added suspension makes for a smooth ride.
ZOE XL1
Of the top three strollers, this is the only one that offers a lifetime warranty and guarantee on wheels. The manufacturer will fix or replace any wheel that malfunctions. Offering front wheel suspension, this stroller will make every outing a pleasant experience for all involved.
Weight
Summer Infant
This aluminum frame stroller weighs in at just 12 pounds despite its extra features, including a large storage basket and canopy.
Graco LiteRider
Made of steel, the Graco LiteRider is a sturdy stroller and is durable thanks to its construction but is still light enough to easily lift and open. It weighs just 17 pounds.
ZOE XL1
The lowest in weight, out of our top stroller picks, is this one, coming in at only nine pounds! Made of aluminum, it is made to endure any adventure without weighing you down.
Usage and Storage
Summer Infant
Offering a compact fold to maximize storage space when you're on the go, it is easily stowed when not in use and includes a carrying strap. It is easy to open and is designed to allow for changing the seat position from upright to recline.
Graco LiteRider
One-handed folding of this unit is great for moms, and dads, with their arms full. The storage latch also contributes to making it easy-to-use. Deluxe padding and multi-position seat settings allow for comfort on all levels.
ZOE XL1
This model boasts a one-hand fold so when you're day is done and it's time to head home, you can easily pack up and go. Storage needn't be an issue as it is small enough to fit in many airlines overhead compartments and travel bins as well as the trunk of any sized vehicle.
Price
Summer Infant
Small budgets will appreciate the price tag without sacrificing safety or extra amenities.
Graco LiteRider
This model, depending on color and pattern selection, is priced between mid-range for the market.
ZOE XL1
With a slightly higher price-point, this stroller is a good investment for families that are very mobile.
Our Results Are In…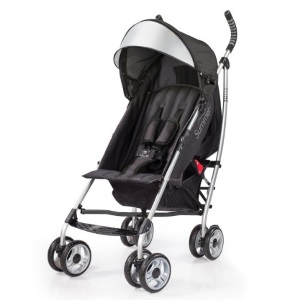 With an affordable price tag, this economical stroller is a great value and our top pick for being budget friendly. The bonus is that it can be used for infants beginning from birth and go up to a weight of 50 pounds.
Pros:
The extended period of use makes this the only stroller you will need, beginning from birth and until your child reaches a weight of 50 pounds, at which time most children no longer need to be in a stroller.
Cons:
The sun visor needs to be collapsed to allow the unit will fold.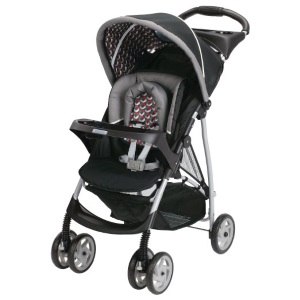 Depending on the color and pattern, the price tag for this stroller is just a bit higher than the Best Budget Friendly Pick above. It has a long usage life since it can be used in conjunction with a Graco Click Connect infant car seat. It offers a great value for the money and provides convenience and comfort for children weighing up to 40 pounds.
Pros:
Compatibility with the Click Connect infant car seat system adds convenience considering that the infant does not need to be transferred from the carrier to the stroller until they outgrow the carrier.
Cons:
It only accommodates children up to 40 pounds. A secondary stroller may need to be purchased when your child outgrows the weight recommendation.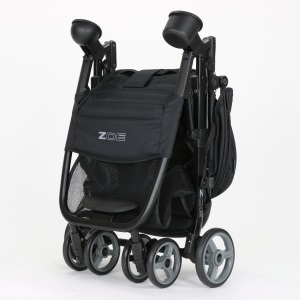 This model is a great choice for families that are highly mobile and are very active or travel frequently. This stroller is our choice for the best overall if the price is not a factor. It is the lightest of the top three, weighing in at just nine pounds. It is easy to operate, allowing the user to fold it with just one hand and the lifetime warranty and wheel guarantee make your stroller selection risk-free.
Pros:
Super lightweight, this model is great for families that travel frequently. The added warranty and wheel guarantee is a total plus.
Cons:
The minimum age recommendation for this stroller is six months old so you might need another option for the preceding period.
Conclusion
Choosing from the best lightweight strollers greatly depends on how you need your stroller to perform and what types of activities your family does. The three options we've showcased here all scored highly for safety, weight, and functionality during our review process as well as offer three different price points to help you find the best stroller for you and your budget. These best lightweight strollers will give your family the freedom to get out-and-about with ease!