Some links on this page are monetized by affiliate programs - see disclosure for details.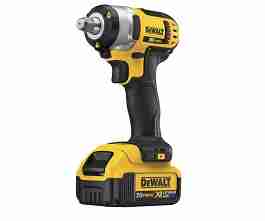 At its most basic, an impact wrench is a force multiplier for your own muscle power. You can apply your own torque — the force that rotates an object around an axis — on a lug wrench. Torque is measured in foot pounds — the work done by the force of one pound when a point moves one foot in the direction of the force. It's easy enough to figure out that if you're a 95-pound weakling, you'll never loosen that lug nut your mechanic tightened down with a 500 foot-pound impact wrench — unless you have something similar.
Impact wrenches exist for those times when, like Tim "The Toolman" Taylor, you need more power. These are the bad boys of your toolkit — the power tool you take out when nothing else seems to work on a nut or bolt.
Compare: 10 of the Best Impact Wrenches in 2017

Guide: What Is An Impact Wrench?
These wrenches consist of a drive for the sockets (in this case, either 1/4″ or 1/2″), a motor, rotating hammers, and a shaft. Once the tool is turned on, it stores rotating energy that builds up until it's sent suddenly along the shaft to a hammer, usually through a trigger on the pistol grip. After the impact, the hammer again spins freely. Even though you're holding the wrench, you'll feel very little torque.
Cordless impact wrenches run on battery or air compressor power, leaving fewer cords on your shop floor that can brush or snag or trip you up.
These power tools typically come in two styles:
Battery powered cordless impact wrenches
No cords. None at all. You'll never need to maneuver around a cord to get into a tight spot, never need to figure out how to untangle yourself. You can be in a field in the middle of nowhere, just you and your combine, and still do the work — as long as the battery holds a charge. That's the downside to this type of impact wrench. You'll need to look at battery life or, if the tool uses a charger, how long you might have to wait for a recharge.
Air-powered impact wrenches
This has been the most common power source for impact wrenches. The limit here, of course, is compressor output. Small compressors may not be up to the job, and the necessity of buying a larger compressor could put this wrench out of your price range. A good rule of thumb: Make sure your compressor can maintain at least 90 PSI. You'll still need a cord to the compressor, however.
What are the advantages of owning a cordless impact wrench?
If your do-it-yourself projects include rotating or changing tires, working on your car or on farm equipment, or doing some major construction, you'll probably find a cordless impact wrench indispensable at times. Depending on how frequently you do such work, you may need different features — a lighter weight, for example, for projects that take longer, or more torque for stubborn or rusted bolts.
If you've ever had a blowout on a lonely road, you'll find a cordless impact wrench tucked in the trunk may feel like a lifesaver — it makes changing a tire faster, easier, and safer.
Even if most of your mechanical work features small tweaks around the house, you may find an inexpensive cordless impact wrench makes sense for large or rusted bolts or nuts. It may save you the price of calling a professional, but be aware that these power wrenches can strip threads and cause other damage if used improperly.
Who are the contenders for best impact wrench?
First up, the Tradespro 837212 24-volt 1/2″ drive cordless, which comes with a rechargeable battery and storage case. The Tradespro is advertised as having up to 240 foot-pound torque and a no-load speed of 2200 RPM/4400 BPM. A replacement battery will run you extra, and if this is your first foray into impact wrenches, be aware that you must have impact sockets, not just regular sockets. Regular sockets can shatter when used in an impact wrench. This is the heaviest product on our list, weighing in at 10.3 pounds.
Next, the Bostitch BTMT72391 24 volt 1/2″ impact wrench. With three forward speeds and a reversible speed. It has a twin-hammer mechanism, an aluminum body, an adjustable power regulator, bottom handle exhaust, and touch control trigger. It's advertised as having 500 foot-pound torque. At 6.4 pounds, it's considerably lighter than the Tradespro. This product is powered by an air compressor, so you won't be completely cordless.
Finally, the Bare-Tool Milwaukee 2663-20 18 volt 1/2″ impact wrench. Milwaukee says this wrench performs best at 475 foot-pounds. It has a four-pole motor, overload protection, a 1/2″ anvil with friction ring for quick socket changes, and a variable-speed trigger. If you have other Milwaukee tools, those batteries may fit this wrench. Otherwise, you'll need to buy the lithium ion battery, too. The Milwaukee wrench weighs about 5.6 pounds without the battery.
Considerations for choosing the best impact wrench
Torque

Actual effective torque is difficult to measure. It changes with the duration of the output pulse. When manufacturers advertise "maximum torque," the term refers to the instantaneous peak torque if the anvil is locked into a perfectly solid object. This may be why some manufacturers seem to inflate the rating. The more foot-pounds of force the wrench offers, the more powerful it should be.

Durability
You're considering buying an impact wrench for at least one big project, not to adjust the bolts that hold the faucet to the sink.It needs to be built to sustain the force that's being jammed through it to the hammers and keep you from getting the blowback.
Lots of plastic components and it may break if dropped.
Too many heavy metal components will minimize breakage, but the wrench will be difficult to hold up for even short periods of time.
The best compromise is a design that cuts weight but minimizes damage.

Power source

Cordless drills eliminate problems with snagging, tangling, and tripping, but a wrench still needs power. Batteries solve some problems, but cause others: If the battery loses power too fast, how long will you need to wait while it recharges? Will you want to invest in an auxiliary battery to take up the slack? How much will a battery — or an extra battery — add to the cost, and is it money you want to pay? Yet if you use an air compressor to power the wrench, you're still stuck with a cord from the wrench to the compressor.

Price

How much money are you willing to spend for an impact wrench? Will you use it often enough to justify a high cost, or will you take it out a only few times a year? If it needs frequent maintenance or if you'll need to buy additional equipment to get the best use out of it, those costs need to be figured in to your break point.
Torque
Tradespro 837212 Tradespro 837212
According to the product information, this wrench offers up to 240 foot-pounds of torque. Some users felt this accurately reflected the Tradespro's performance. Others felt this wrench was seriously underpowered.
Bostitch BTMT72391
Bostitch says this wrench will give you 500 foot-pounds of torque, enough to blow open almost any stubborn lug nuts you have. That estimate may be overstating the case, according to some users. You'll also need to figure in your air compressor's PSI — Bostitch suggests a PSI of 90 — and its CFM. Potential problem: No pressure settings for reverse.
Bare-Tool Milwaukee 2663-20
The 2663-20 performs best at 475 foot-pounds of torque, according to product information. Users agreed that the Milwaukee had "serious power" and that it was far too powerful for small nuts and bolts.
Durability
Tradespro 837212 Tradespro 837212
At 10.3 pounds, the Tradespro is almost twice as heavy as the other two wrenches. Tradespro offers no information on the materials used in construction, but users felt this wrench was good for infrequent use or for use by shade-tree mechanics. Several said it was too heavy to hold for an extended period of time.
Bostitch BTMT72391
An aluminum body keeps this wrench on the light side at 6.4 pounds. Users praised its nice grip and controls, its solid feel, and its weight. Several felt it would be sturdy enough for heavy-duty work.
Bare-Tool Milwaukee 2663-20
Although Milwaukee doesn't disclose the materials used in the 2663-20, its light weight — 5.6 pounds — suggests aluminum construction. Users liked the ergonomic grip, the apparent power — including enough power to use it with a breaker bar — and its weight. Only one user had a problem getting used to switching sockets with the friction ring, and many seemed to feel this tool outperformed similar, pricier wrenches from SnapOn and Ingersoll Rand.
Power source
Tradespro 837212 Tradespro 837212
This wrench goes cordless thanks to a battery included with the tool. One user estimated the charge lasted about three hours. That may be more than enough to get you through most projects. If you hit a snafu, though, unless you've purchased a second battery, you'll wait three hours for this one to recharge.
In fact, although most users say this battery recharges well, many also complain that the charger lacks an auto shutoff. Walk away and forget about it, and you'll destroy the battery. At about $50, a replacement will cost almost as much as the original Tradespro kit.
Bostitch BTMT72391
"Power to spare at 90 PSI," wrote one user. The Bostitch wrench runs on air pressure, no battery needed (the product information is unclear about this), and users remarked that the tool uses air efficiently and is great if you have a smaller compressor.
"Bulls right through any job," another user enthused. Still, can it be a cordless wrench if there's a cord to the compressor? Your call.
Bare-Tool Milwaukee 2663-20
Power, power, and more power. Possibly even enough for Tim Taylor. Milwaukee runs on a lithium ion battery which is interchangeable with some of the brand's other tools. Users raved that this wrench took rusted crankshaft bolts in its stride, wrested lug nuts off 38″ harvester wheels with ease, and had plenty of power left for using with breaker bars and other extensions, all on battery power. They reported the power stayed strong even when the unit hadn't been used in a few days.
Price
Tradespro 837212
If you're just starting to build your toolkit or if you need an impact wrench in a hurry but may not use it often or need it for heavy-duty jobs, you can't beat the Tradespro's low price.
Bostitch BTMT72391
Plenty of power, durable, plenty of torque — for just a few dollars more, if you already have an air compressor that can handle it, the Bostitch may be a better choice than the Tradespro.
Bare-Tool Milwaukee 2663-20
Sure, it may be your dream wrench. But at a price more than double the Bostitch, unless you spend most of your time off doing auto repair, repairing farm machinery, or working on construction projects, this may be more wrench than you need.
Conclusion: Our Best Impact Wrench Reviews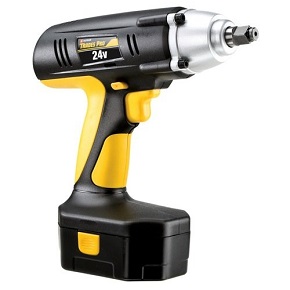 The Tradespro has enough pep to blow open most lug nuts, it's a good starter tool, and if you don't often need an impact wrench, it's a good bet.
Pros:
Good impact, smooth running, nice grip, good for light use.
Cons:
Three-hour battery life and three-hour recharge may pose a problem unless you've purchased a second battery. The charger has no automatic shutoff switch, and it's heavy.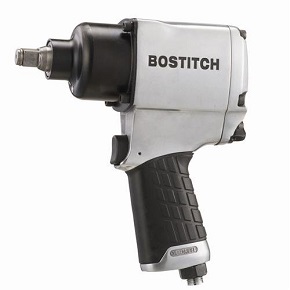 Sturdy, powerful, and lightweight.
Pros:
Nice grip and controls, not too heavy, adjustable forward power regulator.
Cons:
Needs cord to compressor, no pressure settings for reverse power, torque may be overrated.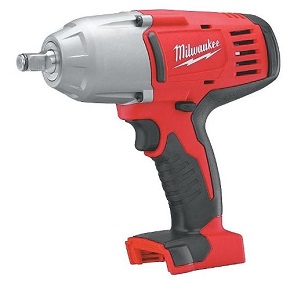 Overload protection, light weight, a friction ring for quick socket changes, and then there's the power …
Pros:
Great ergonomics, power to spare, no hoses to drag.
Cons:
The price may be out of range for some hobbyists.
Final Thoughts
From the first square sockets used to wind clocks in the Middle Ages to the "modern" socket wrench (patented in 1863) to the the impact wrench, socket wrenches have come a long way. These three choices present a good selection of the options available to hobbyist and expert mechanics alike.