Some links on this page are monetized by affiliate programs - see disclosure for details.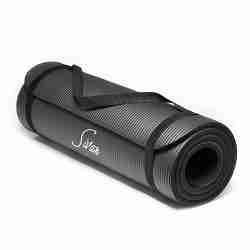 Millions of men and women all around the world have taken up yoga as a way to exercise, build flexibility, or just relax. Studies have shown that not only does yoga help improve your strength, but it can also help ease body aches and pains when done properly, and it can help you meditate and relieve stress.
Yoga is popular because everyone can do it whether it's by taking a class at the local gym or following a DVD at home. There are different levels, whether you're a beginner or you've been doing yoga already for many years. It's also very affordable, as it doesn't require a lot of heavy, bulky, and expensive equipment. However, there are a few things that you do need. Yoga pants or workout shorts, a workout tank, and, of course, a yoga mat.
Our Picks: Top 10 Best Yoga Mats of 2017

Intro: What is a Yoga Mat?
A yoga mat is a type of equipment used when participating in yoga classes or sessions at home. This mat is where you perform the various stretches and poses that yoga is known for. These mats are designed to give you your own personal space, ideal if you're in a very crowded class. In addition to marking off your space, they also keep you off of a dirty floor, offer you padding and protection, and prevent you from slipping on hardwood flooring.
You may be interested in: Our guide to the top 10 yoga DVDs for beginners
What are the different types of Yoga Mats?
Get the most out of your yoga session with a high-quality mat. In order to make the best purchase, you need to first know what types of mats are available, and the pros and cons of each.
Sticky mats – These are the most common types of mats, and they range in thickness from about 1/8 inch to ½ inch. Most who are experienced with yoga find that thicker mats offer more support and comfort, but they may interfere with your ability to perform certain moves. These are made with PVC, plastic, or other materials, and they prevent you from sliding around on hard flooring surfaces.
Eco-friendly sticky mats – These are similar to traditional sticky mats, but they are made with eco-friendly materials like recycled rubber or natural rubber from trees. These feel very similar to sticky mats and prevent you from sliding on the floor while mapping out your own personal space. These mats are a bit more expensive than those made with PVS, plastic, or a combo of the two.
Natural mats – These are the thinnest and most basic of the three. These most mimic the traditional mats used by yogis. They may be made of cotton, hemp, felt, grass, or a combination of other natural materials. These are mostly used to map out your personal space, and they are best for nonslip surfaces, although they can also be used on slippery surfaces with a mat pad.
Hot yoga mats – Hot yoga is the hot new craze which involves doing yoga and other exercises in a very hot environment. The sweat produced during these sessions can make traditional mats slippery and dangerous. The mats used for hot yoga are made with different materials designed to absorb sweat and remain slip-free.
What are the Advantages of Owning a Yoga Mat?
There are several advantages to having a mat for your next yoga class. These mats give you a padded space for stretching and performing various moves. It also helps designate your own personal space while in a crowded class, ensuring you have enough space for the various poses that are required. A mat keeps you off of a dirty floor and prevents your feet from sliding around on slick surfaces like hardwood. While a mat isn't a requirement to do yoga, it does make it easier and more convenient and offers these advantages.
Who are the contenders for Best Yoga Mat?
BalanceFrom GoYoga Mat with Carrying Strap – Yoga is performed on the floor, so it can be wear on your back, knees, and joints. You won't have to worry about after-workout aches and pains when you use this padded mat, which provides you with plenty of padded space in which to perform even the most intricate and difficult poses. This mat has a strap that makes it easy to carry from your car to your yoga studio, and it's made of high-quality materials designed to last through session after session. Best of all, this is a very affordable option for the budget-minded buyer.
Aurorae 2-in-1 Slip Free Yoga Mat – Traditional mats just won't cut it at your hot yoga class, so make sure you keep yourself safe and comfortable with this mat, designed for slip-free exercising in these hot new classes. It doesn't slip, doesn't bunch, and it works even when you sweat on it. You don't have to buy a mat and towel with this affordable combo, which comes in five great colors.
Jade Fusion 74-inch Yoga Mat – You won't have to worry about slipping and sliding on hard floors with this large mat, which offers just enough cushioning to keep you comfortable without affecting your performance. It grips onto the floor easily without sliding around, and its longer length is great for those who are tall. It consists of all-natural ingredients with no synthetic materials, and it comes in your choice of four colors.
Considerations for Choosing the Best Yoga Mat
If you're a yoga fanatic, you might want to invest in a high-quality mat for your next workout. You'll find that a mat can really help you in some of the challenging areas. While it won't make you more flexible, it will provide you with extra cushioning on hard surfaces and a slip-free surface in which to practice on. If you're in the market for a new or replacement mat, keep an eye out for these four features to make sure you make the best purchase.
Price
Mats don't have to be expensive, although those that are made with more high-quality materials, come in specialty designs, or have added features not found on other mats are more expensive. If you're on a budget, there are lots to choose from but remember that cheaper mats may wear out more quickly or may not fulfill your needs the way a more high-quality one would. Look at all other features of the mat before purchasing based solely on the price.
Warranty
You should expect to get a reasonable amount of use out of your mat before it begins wearing out. If sometimes goes wrong because it wasn't made properly, this is likely due to a manufacturer's defect. Look for a product with a warranty that ensures if this happens to your mat, it is covered by the manufacturer, not your own wallet.
Thickness
If you find that yoga is difficult on your knees, back, and joints, you'll want a more padded and supportive surface. Look for more padding that gives you a soft, plush surface used for performing the most intricate poses.
Color choices
Mats come in a variety of color choices, and some even may have patterns. You want something that really reflects your personality in class, and something that you feel good practicing on. Find your favorite color from a whole rainbow available throughout all of the different brands.
Price
BalanceFrom GoYoga
At $40, this mat is a real steal when compared to other mats, which can cost a lot more.
Aurorae 2-in-1 Mat
This mat retails for a bit more, which is still an excellent value considering it is a 2-in-1 product that saves money over buying each piece separately.
Jade Fusion Mat
This is one of the more expensive mats. However, its overall design, quality, and size makes it worth the extra cost.
Warranty
BalanceFrom GoYoga
This comes with a 2-year satisfaction guarantee, so you know it's a great product.
Aurorae 2-in-1 Mat
This mat comes with a 2-year guarantee that ensures your complete satisfaction.
Jade Fusion Mat
A 30-day guarantee will ensure your satisfaction.
Thickness
BalanceFrom GoYoga
This mat is very padded, features ½ inches of padding for complete comfort.
Aurorae 2-in-1 Mat
This mat is 5 mm thick to provide you with just enough padding to protect your knees and joints without affecting your performance.
Jade Fusion Mat
This mat is 5/16 of an inch thick, so it offers just enough support without being too bulky.
Color choices
BalanceFrom GoYoga
It's easy to find your favorite color when you pick this mat, which comes in Red, Blue, Black, Purple, Green, Pink, and Gray.
Aurorae 2-in-1 Mat
This mat is available in Emerald, Onyx, Lapis, Amethyst, and Sapphire.
Jade Fusion Mat
Purple, Olive, Teal, and Midnight Blue are the colors you have to choose from when you select this mat.
Conclusion: Our Yoga Mat Reviews Are In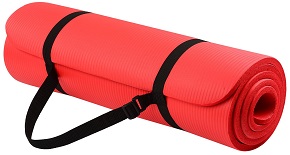 Whether you're a beginner to yoga and don't want to spend a lot of money until you get into your groove or you just know a good bargain when you see it, this mat may be the perfect choice for you. It's available at a great price. It's very thick and padded, so it's easier on the knees, joints, and back. It provides great grip so you don't slip around on the hard flooring in your studio, and it comes in many great colors.
It is moisture-resistant, so you don't have to worry about bacteria from sweat. It's easy to clean with mild soap and water. Its 71" length and 24" width makes it a great choice for users of all sizes. It is very lightweight and comes with a carry strap for easy portability, and it comes with a 2-year satisfaction guarantee.
Pros:
It is very affordable. It comes with a great guarantee. Very padded and comfortable. It is easy to clean. It is very lightweight and portable. Cmes with a free carrying strap. It is easy to roll and unroll.
Cons:
It is made with synthetic materials, so it has an odor that needs to air out prior to use. The thick design may make it more difficult to balance. The thickness does flatten out while being used. It shows wear easily after a few uses.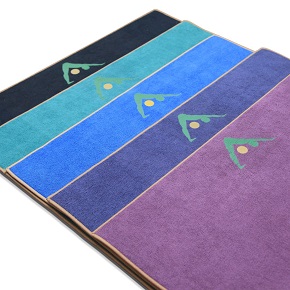 Hot yoga has become the latest rage for men and women all around the world, and one of the drawbacks that many have found is that it's hard to find the perfect mat. Most mats become slippery with excessive sweat, which can lead to injury, so what is a person to do? Invest in this mat, and you won't have a problem, even during the hottest yoga classes.
This innovative mat is designed with a microfiber towel top that catches your sweat so it doesn't become slippery. The bottom is made with nonslip materials that work on any flooring surface, and it is padded just enough to help you feel comfortable without affecting your balance. Many people purchase a mat and place a towel on top, which results in bunching and slipping, not to mention the extra expense. With this 2-in-1 product, you don't have to worry about the towel moving around, since it's all one durable piece. It is very long at 72" and 24" wide, so it's great for everyone, it's lightweight, very portable, and doesn't have an odor like other mats.
Pros:
It is affordable. It is ideal for hot yoga and other activities where there is heavy sweating. The microfiber top is very absorbent. It comes backed with a satisfaction guarantee. It comes in a variety of great colors. Eco-friendly materials. It has no odor. Easy to wash.
Cons:
It takes a long time to dry after washing. It is machine-washable, but it may separate after multiple washings, so it is best to hand wash it. Those with dry hands and feet may find that this mat is a bit slippery.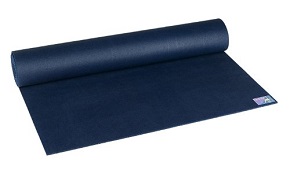 Not all mats are created equal, and this high-quality, highly-rated mat shows just why sometimes, it's better to invest more money in your workout equipment. You won't have to worry about slipping and sliding while using this mat, which is made with open cell rubber to provide ultimate grip. This mat has a large size at 74 inches long, so it's ideal for those who are very tall and haven't had much luck with shorter mats.
This is an eco-friendly product that is designed with natural, sustainable rubber and contains no synthetic materials. That means you won't have to worry about the odor, and it's also more likely to last than synthetic mats. This mat is just thick enough to provide the right amount of support without holding you back in your poses or affecting your balance. With the purchase of a mat, this company plants a tree to help our environment.
Pros:
It has an extra-large size that's ideal for those who are taller. Superior grip when compared to other mats. It isn't too thick. All-natural materials. Does not contain synthetic materials. It is very high quality. It is lightweight and portable. Eco-friendly product. It does not have a strong smell.
Cons:
It's a bit slippery when you first use it. It takes some time to break in. It is slightly heavier than other mats. Easily picks up dirt, dust, and other things from the floor, so it has to be cleaned after every use.
All in All
Many people enjoy doing yoga because of the relaxation it brings, as well as the great workout it provides. Unlike other forms of exercise and fitness, yoga doesn't require a lot of heavy, expensive equipment. It does, however, require that you have a high-quality mat, and it doesn't get much better than the Jade Fusion Mat. Even though this mat is more expensive than many others you'll find, it offers superior grip, just the right amount of padding, and an all-natural design that makes it a clear leader when compared to the other best yoga mats.