Some links on this page are monetized by affiliate programs - see disclosure for details.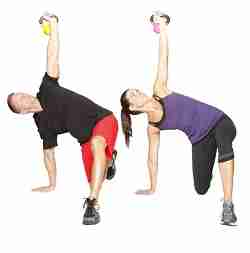 Many fitness enthusiasts are familiar with kettlebells from an exercise known as the swing, or Russian swing, which gives users the ability to perform an entire workout of the posterior chain, engaging all of the gluteal, latissimus, and abdominal muscles simultaneously. Often compared to the benefits received from an exercise in broad jumping, kettlebells can rapidly build muscle strength and enhanced resistance in a wide variety of key muscle groups.
Another popular exercise used with kettlebells is known as the Clean because it is lifted up towards the chest with either a press or a jerk, to make a smooth and effective clean and press or clean and jerk movement with the weight, in effect allowing kettlebells to replace the need for bulky workout equipment, barbells and plate weights. Entire sports and physiological health disciplines have been created around the science of using these types of weights, including patients engaging in physical therapy or training for international athletic competitions./]
Start Here: What Is A Kettlebell?
A couple of centuries ago, an enterprising tax collector on the steppes of Russia had a blacksmith design a special set of transportable weights. By adding a handle to a standard weight, the kettlebell was born, and the strong men who raised the crops soon saw how their physique and muscle definition vastly improved when they were using kettlebells. Soon, the benefits of these amazing weights came to be known in the west, where they were studied in great detail by physical health experts and scientists. Today, people all over America and the rest of the world are taking advantage of the natural kinetic properties of well-designed kettlebells to lose weight, improve core strength, and gain muscle mass.
At its most basic, a kettlebell is simply a very heavy weight, usually in the shape of a sphere, with a handle attached to one end. The original kettlebells used to assess taxes on grain and other farm products came in only one size, equivalent to approximately 35 pounds or 16 kilograms, known as a "pood" weight. Today, kettlebells come in a variety of different weights to add more workout options for fitness enthusiasts who may be recovering from an accident or injury, or are otherwise not sufficiently fit yet to swing heavy weights around that were designed for strong agrarian peasants. Whereas the original benefits of improved physique, muscle enhancement and greater core strength were discovered serendipitously, sports medicine and physical fitness experts now understand that the unique design of adding a handle to a heavy, compact weight allows for greater range of motion and flexibility during the workout.
By grasping a kettlebell by its handle, the center of mass is extended far beyond the user's hand, which adds tremendous centrifugal force to both ballistic and swinging movements. The special shape and design of the kettlebell force the body to engage multiple muscle groups at once, thus giving users more holistic and integral aerobic workouts with these weights.
What are the different types of Kettlebells?
Originally, all kettlebells were forged from solid pieces of cast iron, and then occasionally painted with a thin layer of color. Today's kettlebells come in both the standard pood-weight size as well as both smaller and larger weights to allow for a greater range of resistance settings and muscle exertion. Some kettlebells are made from cast steel, while others use less durable materials that are then filled with a dense but cheap ballast such as sand, cement or water.
All kettlebells, by definition, have a handle attached to the central part of the weight, but many kettlebells today come enveloped in a protective coating of advanced synthetic materials to add durability and longevity. Some of today's kettlebells use specially-designed handles to improve comfort and grip on the weights, as well as to help evenly distribute the physical load across the fingers. Each kettlebell manufacturer usually uses a slightly different handle design to help improve the overall aesthetic appeal and balance of the weight.
Some of today's kettlebells come in very stylish and fashion-forward colored coatings, allowing fitness enthusiasts to complement their workout attire or support their team's official colors.
What are the advantages of owning a Kettlebell?
While many different disciplines currently exist across a range of weightlifting, aerobic and physical therapy functions for kettlebells, in general, kettlebells are meant to be swung, moved and jerked freely in open space, thus obviating the need to perform an intense workout inside a dedicated gym or training center. By owning a kettlebell set, fitness enthusiasts can use these marvelous tools to develop muscle mass, enhance core strength, and improve overall fitness both at home and on the road, allowing even busy urban office workers to stay in shape.
Since these trendy weights require no special separate equipment or dedicated room to use, beginners can buy an affordable set of kettlebells, a great way to make a low-risk investment into experiencing new levels of improved health. A number of popular books and workout training videos are available from fitness experts, giving both amateur and professional fitness enthusiasts the chance to benefit from these amazing weights.
Many home users find that three kettlebells or fewer is more than enough to achieve a wide range of self-development fitness goals in muscle development, core strength and overall health levels. Kettlebells are simple to use, easy to store, and almost impossible to break, destroy or damage, giving users an entire lifetime's worth of improved health and fitness for the very reasonable price of just a few dollars.
Which models are the contenders for the Best Kettlebell?
Tone Fitness Vinyl Kettlebell – These lovely and well-designed kettlebells from Tone Fitness come in a variety of weights, allowing for very low-impact workouts to develop sculpted and toned muscles in key areas throughout the body. With a comfortable handle and advanced vinyl covering throughout the kettbell, the Tone Fitness is designed to look great for a lifetime of improved health and physical fitness.
GoFit Premium Vinyl Dipped Kettle Bell – This top-quality kettbell comes in a full range of sizes ranging from 7 to 45 pounds, allowing home fitness experts to perform exercises to tone, sculpt and bulk muscles all across the body. With a convenient, comfortable and well-designed handle, the GoFit Premium Vinyl Dipped give any home fitness enthusiast the ability to greatly improve their health and overall strength levels.
CAP Barbell Enamel Coated Cast Iron Kettlebell – These premium kettlebells from one of the leading manufacturers of sports equipment come in a full range of standard American weights. Designed from carefully cast pure iron and then coated in a rich enamel, these elegant weights are designed to provide a lifetime of improved health and overall fitness.
Considerations for Choosing the Best Kettlebell
Ballast & Construction – Some weights are designed using a solid metal body and handle, while other kettlebells are constructed from less durable materials and then filled with a ballast such as sand, water or cement.
Coating – Today's kettlebells often come encased in an advanced coating to protect the outside from scratching, marring and damage during use.
Weight Options – Kettlebells meant for home fitness use come in a wide variety of different metric or American standard weights.
Additional Features – Today's manufacturers offer a wide range of special features and extra options for their weights.
Ballast & Construction
Tone Fitness Vinyl – The Tone Fitness Vinyl is made from a durable and highly-resistent advanced polymer construction that is then filled with cement and sealed in vinyl, a very cost-effective alternative to solid metal construction style kettlebells.
GoFit Premium Vinyl – The core of the GoFit Premium Vinyl Dipped is a well-balanced solid sphere of pure cast iron. These premium kettlebells from GoFit are then dipped in an advanced two-stage vinyl coating that gives lasting durability and shine to these attractive weights.
CAP Barbell Enamel Coated Cast Iron – CAP begins by carefully purifying and melting iron before casting it into a perfectly-balanced kettlebell mold.
Coating
Tone Fitness Vinyl – The Tone Fitness Vinyl is entirely coated in an advanced vinyl polymer formula finished with a pleasant choice of pastel colors. The durable vinyl will resist chipping, scratching and fading, keeping the Tone Fitness Vinyl kettlebells looking as good after a decade of hard use as they did right out of the box.
GoFit Premium Vinyl – The handle is encased in a special layer of vinyl that balances durability with comfort and aesthetic hand appeal. Each GoFit Premium Vinyl Dipped is conveniently and clearly labeled by weight on the center mass of the kettlebell for easy identification.
CAP Barbell Enamel Coated Cast Iron – Once cast, the iron core kettlebell is coated in a high-gloss rich black enamel which is baked until it is ready to provide a lifetime of protection against scratches, chips, damage and marring.
Weight Options
Tone Fitness Vinyl – Currently, the Tone Fitness Vinyl comes in your choice of either 5, 10 or 15 pounds.
GoFit Premium Vinyl – The GoFit Premium Vinyl Dipped kettlebells come in a full range of standard American weights in the following options: 7, 10 15, 20, 25, 35, 40 and 45 pounds.
CAP Barbell Enamel Coated Cast Iron – CAP offers a full range of standard American weight measurements for its kettlebells with the following options: 10, 15, 20, 25, 30, 35, 40, 45, 50, 60, 70 and 80 pounds. Home fitness enthusiasts can use smaller weights to sculpt and tone or the heavier weights for more advanced muscle bulking workouts.
Additional Features
Tone Fitness Vinyl – Most retailers offer a complementary exercise chart, instruction manual, and powerful training DVD with every purchase of a Tone Fitness Vinyl kettlebell.
GoFit Premium Vinyl – Buyers of the GoFit Premium Vinyl Dipped usually receive an introductory training video that contains instructions and dozens of beneficial exercises that can be performed with these wonderful weights.
CAP Barbell Enamel Coated Cast Iron – The handles on the CAP Barbell Enamel Coated Cast Iron kettlebells are reinforced with steel for an additional level of security and workout intensity.
Conclusion: Our Kettlebell Reviews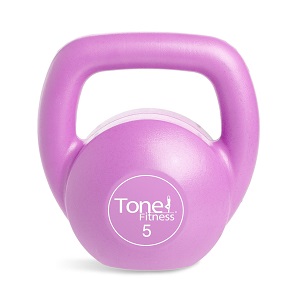 Anyone interesting in experiencing the benefits of a home workout using well-made, advanced kettlebells should consider the Tone Fitness Vinyl. Made out of an advanced and durable polymer shell filled with a ballast of cement, and then dipped in a scratch-resistant vinyl coating, the Tone Fitness Vinyl are designed to deliver reliable workouts for many years.
Offered in a wide range of convenient weights and pastel color designs, the Tone Fitness Vinyl kettlebells look great even when not in use. The excellent design of these kettlebells means that users can focus on their fitness regime to improve their balance, endurance and core strength.
Pros:
These kettlebells simply look great, and are tough and impossible to ding, scratch or crack. The cement on the inside feels as solid as metal, and the weight is the same, so the workout results are the same as well. Far better price than other more traditional cast iron kettlebells.
Cons:
Professional athletes and competitive weightlifters will need kettlebells in far heavier weights than currently offered by Tone Fitness at this time.
With an extra-wide handle and durable grip, the GoFit Premium is an excellent kettlebell for any home workout. Available in a full-range of weights, fitness enthusiasts can use smaller kettlebells for sculpting and toning or switch to heavier kettlebells for burning fat and increasing muscle bulk throughout the body.
Dipped in a thick coating of attractive vinyl, the GoFit Premium Vinyl offers any fitness enthusiast a great way to lose weight and improve their health.
Pros:
The vinyl is thick and durable, so even if you accidentally drop them on the floor, they won't scuff or mar furniture or other surfaces. Weight is clearly marked on each kettlebell.
Cons:
While these kettlebells come in a variety of attractive color choices, some fitness enthusiasts may find themselves more comfortable using black or more neutral designs.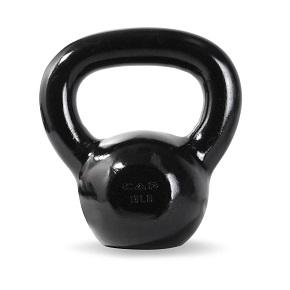 This outstanding kettlebell from one of the leading manufacturers of workout products and fitness equipment comes in a full range of sizes from 10 to 80 pounds, giving home fitness enthusiasts the ability to steadily increase weight amounts during exercise.
With special reinforced steel handles and much heavier weights than offered by other manufacturers, the CAP Barbell Enamel Coated Cast Iron can give even the most competitive professional athlete a vigorous and rewarding workout.
Pros:
The deep black enamel coating looks great and is designed to last forever. Steel reinforced handles give you the confidence to use the bigger weights without worrying about breaking anything.
Cons:
These are serious pieces of exercise equipment and are priced accordingly, and thus may not be suitable for beginners just learning how to work out with lightweight, less expensive kettlebells.
In Conclusion
While originally kettlebells became popular pieces of workout equipment in the eastern reaches of Europe, today fitness enthusiasts all over the world appreciate these versatile and flexible weights for their ability to give anyone improved core strength and enhanced muscle mass and definition. With unique physical properties inherent in the design, this accessory can be used as part of vigorous aerobic workouts to lose weight, sculpt muscles and greatly improve overall fitness levels.
Although all the best kettlebells come in standard weights, only the Enamel Coated CAP Barbell is made out of a carefully balanced core of pure cast iron encased in a durable, rich black enamel coating. With no assembly required, these weights are ready out of the box to begin helping home fitness enthusiasts tone and develop core muscles while improving their overall health and fitness.