Some links on this page are monetized by affiliate programs - see disclosure for details.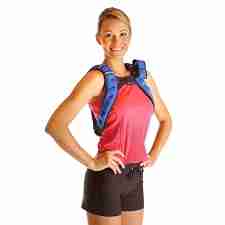 Getting proper exercise is critical for your health. Not only does it keep your weight at a healthy level, but exercising on a regular basis, combined with a healthy diet, helps you become stronger and even helps you potentially avoid a variety of health problems from diseases to general aches and pains. Sometimes, though, you may feel as though you're stuck in a workout rut.
Increasing the intensity or length may work for a short time, but you may quickly become used to this new workout. If you want to maintain your same basic routine but you want to make it more intense, consider strapping on a weighted vest.
What is a Weight Vest?
A weighted vest is a type of fitness apparel that goes over your chest and back. The difference in this vest and what makes it so unique is that it has weights distributed inside. These weights are evenly distributed throughout the upper body to make your workouts more challenging. Even taking a simple walk can be improved just by putting on one of these vests.
You may be interested in: Our guide to the top 10 exercise balls for your home fitness routine
What are the Advantages?
The biggest advantage is that wearing one of these vests increases the difficulty and intensity of any workout. Whether you're doing strength training, running, or just walking around the track, this additional weight provides more resistance and makes your workout more challenging. The effect is that even by doing the same things you do every day, you're improving your upper body strength and strengthening your core.
What are the Different Types?
Adding weights to vests isn't a new concept, but it's one that's becoming highly popular in the world of fitness. This isn't the only way that these vests are used though. In addition to different colors, sizes, styles, and weights, there are two main types to choose from.
Fitness vests – These are designed for use during workouts to increase strength, provide a more difficult workout, and to strengthen the core. These can be used during any type of physical workout.
Developmental vests – These are used for children with autism and ADHD. The weights in the vests are used when children need to calm down during a tantrum or other stressful moment.
What are the Best Weight Vest Brands on the Market?
Tone Fitness Weighted Vest – Increase your strength and turn up the challenge on your workout with this vest which is extremely affordable. Even though this is cheaper than many other vests on the market, it has lots of features found on more expensive products, including temperature controlled fabric and a pocket so you can take your tunes with you during your workout.
CROSS101 Adjustable Weighted Vest – This vest is a very versatile choice for your next workout. You can adjust the weight in increments so that you can increase the intensity and build up your strength over time. This vest is comfortable, easy to wear, and not too expensive, making it a top choice.
ZFOsports Adjustable Weighted Vest – The design of this vest allows you to increase weight as needed to provide more resistance to any workout, from cardio to walking. It's easy to adjust the weight to increase the intensity of your workout, and just as easy to remove them if needed. This vest is very comfortable, contours to your body, and stays in place, so you won't be distracting while you exercise.
Features to Evaluate
Once you're ready to take your workout to the next level, adding a weighted vest is something that is so simple yet very effective. You want to make sure that you get the most out of your workout, though, and you can do that by selecting the right product. You can narrow down your selection by looking at these four features.
Price
The price of the vest you choose is determined by a number of factors, including the total amount of weight, the number of weights that can be added or removed, the materials used in making it, and the overall quality. Try to stay within your budget, but also make sure that you don't sacrifice quality or buy a product that's not versatile enough to provide you with the benefits you're looking for.
Weight
The amount of weight is important because you want to have a challenging and effective workout, and if your vest isn't heavy enough, it won't help you get a better work out or improve your strength. You also want a model that can have weights removed and added as needed.
Sizing
If your vest is too big and bulky, it will hinder your workout. If it doesn't fit, you won't even be able to wear it. Most vests are one size fit most, but make sure that you check the measurements closely to ensure it will fit properly.
Warranty
You don't want anything to go wrong with your product, and if it arrives to you in poor shape or something goes wrong due to a manufacturer's defect, a warranty covers the cost of repairs or a replacement.
Price
Tone Fitness
If you're on a budget, this is a great choice.
CROSS101
You should expect to pay a bit more for this product.
ZFOsports
This product costs the most of the three. It is more on the higher end of the pricing scale when compared to similar vests.
Weight
Tone Fitness
This vest has a total of 12 pounds.
CROSS101
This adjustable vest has a maximum weight of 40 pounds.
ZFOsports
You can add weights up to a total of 60 pounds when you wear this model.
Sizing
Tone Fitness
This vest is designed to fit most people.
CROSS101
The sizing of this product is one size fits all.
ZFOsports
This comes in a one size fits all sizing.
Warranty
Tone Fitness
This product does not come backed with a warranty.
CROSS101
This is backed with a 1-year manufacturer's limited warranty.
ZFOsports
Your purchase is protected with a 1-year warranty.
Our Weight Vest Reviews
For the fitness newbie on a budget, this vest is a choice that should be considered. At just 12 pounds, it's light enough for beginners but still provides just the right amount of resistance. This product is designed with neoprene that is lightweight and contours to the body, and it's temperature controlled so you won't get overheated while working out.
This product has a reflective strip so you can be spotted when you're walking or exercising at night. It comes with a pocket that is used to hold your cell phone or MP3 player. The weights are evenly distributed, the design is adjustable, and it is very affordable when compared to other vests.
Pros:
It is inexpensive
It fits most people
The lightweight material doesn't make you too hot
A good choice for beginners
It's easy to adjust the sizing
It's comfortable
Cons:
The weights are not adjustable
Weight cannot be added, so it is not as versatile as other products
The neoprene has a very strong smell
It does not come with a warranty
With this vest, you'll get the versatility you need to gradually increase the difficulty of your workouts. This vest weighs a total of 40 pounds and has weights distributed evenly throughout to provide the most benefits while you exercise. If the 40 pound weight is just too much for you, that's okay – you can simply remove some weights. This model comes with a total of ten four pound weights, so you can increase or decrease the weight as needed depending upon your skill level.
This has a one size fits all design, and it is fully adjustable for a contoured, comfortable fit, no matter your body type. This has a one piece design with a belt that straps across your chest, so you can adjust it for comfort. Since it is just 13 inches wide, it is very compact, especially when compared to similar products. It has a stylish camo design, and it's recommended for cross training, strength training, or even everyday activities.
Pros:
The weights are adjustable so you can gradually increase resistance in your workout
It's very comfortable to wear
It comes backed with a 1-year warranty
It's easy to setup
It has a compact design
Fits almost everyone
It's easy to add and remove the weights from the pockets
It's easy to put on and remove
Cons:
There's no padding around the neck, so it may get a bit uncomfortable in this area when worn for long periods of time
It is a bit expensive
Shoulder cushioning would be a much-needed improvement
Whether you're just getting started in your goal to better health or you're just stuck in a fitness rut, this vest from ZFOsports will help. You can add a maximum of 60 pounds for the most challenging workout you've ever faced. If you're not quite at that level, don't worry – this vest can be adjusted from 0 pounds increasing in 4 pound increments up to 60 pounds, so this may be the only product like this you ever need since it is so versatile.
The design is meant to hug your body without being uncomfortable, and the one size fits all sizing is great for any body type. The one-piece design makes it easy to take on and put off, and the Velcro belt allows you to adjust it to the perfect, most comfortable fit. This model comes backed with a warranty, so you know you're buying a quality product.
Pros:
It fits almost everyone
It is easy to add and remove weights as need to increase or decrease the challenge
Goes from 0 to 60 pounds, making it one of the most versatile products in this category
Comfortable to wear
It's easily adjustable
It doesn't slide while you wear it
It's easy to put on and comes with instructions if needed
Backed with a warranty
It can be used during almost any physical activity
Cons:
The straps may be a bit uncomfortable
It's a bit bulky
It is more expensive than other vests
Conclusion
Instead of sitting around in a plateau, why not change up your workout with the addition of one of the best weighted vests? The resistance and extra weight help you get better results in a shorter amount of time, whether you're trying to bulk up or slim down. If you're interested in this type of fitness gear, the ZFOsports vest is one to consider. Although it does come at a more expensive price, its versatility means that you won't have to keep upgrading as your intensity increases. It is durable, and the design ensures it fits perfectly and comfortably, making it a top choice in this category.