Some links on this page are monetized by affiliate programs - see disclosure for details.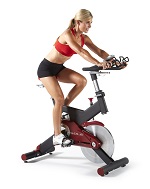 Riding a bicycle isn't just for kids. In fact, many adults of all ages love to cycle because it's not only fun, but it provides many great health benefits. Unfortunately, bicycling outdoors isn't always an option. Those who live in extremely hot or cold climates, as well as areas that are prone to snow and rain, may find it difficult to cycle outdoors.
With an indoor cycle, you can reap the full benefits of riding a bicycle without having to worry about the weather, terrain, or other potential obstacles.
What is an Indoor Cycle?
An indoor cycle is a stationary bicycle that is built much like a traditional bicycle. However, there are a few differences. Indoor cycles have just one wheel, located on the front, that rotates when the pedals are used. Unlike a regular bicycle, balance is not required. Indoor cycles are stationary, and have sturdy designs that prevent them from falling over while in use. Indoor cycles are equipped with two handlebars, two pedals, and a traditional bicycle seat.
Not to be confused with Spin® bikes directly, these bikes while very similar to indoor cycles, are a specific brand of unique bikes owned by Mad Dogg Athletics company. Spin®, Spinner®, and Spinning® are trademarks of Mad Dogg Athletics.
See Also: The 10 Top Rated Recumbent Bikes
What are the different types of Indoor Cycles?
If you have considered using an indoor cycle for its many health benefits, you will find that there are many available on the market. While experts may know what to look for, those who are new to indoor cycling may find the shopping process to be a bit overwhelming. To better understand what type of cycle to buy, it's important to know which types are available so you can determine which cycle will best fit your needs.
Upright exercise cycles
These are designed to most closely replicate a regular bicycle. These cycles allow you to sit comfortably while peddling in your living room, home gym, or other room in your home.
Recumbent exercise cycles
These bikes are designed quite a bit differently. The seats on these have a back similar to a regular chair. It has two handles, one on each side, for holding. The pedals are located straight out from the seat, so the rider cycles in a lying position. This is a great choice for those who require additional back support, and it has been commonly used in physical therapy to help build leg strength without straining the rest of the body.
Spinning Bikes
Spinning classes have grown in popularity in recent years in gyms across the world, and now, you can take the advantages home with your own spinning bike. These are designed in a similar way to upright indoor cycles. However, these are rode much like road bikes; that is, the rider stands during the majority of the ride for added fitness benefits and calorie burning.
What are the advantages of owning an Indoor Cycle?
The health and fitness benefits are clearly the best advantages to owning an indoor cycle. No skill level is required to use an exercise bike, they are easy to use, and there are space-saving designs for smaller homes. Cycling provides a great cardio workout, and it is perfect for losing or maintaining weight and staying healthy.
With an indoor cycle, you no longer have to worry about rain, heavy winds, heat and humidity, or cold weather. You can get great exercise right inside your home without having to weather the elements. You can also personalize your ride with different resistance levels to mimic different outdoor terrains without the risk of injury.
Read: The Best Heart Rate Monitor Watches to Consider
Who are the contenders for Best Indoor Cycle?
Exerpeutic Folding Magnetic Upright Bike with Pulse – This budget-friendly option doesn't break the bank, but it offers many great features, including a fold-up design that makes it perfect for apartments, condos, smaller homes, and other tight spaces.
Sunny Health & Fitness Pro Indoor Cycling Bike – If you want a durable cycle that will last through years of riding, this mid-priced option may offer just what you're looking for.
Keiser M3i Indoor Cycle – Pair your tablet or smartphone with this top-of-the-line cycle that's perfect for use at home or a great addition to your gym.
Considerations for Choosing the Best Indoor Cycle
If you're ready to invest in an indoor cycle, you want to make sure that it is one that you will enjoy riding. This is why it is so important to know what to look for while you're shopping. Instead of spending hundreds or even thousands of dollars on a cycle that just collects dust in your storage closet, look for these key features to ensure you get the most bang for your buck while you also get exercise equipment that provides you with an outstanding workout.
Comfort
While your workout should be challenging, you shouldn't be in agonizing pain while you cycle. Look for added features like comfortable adjustable handles and padded seats. If you have a back injury or you're a beginner, you want to find a cycle with a roomy seat, or you may even consider a recumbent bike.
Electronic features
Many indoor cycles come equipped with electronic features that can be used to enhance your workout. Built-in timers, calorie burners, and even heart rate monitors help keep you on track during your exercise session.
Size
If you don't have much room for exercise equipment, you don't have to pay for a pricey gym membership. Instead, you can reap the benefits of cycling at home with a smaller, lightweight, and ultra-portable indoor cycle. Fold-up models are very popular for those who live in smaller spaces. If you have a dedicated home gym or additional space, you can get a bigger, sturdier bike that will remain in one spot for a longer period of time.
Price
It is important to choose a bike that you'll enjoy using because indoor cycles can be quite pricey. A basic model costs just a few hundred dollars, while a well-built model that's outfitted with the latest technology and comfort upgrades may cost several thousand dollars.
Comfort
Exerpeutic Folding Magnetic Upright Bike with Pulse
This cycle is outfitted with a large seat that provides a comfortable ride for users of almost any size. It is recommended for use by riders up to 300 pounds, and it is adjustable for heights of 5'3" up to 6'3".
Sunny Health & Fitness Pro Indoor Cycling Bike
You can breeze right through your workout with ease with the adjustable handlebars and seat that are designed to keep you fully comfortable while you ride.
Keiser M3i Indoor Cycle
You can easily adjust the four-way seat with the innovative design of this bike. It is comfortable enough for extended group classes or personal sessions.
Electronic features
Exerpeutic Folding Magnetic Upright Bike with Pulse
The built-in computer helps keep you on track during your workout. It displays your heart rate (measured through the handles), as well as calories burned, time, speed, and distance.
Sunny Health & Fitness Pro Indoor Cycling Bike
Like other spin bikes, this indoor cycle does not have an on-board computer. However, plenty of space is provided for you to clip your own computer if you want to know how far you've ridden or how many calories you've burned.
Keiser M3i Indoor Cycle
This high-end bike from the Keiser M3 line utilizes the latest technology to provide you with the best fitness experience. The built-in computer is Bluetooth-enabled, so results can be displayed on the screen of any Bluetooth-enabled device, including phones and tablets.
Size
Exerpeutic Folding Magnetic Upright Bike with Pulse
This is an ideal choice for anyone looking to save space. This bike folds up to about ½ of its regular size for easy storage. The wheels allow you to easily push it into storage when not in use.
Sunny Health & Fitness Pro Indoor Cycling Bike
Weighing right at around 100 pounds, this cycle is more lightweight than many other spin bikes. It does not offer any folding options, but it is equipped with transport wheels for easy moving.
Keiser M3i Indoor Cycle
At 85 pounds, this is one of the lightest indoor cycles available. The lightweight construction doesn't mean it's cheaply made. In fact, this is ideal for use at home or at any gym.
Price
Exerpeutic Folding Magnetic Upright Bike with Pulse
This is one of the most affordable indoor cycles on the market. While it lacks some of the features of the more expensive models, this is a great entry-level bike for those who want to try out indoor cycling.
Sunny Health & Fitness Pro Indoor Cycling Bike
This is a mid-priced indoor cycle when compared to other models. However, when it is compared to other gym-quality spin bikes, it is certainly one of the more affordable options on the market.
Keiser M3i Indoor Cycle
This is one of the more expensive indoor cycles currently available. However, with its quality construction and Bluetooth technology, the price for this top-of-the-line cycle, many users find, is worth the extra expense.
Conclusion: Our Indoor Cycle Reviews Are In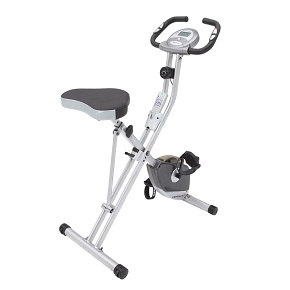 Are you new to indoor cycling and want an easy bike to start off with? Do you want to try indoor cycling, but you just don't have the extra space? If either (or even both) of these apply to you, then you'll love this bike from Exerpeutic. This indoor cycle is easy to use, provides many great features at a low price, and best of all, its combination of lightweight materials, attached wheels, and fold-up design make it perfect for even the smallest spaces.
You'll be able to get a great workout while keeping your heart rate at a healthy level with the built-in computer, which features a large, easy to read screen. You can choose from eight different resistance levels to personalize your workout. You can also be completely comfortable during your workout with the large padded seat and large pedals with safety straps.
Pros
It is very inexpensive. It folds up to ½ of its size for storage. The large seat is perfect for riders of any size. Leg stabilizers make it secure and stable during use. The crank system is designed to provide smooth and consistent peddling. It is quiet. It is easy to assemble.
Cons
The belt wears out more quickly than other models. It is better for light use, and those who are training or using the bike often will do better purchasing a more high-end bike. Higher tension settings result in loud clicking noise. The plastic design may not hold up as well as metal cycles.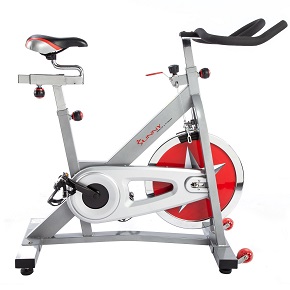 Whether you want to take the fun of spin class to your own home or you're a gym owner that's looking for affordable cycles for your spin groups, this model from Sunny Health & Fitness is a heavy-duty bike that can easily withstand hour after hour of intensive use. This bike is built to hold up to 275 pounds, and it's available in black or white.
The smooth chain drive, 40-pound flywheel, and heavy duty crank work together to provide you with a smooth and quiet ride. The adjustable resistance allows you to change the difficulty level of your ride, and the transport wheels make it easier to move around if needed. The heavy-duty steel frame is sturdy and provides you with stability, even during your most intense rides.
Pros
It has a heavy-duty construction. The design makes each ride smooth and quiet. It is less expensive than comparable spin bikes.
Cons
Assembly may be more difficult than comparable cycles. It does not come with a built-in computer. It is not for shorter riders. Does not come with a cup holder.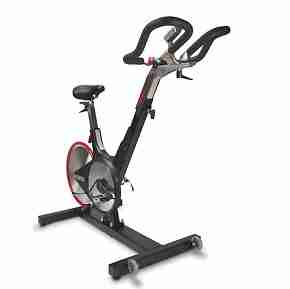 If you're serious about your own fitness or you want to provide customers at your gym with the best cycling equipment, you can't go wrong with the Keiser M3i. Riders can easily check out their stats on their smartphones, tablets, or even displayed on a larger screen with its Bluetooth functionality.
The innovative design allows for a smoother, quieter ride, while the red and black design completes the stylish package. It's also equipped with a cup holder for water bottles, as well as a four-way adjustable seat that's easy to adjust for the perfect height.
Pros
It's wireless capabilities make it more advanced than other cycles on the market. It's comfortable, quiet, and pedals smoothly. It is built with high-quality materials for years of daily use. It's easy to assemble. It features a built-in computer.
Cons
The price is more expensive than many indoor cycles.
If you're ready to get in the best shape of your life or you want to equip your gym with quality indoor cycles, the Keiser M3i is the way to go. It is well-built, durable, and ready for many hours of riding. It is stylish enough for the most modern gyms, and the added wireless features make this high-end indoor cycle stand out above comparable fitness equipment.