Some links on this page are monetized by affiliate programs - see disclosure for details.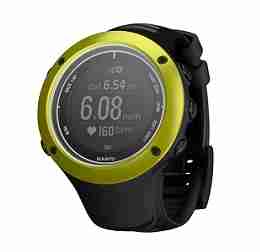 We all know how beneficial exercise can be for our health. Whether we walk on the treadmill at home after work, play an organized sport, or hit the running trail, working out indoors or out is a great way to keep ourselves healthy and in-shape. What many people do not realize, however, is that we aren't reaping the full health benefits of a workout if we don't stay within our target heart rate zone.
This is why it's important to track our heart rate while working out, and not just to make sure we're working as hard as we need to, but also to make sure we aren't working too hard. Most heart rate monitors can be bulky and cumbersome, which is why so many people are relying on heart rate monitor watches.
Compare: Top 10 Best Heart Rate Monitors of 2017

What is a Heart Rate Monitor Watch?
A heart monitor watch is designed to keep track of your heart rate. This is very important when you exercise to ensure you're in your target zone. Unlike other monitors, these aren't cumbersome, don't have wires, and they're easy to wear during any sort of physical activity. These units look just like regular wristwatches, and they are worn comfortably on the wrist.
A sensor tracks your heart rate, so you can see exactly what it is with just a glance at your wrist. Some of the newest models also have stopwatches, track steps, and perform other functions.
You may be interested in: Our picks for the bets high impact sports bras for your workout
What are the different types of Heart Rate Monitor Watches?
If you're ready to get the most out of your everyday workout by tracking your heart rate, a watch that keeps up with your stats is a great way to do so. Before you buy, decide which model works best for you out of the two available: chest strap models and strapless.
Chest-strap monitors – If you purchase one of these, you will receive a wristwatch device and a strap that is tightened around your chest. The straps are usually quite comfortable, fit well under clothing, and do not have wires. This strap reads your heart rate and transmits the information to the watch that you wear on your wrist.
Strapless heart rate monitors – These do not require a chest strap. Instead, you just put the watch on and a sensor built into the watch detects your heart rate. These are generally a little less accurate than those with chest straps. However, this may be a better choice if you don't want to wear a chest strap or you're involved in very heavy physical activity where a chest strap may be cumbersome.
What are the Advantages of Owning a Heart Rate Monitor Watch?
The main benefit of owning one of these devices is that you can stay within your target goals while working out. If your heart rate is too low while you exercise, you won't be able to burn fat and calories, which is especially important when trying to lose weight or maintain your healthy weight.
On the flip-side, you don't want to overexert yourself. If your heart rate is too high, you could suffer from serious consequences to your health, so once it gets too high, it's time to slow down and cool off for a bit. With one of these watches, you'll always be able to stay at your healthy target rate.
Who are the contenders for Best Heart Rate Monitor Watch?
Polar FT4 Heart Rate Monitor – If you want to get the most out of your physical activity without draining your bank account, this great watch is priced at less than $100 and boasts many great features found on the more expensive models. This works with a chest strap to provide you with accurate results. It tracks your heart rate continuously, so you never have to wait for results, and you can keep working (or slow down) to easily hit your target zone. It also uses this information to calculate calories burned, a great tool for losing weight. This unit is water-resistant, comfortable to wear, and it is even compatible with certain gym equipment.
Fitbit Charge HR Wireless Activity Wristband – Instead of wearing your monitor just while you work out, you can wear it all day long with this sleek model from Fitbit. It functions as a regular watch but also continuously tracks your motion. You'll be able to easily view the time, as well as your fitness stats including heart rate, total distance walked, and calories burned. This model is comfortable to wear and provides accurate readings without the need for a chest strap.
Suunto Ambit2 S GPS Heart Rate Monitor – If money is no object and you simply want the best, you'll find it all with this stylish heart rate monitor. The built-in GPS functionality allows you to map out and plan your routes, perfect if you're training for a marathon or other competition or even if you just want to come up with the best outdoor workout. It tracks your heart rate, keeps up with your stats, and can also be loaded with thousands of different apps that help you on your fitness journey.
Considerations for Choosing the Best Heart Rate Monitor Watch
If you aren't keeping up with your workouts, you might not be getting the full benefits you could be getting if you were to track your stats daily. If you want to take your workout to the next level, the best way is to monitor your heart rate, which also keeps you safe. And if you've decided one of these watches is what you need to add to your physical activity, don't make a single purchase until you've done your research. To get started, consider these four key features of each watch you want to buy.
Warranty
Over time, it's normal for things to show signs of wear or to even quit working. However, you should expect your watch to last for a reasonable period of time, especially when you use it as directed. If something goes wrong due to a manufacturer's defect, the expense of repairing or replacing the watch will be covered if you have a warranty on your product.
Monitor type
As mentioned earlier, there are two types of monitors. The latest strapless watches are very accurate, but they are more expensive. If you want accuracy without spending too much money, a model with a chest strap will work best for you.
Colors
While color isn't the most important feature, you do want something that you'll enjoy wearing. Pick your favorite bright color to add a bit of fun to your workout gear, or stick with a basic color if you plan to wear your watch throughout the day.
Warranty
Polar FT4
Your purchase is backed with a 2-year limited warranty direct from the manufacturer.
Fitbit Charge HR Wireless Activity Wristband
Your purchase comes with a 1-year warranty protecting against defects.
Suunto Ambit2
Your watch will be covered with a 2-year limited manufacturer's warranty.
Monitor type
Polar FT4
This watch comes with a chest strap for accuracy.
Fitbit Charge HR Wireless Activity Wristband
This is a strapless monitor that is comfortable enough to wear all day, even while you sleep.
Suunto Ambit2
This model requires a chest strap, which is included with your purchase.
Colors
Polar FT4
Choose from five great colors, including Green, Silver/Black, Blue/Black, Blue/Orange, and Pink/Purple.
Fitbit Charge HR Wireless Activity Wristband
You'll have your choice from Black or Plum.
Suunto Ambit2
You can choose from many colors, including White, Graphite, Black/Silver, Lime, Silver, and Red.
Conclusion: Our Heart Rate Monitor Watch Reviews Are In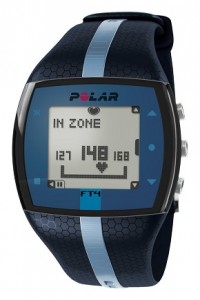 Get the most beneficial workout every time you wear this great watch from Polar. This affordable monitor uses a comfortable chest strap to provide you with accurate results. It continuously monitors your heart rate, so you can always stay in your target zone.
This watch is equipped with a Smart Calorie feature that allows you to accurately track how many calories you've burned while walking, running, biking, or participating in organized sports. It is water-resistant up to 30 meters, it has a battery that you can easily change yourself, and it is compatible with GymLink fitness equipment.
Pros:
It is affordable. The backlight makes the screen easy to read in any type of lighting. It can store up to 10 workouts to track your progress. Continuously monitors your heart rate. It can be worn while swimming. It has an alarm with a snooze option. The soft fabric strap is comfortable to wear. It comes with a warranty.
Cons:
During heavy physical activity, it may stop working for a brief period. It is not ideal for users who would prefer a strapless model. It may be difficult to sync.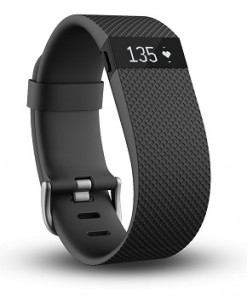 Keep constant track of your activity, whether you're awake or sleeping, with this great monitor watch from Fitbit. The design of this model is stylish and comfortable enough to wear with anything, not just your workout clothes. This watch tracks more than just your heart rate. You can also see the distance you've walked (or ran), calories burned, flights of stairs you've tackled, and the minutes you were active.
Not only can you track your waking hours, but this also works to track how long you've slept, ensuring you get the sleep you need to take on each day. It is equipped with a silent alarm that gently wakes you up without disturbing others, and it syncs wirelessly to your phone or computer so you can keep up with your daily stats and track your progress.
Pros:
You can track your activity each day easily with your cell phone. Receive call notifications on this watch. You can track your sleep patterns. It is equipped with a silent, vibrating alarm. Very comfortable. It is easy to charge and does not require new batteries. Comes in multiple sizes for the best fit. Comes backed with a warranty. It keeps track of your daily stats so you can see how much you've progressed. Compatible with most smartphones.
Cons:
A smartphone or computer is required to get the full benefits of this unit. It can be uncomfortable for people with smaller wrists. You have to charge the battery often, at least once a week.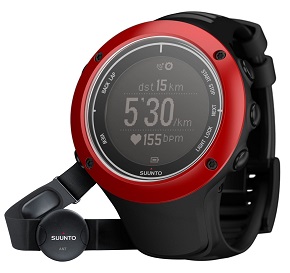 If you're serious about your training, you need a serious watch, and the Suunto Ambit2 is ready to perform to the highest standards. This great watch does far more than give you a continuous, accurate heart rate. Its standout feature is its GPS functionality, which allows you to figure out your location, track your route, and plan out new routes right from your wrist.
It isn't just designed for running, though. You'll be able to set it at different functions for all types of sports, including cycling and swimming. With the included chest strap, you can be sure you'll always hit your target heart rate during your workouts, and you can further customize this watch by adding apps. There are thousands available to help you get the most out of your daily fitness activity.
In addition to all of the great functions, this watch is very stylish, comfortable to wear, and comes in an assortment of great colors that can be worn with your workout gear, swimsuit, or even just your everyday street clothes.
Pros:
Functions as a regular watch with time, date, and day displayed. It has a backlight for easy viewing in any lighting. It is lightweight, so it's comfortable to wear. The chest strap provides accurate tracking results. It has several different modes, including swimming, cycling, training, and running. Apps can be downloaded to personalize your watch. It is charged via USB so you don't have to worry about replacing the battery. It is easy to read and very easy to use.
Cons:
It is a bit expensive when compared to similar watches. Using the software can be a bit confusing for those not proficient with technology. The chest strap is a little large and bulky.
In Summary
Whether you're losing weight, bulking up, or just working out to keep your body healthy, you can turn your workout routine up a notch with a heart rate monitor watch. If you want the latest that technology has to offer, the Suunto Ambit2 is a great model you should consider. Even though it is more expensive than some on the market, the GPS functionality, comfort, style, and multiple modes for all types of exercise make this watch cruise past the competitors to earn one of the top spots for fitness watches.