Some links on this page are monetized by affiliate programs - see disclosure for details.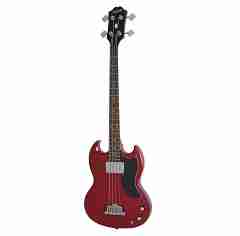 Since its invention in the 1930s, the electric bass guitar has become integral to virtually every style of music played today. The instrument's warm sounds and deep tones create the foundation of every rhythm, and skilled bassists can play their way into the lead of a song.
As one of the most popular instruments in the world, the bass guitar is sold in countless styles through numerous manufacturers, so finding the right one for each individual is a something of a personal journey. This guide hopes to provide a clearer path by focusing in on the essential details of this versatile instrument.
Top Rated: The Best Bass Guitars of 2017

Introduction: What is a Bass Guitar?
The electric bass's design bears an overall resemblance to the standard electric guitar, minus a few key differences. It commonly has only four strings instead of six, that are longer and thicker to produce notes at significantly lower pitches. In order to be heard clearly, it is plugged into an amplifier and speaker: this is what distinguishes it from an acoustic instrument.
The bass is generally played with the fingers. It can be played effectively with a pick, but most instrument's signature sounds rely on the thumb for slapping, popping, and thumping. In all styles of music, the bass is usually what establishes the beat and tonal harmony with other instruments.
What are the Different Types of Bass Guitars?
Basses come in a plethora of lengths and body styles. Aesthetically, some styles and colors appeal to different genres more than others but functionally, a bass is distinguished by its components and materials:
The Electric Bass is the most popular type in the market. They have solid bodies and can be use a variety of pickups to affect their sound. Due to the vast availability of different types of electronics, the standard electric bass is the most versatile type one can find.
Precision Basses closely follow standard electrics in popularity. Thanks to their split-coil pickups, their notes are more staccato and articulated at the cost of warmth and percussive thump.
A Jazz Bass will resemble a precision bass on a superficial level, but features two split-coil pickups and a narrowing neck. Notes from a jazz bass aren't as sharp as a precision's and are generally brighter than those from other types.
What are the Advantages of Owning a Bass Guitar?
Research has shown that learning an instrument increases one's capacity for memory, enhances physical coordination, and sharpens concentration. As an instrument that has become integral to music since its creation, playing bass also exposes people to over half a century of musical tradition.
Bassists have the versatility to mesh with virtually every style of music, making the instrument itself an easy ice-breaker with other musicians. It's a satisfying instrument to play alone and there are always groups trying to find bass players to join them. The overall experience of playing bass can be immensely rewarding, both personally and socially.
What are the Contenders for the Best Bass Guitars?
Squier by Fender Vintage Modified Jaguar Special: The Jaguar draws on a historic design and Fender's long history of quality instruments. It's a solid low-end choice that features hybrid precision and jazz bass pickups for a very articulate sound with substantial warmth.
Yamaha TRBX174EW TBS 4-String Electric Bass Guitar: The TRBX174EW TBS is a solid state instrument with plenty of attractive features. Like the Jaguar, it draws inspiration for its bridge and neck from vintage models, giving it a striking appearance and incredibly precise action. Its more purist electric pickups generate a clear, precise sound with an adequate punch.
Epiphone Thunderbird Classic IV Bass Guitar: Backed by Gibson, one of the most respected names in electric guitars, the Thunderbird is an instrument made for the spotlight and has the sound to match. Its unique pickup configuration gives it impeccable range, excelling in crunchy riffs and smooth action alike. The Thunderbird is built to please the individual, with adjustment knobs for every pickup to make the bass's sound distinctive for everyone who plays it.
Features to Consider when Buying a Bass Guitar
To account for the numerous variances in preferences, bass guitars come in a variety of shapes and lengths. Picking an instrument is tricky because everyone will find that certain models are more comfortable for them to play than others, before even thinking about the sound.
Playability: New bass players will find themselves using their fingers in ways they aren't accustomed to and will experience some level of discomfort while they adjust. However, there's a difference between building finger strength and flexibility and playing an instrument that doesn't fit right in one's hand. Comfortability is the most important feature to consider.
Sound: The second most important feature is how an instrument sounds. Any instrument with muddy tones should be avoided outright, and extra considerations should be taken in accord with the style of music it's going to be used to make. Most bass guitars come with basic volume and tone adjustment knobs, but superior instruments will also include feature specific ways to adjust individual pickups. The more adjustments possible, the wider range of styles a guitar can carry.
Craftsmanship: Even though you play them, instruments aren't exactly toys. A guitar's longevity is as important as how it plays in the present. Musicians tend to bond with their instruments: many famous artists even have names for their guitars. A good bass then will have quality and long term value.
Aesthetics: Appearance doesn't affect the function of a bass, but most will agree more with an instrument they like to see and be seen with. Having a good looking guitar is like having a car with a custom paint job: it doesn't do anything differently, but it makes more of an impression.
Comfort
Squier Modified Jaguar Special
The Jaguar's neck is short and thin, which makes for quick action. It's comfortable enough for a general player, but favors those with a precise grip and dexterous fingers more than beginners. The back of the neck is C-shaped, a style prominent in '60s jazz guitars. The Jaguar's neck width is consistently thin throughout, maxing out at 1 1/2″ at the nut.
Yamaha TRBX174EW TBS
The Yamaha's neck widens subtly as it descends into the body, making for a more comfortable transition at higher octaves. It is highly playable in just about every conventional position. The mahogany body rests nicely against the waist, and a slightly wider neck gives players a bit more to grip onto without sacrificing speed.
Epiphone Thunderbird Classic IV
At 12 lbs., the Thunderbird is a little over a pound lighter than the Jaguar and the Yamaha. Its maple neck is slender and highly playable, with the strings perfectly resting just above each fret for fast, immediate responses. Each of its alder body's curves are in just the right places to make it easy to carry and manipulate while playing: one of the reasons why the Thunderbird body-style is the go-to for so many prominent musicians. The Thunderbird's 34″ neck fits comfortably in most hands, expanding to 1.73″ at the nut.
Sound
Squier Vintage Modified Jaguar Special
The Jaguar's combination of precision jazz bass pickups allow the instrument to open into bright and clean tones at mid-range and articulate nicely throughout. It has an extra battery-powered bass boost to make up for some of the percussion it lacks compared to standard electric basses, but is at its best when thumping out vivid jazz riffs.
Yamaha TRBX174EW TBS
Yamaha's contender produces superb tones typical of guitars twice its price. The pickups catch every note with very clean precision and the guitar comes with enough control knobs to manipulate the sound to each individual's liking, with treble and bass adjustable to the point of excess.
Epiphone Thunderbird Classic IV
The Thunderbird features a vast range of crystal clear tones, enhanced by its unique pickup configuration. For a single instrument, it is able to produce a wide variety of distinctive qualities, easily fitting into any music style. The dual humbucker system especially favors those who want to enter heavier genres, in which the Thunderbird is right at home. The instrument's notes are consistent from highs to lows, allowing it to transition easily from a leading instrument to a rhythm.
Craftsmanship
Squier Vintage Modified Jaguar Special
The Jaguar's body comes in basswood or agathis depending on the color, and overall is a solid feeling instrument. However, its chrome knobs and hardware feel cheap. Nonetheless, the Jaguar is as close as one gets to a real Fender bass without spending more to buy one.
Yamaha TRBX174EW TBS
The Yamaha's body sports an exotic wood veneer on solid mahogany for a very stylish, very substantial instrument. The attention to detail shows in the instruments every regard and the level of craftsmanship is of the highest caliber in its price range. The knobs and hardware have a clean chrome finish that blend neatly with the rest of the body. However, it lacks a pickguard to protect against scratches.
Epiphone Thunderbird Classic IV
The Thunderbird's alder body, maple neck, and rosewood fingerboard all combine to make a very standout instrument that can also take some abuse. The hardware is coated simply in black as not to distract from the rest of the signature design. The Thunderbird's pickguard is small and mostly for decoration, but the body is unlikely to pick up any normal-use scratches regardless.
Aesthetics
Squier Vintage Modified Jaguar Special
The Jaguar gets by on its classic looks, which still hold strong altogether. It isn't as sleek as more modern designs, but it has the same undeniable charm that made its predecessor so popular. The Jaguar's unpainted headstock isn't at all impressive to look at, but it doesn't detract from the guitar's overall appearance.
Yamaha TRBX174EW TBS
Due to its lack of a pickguard, the Yamaha has a uniquely smooth look and a nice and curvy design. Its got the look of a guitar that fits in anywhere, topped off by its striking headstock. Almost in spite of its complex name, the TRBX174EW TBS has a simple elegance about it, nothing too flashy, but not boring either.
Epiphone Thunderbird Classic IV
The Thunderbird is the kind of guitar people want pose in the mirror with. Its warped parallelogram design is striking, its bright finish is flawless, even the pickguard is adorned with a declarative image of the guitar's namesake. Yet, for all its boisterous design elements, the Thunderbird manages to make a statement without making it obnoxiously.
Bass Guitar Reviews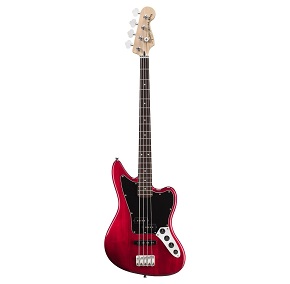 The Jaguar Special doesn't waste time trying to do what it can't, but zeroes in on doing what it needs to: make good sounds. Especially in the realm of jazz and blues, the Jaguar makes good music in the right hands, which is really all it needs to do. Other features are somewhat sacrificed to keep the cost low, but the Jaguar isn't designed to impress or upset.
Pros:
Unique Jazz/Precision Fusion
Solid Body
Famous Design
Cons:
Cheap Materials
Limited Versatility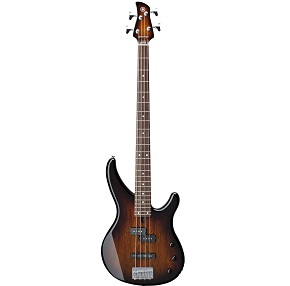 Yamaha's entry could easily compete in a higher price range, but instead has secured itself as a possible new standard for mid-ranged basses. It is an instrument whose strengths are easily played to. The action is great, the sound is impeccable, and the look is impressive. Its versatile enough in look and tone to fit most genres, and is easy to get along with.
The TRBX174EW TBS is a strong instrument. However lacks a certain personality to make it unique. It does everything great, but nothing superbly. As such, it's a good instrument to practice with and fun to play, but not for its own. However, this is the price of perfection: sometimes what's nearly flawless isn't all that exciting.
Pros:
Great sound
Highly playable
Detailed craftsmanship
Cons: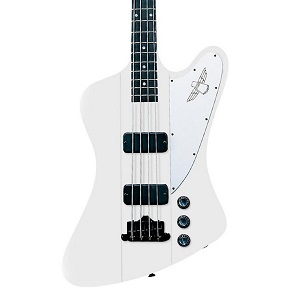 The Thunderbird has it all: phenomenal sound, stylish design, and a few tricks up its sleeve thanks to its dual humbuckers and high adjustability. Its a versatile instrument without being too full of itself, even though it easily could be. Notes are crystalline and pure, heavy when heavy is wanted and smooth and flowing when the time calls for it. Its the kind of guitar that people always come back to and always rewards players with new surprises.
The Thunderbird is an instrument with an identity, something that is hard to find in such a large market of guitars. Its lack of the Gibson logo only shows how much faith Epiphone's parent brand has in its child: with Epiphone's take on the Thunderbird, it is clearly worthy of its own fame.
Pros:
Powerful sound
Great versatility
Memorable design
Cons:
Pricier than other options
All in All
Bass guitars are as varied as the people who play them, and picking one is never an easy decision. They can be very specific, they can be just right in every way, or they can be a dream instrument at first sight. The first two, Squier and Yamaha respectively, are fantastic purchases to make and are surely rewarding to anyone who plays them, but they aren't the dream.
Music is equal parts correctness and ambition. It's worth it to have the more ambitious instrument, the Thunderbird Classic IV.