Some links on this page are monetized by affiliate programs - see disclosure for details.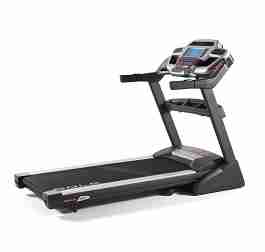 Keeping your body in great shape and healthy doesn't require much. Eating a healthy diet filled with fruits, vegetables, whole grains, and lean meats while reducing your intake of white carbs, processed food, and sugar is one way to stay healthy and fit. In addition to a healthy diet, you also need to make sure that you get daily exercise. Many people avoid exercise because they think it is difficult or because they don't want to spend thousands of dollars per year on a gym membership.
Two of the best exercises that you can do to keep yourself in great shape are walking and running, things you already do. You can easily run around your neighborhood or on a local track. However, sometimes walking or running isn't possible for a number of reasons, whether it's because it's too hot or cold outside, raining, or you just don't feel like leaving the house. This is where having the best treadmill available can really come in handy.
TopRateTen has also reviewed Elliptical Trainers.
What is a Treadmill?
A treadmill is a piece of exercise equipment that is designed for indoor walking or running. It has a moving belt, can be set on an incline to mimic walking uphill, and is typically equipped with a control panel that keeps track of your fitness stats.
Many are capable of going slowly for a more laid back walk or cool down, more quickly for a brisk walk, fast for a job, or very fast for a full run. These are great for toning, keeping in shape, or for use to train for a marathon, 5K, or other race.
What are the different types of Treadmills?
When you begin shopping for this type of workout equipment, you'll find that there are a few different types available for purchase. To make sure you're satisfied with your purchase and want to use your treadmill regularly, you should know the difference between the three to decide which one best fits your needs.
Manual Treadmill – These have a belt like other types, but the difference is that the belt operates based on your motion. If you walk, the belt moves with you. If you begin to jog or sprint, the belt will move in time with the movement of your feet. These are generally less expensive than other types, but they may be more difficult to operate.
Electric Treadmill – These can be plugged into a power outlet and the belt moves on its own. It is up to you to set the pace and keep up. Putting your device at a speed that is too high can result in injury, but once you get the hang of it, many people find these much easier to use than manual models.
Fold-up Treadmill – If you don't have a dedicated workout space in your home, these models will work best for you. When they are not in use, they fold up and have wheels or casters so they can be moved into a storage closet, a different room, or any other area that's out of your way. Both manual and electric equipment come in space-saving options.
What are the Advantages of Owning a Treadmill?
Going to a gym every month can be expensive, and after a long day on the job, you might not feel like driving across town to your gym to work out. If you want to walk, jog, or sprint outdoors, you may not be able to as often as you like during the cold winter, blazing hot summer, or rainy days. A treadmill allows you to get the same great workout you'd get at a gym right in the comfort of your own home. Since it's used indoors, you can use it anytime, even if the weather is terrible.
This equipment is a great way to train for a marathon, build up muscles in your legs, and provide you with an excellent cardio workout that can help you lose pounds and inches by burning calories, even on the slowest settings.
Who are the top contenders?
Weslo Cadence G 5.9i Treadmill – Even if you have a tight budget, you can still enjoy a great workout at home on your own treadmill. This model is very affordable, easy to use, and has all of the features you need without all of the extra bells and whistles. If you pay for a monthly gym membership, you'll be amazed at how quickly this machine pays for itself. Some of the most notable features of this piece of equipment include its built-in workouts, incline feature, and of course, its affordable price tag.
NordicTrack T Series Treadmill – Save space with this great model, which folds and can be pushed into your storage space to keep it out of the way when not in use. When you are ready to use it, you'll find that it is built for performance, featuring a large running surface, a strong motor, and an accessible interface that makes it easy to keep track of your workout.
Sole F85 Treadmill – This high-end model is comparable to those you'll find at your local gym, and it will look just as great in your own home gym. This unit really has it all, including a strong motor that goes at multiple speeds, built-in programs, heart rate monitor, a 9-inch display that shows all of your fitness stats, cooling fans, and so much more. If you're in the market for a high-end machine that blends high performance with modern technology, this is the right model for you.
Considerations for Choosing the Best Treadmill For Your Home
Now that you're getting more familiar with this type of equipment, you may be inclined to make a purchase to get yourself in the best shape ever. Before you drop money on equipment that will sit in the corner unused, make sure you buy a piece of equipment that has everything you're looking for. You can start off by keeping these four things in mind.
Price
You should expect to pay several hundred dollars for a high-quality treadmill, although commercial-quality equipment loaded with the latest technology can cost in the thousands. Plan out your budget to purchase something you can afford, but make sure that you also weigh out quality and features in addition to the price.
Warranty
Most fitness equipment comes with a warranty that protects the frame, electronic components, and other parts from defects. Look for a warranty that spans several years to make sure that you've purchased a product that's built to last.
Type
What type you purchase depends on a variety of things. If you'd rather do the majority of the work yourself and you want to save a little bit of money, choose a manual model. If you're looking for more features and a machine that helps you build up strength and speed, you'll do better with an electric model. And if you're short on space, make sure that the one you purchase folds up easily for storage.
Settings
If you're training for a competition or you just want to continuously be challenged, you'll want to purchase a model that comes with multiple speeds, different inclines, and even built-in workout programs that take your workouts to the next level.
Price
Weslo Cadence G 5.9i
While it isn't the most expensive on the market, it is extremely durable, making it well worth the price.
NordicTrack T Series Treadmill
The retail price on this model is in the average to high-end side of the pricing scale when compared to similar equipment.
Sole F85
This model is classified as top-of-the-line fitness equipment comparable to commercial machines found in gyms across the country.
Warranty
Weslo Cadence G 5.9i
The drive motor, parts, and labor are covered for 90 days with the included limited warranty.
NordicTrack T Series Treadmill
The frame of this unit comes with a 10-year warranty. All parts are covered for two years, while labor is covered with a 1-year warranty.
Sole F85
The frame, motor, and deck of this unit come with a lifetime warranty. All electronics are covered for five years, while labor is covered with a 2-year warranty.
Type
Weslo Cadence G 5.9i
This is an electric model that operates at various speeds that are easily adjustable.
NordicTrack T Series Treadmill
You'll work up a sweat with this electric unit.
Sole F85
This is a top-of-the-line electric machine.
Settings
Weslo Cadence G 5.9i
This model goes up to 10 miles per hour, features two incline levels, and has six personal trainer workouts.
NordicTrack T Series Treadmill
You'll get a challenging workout no matter what level you're at fitness-wise with this machine, which has 16,000 pre-set workouts, 0-10% incline Control, and can operate at speeds from 0 mph to 10 mph.
Sole F85
Choose your difficulty level with all of the different options found on this model, including speeds from 0.5 mph to 12 mph, 0 to 15 percent incline, six standard programs, two heart programs, and two custom programs.
Conclusion: Our Reviews Are In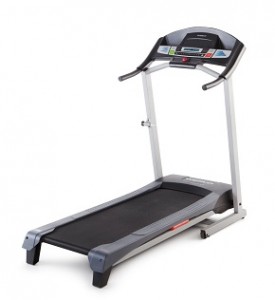 When you're new to working out, the machines at your gym can seem a bit overwhelming. With so many buttons and options, you may not know just what to choose to get the most effective workout. Instead of struggling on these advanced machines, you can learn the ropes with an entry-level piece of equipment like this model from Weslo. Not only is it easy to operate, but it also comes at a very affordable price.
If you want to casually walk or jog for working out, this is a great model for you. It doesn't have all of the features that high-end models do, but it's easy to operate and has basic features that give you a fantastic workout. This includes six personal training programs, speeds up 10 mph, and two incline positions for a more challenging workout. It has cushioning for a more comfortable walk or run, and an easy-to-read display that tracks distance, time spent working out, calories burned, and speed.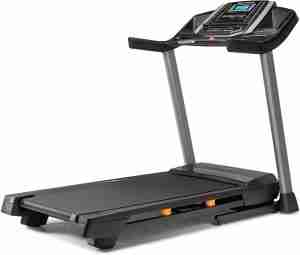 Once you've mastered the basic treadmill and you want an upgraded model, this one is a great choice. It comes loaded with 16,000 on-demand programs to help you get in the best shape of your life, or you can use the manual option to set your own incline and speed settings. This machine goes up to 10 miles per hour and up to 10% incline, so whether you want to walk, job, or run, take it easy or really push yourself, this is a great machine to have in your home.
When not in use, it folds and stores upright to save space. When you do use it, you'll find that it has a large, easy-to-read display that saves your workout information and integration with the iFit fitness app. It also comes equipped with a jack for your iPhone, iPod, or other music player, as well as headphones, a built-in speaker, and it tracks your time, distance, calories burned, heart rate and other important information. You can program it to work within your target heart zone for the ultimate workout and maximum calorie burning. It has a wide belt that measures 20 x 55 inches, and it supports up to 300 pounds.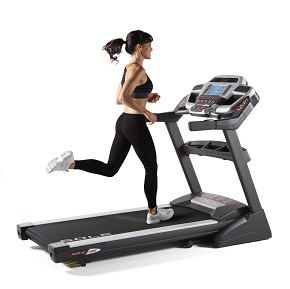 Bring the quality equipment of your local gym home with the purchase of this exceptional machine, which is truly one of the best models you'll find. This model is as heavy-duty as commercial machines, and it boasts the latest technology to provide you with a great workout, whether you're a beginner or you're training for your next marathon.
This machine has multiple saved programs that you can use to get an intense workout, or you can adjust the settings to create your own custom workout program. This machine is made with high-quality parts, including a Cushion Flex Whisper Deck that is easier on the joints than other treadmills or running outdoors. It goes up to 12 miles per hour, and it reclines easily up to 15 percent for an intense challenge.
Other features you'll find on this model include heart programs that are designed to work within your target heart rate for maximum calorie burning, which can be tracked with the chest strap monitor or with the pulse grips. It has a large 9-inch display that shows all of your workout stats, cooling fans, and an MP3-compatible sound system with built-in speakers. It has a 400 pound weight limit, and it folds up when not in use.
All in All
Beat the heat and avoid the rain while still getting your workout in for the day with a home treadmill. Instead of settling for an inferior product that doesn't have a long warranty and isn't built to withstand heavy use, consider investing in a high-end model like the Sole F85. This top-of-the-line machine is comparable to top-quality machines you'll find in popular gyms and features all of the settings, convenience features, and easy to use controls you would expect from a machine of this quality.
Even though it has a higher price tag than many other machines, it's designed to last for through lots of uses, ensuring you hit your fitness goals and stay in shape for years to come.