Some links on this page are monetized by affiliate programs - see disclosure for details.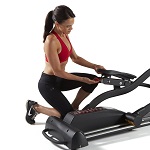 Working out daily is a necessity in any person's life. Excercise keeps you looking and feeling your best, and it's essential for keeping your body at a healthy weight. Working out regularly not only helps prevent obesity and a host of different health problems, but it also releases endorphins, which make you feel great.
Many people opt to get a gym membership, but monthly dues and annual fees can add up to hundreds or even thousands of dollars in no time, and the expenses never stop. Instead of having to drive to the gym and pay for every single workout, why not bring the gym to your own home with an elliptical trainer?
What is an Elliptical?
An elliptical trainer is a type of workout equipment that provides you with a challenging cardio workout. These trainers are a combination of a treadmill and a stair climber, allowing you to quickly burn calories for weight loss and toning. Because of the smooth motion, you put less stress on the knees than you do when running on a treadmill, therefore reducing your risk of injury, aches, pains, and strains.
Many of the most modern gyms have elliptical trainers, but home versions are also available that allow you to sweat off the pounds and tone your body in the comfort of your own home.
See Also: The Absolute Best Rowing Machines
What are the different types of Elliptical Trainers?
If you want to work off the inches in your own home, consider purchasing an elliptical trainer. Before you run out to the store and purchase one, however, it's important that you understand the different types of trainers available to ensure you get equipment that you'll enjoy using.
Traditional elliptical trainers
These trainers have moving pedals and a stationary handlebars. These are typically best for beginners who are new to this type of cardio training. Since you don't get an upper body workout, you will need to perform additional training for a total body workout.
Elliptical cross-trainers
If you want a full body workout with just one machine, an elliptical cross-trainer may be exactly what you're looking for. Just like a traditional elliptical, it has moving pedals that rotate in a smooth circular motion. However, the handlebars move back and forth while you exercise, providing you with an upper body workout as well.
Elliptical gliders
Elliptical gliders look very similar to other types of ellipticals. However, instead of the circular motion, the user's legs move forwards and backwards in a gliding motion, providing a more challenging workout.
What are the advantages of owning an Elliptical?
The health benefits are the most important advantages to owning an elliptical trainer. You're able to keep your body in peak condition by using an elliptical machine. You can maintain your current weight or lose pounds by working out regularly on an elliptical trainer. With your own trainer, you can forego pricey gym memberships, avoid having to drive to the gym in inclement weather, and have your own personal workout machine conveniently in your own home.
An elliptical trainer is easier on the joints than running on a treadmill, and you burn just as many, if not more, calories with every invigorating workout. Elliptical machines are easy to use, and many models provide a full body workout, so you don't need a dedicated home gym to get a fantastic workout at home.
Read: The Top 10 Upright Bikes to Get Fit This Year
Who are the contenders for Best Elliptical Trainer?
ProForm Hybrid Trainer – Get two machines in one with this hybrid trainer, which combines an elliptical trainer with a recumbent exercise bike. You won't need a lot of space for this compact machine, and you can easily customize a daily workout that fits your needs. You'll be able to tone and tighten your body right from home with this combination machine, which is available at a fraction of the price of purchasing two separate machines.
Best Fitness E1 Elliptical Trainer by Body Solid – If you want a great workout like you'd get at the gym, but you just don't have the space for bulky workout equipment, this machine is small and portable enough to easily store when not in use. You'll get all of the features found on commercial machines, including a built-in heart rate monitor and a sturdy metal frame, without the larger size and price tag.
Sole Fitness E95 Elliptical Machine – With custom and standard programs and full fitness tracking, you'll be able to get in better shape than ever before with this elliptical. You'll love the challenging workouts, as well as being able to easily view all of your stats on the large LCD screen.
Considerations for Choosing the Right Elliptical Trainer
Once you've made the decision to get in better shape with an elliptical trainer, it's time to begin shopping for the right setup. With different price points, sizes, and functions, shopping for an elliptical trainer can be a challenge. By keeping these key features in mind while you shop, you can easily find the right elliptical trainer for your home.
Price
Price is always one of the first things you look at when making a big purchase, and shopping for an elliptical trainer is no exception. While price is certainly important and you don't want to make an extravagant purchase you can't afford, price shouldn't be the only consideration. A cheaper elliptical may be made of inferior materials, so it may break with continued use, while a more expensive model can easily last for years and may even come with a protective warranty.
Workout programs
Hopping on an elliptical and moving at your own pace will result in burned calories. However, to beat monotony, look for an advanced machine that has built-in programs that automatically changes your speed and resistance for the most challenging workout.
Tracking programs
If you're on a weight loss program, keeping count of calories burned is easy with a built-in computer. You also want to stay in your target heart rate zone to not only reap the most benefits from your workout but also to keep yourself safe. Many ellipticals are equipped with computers that track distance moved, calories burned, and your heart rate.
Warranty
Nothing is worse than investing in an expensive product and having it break down on you. Repairs and parts can be costly, and it's a pain to pay for a product that is defective. To protect your purchase and give you peace of mind, find an elliptical trainer that is backed with a manufacturer's warranty.
Workout programs
ProForm Hybrid Trainer
Choose from 14 workout apps, as well as 14 digital resistance levels that allow you to start off at your own pace and then progress as you get stronger.
Best Fitness E1 Elliptical Trainer by Body Solid
You can fully personalize your workout with 17 different resistant settings and 12 workouts that you can use to always keep your routine different and challenging.
Sole Fitness E95 Elliptical Machine
This machine comes loaded with six standard programs and two custom programs. It also has 20 levels of resistance for an easy or extremely challenging workout.
Tracking programs
ProForm Hybrid Trainer
The large LCD window is adjustable so you can always view it whether you're using the elliptical machine or the recumbent bike. It tracks RPMs, as well as your pace so you can always hit your fitness goals.
Best Fitness E1 Elliptical Trainer by Body Solid
You can easily track your progress with the onboard computer that tracks time, distance, speed, calories burned, and your heart rate.
Sole Fitness E95 Elliptical Machine
This model comes equipped with a large 9-inch LCD display. The blue backlit screen allows you to keep track of your heart rate, calories burned, speed, distance, and more.
Warranty
ProForm Hybrid Trainer
With the purchase of this trainer, you will receive a 90-day manufacturer's warranty on parts and labor.
Best Fitness E1 Elliptical Trainer by Body Solid
You can feel confident when purchasing this trainer, which comes backed with a 15-year frame warranty and 10-year motor warranty.
Sole Fitness E95 Elliptical Machine
Your purchase of this Sole elliptical is backed with a lifetime frame warranty, 5-year electronics and parts warranty, and a 2-year labor warranty.
Conclusion: Our Elliptical Trainer Reviews Are In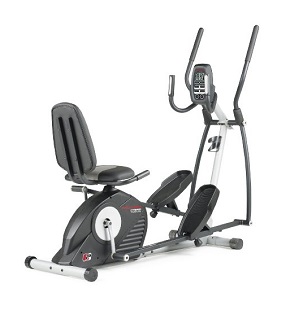 Do you want the gym experience but you don't have the space or money for a dedicated home gym? If so, consider this ProForm trainer, which combines two great machines in one. You'll get a great elliptical trainer with the added bonus of a recumbent bike.
The space-saving design of this machine allows you to comfortably use two different machines. With 14 apps, you can personalize your workout, and 14 digital resistance settings make it easy to make your workout more challenging over time. The large LCD screen adjusts for easy viewing on either machine, the built-in heart rate monitor keeps you in your target zone, and the movable arms help tone your upper body. This machine easily supports up to 350 pounds, and best of all, it's extremely affordable.
Pros
The onboard computer has a fitness tracking program, 14 apps, digital resistance settings, and a heart rate monitor. The adjustable leveling feet provides you with a safe, secure workout. The transport wheels make it easy to move and store. It comes with a built-in cup holder for your water bottle. The pedals are adjustable for height.
Cons
Assembly can be quite a challenge. The warranty is only for 90 days. The monitor does not have a backlight, so it is difficult to see in low lighting. With extended use, it may get noisier.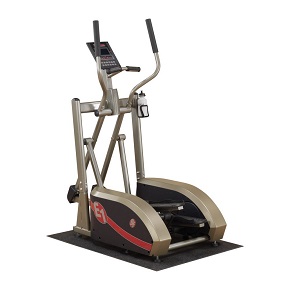 With this elliptical trainer, you won't need a lot of space to get an effective, heart pumping workout. The compact design makes it easy to fit in smaller spaces, and the wheels make it easy to move when not in use. The powder-coated steel frame is strong, durable, and backed with a 15-year warranty.
With 17 resistance levels and 12 different programmed workouts, you can challenge yourself from day to day. The onboard computer has a backlit blue display that's easy to read, even in rooms with low lighting. The pedal spacing is designed to eliminate hip fatigue and injury, and it supports up to 275 pounds.
Pros
Great warranty, which includes a 15-year frame warranty, 10-year motor warranty, 2-year electronics warranty, 6-month wear parts warranty, and a 1-year labor warranty. Offers an upper and lower body workout. It has a built-in computer that displays all stats on a large, backlit screen. Compact and easy to move. It operates quietly. Easy to assemble.
Cons
It is a bit expensive when compared to budget elliptical machines. The LCD screen may be confusing to operate at first.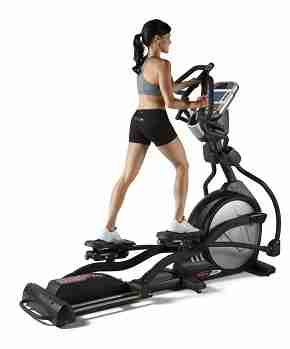 Bring the power of your gym's treadmill to your own home gym with this elliptical trainer from Sole. It doesn't get much better than this, and you'll love all of the features that are added to give you the best workout of your life.
The durable steel frame provides you with security during your workout and comes backed with a lifetime guarantee. Movements are smooth and fluid, and this machine is designed to operate quietly. Keep track of your calories burned, speed, time, and other stats by looking at the large 9-inch LCD. You can also easily and accurately track your heart rate by using the pulse grip or chest strap.
During your intense workout, the built-in fan will keep you cool. You can also listen to your favorite music for motivation using the built-in speakers that work with your phone, iPad, iPod, MP3 player, or other device.
Pros
It has articulating pedals that match your stride, providing you with an effective, pain-free workout. It comes with a built-in cup holder, speakers, onboard computer, and fan for your convenience and comfort. Movements are smooth and quiet. 20 resistance levels and built-in programs provide you with workouts customized to your fitness level. It is backed with one of the best warranties in the industry. It supports up to 400 pounds.
Cons
The assembly instructions are complicated. This machine is more expensive than other models on the market.
In Summary
If you're tired of running on the treadmill or you just want a more challenging workout at home, you'll love the benefits you get from having your own elliptical trainer. For comfort, reliability, and a challenging workout that is designed to work with your fitness level, choose the Sole Fitness E95 Elliptical Machine. This high-quality machine not only offers all of the great features you'll find in your local gym, but it has plenty of extras that help you get the most out of your workout. You also won't have to worry about quality, as you'll receive one of the best warranties around. This machine is a great way to kick start your fitness routine and take your health to the next level.