Some links on this page are monetized by affiliate programs - see disclosure for details.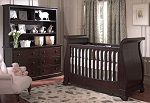 When you're decorating your nursery, one of the most important pieces of furniture that you'll purchase is your baby's crib. Not only is the crib a place where your baby will sleep and nap soundly every day, but it's also the focal point of your nursery. Your child's crib should obviously be safe and comfortable, but shouldn't it be a little stylish as well?
More and more new parents are purchasing sleigh cribs to add an extra touch of elegance to their children's nurseries. This classic look, combined with sturdy wood construction and beautiful finishes, will add beauty and function to your child's room during his or her first few years.
What is a Sleigh Crib?
A sleigh crib, much like its name suggests, is shaped like a sleigh. Instead of having flat sides, each end of the crib is curved. The back of front of the crib may also be curved as well. Since sleigh beds have been popular with so many adults, this same great style is being used by many manufacturers to make baby furniture more modern and appealing.
Like other cribs, a sleigh crib has slats to prevent a child from falling out of bed, must meet US safety standards, and use a crib mattress. These miniature beds are the perfect size for newborns, infants, and toddlers.
What are the Different Types?
If you are considering a sleigh crib for your nursery, there are a few decisions you need to make. What finish would you like? What is your budget? In addition to these questions, there are also a few types available for you to select. There are four main types of sleigh cribs to consider when shopping for nursery furniture.
Traditional – Traditional sleigh cribs are standard-sized cribs that use standard crib mattresses. These come in different finishes, are made of different types of wood, may have storage underneath, and are available at different price points. This is the most popular type of sleigh crib.
Portable – If you don't have a lot of space in your nursery or your baby will be sleeping in your bedroom, you may not have the room for a traditional crib. A portable crib, also known as a mini crib, is smaller than a traditional crib. This makes it the perfect space saver.
Crib/changing table combination – Another space saving option that you can put in a smaller nursery is a combination crib. This functional piece of furniture combines a crib with a changing table, so you don't have to put two large pieces of furniture in your nursery. Combination cribs are available in sleigh styles.
Convertible cribs – Convertible cribs can be used for years by your child. Convertible cribs grow with your child and convert to toddler beds, twin beds, or even full-size beds.
What are the Advantages of Using a Sleigh Crib?
The most obvious advantage of owning a sleigh crib is that it provides your baby with a safe, comfortable place to sleep. The American Academy of Pediatrics recommends that all babies sleep in their own cribs so having one for your child is a necessity. If you want something more than a basic crib, a sleigh crib is the perfect option. This style enhances the décor of your baby's room and gives it a more stylish look.
Which Products are the Best on the Market?
DaVinci Kalani Mini Crib – If you're short on space, the DaVinci Kalani Mini Crib is the perfect size. This crib is large enough to provide your baby with plenty of space without cluttering a cramped space.
DaVinci Parker 4-in-1 Convertible Crib – If you want your crib to last past infancy, the DaVinci Parker is a product you should consider. This crib converts to a toddler bed, daybed, and a full size bed for every stage of your child's life.
Sorelle Tuscany 4-in-1 Convertible Crib and Changer – If you want a high-end piece of furniture for your nursery, look no further. This well-designed sleigh crib has an attached changing table to provide you with everything you need with just one stylish piece of furniture.
Considerations for Choosing the Right Sleigh Crib
If you're considering a sleigh crib, there are a few important features you should look for to make sure you get the most value for your money. Consider all of these features, as well as the needs of you and your baby, to make a wise purchasing decision.
Price
Set a budget for your crib before you begin shopping. You should only buy what you can afford. However, you can't rely solely on price. Remember, inexpensive cribs are made with lower quality materials, so they show wear more quickly than a solid piece that costs more money.
Finish
You want to make sure that your crib perfect coordinates with your nursery décor. Basic white or black goes with everything, so these are always safe choices. However, you may want a different color of wood to coordinate with your paint, trim, decorative items, or other nursery furniture.
Safety
The most beautiful and expensive crib is worthless if it isn't safe for your previous baby. Look for a design that doesn't have exposed hardware, has a sturdy design, and is able to be adjusted for the height of your child.
Size
If you live in a smaller home or apartment, the size of your baby's room might be pretty tiny. To avoid a cramped space and give your child more room to grow, check out a mini crib or a combination crib and changing table that saves space.
Which crib has the best price point?
This mini crib offers big savings when compared to other cribs on the market. This is a great, affordable option if you don't want to spend a fortune on a crib.
This mid-level crib is perfect for parents who want a traditional sleigh crib without paying thousands of dollars. The savings on this crib really add up when you consider that it easily grows with your child and can be used for years to come.
This crib is the most expensive of the three. However, because it also has an attached changing table and converts to a larger bed for toddlers and children, you may find this piece is a worthwhile investment.
Which crib has the best finish?
The DaVinci Kalani makes it easy to coordinate your baby's bed with your other furniture, bedding, and décor. It is available in five colors: Cherry, Ebony, White, Espresso, and Honey Oak.
With four color choices, you can find the perfect crib that coordinates with your nursery. This crib is available in Cherry, Coffee, Natural, and Pure White.
This piece is available in classic colors including White, Espresso, and Cherry, making it easy to match with existing furniture and any color theme that you choose for your nursery.
Which crib is safest to use?
You can rest easy knowing that your child is sleeping in a safe crib. This crib meets all ASTM international and U.S. CPSC safety standards, and it is painted with non-toxic, lead-free paint.
This model is painted with non-toxic, lead-free paint, and it also meets all ASTM international and U.S. CPSC safety standards and is JPMA certified.
The height-adjustable spring system allows you to change the height to always keep your child safe. This crib also meets all US and international safety standards for security you can count on.
What are each cribs' differences in size?
If a standard crib just won't fit in your space, this crib is a great option that still provides your baby with plenty of room to get a good night's sleep. It is one of the smallest and most lightweight cribs on the market, weighing just 38 pounds and measuring 39.9" x 28.6" x 38".
This is a standard-sized crib that is comparable to many other cribs on the market. It weighs in around 60 pounds, and it measures 58.6" x 30.9" x 17.1".
This crib is bigger than other cribs, measuring 55" x 37" x 10" and weighing 110 pounds. However, you will not need a separate changing table, so despite its large size, it's actually smaller than two separate pieces of nursery furniture.
Conclusion: Our Sleigh Crib Reviews Are In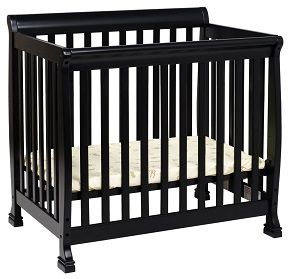 If you love the look of sleigh cribs but hate the expensive prices, the DaVinci Kalani may be just what you are looking for. This budget-friendly crib is small in size but big in value. Don't let the inexpensive price fool you — this crib is crafted to the highest standards using high-quality wood that's built to last through your baby's first years.
It's easy to get your baby in and out of this low profile crib, and it even expands into a twin bed once your child is ready for a big kid bed. It has the curves and beauty of a traditional sleigh crib without the high price tag. This bed is inexpensive but anything but cheap!
Pros:
The crib converts to a twin bed so it grows with your child. Solid design keeps your child safe. Smaller design fits well in tighter spaces.
Cons:
Twin bed conversion kit is sold separately. The pine wood is soft, which may be scratched easily.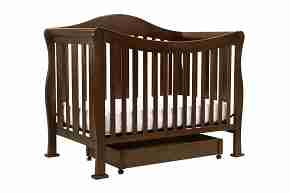 The DaVinci Parker is the perfect example of a classic sleigh crib. The dipping front rail not only adds a level of elegance, but it also makes it more convenient to get your baby in and out every day. A functional trundle provides you with useful storage space for your crib bedding, blankets, or other baby items.
Four adjustable mattress levels allow you to adjust the crib to the safest height for your baby. The New Zealand pine wood construction provides you with a secure, sturdy bed that is as safe as it is comfortable and stylish. When your baby is ready to get out of the crib, the DaVinci Parker gives you three additional options. You can easily convert the crib to a twin bed, daybed, or full-sized bed.
Pros:
The convertible design grows with your child. Crib uses any standard crib mattress. It is easy to assemble and convert. When compared to other full-sized sleigh cribs, it is very competitively priced.
Cons:
The wood scratches easily and may require refinishing over time.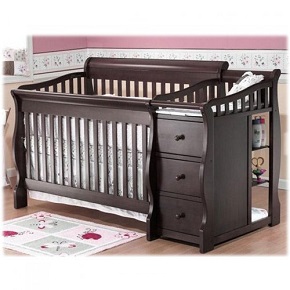 If you want your child to have sweet dreams in a beautiful, luxurious, and functional crib, the Sorelle Tuscany fits the bill. The attached changing table combines two functional pieces of furniture to create extra space in your nursery. Three drawers and three shelves underneath the changing pad give you space for receiving blankets, diapers, wipes, and other baby essentials.
Once your child is ready for a bigger bed, this crib easily converts into a toddler bed, daybed, or full-size bed. The solid birch wood is designed to retain its beauty year after year, and who can forget about the beautiful design that makes this sleigh crib really stand out?
Pros:
This crib converts into larger beds, and the changing table can be used as a nightstand. Because it is made of solid birch wood, it is far more durable than cheaper cribs.
Cons:
The more expensive price may be too much for those on a tight budget. A separate kit needs to be purchased in order to convert the bed.
In Summary
You don't have to sacrifice safety and comfort for style. With the Sorelle Tuscany 4-in-1 Convertible Crib and Changer, you and your child can enjoy the beauty of a classic sleigh crib, while you can relax knowing the durable construction is keeping your baby safe. Even though it is on the more expensive side, the functionality and versatility of this beautiful piece pays for itself as it lasts through all of your child's milestone moments.