Some links on this page are monetized by affiliate programs - see disclosure for details.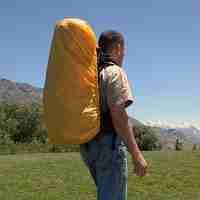 Even though hiking is a simple way to get away from it all, packing can be a real pain. You have fit all of your necessary supplies in a compact hiking backpack, especially if you plan on being away from civilization for a longer period of time.
Even though you don't have to pack things like your electronics, makeup, and a ton of health and beauty items, there are some things you just can't leave home without while you go hiking. This includes a tent that serves as your shelter, clothing, canteens and water bottles, a cook stove, and other supplies that will keep you comfortable while enjoying the great outdoors.
In order to carry all of this stuff with you comfortably, a hiking backpack is required.
What is a Hiking Backpack?
Much like a school backpack, a hiking backpack is designed to sit comfortably on your back, with straps that fit over your shoulders, and is used to carry everything you need easily from place to place.
Unlike school backpacks, hiking backpacks have a larger design so they can fit more equipment. These types of backpacks are also made of more lightweight materials to cut down on the heavy load you have to carry while traveling, as well as durable, water-resistant fabrics that are designed to last during the longest outdoor trips.
What are the different types of Hiking Backpacks?
There are a few different types of packs to choose from for your next hiking trip. The best way to choose what type you need is to determine how long you will be gone. There are four main types of backpacks that are designed for different purposes, whether you're just going to be outdoors for the day or you plan to stay outside for any extended period of time.
Day packs – These packs are designed to hold just enough supplies for a full day of hiking. These are smaller than other types of packs, and they are just large enough to hold the absolute necessities, including clean water for drinking, snacks, and a jacket if it gets cooler as the sun sets.
Hydration packs – If you need more space for supplies, eliminate carrying multiple water bottles with a hydration pack. These packs are designed with a bladder that is designed to hold water, and it has a drinking tube for easy dispensing. The bladder is stores separately from your other items, so you have more room to pack other essential gear for your hike.
Midsize packs – These packs are best for trips that last a couple of days. They are bigger than day backs but still retain a lightweight design so you don't have extra weight on your back. These can also be used as day packs if you plan on taking more equipment than usual.
Expedition packs – These are the largest of the four types and are designed for extended use. These come with a hip belt that transfers the weight from your shoulders, keeping you comfortable on the longest treks.
What are the Advantages of Owning a Hiking Backpack?
These packs are necessary when you're hiking or camping because they allow you to easily carry around everything you need. Since you're not going to run into a convenience store in the middle of the forest, you have to make sure you have everything with you before you leave so you don't have to turn around and ruin your hike.
These packs can carry a change of clothing, warmer or cooler clothing for the elements, and food and water, which can be absolutely necessary if you plan on hitting the trails for several days or weeks.
Who are the contenders for Best Hiking Backpack?
Osprey Packs Axis Daypack – If you just want to explore the local outdoor scene for the day, this pack is just what you need. It is small and lightweight so it's easy to carry, but it still provides you with enough space for everything you need for a day away from it all. If you just can't live without your technology, there's a pocket for your MP3 player, as well as a padded compartment for your laptop. This pack comes in two different colors, and it's one of the most affordable and high-performing day packs you will find.
CamelBak M.U.L.E. Hydration Pack – Make sure you stay properly hydrated and healthy on the hottest days with this hydration pack from CamelBak, a leader in hiking backpacks. You'll have enough space for your essentials and you won't have to pack extra water, as this pack is equipped with a leak-proof bladder that holds 100 ounces of water.
TETON Sports Explorer4000 Internal Frame Backpack – For your longest trips, you can count on this great backpack that provides you with 4,000 cubic inches of packing space. It has straps for your larger items like tents and poles, as well as an internal frame that doesn't make it too bulky and unbalanced. It boasts other great features like open-cell foam for breathability, a waist strap for ultimate comfort, and a lifetime warranty to protect your purchase.
Considerations for Choosing the Best Hiking Backpack
Before you hit the trails, you absolutely must make sure that you have everything you need ahead of time. Without a well-packed bag, you could put yourself in a dangerous situation, so it's not just convenient to carry everything with you, in some cases it could be necessary for your survival.
In order to properly pack your backpack, you must first choose the one that best fits your needs. If you're new to camping and hiking and don't know what to look for, these four features are what you should look at first in order to make the right choice for your outdoor adventure.
Capacity
The capacity of the pack is one of the most important features because this determines how much can be packed. For day trips, size generally does not matter, although you want to find something that is large enough for everything you need while still being small enough to easily heft around with you, so you should look for smaller designs. If you are going to be outdoors for any longer period of time, you will need to find a large pack that has a balanced design so you can tote everything with you day after day.
Warranty
A warranty is especially important if you've invested a good amount of money into your pack. You don't want something that is going to break or rip after just one use, so make sure your pack is protected from manufacturer's defects that will make it unusable.
Comfort features
Comfort is of the utmost importance, so look for packs with built-in comfort features like extra-padded straps or waist straps that help take some of the burden off of your back and shoulders.
Size
Osprey Packs Axis Daypack
With dimensions of 14.3 x 9.8 x 1.3 inches, you have just enough space to pack all of the crucial necessities for your day trip.
CamelBak M.U.L.E. Hydration Pack
This pack carries a total of 488.2 cubic inches of cargo, in addition to 100 ounces of fluid in the separate water bladder compartment.
TETON Sports Explorer4000
This pack measures in at 34 x 18 x 12 inches and provides 4,000 cubic inches of cargo space.
Weight
Osprey Packs Axis Daypack
With a weight of 1.5 pounds, this lightweight pack doesn't add any extra weight to what you're carrying so you can stay comfortable all day long.
CamelBak M.U.L.E. Hydration Pack
This pack weighs about two pounds, including the water bladder.
TETON Sports Explorer4000
This pack has a weight of five pounds. It's heavier than smaller packs but still lightweight enough for a pack that carries supplies for five days.
Warranty
Osprey Packs Axis Daypack
A lifetime warranty of this product comes with your purchase.
CamelBak M.U.L.E. Hydration Pack
The GotYourBak Guarantee gives you a lifetime warranty against manufactuer's defects, but it does not cover normal wear and tear.
TETON Sports Explorer4000
With your purchase, you'll receive a limited lifetime warranty against manufacturer's defects.
Conclusion: Our Hiking Backpack Reviews Are In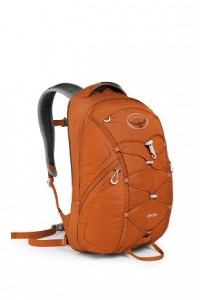 For shorter trips, this Daypack is a great choice, offering plenty of space in a lightweight design. It's one of the most affordable packs, but you shouldn't be fooled by the price, as it is made of quality materials and even comes with a lifetime warranty. This nylon pack is easy to carry and has space for all of your day trip essentials, including a space for your MP3 player, slots for your earbuds, and a padded laptop pocket.
Mesh pockets hold your smaller items and keep them close at hand, and this can even be used off of the trails, as well, since it boasts multiple pockets and plenty of space but isn't overly bulky. It is available in your choice of Juicy Orange or Prince Purple. Best of all, you won't spend a fortune for this pack.
Pros:
It is inexpensive. It is extremely lightweight. Plenty of pockets and interior storage space. It is comfortable to carry. It has enough space to store a water bladder, sold separately, for hydration on the trails. Built-in emergency whistle. It has compartments to keep everything nice and organized.
Cons:
If you have a larger frame, it may be too small for your liking. It isn't designed for anything longer than a short day trip.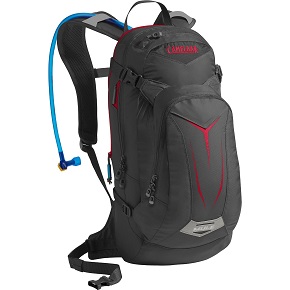 Why load yourself down and take up all of your excess space with a ton of water bottles when you can pack the essentials and still stay hydrated with the CamelBak M.U.L.E. This lightweight pack is great for daytrips, providing you with a 100 ounce water bladder that can be filled with water.
This pack is large and roomy, but still lightweight enough that it doesn't hurt your back or shoulders when carrying it over rough trails. It comes with the OMEGA Water Beast Reservoir that is easy to fill, leak-proof, and offers one-handed flow control for convenience. It comes in five great colors and patterns, including Black, Coyote, MultiCam, Universal, and Woodland Digital.
Pros:
It comes with a 100-ounce water bladder for hydration on the trails. It's light and great for biking. It's comfortable to wear. Not too expensive. High-quality materials. Limited lifetime warranty. The fleece-lined compartment protects your belongings. It has multiple exit points for the tubing so you can position it where it's most comfortable.
Cons:
It is not large enough for longer trips. The hydration tube is very long and needs a clip to keep it in place, which comes separately.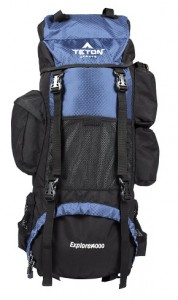 If you plan to be outdoors for two to five days, this is a pack that you should bring along with you. With 4,000 cubic inches of space, you'll have plenty of room for extra clothing, water, food, a camp stove, and other camping/hiking necessities. For your larger items, there is room outside for convenient storage, including upper straps for a tent or sleeping bag and side pockets for tent poles.
The adjustable torso strap takes all of the weight off of your back and shoulders for a comfortable hike. It has back and hip padding that provides maximum airflow, the straps are padded, there is space for three water bladders, and each strap has a feeding slot for your water tubing. It is made with quality materials, has a lifetime warranty. Plus it's not overly expensive for a pack of this size and quality. You can choose from Grey or Navy Blue when you pick this pack.
Pros:
It is large enough for camping or hiking trips that last several days. It comes with a water-resistant rainfly. The aluminum stays adjust to the contours of your back for comfort. Durable materials. Comes with several storage compartments for easy packing and organization. It is lightweight.
Cons:
The belts aren't easily adjustable. The fabric feels a bit rough.
Conclusion
You can't go out into the wilderness unprepared. Not only is this just inconvenient for you, but it could also be dangerous. Make sure that you prepare well for any outdoor adventure with a hiking backpack that carries all of your gear.
If you plan to be outdoors for more than one day, the TETON Sports Explorer4000 is a great choice. You'll have plenty of room for all of your gear without being too weighed down, there are lots of storage compartments and features at a great price, and with a lifetime warranty, you just can't lose with this high-quality pack.