Some links on this page are monetized by affiliate programs - see disclosure for details.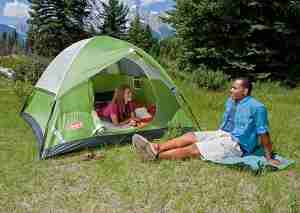 Daily life can get stressful. With work, bills, school, household chores, and daily responsibilities, let's face it – everyday life can be a headache. Sometimes, you may just want to get away from it all, but vacations can get expensive. A hotel room can cost hundreds of dollars per night, and it may not be in your budget. Maybe you just appreciate the outdoors and don't care to be closed up in a hotel with hundreds of cramped rooms. If you want an affordable vacation and the ability to enjoy the great outdoors just by taking a few steps, finding the best camping tent is just what you need.
Side by Side: The Top 10 Best Camping Tents of 2021

What is a Camping Tent?
A camping tent is a lightweight shelter used for camping outdoors. Tents are made of materials like cotton, nylon, and polyester, so they fold up into a contact size that's easy for carrying, but they expand to provide you with plenty of room for sleeping and being around your family. A tent expands and is attached to the ground with stakes so it doesn't blow away in the wind or other inclement weather.
A tent can be closed up at night for protection from the elements and bugs with a zippered doorway. Some tents even have zippered "windows" that can be opened to let in fresh air. Tents are available in multiple sizes, from a smaller dome tent that sleeps two people comfortably to larger tents with multiple rooms for a larger family.
See Also: Our Top Picks for Hiking Backpacks
What are the different types of Camping Tents?
Whether you want to use a tent for a camp out with the kids in your backyard or you want to spend a weekend at a campsite by the lake, there are lots of tents available that will meet any need. Before you invest in a camping tent, take the time to learn about the different types you'll see while shopping.
Ridge tent – A ridge tent is a basic tent that has a triangular shape. These are typically the most inexpensive and smallest tents, and they are best suited for just one person, although larger versions are available.
Dome tent – As the name suggests, this type of tent is shaped like a dome. It is affixed to the group and holds its shape with flexible poles. Dome tents come in all sizes, but the most common dome tents are designed for two people.
Geodesic tent – A geodesic tent looks very similar to a dome tent. However, there are crossing poles along the outside that provide this type with more stability, making it a good choice for windy, rainy, or snowy conditions.
Family tents – These tents are available in multiple designs and sizes. These tents can sleep a number of people, from a family of four to a much larger group.
What are the Advantages of Owning a Camping Tent?
If you love spending time in the great outdoors, a tent is something you should own. Tents are lightweight and portable, so you can take them anywhere. A tent is also a one-time investment, so all you have to do when traveling is pay a small campsite fee, although some sites are available for free.
You won't have to spend a ton of money on a hotel, cabin, or other lodging, and you can have a safe, comfortable, and covered shelter. Camping is fun for families, for individuals who want to hunt or fish just steps away from their zippered door, or for anyone who wants a taste of adventure.
Who are the contenders for Best Camping Tent?
Coleman Sundome Tent – If you're camping by yourself or with a loved one, this is the perfect tent for you. This dome tent is designed to comfortably sleep two people. With the two-pole design, you won't spend hours trying to set it up, so you can immediately begin fishing, hunting, exploring the woods, or just relaxing by the campfire. It is also one of the most inexpensive tents available, so you won't have to spend a fortune for a high-quality tent.
Suisse Sport Yosemite 5 Person 2 Room Dome Tent – If you need more space, but you don't want a big, heavy, bulky tent, this lightweight model is just right for your next outdoor excursion. It features a removable divider, so you can enjoy one large room or split it into two. This model comfortably sleeps five people, and it has many great features found on the most expensive tents, including multiple windows and an easy two-pole set up.
Coleman 8-Person Instant Tent – If you want a larger tent for your family but you don't want to spend hours of backbreaking work getting it set up, you'll be pleasantly surprised by this tent from Coleman. This tent comfortably sleeps eight, and it provides plenty of space for standing or walking, but the innovative design allows you to set it up in just two minutes or less. It's loaded with high-end features, including a welded floor and waterproof walls, making it ideal for all weather conditions.
Considerations for Choosing the Best Camping Tent
Whether you've never camped before or you're a seasoned pro, you have to know what to look for in order to ensure you get the best tent at the right price. While your possibilities may seem endless, if you keep these four key points in mind, you're sure to find the right tent that you can enjoy for years to come.
Sleeping capacity
If you're planning a trip with family or friends and you all plan on sharing a tent, you have to make sure everyone will have their own space. If you're going alone, any tent will do. However, if you have multiple people coming with you or you want space for an air mattress, you'll want to purchase a larger model.
Ease of setup
No one wants to fight to set up a tent. It takes too long, and it can leave you exhausted and sore from so much work. Modern tents have become easier than ever to set up. Look for instant tents that set up in minutes or one with just a few poles that keep your tent sturdy without requiring hours of work.
Ventilation
If you don't have proper ventilation, your tent may get stuffy and uncomfortable. If you're camping in warmer weather, it may even be dangerous. Make sure your tent is equipped with doors that unzip quickly, ventilated ceilings, and windows that allow fresh air to flow when needed.
Warranty
No one wants to spend a lot of money for something they can only use once. When purchasing a tent, make sure there's a warranty, and it's also important to understand the terms of the warranty. While most manufacturer's warranties won't cover problems due to misuse, they will cover manufacturer's defects like stuck zippers, broken poles, or any other defect that results in the tent not lasting as long as it should.
Sleeping capacity
Coleman Sundome Tent
This dome tent comfortably sleeps up to two people. Larger versions of this tent are also available for an additional cost.
Suisse Sport Yosemite 5 Person 2 Room Dome Tent
This tent comfortably sleeps up to five people and features a removable panel that can convert it from one room to two.
Coleman 8-Person Instant Tent
This family tent is large enough to comfortably hold up to eight people, making it an ideal choice for a large family or a group of friends who wish to share a tent.
Ease of setup
Coleman Sundome Tent
Just two poles are used to set up this tent so it's sturdy and secure all night long. This design allows you to set it up in no time at all, even in the dark.
Suisse Sport Yosemite 5 Person 2 Room Dome Tent
This tent is stable and secure with just five to eight stakes. It is very easy to set up and one person can do it alone.
Coleman 8-Person Instant Tent
This instant tent has the poles already attached, so it can be set up in just one minute or less, making it one of the most convenient tents on the market.
Ventilation
Coleman Sundome Tent
The large door can be opened and used for ventilation because of the hood that protects you, even from rain. There are also mesh ceiling panels that provide additional ventilation.
Suisse Sport Yosemite 5 Person 2 Room Dome Tent
You'll have plenty of ventilation with the zippered door, three zippered windows, and mesh ceiling.
Coleman 8-Person Instant Tent
With two doors and seven windows, you'll have plenty of fresh air flowing through the tent day or night.
Warranty
Coleman Sundome Tent
This tent comes with a 1-year limited warranty against defects for your protection.
Suisse Sport Yosemite 5 Person 2 Room Dome Tent
Your purchase of this tent is backed with a 1-year limited warranty direct from the manufacturer.
Coleman 8-Person Instant Tent
As with the other two tents on this list, this product comes with a 1-year limited manufacturer's warranty.
Conclusion: Our Camping Tent Reviews Are In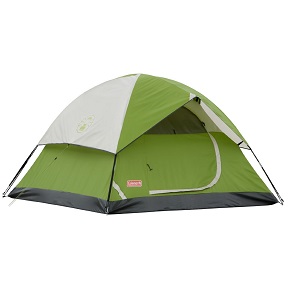 The Coleman allows you to enjoy the outdoors without emptying your bank account. This tent is extremely affordable, but don't be fooled by the price – you're getting a quality product. This tent comfortably sleeps two people, has a large door that's easy to open, features a hooded design that allows you to get ventilation from the door, even in the rain, and mesh ceiling panels for additional ventilation.
It's quick and easy to set up, and at just around seven pounds, it's easy to tote to your camping site. Other great features include an electrical access port, fire-retardant materials for your safety, and a ring for hanging a light inside.
Pros:
It's affordable. High-quality materials. Good ventilation. The zipper glides easily. It comfortably fits an air mattress and two people. It's lightweight and very durable. It's easy to pack and set up.
Cons:
The mesh vents do not have covers, so it's not ideal for colder weather. There is some leakage at the corner floor seams.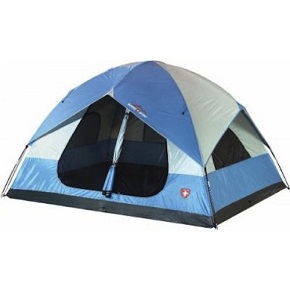 Take your whole family on an outdoor expedition with this five-person tent. This tent is very versatile with its removable divider which allows you to create two rooms for privacy or one large room for plenty of space. It measures 10′ x 6′ x 8′, but it weighs just 13 pounds, so it's easy to tote to your campsite.
You'll get plenty of fresh air with the mesh ceiling vents, easy entry/exit door, and three mesh windows. This is a great entry-level tent for a family that isn't too expensive, boasting a competitive retail price.
Pros:
It is affordable. It is lightweight. Easy to set up and tear down. It can be a two-room tent. It offers plenty of room for up to five people.
Cons:
May leak in very rainy conditions. It is not as durably made as more expensive tents.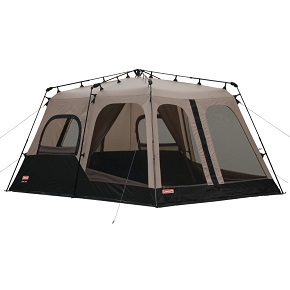 If the thought of camping in a tent makes you claustrophobic, you can still enjoy the great outdoors with this roomy tent. It comfortably sleeps up to eight people, and it comes with a removable divider that allows you to convert it from one room to two and back again in just seconds. It's easy to get in and out with two doors, which also provide ventilation along with the seven mesh windows. With dimensions of 14′ x 10′, even the largest families can sleep and relax comfortably inside.
With its innovative design, this tent can be set up and torn down in just minutes. Even one person can do it with ease. It is made of quality materials and unlike cheaper tents, it does not leak in the rain. Though it has a larger price tag, the extra space and features make it worth the extra cost.
Pros:
It is very roomy. Sets up and breaks down in just minutes. It has waterproof walls and welded floors so it doesn't leak. It offers plenty of ventilation. Offers two doors for easy entry and exit, as well as ventilation.
Cons:
It is one of the more expensive tents on the market. It is very heavy at 45 pounds.
All in All
If you want a tent that's able to withstand heavy rain and winds and offers plenty of space for your whole family, the Coleman 8-Person Instant Tent is the only tent you'll ever need. Built with quality materials and an easy instant-setup design, this tent is one that will help you create many great memories in the great outdoors.