Some links on this page are monetized by affiliate programs - see disclosure for details.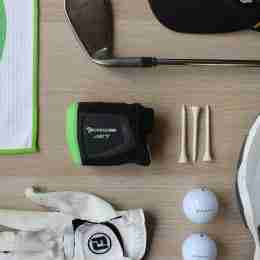 You probably know at least one golfer in your life. Golfers are a picky bunch to buy gifts for, and there is a wide variety of golf-related products to choose from. In this article, we'll try to ease your difficulty by showing you ten outstanding golf gifts that are currently on the market.
By the time you're done reading, you'll know which gifts are a hole-in-one and which gifts are going to require a walk through the reeds. Read on for your picks for the top 10 golf gifts that players of any level will love.
TopRateTen has also reviewed Top Golf Balls.
---
The Top 10 Golf Gifts That Players Will Love
The Precision Pro Golf NX7 Golf Range Finder- Laser Golf Range Finder is a high-tech tool that your golfer will love because it allows them to improve their game quantitatively.
Golf rangefinders like this one are essential for helping your golfer to refine their drive. This rangefinder is especially great because it has a two-year warranty, great magnification, high accuracy, and fair range.
Your golfer will be less frustrated when they have this rangefinder as their aid on the green.
Pros:
Adds quantitative measurements to golf swings
Helps golfers improve more quickly
Cool gadget
Great for dads
Cons:
Doesn't help with club selection
---
This Golfer's Prayer Golf Coffee Mug for Golf Fans contains the creed of all golfers. The cup implores golfers to keep serenity when they miss their shots and gives them the wisdom to avoid throwing their club into the water when they dog a shot.
Your golfer will probably not use this mug when they go golfing, but that is fine. When your golfer is at home, they can use this cup for a laugh. It may also help them to reduce their level of irritation at golfing, but we can't say that for sure.
Pros:
Funny prayer for golfers
May help golfers to be less angry
Solid construction
Aesthetically pleasing
Cons:
Probably doesn't make golfers any less frustrated
Not for use while golfing
---
The Golf Father Novelty T-shirt is a great golf gift for fathers, a demographic which may encompass the majority of golfers.
While the relationship between the Mafia epic film and golfing may be unclear and the joke relatively forced, this t-shirt is still great for a gag or a Sunday tee-off. You can purchase the shirt in a handful of colors, which is great if your golf-father is more lighthearted than Don "Golfleone."
Pros:
Humorous
Many colors to choose from
Great for fathers
Cons:
Basis of the humor is unclear
---
This Rukket Skee Pop Up Golf Chipping Net is a great choice for aspiring or young golfers because it will help them to practice their swings in a less expensive environment than the driving range.
Working on your chipping shot is difficult to do because of the range involved. Chips are typically far enough that walking to get them after every few shots is extremely inconvenient, yet they also require a precision which makes practicing them at a range irrelevant because of the flat terrain.
This game set probably won't make your golfer's chipping game perfect, but it will be a nice gesture to a golfer who you know is struggling with mid range swings.
Pros:
Helps improve difficult-to-improve chipping skills
Lightweight
Good for new golfers
Cons:
---
The Blast Motion Swing Analyzer is a golf gift made for players looking to improve their swinging technique. Just attach the device to the end of any golf club to receive detailed guidance on how to perfect your golf game.
Blast Motion products also come with an added benefit: integration with an up-to-date mobile app that records your progress over time – a must-have for those seeking rapid improvement.
Pros:
Easy-to-use
Adaptable to any type of club
Video capture capabilitiy
Cons:
---
The Arccos Golf 360 Golf Performance Tracking System is a smartphone-integrated golf software and hardware system which your serious golfer can use to refine the subtleties in their swings, regardless of the course.
This isn't a gift for a casual golfer, as is evident by its price tag. This system integrates with your golfer's smartphone to provide real-time images of the course which is then mapped according to your golfer's swing.
Golf ball trajectories are modeled, and speeds are estimated. Results are given, and strokes can be criticized down to the micro-movements of your golfer's muscles.
Make sure that your golfer is ready for some serious improvement if you purchase this gift for them.
Pros:
Excellent for competitive golfers
Powerful improvement tools
Smartphone integration
Hands-free operation
Cons:
Expensive
Too complex for casual golfers
---
The TruGroove Golf Club Groove Sharpener – with 2 Free Color Matched Ball Markers is a great tool that your golfer will appreciate if they like using their old clubs.
With this sharpener, your golfer can service their older clubs to maintain their swinging power. Likewise, if they have a new set of clubs that they want to modify to fit their fancy, this sharpener is the right tool.
The sharpener is easy to use, provided that your golfer knows that they are doing. You may find that intermediate level golfers find this to be more useful than people who only golf casually once in a while.
Pros:
Great for rehabilitating older clubs
Allows for customization of club hitting surfaces
Lightweight and easy to carry
Cons:
Not all golfers will understand how to use it properly
---
The Feelin Good Tees World's Okayest Golfer Sports Golfing Golf Funny T-shirt is a funny gag gift for golfers who know that golfers love self-deprecation.
Most golfers are not very confident in their hitting skills. They've seen the professionals, and they know that they aren't one. This t-shirt brings this message home in a funny way which your casual golfer will appreciate.
Your golfer will especially enjoy this shirt if they've made a lot of progress on their swing recently. It's tough to get better at golfing, so any progress deserves a reward.
Pros:
Funny jab at golfers everywhere
Great way to reward good performance
Several colors to choose from
Cons:
---
The Golf Pens with Golf Bag Holder, 4-Piece Set proves that good golf bags don't need to be exorbitantly expensive.
Your golfer most likely already has a golf bag. That bag is almost certainly old and worn. Getting them a new bag will give them a fresh place to keep their clubs, which will help them to stay new and intact.
This golf bag has wheels and an easy-carry handle. It organizes the clubs by purpose, which is a nice touch. Your golfer will appreciate the space-age feel of the bag, and find that it makes their entire experience more enjoyable.
Pros:
Can be monogrammed
Great organizational scheme
Fancy aesthetic
Cons:
Complicated aesthetic may be distracting
---
The Whetstone 75-4732 All-in-One Stainless Steel Golfer's Tool is a great pick up for your golfer who needs something that does everything.
Your golfer might have a set of golf tools. These tools are probably disorganized and floating around at the bottom of their golf bag. With this tool, they can keep everything they need to make repairs on the fly.
Most golfers will know how to use a few of the tools contained on this unit. While the individual tools are not of the highest quality, the range of tools more than makes up for this shortcoming.
Your golfer won't be in need of a certain specialist whetting tool when they need it most on the green. They'll pop out this multitool and be back on their way to the next hole in no time.
Pros:
Compact golf whetting tool set
Inexpensive
Easy to use
Cons:
---
Giving To The Golfer In Your Life
Your golfer is going to love any gift that you get them because they will know how much time and attention you put into thinking about them. When they get their gift, they will think of you every time that they use it on the green.
You should consider a few things when picking a gift for your golfer, however. First of all, you will need to get a gift for your golfer that they will appreciate.
If your golfer does not enjoy good-natured ribbing regarding their golfing skills, do not get them a golfing gift which makes references to the subpar nature of their golf play. A more serious gift like a tool to improve their golfing skill or do maintenance on their clubs would be more appropriate.
You will also need to get a golf gift that is the right complexity for your golfer. Not all golfers need to have a super-powerful computer which helps them refine every micro-movement of their swing.
Nor does every golfer need a rangefinder that helps them exactly dial in the strength of their swing. Often simpler gifts are better for less serious golfers.
If all else fails, you can ask your golfer what they need the most. Many golfers have planned out their next purchase for their golfing needs, so if you can get them to tell you what is already on their list, you have a dead ringer for a great golf gift.
It's important to remember that golfers are an easygoing bunch for everything except their golf swings. Golfing is a sport about individual performance, and so golfers will always appreciate people who attend to their collection of golfing tools.
Remember that your golfer will be golfing in more than one context, too. Golfing at the range is an entirely different experience than golfing on an 18-hole green, so be sure to cater your golf gift to the place where your golfer needs the most help or where they will be playing the most frequently.