Some links on this page are monetized by affiliate programs - see disclosure for details.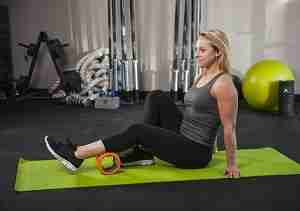 Foam rollers have long been an integral part of the training and recovery regimen for athletes in various sports. Though it may ostensibly seem like nothing more than an oversized pool noodle, a foam roller can make a tremendous difference when it comes to injury prevention.
It can sound counter-intuitive to place pressure on a stiff or painful area of the body in order to provide relief, but a basic understanding of myofascial release can help one understand the benefits of having a foam roller.
What is a Foam Roller? How Does it Work?
According to the American Council on Exercise, there is a complex, woven system of fascia in the body. This system is a specialized sort of connective tissue that defines and unites the body's compartments. For instance, myofascia (fascia that overlies muscle) in the legs can help ensure that leg muscles stay in place so they can function more effectively.
It's similar to the science of why compression clothing is effective for muscle endurance and recovery – by supporting correct muscle alignment, these clothing items, like the body's natural myofascia, increase efficiency and reduce the needed recovery time.
Healthy myofascia, like spandex compression gear, has considerable elasticity and allows for maximum flexibility while still keeping the muscles supported. However, trauma and inflammation can cause stiffness in the fascia. The trauma and inflammation doesn't have to be from just one event; repeated stress experienced by triathletes, basketball players, and many other types of athletes can damage the fascia.
Myofascial inflammation and lack of plasticity can affect athletes at every level, and injured non-athletes can also suffer from myofascial damage. Specifically, this sort of damage tends to occur due to poor posture over time – this is something many people suffer but few pay attention to.
If it isn't dealt with properly, continued inflammation of the myofascia can result in adaptive muscle shortening, pressure, and pain in the underlying areas. Those who own a foam roller – a cylinder made of dense foam – can help to prevent severe inflammation by regularly foam-rolling affected muscles. Foam rollers come in a variety of lengths, diameters, and surfaces to accommodate the variety of people who can benefit from their use.
What are the Benefits of Using a Foam Roller?
One of the benefits of having a foam roller is that the user can control the amount of pressure applied. A person who can handle more extreme pressure may rest almost his or her bodyweight on the affected muscle while performing a series of back-and-forth movements. Those who don't have a robust pain tolerance may use arms and legs to lessen the percentage of bodyweight applied to the foam roller.
Applying this sort of pressure will activate the Golgi tendon organ (GTO) in the muscle.
This organ plays an integral part in maintaining or reducing muscle tension. Over time, activating the GTO can lead to an increase in flexibility of the muscle due to an inhibited muscle spindle response. This process is known as autogenic inhibition.
The types of foam rollers available can basically be divided into two types: single-density and dual-density foam. Single-density foam, as the name suggests, is made of the same foam density throughout. Dual-density foam rollers typically have a denser foam core and a less-dense top layer. The advantage of this is that the softer foam on the outside can make use of the foam roller more comfortable.
With all the foam rollers out there, it can be hard to select the best one. We've narrowed the field to three top contenders:
LuxFit Premium High Density Foam Roller
ProSource Ultra Deluxe Revolutionary Sports Medicine Roller
Trigger Point Performance The Grid Revolutionary Foam Roller
Features to Consider
Of course, entering into the world of foam rollers without knowing exactly what to consider can be overwhelming. Though the exact features you consider may vary depending on what you value, there are a few things that are good to keep in mind regardless of what your individual preferences are:
Adequate firmness
Though a firm foam roller may hurt when you first use it, getting something firm is vital. In order to provide proper myofascial release, the foam roller needs to be very firm. A softer foam may not hurt as much initially, but it also won't give you nearly the results that a firm foam roller can.
Length
This may not seem like a major concern, but plenty of people become so wrapped up in concerns over foam firmness and density that they forget to look at the length. Shorter foam rollers tend to be cheaper, so it may seem like a way to cut corners. If you intend to use a foam roller on only the lower leg, for instance, you might be ok with getting a very short roller. However, longer foam rollers are more versatile and can be used on quadriceps, back muscles, glutes, and more. In the long run, shelling out a little extra cash for the few extra inches of foam roller will probably help you.
Durability
Many foam rollers are more expensive than you'd expect plain old styrofoam to be, so it makes sense that you want to buy something that lasts. When looking at reviews, check to see what previous buyers think about the durability of the options you're considering.
Innovation, or improvements on the basic foam roller design.
You likely won't find extensive design innovation on cheaper foam roller models, but improvements on the basic model – whether you're looking at dual-density foam or a new feature that's been patented by the manufacturer – can make a good foam roller a great one.
Adequate Firmness
LuxFit Premium High Density Foam Roller
Despite the name, this is your basic no-frills, single-density foam roller. But when it comes to firmness, it plenty. With a density of two pounds per cubic foot, this is dense and firm enough to help remedy even the tightest myofascia. This roller is labeled "extra firm," and for good reason – the majority of negative reviews come from those who say that it's too hard.
ProSource Ultra Deluxe Revolutionary Sports Medicine Roller
This foam roller has a unique design involving PVC on the inside and foam on the outside. This design mimics the effects of dual-density foam while using substantially less foam than a traditional foam roller would. Though specific foam density data was not available, the foam on the outside of this roller is firm while still maintaining some flexibility. It can effectively stretch out tight muscles, but it has a touch of added softness for comfort.
Trigger Point Performance The Grid Revolutionary Foam Roller
This model offers a range of firmnesses for buyers to choose from. The regular model offers standard firmness for a foam roller. Those with persistent tightness may opt for the extra firm model, which is twice as firm as the original.
Length
LuxFit Premium High Density Foam Roller
This roller offers something for everyone in terms of length. Buyers can choose from a 12 inch, 18 inch, or 36 inch roller. All come in six inch diameter. The price does go up with each larger size.
ProSource Ultra Deluxe Revolutionary Sports Medicine Roller
This roller only comes in a 13 inch size with a 5.5-inch diameter. This means it's on the shorter end of the spectrum. However, the short length along with its lightness makes it an excellent roller to take along while traveling. It could fit into most airline carry-ons.
Trigger Point Performance The Grid Revolutionary Foam Roller
Again, this model offers several different lengths. There's a mini five-inch roller for those with trouble spots (or who need to travel with the roller). There's also an original 13 inch, an extra firm 13 inch, and a Grid 2.0 26 inch model available. The Grid 2.0 has all the features of the original, but with added length.
Durability
LuxFit Premium High Density Foam Roller
For those concerned about the durability of a relatively inexpensive foam roller, this model comes with a one-year limited warranty. The density of the foam tends to make it more durable, but the occasional reviewer will write something about finding small black flecks of foam on the floor, so this may be something to be wary of.
ProSource Ultra Deluxe Revolutionary Sports Medicine Roller
The foam on the outside of this roller is dense and durable and doesn't flake like some cheaper models, so there aren't any worries with this particular component. However, this roller's Achilles heel seems to be its PVC inside. Several reviewers note that they were happy with the roller and thought it to be very durable until the PVC piping on the inside cracked. The hollow inside makes for an attractive, convenient design, but it's clear that, at least for some users, it causes problems.
Trigger Point Performance The Grid Revolutionary Foam Roller
Like the ProSource Ultra Deluxe, this is a hollow design. Unlike the previous model, though, it's made of high-quality EVA foam and can withstand 600 pounds of pressure, making it virtually impossible to break. This model is designed for heavy use, and it's also sweatproof and easy to clean. If you want a foam roller that will last a long time without degrading, this is your best bet. It also comes with a one-year warranty.
Innovation
LuxFit Premium High Density Foam Roller
Because this is your basic, single-density foam roller, there really aren't any bells and whistles. It's single-density, it's firm, and it gets the job done. If you're looking for extras, however, you won't find them here.
ProSource Ultra Deluxe Revolutionary Sports Medicine Roller
This roller, with its unique design and multi-textured foam surface, gets plenty of points for innovation. The most useful feature that this offers is the surface – aside from simply looking cool, it offers small raised rectangles and larger raised rectangles, so the user can adjust the pressure on sensitive points. This roller isn't much more expensive than the LuxFit, so for the same price you get a more varied surface. You also get a PVC center, though, so weighing options carefully is a must.
Trigger Point Performance The Grid Revolutionary Foam Roller
Innovation is where this foam roller model really shines. The hollow design makes it portable, and like the ProSource, it has varied-texture foam at the top. But this model takes the design a step further with the Distrodensity Zone construction. The varied grooves and textures make it possible to target-massage problem areas. And since there's a firmness for everyone, this model is likely to appeal to a wide range of users.
It's impossible to pick one foam roller out of the mix and proclaim it the best. Individual needs and price considerations will influence anyone's purchase. However, it's still possible to weigh pros and cons of each model.
Foam Roller Reviews

Pros: Inexpensive, very firm, durable, comes with a warranty.
Cons: Only single-density foam, no varied textures allowing for targeted massage, foam may flake over time.

Pros: Structure mimics that of a dual-density foam roller but uses less foam, light, multi-texture surface, surface is firm but not extremely so.
Cons: PVC middle may crack due to continued use or weight of the user.

Pros: Innovative design, extreme durability, advanced construction allowing targeted massage, lots of variety in terms of length and firmness, has warranty.
Cons: Relatively expensive when compared to other rollers.
Conclusion
A foam roller is an investment in better muscle health, overall fitness, and injury prevention. It can be hard to judge how well a foam roller can work for you if you haven't tried one. If your local gym has a selection of foam rollers, it can help to try them out to find what features work for you. For instance, the raised areas on some surfaces work well for some people, but others prefer a smooth foam roller. Some stores may have a selection of foam rollers for customers to try as well.
When you've done your research and you know what you want out of a foam roller, you'll be better equipped to purchase the one that will help you best improve your health without breaking the bank.