Some links on this page are monetized by affiliate programs - see disclosure for details.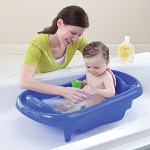 Bath time is not just a time for you to get your baby sparkling clean again. Many parents view bath time as a special bonding time, a time to have fun with your baby. However, every parent knows the dangers that can occur in the bathtub.
Don't let these worries put a damper on your fun. With a baby bath tub, your child can enjoy splashing around while you don't have to worry about holding onto a slippery baby in a huge grownup bathtub.
Guide to Baby Bath Tubs
A baby bath tub is a miniature tub used to bathe your baby. While the thought is scary, the reality is that disasters can occur with just a small amount of water. Putting a small infant in a large tub is a stressful experience, even for parents who have raised other children. A baby bath tub helps reduce some of this stress.
These products allows you to have more control over your child. No longer do you have to struggle to hold on to your slippery baby, so you can enjoy stress-free time bathing your child.
See Also: The Complete Baby Thermometer Guide
What are the Different Types of Baby Bath Tubs?
Several different types of baby bath tubs are available on the market. Some tubs are designed to be used for the first few months of life, while others grow with your child. The decision of what type of bath tub you purchase is made a little easier when you know what products are available for you and your child.
Traditional plastic tubs – These basic tubs are constructed of durable plastic and are only slightly larger than your infant, allowing you to easily grip your child as you wash his or her face and body. These tubs have a reclined design, so your baby can lay back and relax while enjoying a warm bath.
Collapsible tubs –Collapsible tubs are designed to fit in your bathtub or even in your sink. These tubs cradle your child and allow you to fill them with just the right amount of water to keep your baby clean.
Spa tubs – A spa tub is designed much like a traditional plastic baby tub but with a few extra features. This includes creating bubbles for a Jacuzzi-like effect. Some spa tubs even have mini shower heads that make rinsing and washing your baby much easier.
Convertible tubs – A convertible tub is designed for infants, as well as older babies. Leave the tub in the reclined position for children who cannot yet support their own heads, then slide the tub into an upright position so older children can sit comfortably.
What are the Advantages of Owning a Baby Bath Tub?
Every parent should own a baby bath tub for the safety of their infant. Tragedies that occur in adult tubs can be prevented by using a safer baby bath tub. While using a baby tub still requires constant adult supervision, parents can feel more in control when using these products. A baby is less likely to slip underwater or out of an adult's hands when placed in a small tub that's just the right size.
Baby bath tubs are also more convenient for parents. When placed in a higher sink or a sturdy countertop (always supervised), bathing a baby is less stressful on the back and knees than when doing so in an adult tub.
Read: The Ultimate Guide to Baby Bouncers
Who are the Contenders for Best Baby Bath Tub of 2020?
Munchkin White Hot Inflatable Duck Tub – This inflatable duck fits right inside of your own bath tub to provide your child with a fun and safe place to enjoy his or her bath.
Fisher-Price 4-in-1 Sling 'n Seat Tub – Why would you settle for just one bath tub when you can have four? This 4-in-1 tub grows right along with your child, allowing you to enjoy bath time with your baby for the entire first year with just one tub.
Summer Infant Lil' Luxuries Whirlpool Bubbling Spa and Shower Tub – Everyone deserves a little pampering, including your baby. Your baby will feel relaxed and calm in this fun, bubbling tub.
Considerations for Choosing the Right Baby Bath Tub
Safety is your first priority, but what other features could you imagine in your perfect baby bath tub? When you decide what matters most to you, the purchasing process is so much easier. Instead of staring endlessly at thousands of infant tubs, consider some of the most important features that matter most to other parents.
Size
There are a lot of factors to consider when it comes to size. For example, what is the largest size child that a tub will hold? Also, the size of the tub itself is very important. If you have limited space, for example, a large tub may just take up too much real estate in your home. Decide what size tub best fits your space, and choose a tub that will comfortably seat your infant or toddler.
Convenience
You want to make bath time safer and more enjoyable, so it's important to select a tub that makes the job easier on you. Tubs that can be used in your sink are easy on your back, while tubs with clean water reservoirs make it easy to rinse your baby without the need for extra water. Any feature that makes this task easier allows you to have more quality time with your little one.
Design
Your infant probably doesn't care about the design of your tub, so a basic model is just fine for the youngest children. As your child gets older, though, bath time is even more fun when it's enjoyed in a brightly colored tub or a tub that features a cute character.
Size
Munchkin White Hot Inflatable Duck Tub
This inflatable tub fits perfectly in a standard-sized tub for with room to spare. It is the perfect size for children from 6 months up to 24 months. Don't have a lot of storage space. Don't worry; the tub deflates and can be easily folded and placed under a cabinet or on a shelf when not in use.
Fisher-Price 4-in-1 Sling 'n Seat Tub
Newborns, infants, and toddlers can all relax in this convertible tub. The mesh sling holds and protects your newborn, the stage 2 stopper allows your baby to recline comfortably, stage 3 keeps your new sitter steady, and stage 4 allows your toddler to sit in a tub that's the perfect size.
Summer Infant Lil' Luxuries
The Lil' Luxuries Whirlpool is the perfect size for children up to 7 or 8 months of age. The included cradle makes the tub safer for smaller babies. The size of the tub itself is a bit larger than other tubs.
Convenience
Munchkin White Hot Inflatable Duck Tub
Even though this tub is large, it's designed to fit right in your own tub, so you don't have to worry about finding a safe place to put it when it's bath time. You also don't need a separate thermometer to test the water temperature. The built-in white hot dot turns white when the water is too hot for your child.
Fisher-Price 4-in-1 Sling 'n Seat Tub
The versatility of this tub makes it far more convenient than other products on the market. No matter what stage your child is in, you can always be assured that he or she is safe when using this 4-in-1 tub.
Summer Infant Lil' Luxuries
The attached shower head makes bathing baby easier. The bubbles and vibrations are soothing and entertaining, so your child can fully enjoy getting a bath.
Design
Munchkin White Hot Inflatable Duck Tub
Tubs don't come much cuter than this duck. This large, friendly duck appeals to babies and toddlers, making bath time enjoyable every time.
Fisher-Price 4-in-1 Sling 'n Seat Tub
The tub itself is basic, but bright splashes of color make it appealing to any child. The printed mesh sling adds a dash of fun to bath time, while the colored inserts add a little extra style.
Summer Infant Lil' Luxuries
As the name suggests, this bathtub is nothing short of luxurious. The overall design is modern and clean, and the spa-like features are unlike anything offered by other models.
Conclusion: Our Baby Bath Tub Reviews Are In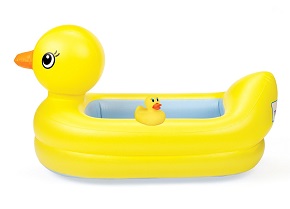 If you want a portable tub that you can bring with you anywhere and store with ease, the White Hot Inflatable Duck Tub fits the bill. You'll love how much safer the tub feels, while your child will love splashing in his own ducky bathtub.
The added safety features like the built-in thermometer put your mind at ease, while the padded tub keeps your child content and comfortable.
Pros:
The affordable price tag is appealing for budget-minded families. Added features like the thermometer and textured bottom provide additional security. Deflating the tub makes it easy to store in the smallest spaces. The tub is designed for use until a child is 2 years old.
Cons:
The tub is not recommended for infants under 6 months of age. Inflatable design may rip over time. Leaks may occur.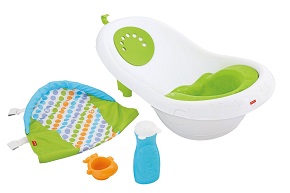 If you don't want to replace your baby's tub after just a few months, the 4-in-1 is the right product for you. Even though it is a bit more expensive than other tubs, it pays for itself since it can be used throughout the entire first year.
Cleaning out the tub is easy with the drain plug, and it can be stored or dried by hanging it on the hook, which is included. You'll always have the perfect fit for your child with this versatile baby tub.
Pros:
Hook allows for space saving drying and storage. Tub comes with spray bottle and whale toy for fun in the water. Inserts are easy to use and grow with your child.
Cons:
The tub can get slippery so extra caution is needed. Mesh sling may rip or show signs of wear.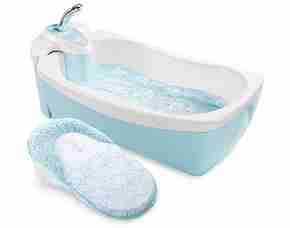 Start your baby in a life of luxury with this miniature whirlpool. Your child will feel pampered with every bath with this luxurious tub. Even the smallest babies can enjoy a spa experience with the comfortable plush bolster.
This tub is available in Blue or Violet, and the attached showerhead works with the water reservoir, so no external water sources are needed to use this convenient feature.
Pros:
Bubbles and vibrations can soothe fussy babies. Handheld showerhead makes rinsing easier. Water reservoir is removable for extra tub space. Double walled, insulated design keeps your baby's water warm.
Cons:
Pricing is more expensive than other models. Requires batteries, which is an additional expense. Water pressure isn't very strong from the shower head. Motor may be too loud for some.
Final Thought
If you're looking for a tub that is jam packed with features that both you and your baby can enjoy, you'll find everything you want in the Summer Infant Lil' Luxuries Whirlpool. This tub makes bath time fun for any child, and even helps soothe babies that don't enjoy the water. Treat your little prince or princess to nothing less than the best with this fun and unique spa bath tub.