Some links on this page are monetized by affiliate programs - see disclosure for details.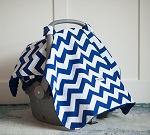 As a parent, it's your job to keep your child protected. From choosing a safe and sturdy crib to buckling your child into a car seat on every ride, a parent's job of keeping a child happy, comfortable, and secure is never done.
Going outside is no exception. Whether you're just going from your car to your front door or if you're suddenly stuck in bad weather at the park, you want to make sure your child is protected from the elements, and there is no better way to do that than with a car seat canopy.
Compare: The Top 10 Best Car Seat Canopies of 2018

Introduction: What is a Car Seat Canopy?
A car seat canopy is designed to fit on a rear-facing infant car seat carrier. A canopy fits over the top of the car seat, blocking wind, bright sunlight, snow, rain, or cold temperatures and assists in overall safety. The car seat canopy allows your child to breathe freely without being subjected to poor weather conditions. A car seat canopy is easily installed and removed, and it doesn't affect the functionality of your car seat at all.
Read: The Top Rated Baby Carriers To Simplify Your Life
What are the Different Types of Car Seat Canopies?
There are many different car seat canopies on the market, and you may be unsure of which one you need to buy. By knowing a little more about what type of canopies are available, you'll be ready to purchase the one that provides the most protection for your precious child.
Original
Most infant car seats already come equipped with a car seat canopy. However, many parents find that these canopies are too floppy, and they only cover half of the baby, rendering these canopies useless in very cold, rainy, or snowy conditions.
Replacement
Replacement car seats canopies are designed to replace the canopy that is originally installed on your infant car seat carrier. These replacement canopies may be more durable or made using higher-quality fabrics that offer more style and protection to your child's seat.
Fabric
These canopies are becoming more and more popular with parents. These are easy to use, tie onto the handle of your car seat, and are available in many different materials, colors, and patterns.
Mesh
These canopies are perfect for summer. They fit securely over the seat and allow your child to see out of them, but they keep bugs away from your child and also shield harmful UVA and UVB rays.
What are the Advantages of Owning One?
A quality car seat canopy keeps your child protected in any weather. You no longer have to stay at home when it's cold or raining outside for fear of your child being uncomfortable. Car seat canopies allow you to easily carry your child's seat from your home to your car, and then to wherever else you need to go without your baby getting too cold or wet. Your child will remain comfortable while you continue with your daily activities.
Who are the Contenders for Best Car Seat Canopy on Amazon?
Brica Infant Comfort Canopy – Enjoy a day at the beach, a stroll around the park, or a picnic with your family without having to worry about the comfort of your infant with this car seat canopy. Your baby will be fully protected while still being able to watch the world around him.
Prince Lionheart Deluxe SnoozeShade – Whether your baby falls asleep on occasion while in the car or makes a regular habit of napping in the car seat, this canopy helps block out all distractions for the most restful nap.
JJ Cole Original Infant Bundleme – Baby, it's cold outside – but not for your baby! This canopy/bunting works with your stroller or car seat to keep your bundle of joy bundled up from the coldest winds.
Considerations for Choosing the Right Product
The type of car seat canopy you should purchase depends on quite a few factors. What kind of climate do you live in? What do you need to shield your baby from? Will the canopy fit on your car seat easily? If you have a lot of questions about car seat canopies, taking a look at the top features parents look for can help you decide which product is best for your child.
Material
Different materials work for different purposes. A warm fleece or shearling canopy cover is great for cold temperatures and snowy weather, a lightweight cotton canopy cover is versatile for most conditions, while a mesh cover is perfect for the warm days of spring and summer.
Compatibility
When shopping for a car seat canopy, you want to make sure that you purchase one that fits over your model. A car seat that is too small won't fit, while one that is too big may fall off, get snagged on a stroller, or just make your baby uncomfortable.
Color
The color of your car seat canopy may be particularly important to you, especially if you use your car seat with a travel system stroller. With so many colors and patterns available, you're sure to find something that coordinates with your infant seat and stroller.
Ease of use
You'll want to avoid purchasing a complicated canopy that takes forever to put on or remove. Instead, try to stick with a canopy that can be added and removed with ease as needed.
Material
Brica Infant Comfort Canopy
Mesh makes this the perfect canopy for warm days spent outside. It also allows your baby to see around him or her, which works best for babies who need stimulation. This breathable fabric also allows plenty of airflow for your child so he or she doesn't get overheated.
Prince Lionheart Deluxe SnoozeShade
This cover is made of 100% polyester. The fabric is extremely soft, and it features a retractable panel that can block out light.
JJ Cole Original Infant Bundleme
The interior of this canopy is made of plush shearling, and the outer shell is made with thermaplush for the ultimate protection on the coldest days.
Compatibility
Brica Infant Comfort Canopy
This canopy is compatible with all infant car seats. Its convenient design fits under the car seat handle, so the car seat can be easily carried while the canopy stays securely in place.
Prince Lionheart Deluxe SnoozeShade
This product works with all brands and models of infant car seats. Separate canopies for strollers are also available.
JJ Cole Original Infant Bundleme
This protective cover is compatible with most car seats, strollers, and even jogging strollers. Adjustable elastic straps help you get a snug and secure fit.
Color
Brica Infant Comfort Canopy
This neutral canopy is available in black mesh with a silver-grey flap, so it coordinates perfectly with many different colors and patterns.
Prince Lionheart Deluxe SnoozeShade
The SnoozeShade is available in only one color, grey. Fortunately, this color coordinates with many different types of seats.
JJ Cole Original Infant Bundleme
This product is available in multiple colors, including Khaki, Eggplant, Graphite, Black, Navy, Pink, and Stone Arbor pattern.
Ease of use
Brica Infant Comfort Canopy
The Brica Infant Comfort Canopy fits over any infant car seat, and it installs in just seconds. Removing it is just as easy. The canopy folds flat and can be easily stored in its zippered carrying case.
Prince Lionheart Deluxe SnoozeShade
The SnoozeShade attaches to your car seat in just seconds. When you're done using it, it's easily removable and can be stored in its own bag.
JJ Cole Original Infant Bundleme
Attaching this to your car seat or stroller is easy, although it does take more effort than the other two products. Just adjust the elastic straps, thread your safety harness through, and zip your baby in. Removing the cover takes just seconds.
Conclusion: All Our Car Seat Canopy Reviews Are In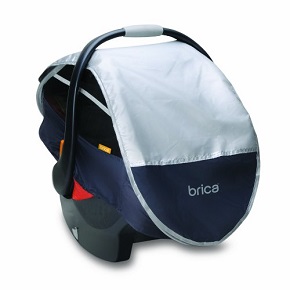 The Brica Infant Comfort Canopy is a 100% polyester canopy that securely fits over any infant car seat. On nice days, your baby can enjoy looking at the world while being protected from bugs and harmful UV rays with the protective mesh panels. When the temperature drops or storm clouds are looming the horizon, just fold down the retractable cover for added protection.
The mesh design provides plenty of ventilation, so your child can breathe easy. Is your baby getting fussy or in need of a change? Get to him or her right away by using the convenient zippered panel.
Pros:
This seat installs and removes in just seconds
It goes under the car seat handle, so you can carry it while the canopy is installed
At $25, it's inexpensive
This canopy provides your child with privacy, but gives you easy access if needed
It is lightweight, folds up easily, and stores in its own bag
It comes with a manufacturer's warranty
Cons:
This cover is only available in one color combination
It isn't effective for long periods in very cold weather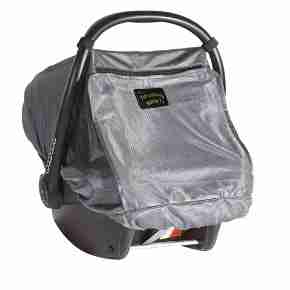 Give your baby total privacy with the SnoozeShade. Whether is snoozing the afternoon away, needs protection from bugs at your picnic, or needs a little bit of extra warmth on the coldest days, this canopy does it all. This award-winning canopy blocks out 97.5% of UV rays, blocks out sunlight for complete privacy and comfort, and protects from the elements.
You can access your baby quickly with just one zipper, take a peek without disturbing your child, or allow him or her to view the world by pulling back the retractable panel. This product works very well at offering protection for your child during any season.
Pros:
This cover works with all seats, is easy to install, and is easy to remove
It offers two different modes: Snooze Mode for naps and Lookout Mode for when your baby is awake
It is machine washable, so it's easy to clean
Cons:
At $40, it is one of the more expensive canopies on the market
The handle has to stay up at all times to use this canopy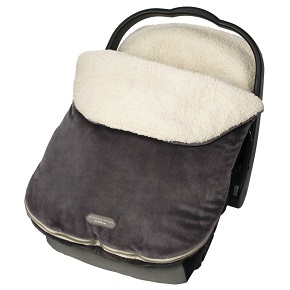 No longer do you have to stay inside during the coldest or windiest days of the year. With the Bundleme, you don't have to choose between keeping your child comfortable and continuing your busy lifestyle — you can do them both. By simply attaching this to your child's stroller or car seat and zipping it up, your child is warm and protected from the elements. Your child will be completely comfortable without having to fight with heavy blankets.
The shearling and thermaplush provide ultimate warmth to your child, no matter what the weather is like. If it warms up outside, the Bundleme can be unzipped or easily removed. The cover is available in two different sizes, Infant or Toddler.
Pros:
The ultra-warm materials keep your child cozy on the coldest days
Many color choice are available
Can be used with most strollers or car seats
It is easy to put on, adjust, and remove
It is machine washable for easy cleaning
Cons:
At $50, it is one of the more expensive products
Closing Thought
Taking your child out into the cold winter weather isn't just uncomfortable for them; it can also be dangerous. If you want to provide your child with comfortable protection that's easy to use, the Bundleme from JJ Cole is a product that you want to consider. With its easy installation and innovative design, you can make sure your baby or toddler is cozy and warm all winter long.