Some links on this page are monetized by affiliate programs - see disclosure for details.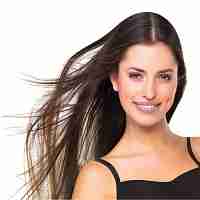 While blow dryers appear to be simple hairstyling tools, many features can impact the user's perception of blow dryers as must-have items. Some features that blow dryer users might consider are heat generation methods, customizable air temperature and flow, styling attachments, and weight.
Hair dryers using old technology could waste energy or not create enough heat. A dryer with too little heat can waste time but too much heat can damage hair. Easy to use controls for air temperature and flow create optimal drying conditions for all hair types. Styling attachments enable users to create professional-looking styles, and the weight of hand-held hair dryers can make hair drying either comfortable or tiring.
Top Rated: The 10 Best Blow Dryers of 2018

What are the different types of blow dryers?
While blow dryers appear to be simple items, a number of different styles are available. The most complex models have hoods attached to chairs; these are most frequently used by professional salons. Some hooded blow dryers are portable. These models may be used at home by women doing roller sets. Hand held blow dryers are the most common, but even these have a great variety of features and abilities to consider before purchasing.
Hood dryers with chairs
Hood dryers with chairs are most frequently seen in professional salons, particularly those that specialize in roller sets. The hoods are lowered over the head of the client; then, the dryer is activated. Clients sit in comfort to read or to relax while their hair sets. Better hood dryers with chairs can be costly and may have settings not safe or appropriate for home styling.
Portable hood dryers
Portable hood dryers allow users to quickly dry roller sets in their own homes. Like the hood dryers with chairs, these dryers are preferred by users doing roller sets. Although portable hood dryers come in a variety of price points, they are generally more economical than the the chair sets and may offer fewer drying options.
Hand-held blow dryers
Hand-held blow dryers are the most common, for complex roller sets are not in fashion. They are commonplace in professional salon and home settings. These dryers range in size, shape, color, features, and price. In fact, the numbers and kinds of hand-held blow dryers on the market can make choosing one difficult, so this guide may be a beneficial reference prior to shopping.
You may be interested in: Our choices for the top 10 flat iron hair straighteners
What are the advantages of owning a blow dryer?
Owning a blow dryer provides advantages for convenience, appearance, and economics. First, most people prefer to dry their own hair, for going to a salon takes too long. Further, using a blow dryer at home allows one to have great hair every day. Few people have hair that is truly wash-and-wear, so a blow dryer gives hair the extra attention it needs to look fabulous. Finally, owning a blow dryer is far more economical than going to the salon for a blow out every day. The funds spent on daily styling would devastate most budgets so having a blow dryer at home saves a tremendous amount of money.
Which Products are our Finalists for Best Blow Dryer on the Market?
Professional creates heat with ionic technology to protect hair. It customizes the blowing temperature and power with two heat and three speed settings; plus, it has a cool shot feature to set styles. The ANEMONE also comes with two removable concentrator nozzles to direct airflow from the compact and ergonomically-designed dryer. All of this is driven by an 1875 watt DC motor.
Provides power to dry thick or long hair. Its 2000 watt motor drives a tourmaline-infused ceramic heat and ion producing grill. Seven options for heat and speed control the 2000 watts of drying power packed into the Rusk. The cold air function power sets styles, while a detachable concentrator nozzle focuses air flow. Finally, the eight-foot power cord allows users to style almost anywhere.
Packs professional power into a tiny space. The nano titanium technology in the 2000-watt Italian AC motor helps develop an even temperature. It also prevents static electricity by generating negative ions. Additionally, six heat and speed settings work with three removable concentrators and diffusers to provide an optimal drying result. Finally, the Babyliss goes further for purchasing dollars with a limited four year warranty.
Considerations for Choosing the Right Product
When choosing a blow dryer, consider a number of factors. First, the dryer must generate enough heat to dry hair quickly, but it must not be so hot that it causes damage. One way to control the heat is through flexible controls. The controls may also need to manage the air flow to allow multiple styling processes.
Attachments are also important, particularly for users with thick or curly hair. Too much air or uncontrolled air can cause frizz. Finally, the weight of the dryer becomes important, for heavy dryers may be uncomfortable to hold for long periods of time or may use up too much weight in a bag or suitcase when traveling.
Heat Generation
Nichrome (nickel and chromium) coils are the most basic blow dryer heating element. Nichrome does not conduct electricity well, so the energy is converted into heat. Advances in technology added a ceramic coating to the coils that is said to create a more evenly distributed heat that prevents burning hair. Most recently, tiny bits of titanium (a metal) and tourmaline (a semi-precious gemstone) have been added to the ceramic coil coatings. These new additions ensure heat distribution that is more consistent than the ceramic coating alone.
Temperature and Air Flow Control
The earliest blow dryers had two options: on and off. Over time, the controls became more responsive by adding multiple levels of heat and air flow. More advanced dryers may have up to three heat and three air flow settings that function apart from each other. These variations allow users to adjust the temperature and air flow as needed. One additional temperature option is the cool blast. The cool blast is often on a separate button. The cool blast is used to set styles.
Styling Attachments
Styling attachments can perform numerous different functions. One type of styling attachment is the diffuser: Diffusers break up the air flow to make it easier to create sleek styles. Concentrators are another type of attachment that focuses air flow into a smaller area. These can be particularly useful for drying very thick or very long hair. Finally, some blow dryers come with brush or comb attachments. The brush or comb attachments turn the blow dryer into the styling tool, but the heat is brought very close to the hair.
Dryer Weight
Blow dryers come in a variety of weights, from a couple of pounds to just a few ounces, and this consideration revolves around personal preference or situational need. For hair that dries quickly, a heavier blow dryer may not create issues. However, for long, thick hair that takes time to dry, a heavy dryer could fatigue the arm of the user. Lightweight and compact blow dryers are also popular with travelers, for they take little space in luggage and have minimal impact on luggage weight limits.
Heat Generation
ANEMONE Wind Flower 1875W
The ANEMONE uses a ceramic-covered coil to generate heat. Ceramic coverings on coils help achieve even heating and help prevent scorched or burned hair; it also generates negative ions that prevent frizz.
Rusk W8less Professional
The tourmaline-infused ceramic coil generates even heat while producing ions to speed drying and prevent frizz. Tourmaline-infused ceramic coils usually have powdered tourmaline throughout the ceramic, this generates more negative ions that close the hair cuticle to make it smooth and sleek.
Babyliss Nano Titanium Pro
Babyliss goes a step farther by infusing the ceramic coil with titanium. Titanium is a metal that is as strong as steel but much lighter. Like tourmaline, titanium generates negative ions, but the steel-like nature of titanium makes it conduct far more heat.
Temperature and Air Flow Control
ANEMONE Wind Flower 1875W
Two speed and three heat settings make the ANEMONE quite flexible. These six settings allow for a variety of drying options, from quick drying to detailed styling. A cool blast button is also provided, so users can quickly set styles.
Rusk W8less Professional
The Rusk uses six drying settings, two for speed and three for heat, to give users a variety of drying options. Style sets are enabled with the cool blast button, so users have a great deal of flexibility in their hair drying methods.
Babyliss Nano Titanium Pro
Low, medium, and high heat settings couple with high and low air speeds to make the Babyliss' services convenient for almost any kind of hair. The cool blast button, in this case, can not only set styles but also protect fine or damaged hair from excessive heat.
Styling Attachments
ANEMONE Wind Flower 1875W
Two detachable concentrator nozzles give the ANEMONE flexibility. The wide concentrator dries long hair more quickly, while the narrow concentrator offers more control over detailed stying.
Rusk W8less Professional
The Rusk comes with one concentrator. The concentrator helps to prevent frizz by focusing the air flow onto one spot. This helps to prevent frizz that develops when the air flow area is larger than the segment of hair being dried.
Babyliss Nano Titanium Pro
An included concentrator adds flexibility to the Babyliss. Users can focus the drying power into a smaller area to create smooth, shining styles. Alternately, the concentrator can be removed to open up the air flow for faster drying time.
Dryer Weight
ANEMONE Wind Flower 1875W
The ANEMONE boasts a weight that weighs in at just over one pound. This minimal mass makes extended drying sessions easy on the arms and hands.
Rusk W8less Professional
Weighing less than one pound, the Rusk is among the lightest blow dryers on the market. The extremely light weight makes this excellent for young people or for those who have problems holding dryers up for extended periods of time.
Babyliss Nano Titanium Pro
One and three-quarter pounds help the Babyliss contain all of the power it creates. This light weight makes the professional-level dryer easy to use and portable.
Final Word: Our Blow Dryer Reviews Are In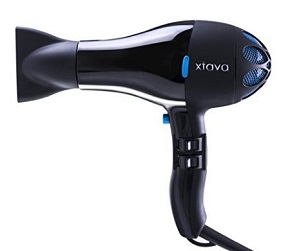 For the money, the ANEMONE provides good options. The ceramic coils contribute to even heating that is managed by independent temperature and speed controls. It also has a cool feature to set styles. This dryer falls into the mid-weight of the blow dryers examined and comes with two directional attachments
Pros:
Two directional attachments are standard equipment for the ANEMONE.
Cons:
The absence of a higher-quality heating element counts against it.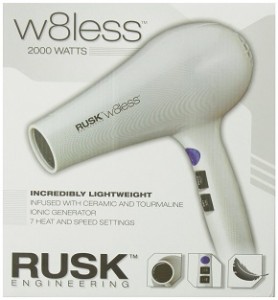 The Rusk aims higher with tourmaline-infused ceramic coils that utilize the gemstone to create an even heat. The higher-quality heat uses air flow and temperature controls to customize drying and has an additional cool set feature. Although the Rusk has only one concentrator, a total weight of less than one pound creates an appeal for a broad range of users.
Pros:
The Rusk brings tourmaline ceramic coils and an ultra low weight together.
Cons:
Only one styling aid is included with purchase.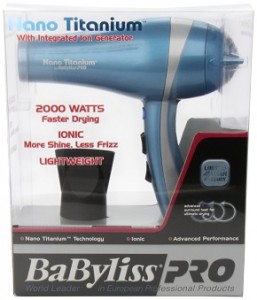 The Babyliss brings high end to blow dryers. The titanium coils are among the best on the market. Out-working even the tourmaline coils, titanium adds the strength of steel without as much weight. This state of the art coil makes Babyliss the Superman of blow dryers.
Plus, the individually controllable heat and air flow settings, the cool set feature, and the included air flow concentrator give users total control over styling. Whether drying soft, fine hair or coarse thick hair, the output of the Babyliss can be adjusted to meet any need. However, the nearly two pound weight could work against it, for users with very long or very thick hair may tire of the heft.
Pros:
Top end, titanium-infused coils generate heat that is less likely to damage hair.
Cons:
The higher weight could work against it for users with very long or very thick hair.
Conclusion
From all of the data considered, each of these dryers could be the right hair dryer for someone. The features they provide range from the common to the exceptional, but the variety of features is broad enough to meet almost any hair drying need. From differences in wattage to variations in coil construction materials, these three blow dryers give buyers a buffet of options from which to choose.
The ANEMONE respects budgets and provides controllable power. The ceramic coil, mid-weight machine can meet many hair drying needs. The Rusk is ultra-lightweight, uses a high-end heating element, and has an mid-range price point that is attainable for many budgets. This manageable and controllable hair dryer also has an included air flow concentrator and separate temperature and air speed controls. Meanwhile, the Babyliss has a top-end heating element, but a much higher weight. If a hair dryer can be a status symbol, the Babyliss would fill the role, for it has the latest and greatest features. Overall, the Rusk appears to be the best blow dryer of the bunch, for it appeals to convenience, ease of use, and quality manufacturing as well as a smart shopping budget.