Some links on this page are monetized by affiliate programs - see disclosure for details.
Hair straightening has been around since the 1800s, and it surged in popularity during the 1960s, when stick-straight hair was all the rage with women. In order to achieve this look, many women used traditional clothes irons. However, these irons led to burned hair, burnt skin, and having to sit in uncomfortable positions. These days, the modern flat iron hair straightener heats up like a clothes iron, but it's designed just for hair.
Compare: The Top 10 Best Flat Iron Hair Straighteners of 2018

What Is A Flat Iron Hair Straightener?
A flat iron is very simple to use and only requires a bit of practice for desired results. A flat iron uses electricity to heat up the two plates. The plates can be closed together, and when placed over a section of hair, they glide smoothly over the top and bottom, perfectly straightening each section. A flat iron can be used on any hair type, and it can effectively straighten even the curliest hair. With a flick of the rest and a few interesting techniques, a flat iron can also be used to add curls or waves to hair.
What are the different types?
If you want to give yourself a new hairstyle at home without paying expensive salon prices, a straightener is just the tool you need to add to your bathroom. With so many different brands, sizes, styles, and colors, it's easy for anyone to find their perfect hair straightener. However, the wide variety of choices also makes it quite difficult to narrow down the purchasing decision, especially if you don't know much about styling tools. If you're considering buying a flat iron, the first thing you need to know is the different types available to you.
Ceramic
Ceramic flat irons are the most common type of straighteners. The plates are made of ceramic, which heats evenly and helps prevent damage to your hair. These are typically the most inexpensive, although high-end models loaded with features may be just as expensive as other types of straighteners.
Titanium
Instead of ceramic, the plates on these straighteners are made of titanium. Like ceramic, you'll get even heating and less damage. The main advantage of titanium irons are that they are more lightweight than ceramic irons, so your arm won't get tired when straightening very long or thick hair.
Tourmaline
These are the most advanced straighteners and are also usually the most expensive. This element requires less direct heat to be applied to your hair, resulting in less damage. It also seals the cuticle, so your hair looks softer, shinier, and healthier after using it.
Rotating straighteners
Instead of two plates that click together, these straighteners have a brush clamp that works with a rotating barrel to straighten hair.
Travel flat irons
These mini flat irons are perfect for taking with you on vacation or even carrying with you for touch-ups on the go.
What are the advantages of owning a Flat Iron?
If you like to give yourself new looks for special occasions like prom, weddings, or date nights, a straightener is certainly something that you should own. A straightener allows you to transform curly, wavy, or frizzy hair into a smooth, sleek, and fashionable style. Straighteners are easy to use, and you can even use different tips and tricks to achieve a variety of styles. Flip your ends over, under, or make your hair pin straight. Try curls or waves that you can do at home in just minutes with a high-quality flat iron.
Read: The Absolute Best Blower Dryers You Can't Live Without
Who are the contenders for Best Flat Iron Hair Straightener in 2018?
This affordable flat iron is an excellent choice for anyone new to using straighteners. Don't be fooled by the low price, though. It boasts great features found on high-end straighteners, including auto shutoff and digital temperature controls.
CHI has made a name for itself in the hair styling industry by creating quality flat irons that quickly straighten any type of hair, and this CHI Air Expert flat iron is no exception. You'll love having smooth, straight hair in less time when you use this quality flat iron.
Your hair will look like you just walked out of the salon, but you won't have to pay hundreds of dollars with each use. This top-of-the-line straightener lets you achieve all of the latest hairstyles in just minutes. It's easy to use, and best of all, your hair looks healthier and more beautiful than before you even used it.
Considerations for Choosing the Right Flat Iron
If you've decided you want to give a hair straightener a try for the first time or you're just replacing an outdated or broken tool, you need to arm yourself with knowledge before you begin shopping. After you've weighed out the benefits of each type of hair straightener, consider these key features before you commit to a purchase so you won't end up with buyer's remorse.
Temperature settings
Flat irons typically have adjustable heat settings. To avoid damage, you want to use the lowest heat setting possible. However, if you have very thick, coarse, or curly hair, you may find that you have to use very high heat to get your hair straight. Look for a flat iron that has many temperature settings and that are easy to change.
Plate size
There are several different plate sizes to choose from. A 1-inch plate works for most hair, but if you have very fine or short hair, you might want to choose smaller plates. If you have a lot of hair or it's very long, you can straighten more quickly with larger plates.
Safety features
While performance is very important to ensure great results, it's also important to keep safety in mind. Features like automatic shut-offs and tangle-free cords help prevent accidents and injuries.
Price
Straighteners are available at a variety of price points, from less than $20 to several hundred dollars. Take note of what the plates are made of, different features, and overall design when considering price. Typically, more expensive straighteners are designed to last for years, are easier to use, and make hair look and feel better than ever.
Temperature settings
Remington S5500
This flat iron heats up to 410 degrees. Adjusting the temperature is easy with the digital LCD screen, which ensures you set the right temperature every time.
CHI Air Expert Classic
This flat iron heats up to 410 degrees, the same temperature used by most stylists in the salon. It has a dial that is marked for easy temperature adjustments.
HSI Professional
You can adjust the temperature of this hair straightener from 240 to 410 degrees. The temperature dial makes it easy to increase or decrease heat as needed.
Plate size
Remington S5500
With this Remington model, you have 1-inch plates that are designed to perfectly straighten most types of hair.
CHI Air Expert Classic
This CHI flat iron has 1-inch plates, which are good to use for most hair types and lengths.
HSI Professional
Like the other straighteners on this list, this flat iron has 1-inch plates that work with any type of hair.
Safety features
Remington S5500
You never have to panic if you accidentally leave your straightener on when you leave the house with the handy auto shutoff function. The swivel cord also makes it easy to maneuver around your bathroom without the worries of a tangled cord.
CHI Air Expert Classic
This model is not equipped with any additional safety features, as it is designed to more closely resemble professional salon flat irons.
HSI Professional
The swivel cord prevents tangling, and it has an ergonomic design and an enhanced grip that makes it easy to hold.
Price
Remington S5500
This is one of the most inexpensive on the market. It's a great starter flat iron, especially for teens and tweens.
CHI Air Expert Classic
This is a mid-priced straightener that doesn't have a ton of extra features, but it heats up quickly and evenly and outshines many of its competitors when it comes to performance.
HSI Professional
This flat iron is priced as one of the more expensive models. However, it is designed with high-quality materials for durability, and it straightens hair much more quickly than inexpensive flat irons.
Conclusion: Our Final Reviews Are In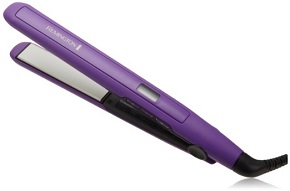 You don't have to spend a fortune for a flat iron, and this Remington model has many features found on the more expensive hair straighteners, only at a fraction of the price. You never have to guess at what your temperature is set to with the easy to use digital design. The 1-inch ceramic plates heat up quickly and evenly, so you can count on great results.
The flat iron heats up and is ready to use in 30 seconds. The floating plates glide effortlessly through your hair, and it's equipped with a 1-hour auto shutoff. You may see up to 50 percent less static after use, and it is backed with a 2-year limited warranty.
Pros
The ceramic plates heat up quickly and evenly
It's ready to use in just 30 seconds
Auto shutoff prevents accidents
It comes with a warranty
The price is very inexpensive
It comes in a fun purple color
It has a hinge lock for safety during storage or travel
Cons
Has a strange smell as it heats up
It may snag thicker hair
It is not dual voltage
The plastic construction feels a bit cheap when compared to other flat irons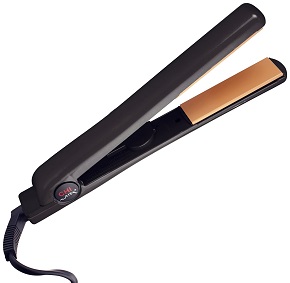 If you want a flat iron hair straightener that's designed to give you fast results without a lot of extra frills, this CHI Air Expert flat iron has what you're looking for. You won't find a lot of functions and settings, just an On/Off switch and a dial that is used to adjust the temperature of the styling tool. What you will find, however, is a professional-quality flat iron that quickly and easily straightens coarse, kinky, frizzy, curly, or wavy hair.
You can shorten your styling time dramatically with this high-quality hair straightener. You won't have to worry about damage caused by passing over the same section over and over again. In fact, many people get straight results with just one pass. This flat iron can also be used to achieve many other styles, including spirals, curls, and waves.
Pros
The tourmaline plates provide safe, even heat for maximum straightening power
The flat iron is available in five stylish colors including Onyx Black, Fire Red, Pure Pink, True Teal, and Violet
It heats up to 410 degrees to achieve all of the latest styles
It's easy to use
Reduces static
Leaves hair feeling softer than before
It heats up quickly
It doesn't have a burning smell like other flat irons
Cons
Doesn't come with any safety features
The swivel cord doesn't swivel smoothly
The dial isn't as easy to set as digital models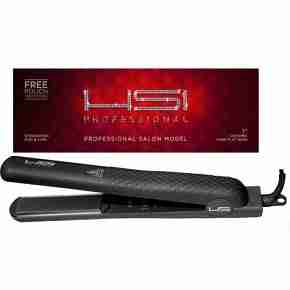 If you love the look of straight hair but you hate fighting with a flat iron for what seems like forever, you'll want to invest in this HSI Professional Ceramic Tourmaline Ionic Flat Iron. You can straighten any type of hair in no time at all with this professional-quality flat iron, which is also our pick for best hair straightener overall.
You'll not only get straighter hair, but your hair will also be shinier and silkier after use due to the tourmaline plates. This iron heats up quickly, so it's ready to use in just seconds. It's lightweight enough to not strain your arm, but its durably constructed so you don't have to worry about it falling apart after a few uses.
Pros
Does not snag or tug hair
Heats evenly
The design is easy and comfortable to hold
Heats up to 410 degrees for professional results
Ideal for all hair types, even curly and ethnic hair
It straightens quickly
It heats up quickly
Doesn't have a burned smell like inexpensive irons
Helps reduce frizz
Leaves hair looking healthier
Does minimal damage
Cons
It is one of the more expensive flat irons
It doesn't have an auto-shutoff feature
All in All
When you purchase a flat iron, it's important that you get a professional-quality iron that not only allows you to straighten, curl, or add waves to your hair but also works quickly, so you'll get great results without spending hours on your hair. For fast results and beautifully healthy hair, try out the HSI Professional Ceramic Tourmaline Ionic Flat Iron. Even though this flat iron is priced more expensively than others, the quality and performance stands out far above the rest.