Some links on this page are monetized by affiliate programs - see disclosure for details.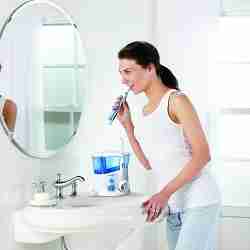 While visiting a dentist is important, it's just as important to maintain your dental health at home. Whitening your teeth, Brushing regularly, choosing a good diet and limiting your sugar, and flossing your teeth keeps your teeth and gums healthy and helps prevent cavities and periodontal disease. While brushing isn't a problem for most people, many more find it difficult to floss regularly.
Using floss may irritate sensitive gums;it's very difficult to do with braces, and some may just find it hard to do the right way. Instead of using traditional floss to get in the tightest spaces of your teeth, one of our picks for best water flosser may do the job more quickly and effectively.
The 10 Top Rated Water Flossers of 2018

What is a Water Flosser?
A water flosser is an oral irrigation device that is used in place of regular dental floss. Instead of using a thin, waxed string, these devices use a concentrated stream of water to flush out food, bacteria, and other particles between the teeth that aren't usually reached by a toothbrush. These are easy to use, very sanitary, and contribute to healthy dental hygiene.
What are the Advantages?
Water flossers can be just as effective as traditional floss without the hassle. One of the primary advantages is that you can more effectively clean your teeth using one of these devices as opposed to brushing alone. You can easily remove stuck-in food and bacteria that leads to cavities and tooth decay with one of these products, keeping your teeth and gums at their healthiest. For people with braces or who have difficulty flossing, this is an ideal solution that allows them to maintain their dental health without fighting with regular floss.
What are the Different Types?
If you want to keep your teeth and clean without hassles, a water flosser is a good investment for your household. If you've never used one before, though, you may be a bit intimidated by all of the models available on the market. Instead of dropping money on a unit that you don't know much about, find out more about these devices, including the different types you'll encounter.
Countertop models – These are designed to remain in one place in your bathroom. They are powered by a unit that plugs into a standard electrical outlet. These have a large reservoir that is filled with filtered water or mouthwash. Although they're small enough to keep on your countertop, they're not ideal for travel.
Cordless models – These models are battery-operated, and they're best when you have limited space or if you travel often. These have a smaller reservoir built into the handle that will need to be refilled often because of the smaller overall size.
For kids – Starting good teeth cleaning habits early is necessary for a lifetime of good dental health. This is why many manufacturers have created flossers just for kids. These are smaller than traditional countertop models, and they may come in fun colors and designs to make them more appealing to the younger set.
Which Products are the Best Water Flossers on the Market?
Whether you're short on counter space or always on the go, you can always maintain the health and beauty of your teeth with this portable flosser. This unit is small, portable, and collapses so it easily fits in a bag or suitcase, making it ideal for travel. This unit is strong enough to remove bacteria but still gentle enough for sensitive teeth and gums. Plus, it's available at a great price.
Choose from three different options to get the most from this unit, which cleans as good as or even better than regular floss. This combines sonic cleaning power with multiple attachments to give you cleaner and healthier teeth, even in those places that are just impossible to reach. It's also very competitively priced when compared to other units.
Throw out your old toothbrush and floss and pick up this model from Waterpik, which has a toothbrush and water flosser that takes cleaning your teeth and gums to the next level. You can improve the health of your gums in just 14 days with this unit, which has been shown to be more effective than similar products on the market. This all-in-one set is easy to use, boasts a variety of options, and provides you with a cleaner clean.
Features to Evaluate Before You Buy
You may think you're ready to make your purchase of a water flosser, but don't pull out your wallet just yet. Although you know about the basic types and some models that are very popular, you also need to know what to look for in each model to make sure you make a sound purchase. You can get started with the following four features.
Type
As mentioned, there are three main types of flossers. If you travel often, you don't want to shove a full-sized unit in your suitcase. If you want more features and options and you tend to use your flosser at home more than anywhere else, a countertop model is a good choice. Or if children in your home need to pick up healthier dental habits, a unit designed just for kids is what you need.
Settings
Basic units may only have one setting, but most of the latest models have a variety of flow settings and options. These different options may massage and improve the health of the gums, prevent pain for sensitive teeth and gums, or help enhance brushing by removing bacteria from the surface of teeth.
Warranty
You don't want to open the box of your new flosser only to discover that it's broken. You also don't want to use it a few times only to have it stop in its tracks. With a manufacturer's warranty, you can be sure you aren't purchasing a lemon and that you'll get plenty of use out of your new product.
Type
Panasonic EW-DJ10-A
This is a cordless unit that is ideal for travel or for use in smaller spaces where counter space is limited.
Conair Interplak
This is a countertop unit that plugs into your bathroom's outlet.
Waterpik WP-900
This is a full-size countertop model designed to be used in your bathroom.
Settings
Panasonic EW-DJ10-A
You can choose from two different speeds – one designed for sensitive gums and the other for everyday cleaning.
Conair Interplak
This has three different cleaning settings to more effectively clean your teeth.
Waterpik WP-900
This has 10 different pressure settings.
Warranty
Panasonic EW-DJ10-A
A 2-year limited warranty is included with your purchase.
Conair Interplak
This comes backed with a limited 2-year warranty.
Waterpik WP-900
You get a 2-year warranty with the purchase of this unit.
See Our Final Water Flosser Reviews
Whether you're always on the road for business or you just don't have a large bathroom and don't want a huge countertop flosser taking up space, this portable, small model is just what you need. This unit is small and lightweight, and it even folds up into a more compact size when not in use. It works just as well as the full-size units only it's a fraction of the size – and the cost.
This affordable model has two pulse settings designed for everyday cleaning and sensitive teeth and gums. The water tank is 165 ml and is built right into the unit, which is ergonomically designed, so it's easy to hold. It runs on batteries, so you can use it anywhere. It is backed with a warranty for your protection, and it is 100 percent waterproof, so it's very easy to keep clean between uses.
Pros:
Affordable
Very portable
Small and doesn't take up a lot of space
It has two different settings
It's easy to use
It has a great warranty
Effective in removing food and other particles between teeth
Cons:
It doesn't have a strong pressure setting
Only runs for about 40 seconds per tank fill
Some used water may go back into the tank and may require disinfecting to prevent mold and bacteria from growing
Fight off bacteria, prevent plaque, and keep your teeth cleaner than ever with this flosser from Conair, which comes with all of the features you'd want without the big price tag. This affordable countertop model is loaded with different settings and attachments to give you that clean feeling while removing food and bacteria from between teeth.
This unit is more effective because of its combination of water pulsation and sonic brushing. You'll have your choice from three settings, including Brushing, Massing, and Jet Flossing. It's safe and effective for use with orthodontic appliances, crowns, bridges, and more. In addition to the three settings, it comes with multiple attachments to get the best clean for your teeth. Attachments include water jet tip, 2 brush heads, subgingival tip, tongue cleaner, and soft finger massager.
Pros:
Multiple settings and attachments
Safe for dental appliances, dental work, and sensitive teeth and gums
Easy to use
Comes backed with a warranty
Cons:
It is loud when in operation
The plastic does not feel as high-quality as the materials used on more expensive machines
This unit will provide you with the healthy smile you've always desired. This 2-in-1 combination provides you with a very effective water flosser as well as an electric toothbrush that gets your teeth and gums their cleanest. This unit has multiple settings, far more than the competition's, so you can personalize your oral heath routine.
You'll have ten different pressure settings, so whether you need a lot of pressure or just a little, you can change it up with the turn of a dial. This unit comes with five different tips, including two classic jet tips, a plaque seeker tip, a pik pocket tip, and an orthodontic tip for those with braces. All of these units and your brush heads can be stored in the integrated storage compartment. The water reservoir operates for a full 90 seconds, and an electric tooth brush that uses sonic technology and has been shown to be more effective than similar models is also included in your purchase.
Pros:
Ideal for everyone – even those with braces, sensitive gums, and dental work
Storage compartment to keep tips and heads in one place
Operates for a long time without needing a refill
Comes with a warranty
Multiple pressure settings
Cons:
It is a bit expensive
The handle feels a bit fragile for the price
All in All
Protecting your teeth and gums and keeping them clean is essential to your health, and while brushing is a good first step, flossing is also something you should be doing daily. If the thought of using regular floss just doesn't seem appealing to you, you can get the same results without the hassle with a water flosser. For improved oral health, the Waterpik WP-900 is an excellent choice for best water flosser. Even though it is a bit more expensive, it comes with an electric toothbrush, a water flosser, and lots of different options that allow you to personalize your daily routine, providing you with cleaner and healthier teeth and gums in no time.