Some links on this page are monetized by affiliate programs - see disclosure for details.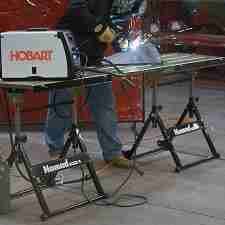 Many materials are quite easy to attach together. Whether you're taping paper, gluing down hardwood flooring, or nailing one piece of wood to another, one thing that these methods of attachments all have in common is that you need the right tools.
When you're joining two pieces of metal, the same holds true, but it's a little different because you can't just tape or glue metal together. Instead, you have to heat up the metal pieces so that they melt together. This requires an intense amount of heat and a special tool, and most people find that the best MIG welders are some of the most versatile and easy metal welding tools to use.
Compare: The 10 Top Rated MIG Welders of 2018

Start Here: What is a MIG Welder?
MIG stands for metal inert gas. This is just one of a few different types of welders used to join metal together. These machines use electricity to heat up, melt, and join two or more pieces of metal. How it works is that a metal arc forms between an electrode and the metal that you are joining. This arc causes heat, which melts the metal and bonds it together, a process known as welding.
This is one of the easiest welders to use, and it is very common because it is so versatile. It is most commonly used in automotive body repair and restoration.
What are the Advantages?
There are a few types of welders, and you may be wondering why you should choose a MIG welder. One of the biggest advantages is the versatility. This type of machine is able to join a variety of different metal types and thicknesses. It provides a good weld bead with minimum splatter, and it's very easy to learn to use. It has the capability of welding in all positions, as well. This is a great choice for many different applications, including welding sheet metal and pipes.
What are the Different Types?
Before you make your purchase, you need to know what types of MIG welders are available to you, and which one best fits your needs. After all, you don't want to end up with a product that you don't end up using. There are two main types of welders: welders with shielding gas and gas-less models.
Shielding gas models – These are characterized by a gas that shields the weld puddle. This type of gas is usually argon and has no impact on the welding process. These are the most common pieces of equipment.
Gas-less models – These are units that are used outdoors because they are safer to use in windier outdoor conditions. These are used by homeowners who plan to weld outdoors, as well as on outdoor job sites.
Which Models are the Best Mig Welders on the Market?
If you're new to welding, using a complicated piece of machinery can be both overwhelming and dangerous. However, you can learn easily on this machine, which is lightweight, compact, and easy to use. It also comes at a great price, so it's ideal for beginners or those with smaller household projects.
If you need more power in your machine, this is a great choice because not only is it powerful enough for your heavy-duty jobs, but it also has a lot of great features you won't find on other equipment. This includes a convertible plug, easy setup, and versatility for small, medium, and large jobs.
A longer duty cycle, higher power output, and the ability to weld a variety of different metals is what makes this machine stand out from the rest. This is a great tool for the experienced welder who values a flawless and clean weld that's easy to achieve.
Features to Think About
Before you spend hundreds or even thousands of dollars on this type of equipment, you want to make sure you get the best value for your money, as well as a machine that fits your needs. If you weld for a living in an auto body shop, for example, a small unit with low power output just won't do the job. Before you buy, evaluate these four features in each product you consider.
Input Power
Input power is determined by how you use your unit. For households, for example, you want one that plugs into a 115V outlet in order for it to work while keeping your home safe. Some units even come with convertible input power options.
Metal Types
The type of metal that you plan to weld is important because certain machines may not get hot enough to work on very thick or very hard metals. If you work with many different types of materials, you'll want to pick a more versatile machine with plenty of power.
Warranty
Imagine that you purchase your welder, get it out of the box, try to use it, and nothing happens. If this occurs, you won't be held liable if it's due to a manufacturer's defect with a warranty in place. Make sure that the model you purchase comes backed with a warranty to prevent premature failure due to defects.
Input Power
Lincoln Electric K2185-1
This can be hooked to a 115V, 20 amp outlet.
Hobart 500553 Handler
This model converts from 115V to 230V with ease.
Hobart 500536 Ironman
This is designed for 230V input power.
Metal Types
Lincoln Electric K2185-1
This is designed for use on mild steel from 24-gauge to 1/8-inch.
Hobart 500553 Handler
This can be used on mild steel, stainless steel, and aluminum.
Hobart 500536 Ironman
This welds stainless steel, mild steel, and aluminum.
Warranty
Lincoln Electric K2185-1
Parts and labor are covered with a 1-year limited warranty, while the cable and gun are backed with a 90-day warranty.
Hobart 500553 Handler
This unit comes backed with a 3-year limited warranty.
Hobart 500536 Ironman
Your purchase is backed with a 3-year limited warranty.
Final Results: See Our MIG Welder Reviews
If you're new to welding or you don't plan on using your equipment very often, you don't need to invest in a large industrial machine that costs thousands of dollars. This model from Lincoln Electric is easy to use, even for beginners, and it comes at a very affordable price when compared to the pricing on other models.
This is a combination MIG and flux-cored machine that effectively welds up to 1/8" mild steel. It plugs right into your 115V household outlet, so it's safe to use for those small household jobs. Standout features similar to those found on more affordable models include wire feed speed adjustment, comes loaded with everything you need to get started, and has four different voltage settings.
Pros:
It comes as a package that has everything you need including gun, cable assembly, work cable, clamp, gas nozzle, solid wire, flux-cored wire, contact tips, and hand shield.
Very affordable.
It is easy to use.
It has clear instructions.
Ideal for smaller tasks.
Perfect for household use.
Cons:
It has no fine adjustment.
Does not come with a full mask.
Not designed for heavy-duty jobs, mostly smaller jobs with sheet metal.
For the more seasoned welder, this model is a good choice because it is competitively priced and is designed to perform a variety of different welding tasks. This versatile machine can be used with 115V or 230V just by twisting the cable – you don't even need any tools. So you can use this model just as easily at home as you do at your job.
This unit sets up in just minutes and comes with everything you need to get started. It comes with a setup guide that helps you get your machine up and running safely and quickly. This is one of the most versatile machines that can be used on exhaust systems, auto body panels, trailer frames and hitches, lawn and garden equipment, and more. It also comes with a wide assortment of necessary parts and accessories so you don't have to buy a lot of things separately.
Pros:
Competitively priced when compared to other welders.
Easy to use and easy to set up.
Good for most household tasks and repairs.
Can tackle heavy-duty jobs.
Easily adjusts from 115V to 230V without the use of tools.
Comes with a gun, regulator, gas hose, flux-cored wire, welding tips, convertible plug, and much more.
Cons:
The ground wire is stiff.
The power button is a bit awkward.
Wire feeder looks cheap.
For the experienced welder, sub-par equipment just won't do, which is why this model from Hobart is such a great choice. This unit is designed to perform better than the others on the market, providing you with a flawless weld with very little splatter and post-weld cleanup.
This unit is housed in an attractive metal cabinet that has wheels so it's very portable. It's ideal for use in an auto body shop or other commercial business since it is so easy to move from place to place. It provides up to 250 amps of power for the most heavy-duty tasks. Even if you aren't a pro, you'll find this machine easy to use, as it has a very detailed user guide. It comes with lots of extras and everything you need to begin welding, and it can be used for many applications including construction, auto repair, and more.
Pros:
Built for performance.
It is very portable.
It comes backed with a warranty.
Provides you with plenty of power.
Great for experienced welders but easy enough for those who are learning the trade.
It welds different types of metals.
It welds cleanly.
Comes with a gun, cables, drive roll, contact tips, and other accessories.
Cons:
It is a bit expensive.
The cables are a bit short.
Final Thoughts
Whether you're working on restoring an old classic vehicle or you're fixing some pipes around your home, you can't connect metal to metal without a welder, and a MIG welder is a good choice because of the ease of use and versatility. If you're looking for a machine that can take on your most difficult jobs, the Hobart 500536 is a welder that you should consider. This machine is built for all skill levels, welds a variety of metals, and provides you with the clean results you're looking for. Even though the price is a little steep, the overall power and value of this machine is unmatched.