Some links on this page are monetized by affiliate programs - see disclosure for details.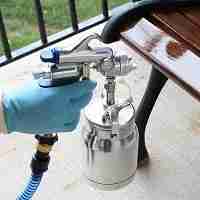 Over time, many things began to show their age, from the walls in your house to an older piece of furniture. Even your car's paint becomes dull and worn over time when exposed to rain, sunshine, and snow. What all of these things have in common is that when they begin to show signs of wear, instead of just being thrown away or replaced, sometimes all they need is a coat of paint.
Painting with a brush can be a pain, especially if you have a large area that needs to be covered. Brush streaks may also show up, ruining the finish of your project. If you have something that needs to be painted but you don't want to deal with the hassle of using a brush, why not try a paint sprayer?
Compare: The Best Paint Sprayers of 2018

What is a Paint Sprayer, Anyway?
A paint sprayer is a tool that is used to spread paint. It has several advantages over the old fashioned way of using a brush. Not only is it quicker and easier, especially for large areas that need to be painted, but it also, when used properly, spreads evenly over all types of surfaces, even uneven or rough surfaces that are difficult to paint.
These sprayers can be used for a variety of types of paints, clear coats, and stains.
What are the Advantages of Using a Paint Sprayer?
The most obvious advantage of owning one of these tools is the time you'll save over painting using other methods. This allows you to cover large areas in a shorter amount of time. You won't have to do as much work either, not like painting with a brush. Other advantages are that you can easily paint things that would normally be difficult with a brush, such as shutters, which easily show drips.
It's easy to apply smooth finishes on furniture and cabinetry too, without having to worry about brush strokes being seen.
What are the Different Types?
Just as there isn't just one type of thing that needs to be painted, there isn't just one type of paint sprayer. In fact, there are several different types to choose from that each have their benefits and drawbacks. Before investing in a sprayer for household or commercial use, you must first know about the types available and which works best for you.
Cup – These are the most common sprayers that are best for smaller jobs and household use. These have a cup that is used to hold the paint, a nozzle to spread the paint, and they plug directly into an electrical outlet.
Air – These operate with compressed air. They can be used for a variety of purposes, including smooth finishes, automotive painting, and small to medium sized walls.
Airless – These work using high pressure. They provide even coverage of larger spaces in the shortest amount of time. These are best used for large projects.
HVLP – A combination of high volumes of air and low pressure are combined to create a spray. These are best for very detailed projects.
Which Brands are the Best on the Market in 2017?
For your household projects, including painting the interior or exterior of your home, refinishing furniture, or painting your shutters, this sprayer is ready for the job. This affordable unit is perfect for most household tasks since it has a variable flow and different spray patterns to choose from to quickly and easily get the job done.
Whether you want to paint railings, walls, or even your deck, this sprayer is up to the task. This model doesn't require thinning and it works perfectly with most types of materials, so it's a great all-around sprayer for general household tasks. Its design makes it easy to use, and since it's fully repairable, you don't have to worry about purchasing a costly replacement – this one is built to last.
If you earn your living through painting, you know the importance of having the right tools for the job. For an even coat, faster painting, and less clogging, invest your money in this professional model, which is heavy-duty enough for the toughest jobs.
Features to Consider
Like any other tool, you don't want to waste your time purchasing something that doesn't meet your expectations, doesn't work for your project, and that ends up sitting unused in your garage or workshop. You can avoid the hassle of returning a product you don't love by making sure you buy the right one from the start. You can do that by doing a bit of research on each sprayer, including taking into account these four important features.
Price
You want to always look at the price of something before you purchase it to make sure that you can afford it. However, you should never sacrifice quality or settle for something that just isn't meant for the tasks you want to tackle just to save a few dollars. Set your budget for your sprayer, but make sure that you also evaluate other features that are important to you. After all, you want a sprayer that you will use, not a sprayer that's a good price but doesn't fit your needs.
Spray Patterns
Not all projects are the same, and some are best when covered with a fine mist, while others require a steadier, harder stream. Look for a model with a variable spray pattern if you plan on tackling a variety of different projects.
Included Accessories
You don't want to drop a few hundred dollars on a sprayer only to have to purchase additional accessories before you can even use it. Make sure that the model you choose has everything you need to get started, or even a model that comes with lots of different accessories.
Warranty
If you use your sprayer as directed, you shouldn't have to worry about it failing with just a couple of uses. When taken care of and used properly, it's not unreasonable to expect your sprayer to last. If your unit fails due to a defect, you shouldn't have to use your own money to replace it or get it repaired, and you won't have to worry about it if you purchase a product that is backed with a manufacturer's warranty.
Price
Wagner 0518080
This is a very affordable basic model that is ideal for household use.
Graco Ultra
This is about average in price when compared to other models.
Fuji 2202
This is one of the more expensive models you'll find on the market.
Spray Patterns
Wagner 0518080
Tackle all of your household jobs with ease with this unit, which has three different spray patterns.
Graco Ultra
You can use the reversible tip to create two spray patterns.
Fuji 2202
This has multiple settings to change from a wide spray to a more narrow spray for smaller projects.
Included Accessories
Wagner 0518080
With your purchase, you'll receive the sprayer unit, a metal cup, a plastic cup, a hose, and the user manual.
Graco Ultra
You'll receive a reversible tip, 32 ounce cup, five liners, a start up tool, instructional DVD, and a case for storage.
Fuji 2202
This unit comes with a spray gun, one quart feed cup, 25-foot hose, air cap set, and metal turbine case.
Warranty
Wagner 0518080
A 1-year limited warranty protects your purchase.
Graco Ultra
This model is backed with a 1-year limited manufacturer's warranty.
Fuji 2202
This has a 2-year warranty that covers both parts and labor.
Final Results: See The Best Paint Sprayers

If you want a basic sprayer that gets the job done but doesn't cost a fortune, this model from Wagner is a great choice, boasting a price tag of less than $150. In addition to being affordable, you'll find that this sprayer is great for most household projects, including spraying small and medium size areas, refinishing furniture, and painting cabinets.
This sprayer works with many different paints, primers, stains, and lacquers, making it a great choice for general use. Even latex paint has no problem spraying with this unit, which is equipped with a 2-turbine motor. It has two air filters to filter out dust for a smooth finish, a lightweight design that makes it easy to use, and three different spray patterns to achieve the perfect finish for any project. It comes with two cups, as well as a 20-foot hose that makes it extremely portable.
Pros:
It has different spray patterns
Works with thick and thin paints and stains
It is lightweight and easy to hold
It is easy to use
Comes backed with a warranty
Cons:
It is difficult to clean
Some drops may occur while spraying
It doesn't feel as high quality as other machines

If you want a heavy-duty sprayer without spending thousands of dollars, this one is a great choice for you. This model is designed to perform like the most heavy duty models without all the hassle. The design allows you to easily complete 4 to 8 gallon projects including walls, ceilings, doors, trim, decks, and more.
This unit works with most paints, including thicker latex, and it doesn't require thinning like some other units. The innovative design lets you spray sideways, up, or even down without losing pressure, allowing you to maintain the even coat you desire. This unit is small, lightweight, but also very durable. It's also completely repairable, so you don't have to replace the entire unit if something fails. It also comes backed with a warranty for your protection.
Pros:
It is small and lightweight but still tackles heavy jobs
It's easy to use
It's easy to clean
All parts are repairable
It has a long cord so it's very portable
It's affordable when compared to similar products
It's easy to set up
It comes with a warranty
Cons:
There is some overspray when working with thinner materials like lacquer or clear coat

For a professional finish without the cost of a professional sprayer, which can easily cost thousands of dollars, why not pick this model from Fuji, which does an outstanding job without the high cost? This unit is designed for use with all types of paint, even thick latex paints. Unlike other, cheaper units, you won't have to worry about clogging or uneven spraying either, no matter what type of material you're using.
You won't have to worry about a ton of overspray, so you'll get a clean finish every time. This unit is easy to use and comes with everything you need to get started, including a 25-foot hose that is more convenient in larger spaces. Whether you need to paint a room, the exterior of your home, or touch up the trim indoors, you can do it all with this sprayer, which has a variable spray pattern for any project.
This unit is very powerful, boasting a 1,400 watt, 2-stage bypass motor, and it's built to last for years to come. It handles any type of coating, sprays evenly, cleans up easily, and comes with one of the best warranties on the market.
Pros:
Doesn't have overspray like other units
Very solid and durable
Has a great warranty
Designed for a variety of projects
Very easy to use
Comes with everything you need
Sprays evenly
Easy to clean
Has a strong motor
Works with thick and thin materials
Cons:
It is a bit noisy
It is fairly expensive
Conclusion
Quit wasting your time with a messy paintbrush and invest in a paint sprayer to finish quickly and without a hassle. If you really want a sprayer for performance, the Fuji 2202 is one you should consider. This unit outperforms many others on the market, is easy to use, sprays evenly, and has a durable design that will make it one of your favorite tools for years to come.