Some links on this page are monetized by affiliate programs - see disclosure for details.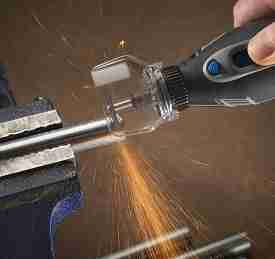 Ever since the Industrial Revolution changed the way that products and items were manufactured, tool designers have been coming up with new ways to streamline and perfect production. Tools such as corded power drills, angle grinders, and rotary tools have made construction exponentially simpler. Rotary tools were originally designed for use by experts machinists, who would carefully guide the powerful drill or burr to machine extremely precise dies and molds. Old-timers and industry insiders still refer to these tools as "die grinders" for this reason. Most people today call modern models "rotary tools".
Homeowners, property managers, woodworkers, contractors, builders and hobbyists can use a rotary tool to perform a wide range of tasks. That includes sanding, honing, sharpening, polishing, grinding, and machining metal, wood, and other hard surfaces. Today's advanced rotary tools use powerful motors to create a strong circular rotation to drive attachments and accessories such as burrs, bits and grinders. High speed rotation and torque drives rotary tools to quickly achieve precise control.
Comparison: The 10 Top Rotary Tools of 2020

What is a Rotary Tool?
Originally, industrial "die grinders" or rotary tools used compressed air to rapidly drive the circular motion of the tool, but today's models feature advanced electric motors to achieve greater torque and more revolutions per minute. Rotary tools create a powerful circular rotation that can drive attachments such as burrs, bits, saws and grinders.
Considered by many people to be a "Dremel", the brand name of a popular line of rotary tools. Quality rotary tools of different dimensions and abilities are available from multiple manufacturers. With an enormous variety of attachments that can be powered by a rotary tool, home builders, crafters and hobbyists can easily perform woodworking, engraving, shaping, polishing, machining and grinding tasks. The collar or area of the rotary tool that connects to attachments is known as the "collet".
What are the different types?
Modern rotary tools are designed for a wide variety of home woodworking, engraving, grinding, sanding and other repair and building tasks. While almost all modern rotary tools are powered with electric motors, some use direct, corded power to operate while others are equipped with a battery pack to be used independently. Rotary tools come with a variety of options. Speed controls allow for precision work. Torque controls are for heavier grinding or polishing jobs.
Some rotary tools today come with universal collets. Other rotary tools feature popular collet sizes. Some rotary tools also include a number of attachments to offer buyers a complete package for their rotary tool needs.
What are the advantages of owning one?
An enormous number of quick jobs around the house can be efficiently and rapidly accomplished with the use of a rotary tool, including polishing, sanding and engraving. Whether recording serial numbers on expensive electronic items or using honing attachments to sharpen knives and blades, a rotary tool can offer quick and powerful solutions to a wide range of home repair, maintenance and building tasks. Some home builders use rotary tools to quickly cut through drywall, plasterboard, and other thin sheeting materials.
Woodworkers can use rotary tools to shape and sand angles, curves and other delicate features. Many businesses charge steep prices for simple engraving or honing jobs. Having your own rotary tool at home can save you a substantial amount of money. Thousands of attachments are available. A rotary tool can easily become one of the most versatile and useful tools any homeowner or hobbyist can own.
How to Use Rotary Tools Safely
Safety is always your number one concern. While rotary tools are safe to use, you should always be careful and follow proper safety procedures.
Wear eye protection every time you use a rotary tool. Cutting and carving can cause material to fly about in unexpected directions. Even a tiny piece of debris can cause permanent damage to your eyes if you're not wearing safety goggles.
Avoid loose clothing, especially loose sleeves. If the tool becomes tangled in your clothing, it can quickly cut your skin.
Finally, always make sure the rotary tool is in proper working condition. While you don't necessarily need to use a new blade each time, the blade should always be sharp. A dull blade is harder to control and can easily slip out of your hands.
Which Models are the Contenders for the Best Rotary Tool Overall?
This elegant rotary tool from the legendary toolmaking company Black & Decker comes in an attractive red and black design with three speed adjustment and a simple one-press system for changing accessories. With a universal collet system that can handle any standard accessory, the Black & Decker RTX-B offers outstanding torque and the ability to rev up to 30,000 RPM when needed. With an included storage bag and five accessories, the Black & Decker RTX-B is an outstanding rotary tool.
This futuristic rotary tool from DEWALT features a powerful 5-amp motor that can generate up to 30,000 rpm. With a unique slim body design and circular guide, the DEWALT DW660 offers hobbyists and builders outstanding control for longer use with less fatigue. With the main power switch sealed against dust and other particles, the DEWALT DW660 is built to offer years of hard service.
The new 8220 from Dremel offers complete mobility and autonomy with two powerful 12-volt lithium-ion rechargeable batteries. Built to handle even heavy-duty jobs, the Dremel 8220 ships with an included complete rotary tool kit that includes 28 accessories. With the tool and attachments neatly fitting inside a convenient carrying case, the Dremel 8220 offers hobbyists and builders a complete rotary tool package.
Features to Think About
Rotary Speed
Different rotary tools come with different speed settings, measured in revolutions per minute (RPM). Faster RPMs can allow the rotary tool to achieve higher precision for detailed machining and grinding jobs.
Attachments and Accessories
Some rotary tools are shipped with several included attachments. Rotary tools use different "collet" systems, the connecting part of the tool that secures the attachment. Different collets grasp and secure attachments and accessories using different systems.
Torque
While high-speed RPMs are great for precision work, the amount of torque determines its ability to handle tasks.
Additional Features
Many manufacturers of rotary tools include other features and advanced functions that give hobbyists, builders and crafters greater flexibility and more options when grinding, sanding, polishing and engraving.
Rotary Speed
The Black & Decker RTX-B 3-Speed RTX
Comes equipped with a simple three-speed adjustment switch to choose between 12,000, 24,000 and 30,000 RPM, allowing users to choose the right speed for the most precision.
The DEWALT DW660 Cut-Out
Uses a powerful 5-amp corded electric motor to instantly spin up the connecting tip to 30,000 RPM, allowing users to drive a wide variety of attachments at very high speed.
The Dremel 8220
The powerful 12-volt lithium-ion batteries on the Dremel 8220 can deliver between 5,000 RPM and 30,000 RPM.
Attachments and Accessories
The Black & Decker RTX-B 3-Speed RTX
Features a universal collet system that can quickly lock on to or release any standard rotary tool accessory. With the company's patented Flip-Lock one-handed system, users can quickly and easily switch out attachments. Ships with five included accessories.
The DEWALT DW660 Cut-Out
Ships with both 1/4″ and 1/8″ collets for a wide variety of industry standard rotary tool attachments. It also comes with 1 drywall cutting attachment for accurate and rapid slicing through standard gypsum board and drywall.
The Dremel 8220
Comes with a complete set of accessories, ready to handle nearly any building, repair or hobby design task. With a recharging stand and two included lithium-ion batteries, the Dremel 8220 is a complete rotary tool package perfect for any workshop, basement or home garage.
Torque
The Black & Decker RTX-B 3-Speed
Features a very efficient electric motor capable of delivering outstanding torque even under heavy load.
The DEWALT DW660 Cut-Out
With a corded 5-amp motor, the DEWALT DW660 is delivers maximum torque even when under very heavy load.
The Dremel 8220
The twin 12-volt batteries on the Dremel 8220 provide maximum torque at any speed throughout the entire charge.
Additional Features
The Black & Decker RTX-B 3-Speed
Ships with a convenient carrying case. Features a patented spindle system to quickly release or grasp almost any third-party rotary tool accessory.
The DEWALT DW660 Cut-Out
The on/off switch of the DEWALT DW660 quickly improves user safety. The switch protects against dust and particles to provide years of reliable service.
The Dremel 8220
The Dremel 8220 is, naturally, able to be used with any Dremel accessory or attachment. The battery on the Dremel 8220 can be quick-charged in just one hour, allowing builders and crafters the ability to complete even the longest tasks. With the included carrying case and accessories, the Dremel 8220 is a complete tool package ready to handle nearly any home improvement, building or crafting job.
Results: See Our Top Rotary Tool Reviews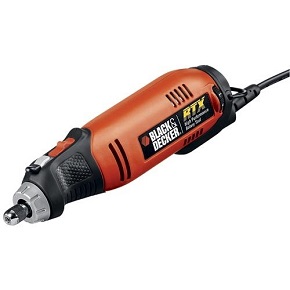 The powerful Black & Decker RTX-B offers homeowners and hobbyists their choice of three different speeds to achieve the ultimate in precision and efficiency when grinding, sanding, polishing and machining.
With its attractive red and black design, this compact high-torque rotary tool can power accessories to quickly and accurately hone, polish, grind and engrave on a wide variety of different surfaces.
Pros:
Built solid and yet quite compact, the Black & Decker RTX-B looks great on any workbench or in any home garage
With the universal collet system, any accessory can be quickly attached and used, giving owners unparalleled flexibility
With a top speed of 30,000 RPM, the Black & Decker RTX-B is more than enough rotary tool to handle even the most demanding jobs
Cons:
Many users find that changing accessories is much simpler with the use of a keyless chuck, a tool not included with the Black & Decker RTX-B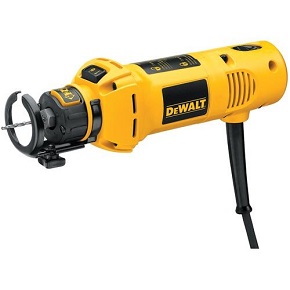 This elegant rotary tool from DEWALT comes in the company's signature yellow, featuring a slim body design to minimize user fatigue during longer jobs. With a powerful 5-amp motor able to drive attachments at 30,000 RPM, the DEWALT DW660 rotary tool is ready to handle even the toughest jobs.
With a simple but effective switch that is sealed against dust, the DEWALT DW660 is ready to offer years of reliable use for any home repair or building jobs.
Pros:
The included drywall cutter attachment slices through drywall like a hot knife through butter
The circular guide on the end helps improve user control and stability. The slim body design reduces hand and arm fatigue.
Cons:
Some users have expressed dissatisfaction with the way the DEWALT DW660 secures attachments
If not secured correctly, attachments can damage or destroy the locking collar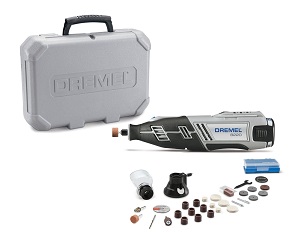 Dremel is the premiere name in the rotary tool business for good reason, and the 8220 Cordless is another fine model in their excellent line-up of powerful, battery-driven rotary tools. With its high-torque motor and vast range of attachments and accessories included with the tool, the Dremel 8220 is ready to tackle any home hobby build, repair or craft need.
Neatly packaged in a convenient travel case made out of durable polycarbonate material, the Dremel 8220 is a complete rotary tool package perfect for gifts, new home owners, or any hobbyist or builder wanting to replace aging or inferior equipment.
Pros:
Dremel is once again at the top of their game with the 8220, and the rotary tool is very heavy-duty and powerful even though it operates solely on batteries. With 28 accessories and everything necessary to start, home hobbyists and builders can begin working on projects in minutes.
Batteries charge rapidly and hold their charge even after extended use under heavy load.
Cons:
Anyone looking for a small and simple rotary tool for occasional engraving or hobbyist use will find the Dremel 8220 and its full range of accessories to be too much tool for their needs
In Conclusion
Home builders and hobbyists know that having a powerful and efficient rotary tool is important. They can allow anyone to grind, sand, polish, cut, saw, and hone an enormous range of different objects and surfaces. Woodworking, drywall installation, and engraving can be quick and easy with the use of a good quality rotary tool. With so many different makes and models to choose from, buyers must find the right rotary tool for their needs.
The clear leader in the rotary tool industry is Dremel. Their new 8220 cordless rotary tool offers heavy-duty power with the freedom of using batteries. With a complete set of 28 attachments and accessories included, the Dremel 8220 is a complete rotary tool package. Whether given as a gift to graduates, new home buyers, hobbyists, the Dremel 8220 offers the best rotary tool package on the market today.
The Dremel rotary tool has attractive price. It offers home builders and crafters the ultimate in flexibility and versatility. Whether building, grinding, creating and shaping wood, metal and other materials, it's a solid choice.