Some links on this page are monetized by affiliate programs - see disclosure for details.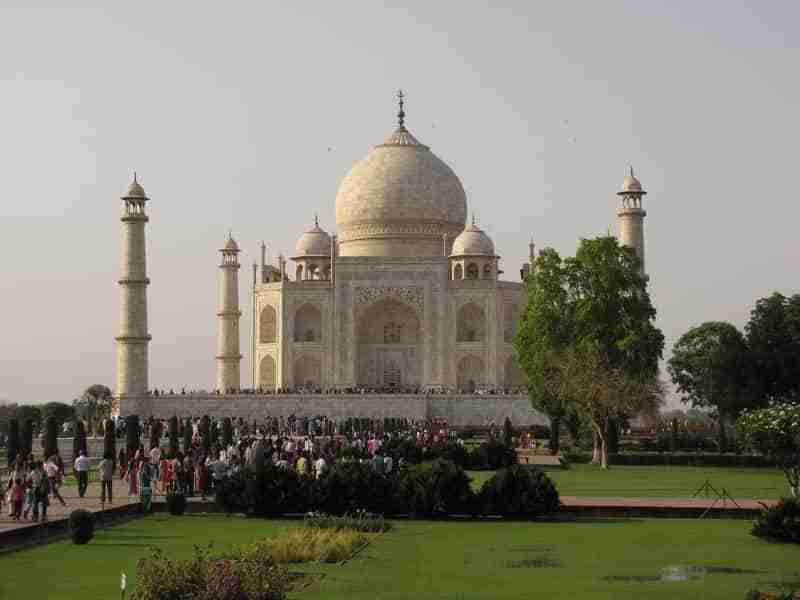 With the proper tools in hand, human beings are capable of some truly awe-inspiring things. In fact, there are some humans who have created architectural wonders that rival the beauty and functionality of nature. These structures are lauded not only as architectural marvels, but as beautiful landmarks as well. Here are the top 10 best architectural wonders of the world.
1. Taj Mahal in Agra, India
One of the most recognizable structures in the world; the Taj Mahal stands brilliantly in Agra, Uttar Pradesh, India. Designed by architect Ustad Ahmad Lahauri, the marble white mausoleum was finished in 1653. Commissioned to be built by Mughal Emperor Shah Jahan for his deceased wife in 1632, its construction costs equaled the modern day equivalent of 827 million dollars. In all, the Taj Mahal features tombs, a mosque, and a guest house.
2. The Channel Tunnel from England to France
Building anything under water is difficult. Building a 50.45-kilometer tunnel under water is a stroke of engineering masterwork. And so sums up the Channel Tunnel, which extends underwater from Folkestone, Kent in England to Coquelles, Pas-de-Calais in France. While the idea of building an underwater tunnel in the English channel had been talked about since the 19th century, it wasn't taken seriously until around 1988. 6 years later, in 1994, the tunnel was up and running, accommodating traffic from England to inland Europe.
3. The Masjid I-Imam in Iran
Also known as the Shah Mosque, the Masjid I-Imam in Isfahan, Iran was finished in 1629. Ordered to be constructed by the first Shah Abbas of Persia, it underwent construction in 1611, taking a total of 18 years to be fully erected. Known for its beautiful mosaic tile patterns and calligraphic inscriptions, it's considered by many to be the crown jewel of Iranian architecture.
4. Hoover Dam in Arizona and Nevada
Finished in 1936, the Hoover Dam is built on the border of Clark County, Nevada and Mohave County, Arizona. Standing at 726 feet tall and 1,232 feet long, the dam can hold up to 3,250,000 cubic feet of water. Made out of concrete, the dam surrounds Lake Mead, the largest reservoir in the United States. The building of the dam required thousands of workers, hundreds of whom lost their lives during construction.
5. Tokyo Sky Tree
Located in Sumida, Tokyo, Japan, the Tokyo Sky Tree is a broadcast and observation tower which also hosts a restaurant. Completed in 2012, it costed 806 million U.S. dollars to build. It measures in at 2,080 feet tall and features a futuristic aesthetic, designed by architect Nikken Sekkei. Built with dampening technology, it is capable of withstanding powerful earthquakes.
6. Panama Canal
Opening on August 15, 1914, the Panama Canal was the first waterway that allowed direct access from the Atlantic Ocean to the Pacific Ocean through the Americas. Completely man-made, it required a huge workforce of which a small portion died during construction. It measures in at 48 miles long, and cuts through the Isthmus of Panama. Around 15,000 boating vessels make their way through the canal annually.
7. Colosseum in Rome, Italy
Built between 70 and 80 AD, the Roman Colosseum is still the largest amphitheatre in the world. Made out of concrete and sand, it played host to executions, gladiatorial battles, animal slayings, and more. It's estimated that it could hold between 50,000 and 80,000 spectators. Though it's been worn down by natural disasters and vagrants, the colosseum is still available to go see in Rome.
8. Neuschwanstein Castle in Schwangau, Germany
Located in Hohenschwangau, Germany, Neuschwanstein Castle was completed in 1886. A beautiful, majestic palace sitting atop a hill, it was commissioned by Ludwig II of Bavaria to be used as a retreat. Made out of marble, sandstone, and bricks, it took around 17 years for around 300 men to build. Its interior is decorated with beautiful artwork, arches, floor tiles, and windows.
9. Empire State Building in New York, New York
Standing in a 102 stories and 1,454 feet tall, the Empire State Building was the world's tallest building from 1931 to the late 1970s. Workers began construction the building in 1930, taking just a little over a year to complete it. In all, around 3,400 workers worked on the construction of the Empire State Building, with a reported five dying in the process. The building is used to house offices of many different companies.
10. The Alhambra in Spain
Originally constructed in 889 AD and then renovated in the 13th century, The Alhambra in Granada, Andalusia, Spain is a palace and fortress with a truly unique aesthetic. Beautiful floral designs line the walls and ceilings of its interior, with giant arched doorways giving it an epic, majestic appearance. An example of European Muslim art, it's one of the most unique and original-looking structures in Europe.
Image Courtesy of Flickr User Christopher John SSF