Some links on this page are monetized by affiliate programs - see disclosure for details.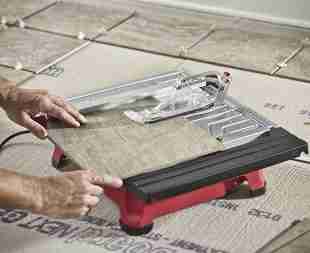 Tile is a top flooring choice in both homes and commercial properties. There are multiple advantages of having a tile floor in your home or business. Not only does it look great, but it's also very easy to clean and maintain. Tile flooring, with proper care, can withstand years of heavy traffic and still retain its beauty. This durable flooring is an excellent choice for just about any room, but it's especially used in kitchens, bathrooms, and common areas like living rooms.
One drawback, though, is that having tile installed can be very expensive. Not only do you have to buy the materials, but you also have to pay someone to install it, and you could end up with a bill for thousands of dollars when all is said and done.
Many people have chosen to take on the task and install the flooring themselves, saving a lot of money. However, in order to be able to install tile perfectly, the best tile saw is just one of the things you will want to finish the job successfully.
Compare: The Top Rated Tile Saws of 2018

Buyer's Guide: What is a Tile Saw?
A tile saw is a special tool that is used to cut through tile. Since tile is made of delicate materials like clay, ceramic, and marble, using any old saw can result in hairline cracks and breakage of the tile. Since tile isn't cheap, this is not only wasteful and frustrating, but it's also expensive.
These saws are designed to provide even cuts or curved cuts so that your tile will fit perfectly in place without being damaged. These saws may look similar to other saws, but the blades are different and there are a few different features, including the use of water, that help these cut easily through any type of tile.
What are the different types?
There are several types of these tools to choose from, and you need to know the difference between each in order to make a more informed decision if you plan on making a purchase.
Wet tile saws
These saws look much like table saws with the addition of a water reservoir underneath. This water aids in keeping the blade cool while cutting through tough tile. These offer very precise cutting, but they are large, bulky, and can be very expensive.
Snap cutters
These do not use water, and they also are not electric like wet saws. These require good old fashioned elbow grease to cut through tile. They are smaller, so they're great if you don't have a lot of storage space for a full-size saw, and they are also very inexpensive.
Handheld wet saws
These do not require a table for use, and they can be held right in your hands to operate. They may be a bit more difficult to use than a table saw, but they are less expensive.
What are the Advantages of Owning One?
If you're in the construction industry and you install flooring, a tile saw is a must-have item to put in your work truck. You can't professionally install tile flooring without this type of saw. Using other types of equipment will result in uneven cuts, jagged edges, and broken tiles, and if you do this for a living, you don't want to give your customer this type of poor workmanship. If you want to try your hand at installing your own tile in your home or business, you will need to invest in one of these saws in order to get the job done right.
Even though it is an investment, you can actually save a lot of money by purchasing your own tools and materials and installing your flooring yourself as opposed to hiring a contractor to do it for you.
Who are the contenders for Best Tile Saw?
If you only have a small area to tile, don't plan to lay tile often, or just want to save a few bucks, this cutter fits the bill. This saw is easy enough for beginners, cuts cleanly, features a guide for even cutting, and is designed for the budget-conscious. It cuts through large and small pieces of tile with easy, and when you're finished using it, it cleans up in just minutes.
This saw is designed for those who need a little more power. It can cut tile up to 18 inches by 18 inches in size, so it's great for most standard applications. It has an aluminum tabletop for easy working, and it performs straight cuts, beveled cuts, and mitered cuts so you always get the perfect fit when installing your tile.
If you need a larger, more efficient saw for daily use, this is a great choice. Even though it's larger than the other two on the list, it is lightweight enough for easy transport and setup. Plunge cuts, angle cuts, and any other type of cut is no problem for this heavy-duty machine. The efficient motor allows it to glide through any type of tile with ease, leading the edge straight, smooth, and ready for installation.
Considerations for Choosing the Right Saw For You
Whether you're installing your own floor or you do it for customers on a daily basis for your business, you need to make sure you purchase the correct tool for the job. While you shop for this type of equipment, make sure you look at the following four features, as well as anything else that may be important to you, before you make your purchase.
Price
There are several different price points of saws available, whether you're on a budget or you want a top-of-the-line model for your business endeavors. You should expect to pay anywhere from less than $100 for a basic saw up to over $1,000 for a commercial-quality tool.
Warranty
You should expect that your saw will work right out of the box, and it's also not too unreasonable to expect to get multiple uses out of it when handled properly. If your saw suddenly stops working because of a defect, a warranty makes sure you're covered.
Type
There are different types of saws, as listed earlier, and you need to decide which one best fits your needs. If you're on a budget, a handheld saw or snap cutter will be your best choices. If you cut tile often, you'll want to make your job easier by purchasing an electric saw.
Overall size
A giant saw may seem like a good idea before you buy it, but if you don't have the space to store it, you're going to really be in a jam. Make sure that if you're considering a larger table saw, you have the space. Otherwise, find a smaller one that you have plenty of space for. If you do commercial work and have to bring your saw with you in your truck, make sure it's not too large for your truck or too heavy and bulky to lug around.
Price
QEP 10900Q Cutter
This affordable model will not set you back much. A real steal when you consider the price of professional installation.
SKIL 3550-02
This is one of the most efficient and affordable power cutters you'll find.
DEWALT D24000S
This top-of-the-line model costs more than what the average homeowner would pay but will pay for itself when used by a commercial installer.
Warranty
QEP 10900Q Cutter
The parts of this saw are covered with a 1-year warranty.
SKIL 3550-02
You'll receive a 1-year limited warranty when you purchase this saw.
DEWALT D24000S
A 3-year limited warranty is included with your purchase.
Type
QEP 10900Q Cutter
This is a manual tile cutter that does not require power but does require more physical effort to use.
SKIL 3550-02
This is an electric saw that can be plugged into any standard power outlet.
DEWALT D24000S
This is a power saw that comes with a stand for ease of use.
Overall size
QEP 10900Q Cutter
This saw weights less than 25 pounds and measures in at just 44 x 8 x 7 inches, making it very easy to store.
SKIL 3550-02
This item measures in at 22 x 18 x 5 inches and weighs less than 25 pounds, making it one of the smallest power saws you'll find.
DEWALT D24000S
At 3 feet by 2 feet and 69 pounds, this is one of the largest saws, and the biggest on this list. However, it is more lightweight than most commercial units, and it's able to fit easily in a work truck or van and can be set up and carried by one person.
Tile Saw Reviews: Our Final Results Are In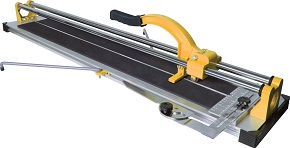 When you decide to install your own tile, you're probably doing this to save hundreds or even thousands of dollars by not hiring a professional. This means you don't want to spend a fortune on the tools needed to install your new flooring or backsplash. With this cutter, you won't spend a lot of money, and it's easy to use and store.
This cutter has a titanium-coated tungsten carbide scoring wheel that cuts easily through tile, leaving the edges smooth, even, and ready for installation. It is ideal for use on any porcelain or ceramic tile. It cuts up to 35 inch tile and 24 inches diagonally. This unit comes equipped with a measurement guide that allows you to get a straight cut every time, cutting down on the amount of wasted tile that's not cut just right. When you're finished, you can easily clean it up with an air compressor and mild soap and water if needed.
Pros:
It comes with a warranty
It's easy to use
It has a straight-edge guide built-in for straight cuts
The scoring wheel is very durable
It cuts through larger, heavier tile
Cons:
Performing diagonal cuts can be a bit difficult
Cutting larger tiles can be a challenge
The manual design is a bit more difficult than a power saw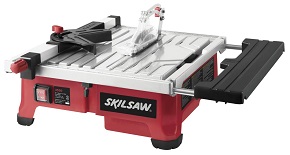 If a manual saw sounds like too much work for you, you'll want to invest in a power saw. This model provides you with enough power to cut through many different types of materials with a fraction of the effort, and it's still available at a great price.
This model boasts a Hydro Lock system that has guards that keep the water right at the blade, so cleaning up is a breeze. It is built with an extension that allows you to cut larger tiles up to 18 by 18 inches. The aluminum table top is resistant to rust and provides you with a sturdy work area. It also performs a variety of cuts, including miter and bevel, for the perfect installation every time.
Pros:
Affordable
Very easy to use
Accommodates larger tiles
Easy to clean
Gives a smooth, clean edge while cutting
Performs a variety of different cuts, including angled cuts
Cuts through all types of material, including granite tile
Cons:
The fence is difficult to adjust
The water reservoir is quite small and requires frequent changing
Blade may need to be replaced fairly quickly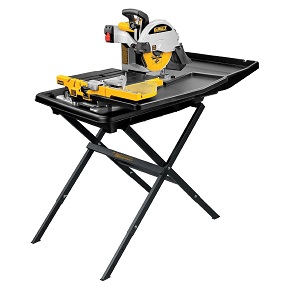 Tile installers know just how important having quality tools on the job can be, and this great saw is the perfect addition to your work tools. This model from industry leader DEWALT is ready for even the most intricate jobs. You can cut easily through large and small tile, even performing plunge cuts for around electrical outlets, mitered cuts, and other cuts for perfect installation.
The motor tilts for the perfect angle for cutting porcelain, stone, ceramic, and other materials. It is equipped with two adjustable water nozzles for fast and efficient cutting. It comes with a stand, too, so you don't have to use it on the floor or bring a separate tabletop. Even though it's heavy-duty, it's lightweight enough to transport and set up on your own. This saw is fast, efficient, durable, and comes backed with a great 3-year warranty.
Pros:
Easy to use
It cuts easily through many materials
It comes with its own stand
Sturdy and durable
Comes with a high-quality DEWALT blade
It is easy to set up
Performs a variety of different cuts
It's easy to clean when not in use
Cuts larger tile up to 18 inches diagonally
It has a great warranty
Cons:
It is a bit expensive
The tray is quite shallow
Some adjustments may be needed to get the stand to not wobble
Conclusion
Whether you're saving money by taking on a DIY job in your home or you make a living installing tile in other people's homes, a tile saw is something else you need in addition to your tile, grout, mortar, and other tile tools. For those who use a saw regularly, the DEWALT D24000S is one of the best on the market. It boasts lots of great features, including high-quality parts, a strong motor, its own stand, and an exceptional warranty that makes this top-of-the-line saw one of the best in its class. When compared to other saws, its lightweight yet durable design and ease of use make it a top choice for any tile installer.