Some links on this page are monetized by affiliate programs - see disclosure for details.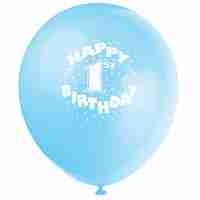 A birthday is always a special occasion, but celebrating a baby's very first birthday, marking one year since his or her birth, is especially emotional and exciting for parents, relatives, and friends. While it may not seem as though a one-year-old child would even care about a birthday, a birthday celebration is actually a time for many firsts, including the first cake and the first time he or she receives birthday gifts from others.
If your child has an upcoming first birthday party or you've been invited to a baby's celebration and you don't know what to buy for a gift, this guide is designed to help you make a great choice that babies (and parents!) will love.
See Our Top 10 Favorite Gift Ideas a Baby's First Birthday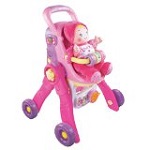 This fun toy is also great for learning. It is an excellent choice for a gift for a little girl. This stroller is very versatile, providing hours of play for a one year old. If the child is not yet walking, she can sit on the floor and play with the included baby doll in the high chair or bassinet, which is created by converting the stroller.
Once she's more mobile, she can push around the stroller and listen to fun sounds, phrases, and music. This stroller works with other 14-inch dolls, and it has a play tray with piano keys and other fun features that a baby will love.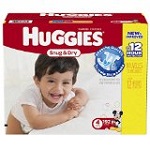 These top-selling diapers are sure to keep a baby clean and comfortable throughout the day, as well as overnight. Make sure that you purchase the correct size before buying. Economy plus packs are available that contain over 190 diapers, plenty to keep the parents stocked up for quite some time.
You can also throw in a package or two of Huggies wipes to make this a functional and useful gift for a one year old.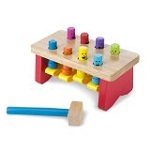 A child will love pounding the afternoon away on this sturdy pounding bench. The smiling pegs can be hit with the included mallet, and then put back in place so that they can be hit again. The pegs are not removable, so parents don't have to worry about pieces getting lost or choking hazards.
This gift is ideal for boys and girls, and best of all, it's extremely affordable.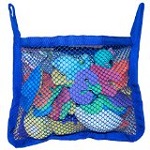 This bath toy organizer is simply the best, and it makes a great, functional gift for parents and children. The suction cups let it hang securely in place, keeping everything within arm's reach without getting in the way. It doesn't have metal parts, so you don't have to worry about rust.
The mesh design drains water and dries quickly. To make this gift extra special, purchase a few great bath toys, like rubber duckies and foam letters, to include with the gift.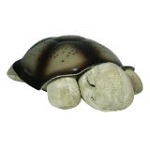 This toy pulls double-duty as a soft, snuggly stuffed animal and a night light. A child will love falling asleep with this great toy, which projects colored stars all around the room at night. There are three color options that are easily changed with the push of a button, and this toy comes in many cute designs.
Available options include Turtle, Lady Bug, Alligator, Bunny, Fox, and Pig. If the child falls asleep while watching the stars, parent's don't have to worry – the toy automatically shuts off to save battery power.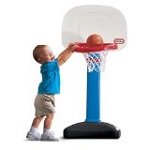 Give them a love of the game at an early age with this miniature basketball goal. This is a gift that can grow with a child, as it adjusts from 2 feet to 4 feet. The plastic base can be weighed down with sand so it's completely stable, and the oversized rim makes it easy for a child to make every shot.
This set can be used by boys and girls up to 5 years old. A junior-size basketball is included.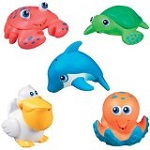 A baby will love splashing around in the tub with these cute bath toys. They are small, soft, and just the right size for a one year old. The fun characters include a crab, turtle, pelican, octopus, and dolphin. For even more fun in the bath, a 10-piece or 12-piece set are also available with additional colorful characters.
This is a great gift to pair with a bath organizer for a great time without all the mess.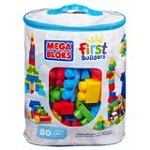 A child's imagination will run wild when building with this great set, which comes with 80 blocks in bright colors. He or she can build a tower, a house, a plane, a train, or anything that they can see in their imagination. This is a gift that can be enjoyed for years to come.
The blocks and storage bag are BPA-free and PVC-free for safety, and the blocks are large enough that they do not post a choking hazard for a small child.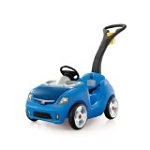 This toy is part wagon, part car, and all fun. Instead of a traditional wagon, this innovative design allows a parent to push a child around the house, in the yard, or even out and about on the town. The seat coverts into a table or flat bed, and it has many conveniences, including a large storage compartment, cup holders, and snack holders.
The steering wheel makes the child feel like he or she is driving a real car, while you can enjoy easy maneuverability, whisper quiet wheels, and a safety belt to keep your child protected while riding along.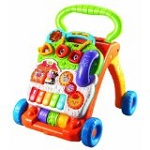 This walker grows along with a child. The removable play panel can sit on the floor while a younger child enjoys pressing buttons, playing with piano keys, answering the toy telephone, and playing with all of the other gadgets that make sounds and play music.
When a child is ready to begin walking, the play panel attaches to the sturdy walker, which is designed to easily roll over hard floors and carpet. This is a fun toy that helps with motor development skills, and it's ideal for a boy or girl.
How To Choose the Perfect Gift for the One Year Old In Your Life
Before you begin shopping, just remember a few key points. First of all, remember you don't have to spend a fortune. While you do what the child to have fun or get use out of his or her new gifts, the child will not remember this birthday in the future, so he won't remember that you spent $300 on a top-of-the-line battery-operated vehicle. As long as it is useful and age-appropriate, the cost does not matter.
Next, always consider necessities. If a parent says a child has too many toys, don't overload them with more. Instead, ask what they need or what the baby would like before you purchase something that they'll want to return or will never use
What Makes the Best First Birthday Gift?
Walk into any baby boutique or department store or look online, and the choices for baby items are extremely overwhelming. You may not know where to begin when choosing a gift. You want to purchase the right gift at the right price, so keep these considerations in mind before you try to buy the best first birthday gift.
Ask the parents
If the birthday gift is not for your child, ask the parents what they really need. Sure, the expensive toy seems like a great idea, but what if the child already has it? Ask the parents about what the child likes (whether it's board books or stuffed animals.) If you're purchasing for your own child, do a quick inventory of everything in the nursery.
You may want to purchase a ton of new outfits, but if the closet and dresser is overflowing, will the outfits even have the tags removed? You want to purchase something that will be used, whether it's a necessity or just something fun.
Consider the necessities
At just one year, a baby doesn't exactly have a set list of birthday gifts. Instead of purchasing a toy when a child has a full playroom full of unused toys, look for the necessities. This is not only something useful, but it's also helpful to the parents, cutting down on the expensive costs of raising a child. A jumbo package or economy box of diapers and wipes, sippy cups, and baby bath care products are all high on the list of necessities.
Clothing can also make a great gift. However, most party-goers will likely be buying current sizes. Think ahead for the next season and purchase larger sizes that the child will grow into.
Don't go all out
Even though a baby's first birthday is memorable, you don't have to spend a ton of money for a gift that may or may not go over well. Set a budget and stick to it when you shop for the gift. Instead of buying one large, expensive toy, you can make up a basket of smaller, inexpensive toys so the baby can choose his or her favorite.
Instead of expensive designer clothing that may only be worn once or twice, purchase a few less expensive outfits or pajamas.
Think about the future
If your child (or the child of a friend or relative) is about to turn one and has just about everything he or she already needs, plan ahead for the future. As mentioned earlier, you can buy larger clothing (make sure they are appropriate for the season) that the child will be able to wear in several months.
If the child has lots of indoor and outdoor toys, purchase one that is designed for slightly older children that can be used at a later time. Remember, though, if there are age recommendations, please let the parents know (or be aware of this fact yourself if you are purchasing for your own child.) You don't want to give a gift that could potentially be dangerous for the baby.
Types of Gifts To Consider
Outdoor toys
Babies spend a lot of their time indoors, but as they get older, parents let them venture outside more and explore the world around them. Consider getting some age-appropriate outdoor toys, including walkers designed to roll over grass and sidewalks or miniature vehicles that roll around the yard with the push of a pedal.
Some gifts, like battery-operated vehicles, may be too advanced for a baby at this stage, but within the next year, they will be zooming up and down the yard without a care in the world.
Developmental toys
At this age, babies are becoming more and more curious, and it's a crucial time for them to work on developmental skills. Instead of just buying any old toy, consider purchasing an educational toy that helps them learn.
This includes large building blocks (avoid smaller blocks like LEGOs as they pose a choking hazard), shape-sorting toys, and large wooden puzzles that only have a few pieces.
Bath care items
Taking a bath is more fun for babies (and easier for parents) when there are plenty of bath products on hand. Make a basket (or choose a pre-made one) that has lotions, diaper rash cream, and baby body wash. Throw in a few washcloths and soft, fluffy towels, and you have a great first birthday gift.
You can also look for fun bath toys like rubber duckies, bath crayons, and fun sponges.
Books
Encourage a love of reading with an assortment of board books appropriate for a small child. Board books have thick, cardboard pages that can't be ripped up. Parents can read them to the child during the day, before a nap, or at bedtime. This will help encourage speech and learning.
Pick a few different types of books. You can even throw in a blanket and stuffed animal to make this an extra special gift.
Conclusion
A first birthday is so special because it celebrates a child's first year of milestones and development. If you're planning a party for your one year old or you're attending a party for a child you know, make sure that you make the day even more exciting and special by bringing along the perfect gift.