Some links on this page are monetized by affiliate programs - see disclosure for details.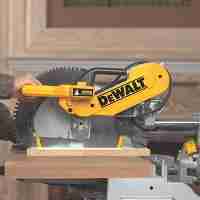 If you've ever done a DIY project at home, you know just how complicated working with wood can be. Whether you're making custom picture frames to hang on your walls or to give as gifts, or you're replacing the old, worn wood trim throughout your house to save a few bucks on a contractor, you have to have the right woodworking tools to get the job done right.
A manual saw slices through wood, but it takes too much effort, and it may result in jagged, crooked cuts. Instead of doing all of the hard work yourself with a manual saw, consider investing in a chop saw that does the work for you.
What is a Chop Saw?
A chop saw is a type of power tool that is used to cut through wood and other materials, depending upon the type you use. It has a blade that sits at 90 degrees and can be lowered to cut through anything pressed against the fence, which delivers even, precise cutting.
These saws are generally used for crosscutting at an angle, and it's commonly used for trim and molding, as well as furniture making and other applications were cut made at a precise angle is required.
What are the Advantages of a Owning a Quality Saw?
If you need angled cuts, using a manual saw is just too difficult and can result in wasted time and materials. For precision, a high end chop saw gives you the perfect cut you need in far less time. Also, you don't have to worry about sawing back and forth, as the rotating circular blade does all of the work for you.
Whether you are a woodworker by trade or you just have a few home improvements you don't want to sub out to a contractor, one of these power tools is a great item to have in your truck, workshop, or garage.
What are the Different Types?
Using the right type of saw for your project is necessary for two reasons. First, you want to choose the proper tool in order to get the proper cut, saving you time and money on materials. Next, using improper tools can result in a very dangerous injury. If you're considering purchasing one of these saws, you need to know more about the two types you'll encounter in order to make the smartest purchasing decision.
Miter saw – This is the type of saw that anyone is cutting wood should purchase. This makes it easy to cut angled, or mitered, edges for woodworking. These are small, portable, and use a circular blade with a diameter of between 8 to 12 inches.
Abrasive saw – These are best used for cutting materials that are harder than wood. They follow the same basic design, only instead of a blade, they use an abrasive disc that cuts through materials including metal and ceramic.
Which Models are the Best on the Market in 2015?
Hitachi C10FCE2 15-Amp 10-inch Single Bevel Compound Miter Saw – You don't have to spend thousands of dollars for a great saw, especially if you only plan to use it occasionally. If you just want a saw for a few household projects, this one is strong enough for most DIY jobs and affordable enough for most budgets. It has a lot of the features found on the more expensive saws, including a powerful motor and built-in clamping system.
Makita LC1230 12-Inch Metal Cutting Saw – If you want a little extra power and more convenience features that budget saws, this is the right product for you. This powerful saw has a strong motor, carbide-tipped blade, quick release vise, and other great features that make working easier than ever before.
DEWALT DWS780 12-Inch Double Bevel Sliding Compound Miter Saw – If you're in the construction or woodworking industry, you know how important it is to always have the right tool for the job. This saw is designed to cut all day without hesitation, and it boasts one of the sturdiest designs in the industry and standout features like a built-in LED light and an alignment system that doesn't have to be recalibrated.
Features to Evaluate
If you have decided that this type of saw is something you want to add to your collection of power tools, it's important that you know about the product your purchase before you invest your money. Now that you know about the different types and a few brands on the market, it's time to really look at the fine details to see what makes each saw different, so you won't waste time picking a tool that just doesn't work for you. These four features are a great jumping-off point for picking your new tool.
Price
Price is important for two different reasons. First, you don't want to purchase something that you just can't afford. You do need to keep a budget in the forefront of your mind. However, you should not let price solely influence your purchasing decision. If you need a heavy-duty piece of equipment, you won't be satisfied with a budget saw that's meant for occasional use. Consider the price of each product, but don't let it be the deciding factor. Consider it along with all other features to ensure you have a tool you'll use.
Warranty
If you invest money in something, you want to get good use out of it. You don't want something to break right out of the box, or fail long before it should. To avoid this annoying and potentially expensive problem, look for properties covered with a warranty that will protect your purchase from defects that could cause problems prematurely.
Type of Blade
The type of blade is important because if you want to cut through very hard woods or other tough materials, you don't want your blade to break, leading to expensive replacements. Check out what the blade is made of to ensure you don't have to immediately purchase other blades before use.
Best Uses
You need the right tool for the job, so make sure the saw you purchase is prepared to take on your work, whether it's cutting a piece of trim or sawing through metal. Remember, you need to purchase the right equipment to avoid injuring yourself or breaking your saw, which is not covered by a manufacturer's warranty.
Price
Hitachi C10FCE2
It doesn't get much cheaper than this. This is one of the least expensive saws of this type by a trusted brand in the industry.
Makita LC1230
This is a mid-priced saw that will set you back more than the Hitachi, but less than the Dewalt.
DEWALT DWS780
This is one of the more expensive saws available, and the highest priced in our group.
Warranty
Hitachi C10FCE2
This product is covered by Hitachi's standard 5-year warranty.
Makita LC1230
This product comes backed with a 1-year warranty against defects, as well as a 30-day replacement or refund guarantee.
DEWALT DWS780
This has one of the best warranties you'll find, which is for three years. It also has a 1-year service contract, and a 90-day money back guarantee.
Type of Blade
Hitachi C10FCE2
A 10-inch TCT saw blade is included with your purchase.
Makita LC1230
This has a 12-inch carbide-tipped blade that is strong and durable.
DEWALT DWS780
This comes with a 12-inch carbide blade that is ideal for most uses.
Best Uses
Hitachi C10FCE2
A variety of things can be cut with this saw, including plywood, hardwood, and trim pieces including aluminum.
Makita LC1230
This model easily cuts through conduit, light pipe, tubing, angle iron, wood, and much more.
DEWALT DWS780
This is a very versatile saw that can be used for all types of wood and is an excellent tool for framers, carpenters, installers, and more.
Our Chop Saw Reviews
Update your workshop, even on a budget, with this saw from Hitachi. This budget tool is perfect for occasional use, and it is ideal for cutting through plywood, hardwood, aluminum panels, hard board, and more. This is a great choice if you want to update the trim in your home or have a few DIY projects you'd like to tackle. It performs crosscuts and miters with ease, has a 45 degree bevel and positive miter stops.
This is a great starter saw for woodworkers, framers, and trim installers. It is very lightweight and portable, it comes with Hitachi's 5-year warranty, and it includes everything to start right out of the box. This product comes with a dust bag for easy cleanup, a TCT blade, extended fence, dust bag, box wrench, and vise assembly.
If you have some extra money to spend and want to get a more powerful product, this model from Makita is one to add to your list. This saw is designed to cut through metal with ease, and it can cut many materials including tubing, light pipe, and conduit. It boasts a powerful 15-amp motor, miter cuts at 0 to 45 degrees, and easily cuts through metal better than saws that use abrasive discs.
Other standout features include a quick release vise, a built-in socket wreck for easy blade removal and changing, and a unique design that prevents accidental startups. This model cuts cleanly and burr-free, ideal for anyone who is working with metal and needs perfect cuts. It is extremely stable and sturdy, and it has a collection tray for shavings to keep your work area clean.
If you make a living off of working with wood, you need something that's ready to withstand years of daily use. Enter the DWS780 from DEWALT, a saw that can be used for the light jobs but is tough enough to take on the heavy-duty jobs as well. This model comes with a powerful 15-amp motor and a carbide blade to cut easily through just about anything, whether it's a piece of wood trim or lumber to build a deck.
Other features include a 0 to 49 degree bevel, a miter plate with 10 positive stops, an alignment system that does not need to be calibrated like most lasers, and a tough and rugged design. It comes with a dust bag for easy cleanup, a blade wrench, and material clamp. This is also backed with one of the best warranties you'll find in the industry.
Conclusion
For your next project, put away your old manual saw and pull out a new chop saw that is more powerful, accurate, and efficient to use. If you work with wood for a living or you frequently find yourself involved in DIY projects in your own home, the DEWALT DWS780 is a saw that you should consider adding to your shop. This saw has a powerful motor so it's easy to use for any project, it has an exceptional warranty, and it's a reliable tool you'll enjoy using for years to come.