Some links on this page are monetized by affiliate programs - see disclosure for details.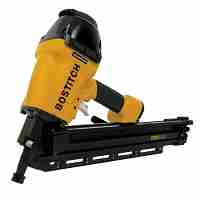 If you're a handyman or a contractor, you might understand the value of having a reliable, high quality nailer on the job.
And if you're a married man, you're probably familiar with those, "honey-do projects". "Honey, do this; honey, do that. Repair the deck, fix the siding, put up a fence. Tote that lumber, swing that hammer, pound those nails."
But why swing a hammer when you could automate the process with a framing nailer? Save your arm, and your money, and reference this guide before making your next power tool purchase.
Compare: The 10 Top Rated Framing Nailers of 2017

A Guide To The Best Framing Nailers
A framing nailer is a nail gun used for larger construction projects. Its power drives nails into wood with speed and ease. Usually, the nails are collated — strung together — with wire, plastic, or paper, although some models feature different methods of delivering nails to the gun.
You might already have a brad nailer or a finishing nailer in your toolkit, but you wouldn't use either to nail on siding or to frame out a deck — the nails and nail diameters would be too large.
What are the different types?
Framing nailers can be powered by gas or by air:
Gas powered nailers use a fuel rod and a battery to create an actual explosion which drives the nail into the wood.
Air-powered framing nailers run off an air compressor and are better and more reliable for larger projects.
What are the advantages of owning a framing nailer?
Let's face it — swinging a hammer is a drag, and it can leave you with sore muscles or tendinitis. If you tackle lots of home=improvement projects, a framing nailer can save you time, energy, and pain. Redoing a house with plaster walls? Hammering sends repeated shock waves through the walls that can loosen the plaster. A framing nailer uses fewer blows to do more work, which means less stress on walls.
You'll also want one if you do a lot of overhead work where swinging a hammer can be awkward, if not close to impossible.
Who are the Contenders for Best Framing Nail Gun on the Market?
Freeman PFR 2190 21-degree Full Head – Lightweight magnesium and anodized aluminum construction, a one-piece hardened steel driver blade, adjustable exhaust, and interchangeable triggers make this an attractive option.
Porter-Cable FR 350B 31/2″ Full Round – With its tool-free adjustable depth of drive, good ergonomics, and selectable trigger, the Porter-Cable nailer offers features similar to pricier models.
Bostitch F21PL Round Head 11/2″ to 31/2″ – If you live for do construction in a hurricane or earthquake zone, this is the framing nailer you'll need. The F21PL features two quick-change nosepieces, one for framing and one for metal connectors, and 1,050 inch pounds of driving power.
Considerations for Choosing the Best Framing Nailer
These guns work in environments where unintentional abuse is the norm — they'll be dropped, kicked, possibly rained on, or even rolled over by a truck tire. You may need to change the diameter and length of nails frequently. These three models are all pneumatic, so your air compressor must be up to the job. That's why you'll want to pay attention to these points.
Operating pressure rating
Know what your compressor can do, and then look at the pressure ratings for these tools. Can your compressor handle the PSI? If not, better add the price of a new compressor to the price of the framing nailer.
Warranty
Remember, unintentional abuse. All these boast sturdy construction, but if something breaks, you'll want to know what's covered and for how long.
Nail size, diameter, and trigger
All nails are not created equal, and that may be especially true for collated nails. Will you be able to make a quick run to your local hardware store, or will you need to order special nails online? You'll also want to know about the sequential or contact trigger action, depending on how you prefer to work. All models reviewed use full round heads.
Nice touches
It's the little things that count, and sometimes the details sell the product.
Operating pressure rating
Freeman PFR 2190 21-degree Full Head
Product information for the Freeman model suggests optimum pressure of 60 to 115 psi, although one user noted that the unit needed 95 psi to fire consistently. Another noted a definite kickback at 100 psi. Other users pointed out that the air hose connector is next to the nail holder, which could make things awkward.
Porter-Cable FR 350B 31/2″ Full Round
Porter-Cable didn't include optimum air pressure in the product information for this unit, but one user noted he needed 110 to 120 psi to keep this model working consistently.
Bostitch F21PL Round Head 11/2″ to 31/2
No information on optimum operating pressure was included in Bostitch's product information, either, although the nailer "works with a standard air compressor." Perhaps more important is that this model doesn't include a pneumatic fitting, so be sure you have one on hand. A related problem: The handle can act as an air reservoir, so be careful not to get hit with a 100-psi blast when disconnecting it.
Warranty
Freeman PFR 2190 21-degree Full Head
Freeman offers a seven-year limited warranty on parts and labor. Customers who needed to have parts replaced felt the customer support was excellent. A PDF of the warranty is available online.
Porter-Cable FR 350B 31/2″ Full Round
No information on the length of the warranty is available from the Porter-Cable product information, but you can request a copy of the warranty online.
Bostitch F21PL Round Head 11/2″ to 31/2″
You can request a copy of the seven-year limited warranty online.
Nail size, diameter, and trigger
Freeman
The Freeman framing nailer shoots 2″ to 3 1/2″ 21-degree nails. Freeman provides two separate triggers for single or contact firing. Some users found this annoying, but most recognized it as a safety feature. They praised the gun's smooth trigger action.
Porter-Cable
Porter-Cable product information says this model has the power to drive up to 3 1/2″ by 0.131″ nails into engineered lumber, so don't think you're stuck with one length. Be careful, though — information on Amazon says this unit takes 22-degree nails. That's wrong; it's a 21-degree axis. The Porter-Cable model features a selectable trigger with a lockout for both modes. Several users commented that this unit didn't want to fire unless it was square to the work, which could cause problems doing toe nailing or working in cramped spaces.
Bostitch
This unit has the widest range of nail sizes, and it also offers the option of changing heads to put in metal connectors, something you'll need if you're building in a hurricane or earthquake zone. Forewarned is forearmed, though — many users couldn't find nails to fit the Bostitch and had to order them online. Several people mentioned that the trigger on this model is "finicky."
Nice touches
Freeman
This model has a 360-degree adjustable exhaust. That means you don't have to eat oily air. Users found the weight balance good and praised the lightweight magnesium body. Instructions were easy to understand. Several mentioned that a rafter hook would be a welcome addition, however.
Porter-Cable
Good ergonomics, a handy hanger, tool-free adjustable depth of drive, and an adjustable exhaust made this framing nailer a favorite among users.
Bostitch
Sequential and bump triggers, a rafter hook, easy-to-change diameter size, simple and quick depth adjustment, quick-change nose pieces to take it from framer to metal connector, and all the driving power you could ask for. The only thing left to ask for is a case.
Conclusion: Our Framing Nailer Reviews Are In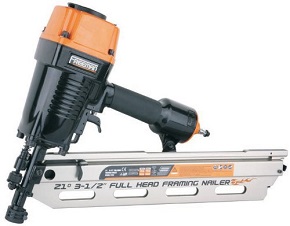 The only consistent complaint about the Freeman framing nailer: It has a safety feature that stops nailing when there are three or four nails left. There's an easy solution, though. Just reload and use the extras as regular nails. Some users found toe nailing difficult until they learned they could remove the guard. If you have problems with the nailing head, however, you can get a replacement only from the parent company.
On the whole, though, users couldn't say enough good about this model. It worked well with a variety of nail sizes, it was easy to shoot, didn't jam even after several thousand nails, and all the users felt the customer support was excellent.
Pros:
Good weight and balance, easy-to-understand instructions, great customer support, doesn't jam.
Cons:
Consistently stops before all nails in the collation are used, toe nailing can be a pain, and the nailing head may be difficult to replace.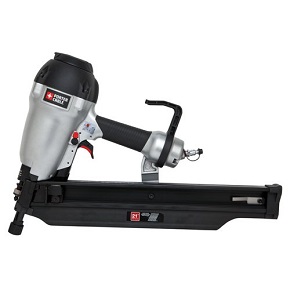 Users found this gun easy to load, easy to unjam, and with plenty of power to drive 3″ nails. Good ergonomics, good safety features, an adjustable exhaust, and a light weight rounded out the FR305B's good points.
The only problem consistently noted was the gun's reluctance to fire unless it was square to the work, and a few users noted that the rounded nose made toe nailing difficult. The Porter-Cable model may also need more psi from the air compressor than other models to do its job.
Pros:
Easy to load, easy to unjam, with good ergonomics and plenty of safety features.
Cons:
Gun may be difficult to use in awkward or cramped spaces.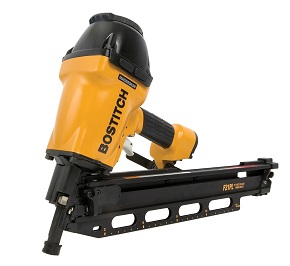 What's not to like? A framing nailer that also works as a metal connector, an adjustable depth of drive that's simple and quick to use, lightweight and well-balanced, plenty of power — that's the F21PL. Users found the two triggers especially good if kids might want to watch Dad work. Others praised the great product support and good toe nailing.
If you're working in a hurricane or earthquake zone, this is the framing nailer you need. It's recommended for use with HurriQuake nails.
The biggest complaint concerned the difficulty in finding nails that would work in this model. While some users had no problem finding them at a big-box hardware store, others had to resort to ordering them online. Other users were surprised by the lack of a pneumatic fitting. For professionals or serious hobbyists, this shouldn't be a problem; just be sure to have one on hand.
This unit has enough power to make bits of plastic from the nail collations fly everywhere. Be sure to use safety glasses.
Users also found this unit very loud, and that it was bulky in tight spaces. A few users noticed sparks coming from the driver while framing, but at least one mentioned this problem went away after some use. Most users also felt the user's manual was confusing and useless.
Pros:
Plenty of power, easy to use adjustments for nail diameter and drive depth, easy toe nailing, and great product support.
Cons:
Nails are hard to find and may need to be ordered online. The unit doesn't come with a pneumatic fitting, and the unit is loud and can have a kick.
A note on safety
Children like to watch Dad and Mom work, so make sure they use the same safety precautions you do. Get them their own safety glasses (some big-box hardware stores give them out from time to time), ear protection, and appropriate clothing. A little safety goes a long way.
No matter what your big project entails, any one of these three framing nailers can help cut down your work time and aches and pains while giving you the professional look and quality you want.