Some links on this page are monetized by affiliate programs - see disclosure for details.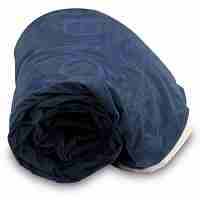 There are certain times in life when you just need an extra bed – something portable, easy to setup, and doesn't take up a lot of space. Maybe you're out in the wildness, sleeping under the stars in a tent or you have a guest staying at your home but you don't have a guest bedroom. You want to sleep in comfort or provide your overnight guests with a nice place to sleep, but setting up a regular bed in these situations just doesn't make sense – it may take hours to set up the bed, it takes up a lot of space, and you would have to pull it down and have plenty of storage space until it needs to be used again.
Plus, toting a bed frame and mattress out into the woods just doesn't make sense. When you need a comfortable place to sleep that it's easy to set up and takes up very little storage space, you might consider investing in an air mattress.
What is an Air Mattress?
An air mattress is a portable bed that is typically made of vinyl. When it is not inflated, it can be folded up for easy storage. However, when you hook it up to an air pump and then seal the valve when it is full of air, it provides a comfortable sleeping spot. These beds are lightweight, portable, and are ideal for all situations, whether you need an extra bed unexpectedly at your home or you're camping in a tent and don't want to sleep on the hard ground.
These beds are available in a variety of sizes, from a single size that fits one adult or child to a queen size bed that a couple can sleep in comfortably.
What are the different types of Air Mattresses?
No matter what you need an air mattress for, there is one available for you. There are three main types of air mattresses to choose from, so to begin planning your purchase, determine which one will most suit your needs.
• Camping air mattresses – These mattresses are typically quite basic. They are usually more lightweight and thinner than other air mattresses. Most even come with a carrying case to make it easy to tote to a campsite. These air mattresses come in a variety of sizes, so pick one that will best fit in your tent.
• Household air beds – These air beds are ideal for when a guest stays the night in your home. These may have a better design than camping air mattresses, including tops that are more padded and similar to pillowtop mattresses on a traditional bed. These may be placed on the floor, although some come with lightweight metal frames that replicate traditional bed frames.
• Permanent air mattresses – There are also air mattresses that you can use on your own bed frame. These combine air pockets with foam and other materials to create a comfortable sleeping surface every night.
• Air Mattress for kids – These are small form factor air beds built just the right size to be small, light, and portable for younger children.
What are the Advantages of Owning an Air Mattress?
An air mattress always provides you with extra sleeping space. Whether you have unexpected guests or you're trekking out in the wilderness but still want some of the comforts of home, an air mattress is lightweight, portable, and very easy to set up. There are even self-inflating options available that do all of the work for you and don't require a separate air pump, which is great if you're in the outdoors and loaded down with supplies.
Air mattresses are very comfortable, as well, so if you can't sleep on the hard ground or floor, this is a great option that won't leave you with tons of aches and pains in the morning.
Who are the contenders for Best Air Mattress?
Intex Pillow Rest Raised Airbed with Built-in Pillow and Electric Pump – This twin size air mattress is a great size for your tent or for a single guest in your home. You can even take it along with you on vacation if you don't have enough beds in your hotel room so everyone can sleep and relax in comfort. It comes with a built-in pump for your convenience, so you'll never leave yours at home, and it has a built-in pillow so you don't have to worry about packing one that just slides off the bed. This mattress is waterproof, sturdy, comfortable, and very affordable.
SoundAsleep Dream Series Air Mattress with ComfortCoil Technology & Internal High Capacity Pump – You'll never believe you're on an air mattress when you're lounging on this comfortable bed. The internal air coils provide you with a comfortable and firm sleeping surface, and you don't have to worry about it going flat while you sleep. This has a built-in air pump that is activated with the push of a button. The bottom of this mattress grips the floor, so you don't have to worry about it sliding, and the large queen size is roomy enough for two.
Serta EZ Air Mattress with Never Flat Pump – Serta has always been a leader in the mattress industry, and their top-quality air mattresses are no exception. It has a pump system that keeps your mattress always full of air without disturbing your sleep. You can adjust the bed to your own comfort level, whether you like it hard or soft. It also has a sturdy frame so it feels more like a real bed than an air mattress.
Considerations for Choosing the Best Air Mattress
If you're ready to purchase an air mattress and you've decided what type will work best for your household, there are a few things you should consider before making your final purchase. By taking the extra time to figure out what you should be looking for in a quality air mattress, you're sure to get a great product that you can enjoy using for years to come.
Size
How do you plan on using the mattress? If you're using it for yourself on your camping expeditions, a twin size mattress might do the trick, as long as you aren't too tall and you meet the weight limits. In most cases, you'll want to purchase a full or queen mattress that comfortably sleeps two people.
Weight limit
Air mattresses have weight limits, and the closer you get to this weight limit, the more chances there are that it will go flat during extended use. Look for a high-quality mattress that has a higher weight limit, especially if more than one person plans on using the mattress at one time.
Inflation time
You don't want to have to wait a long time for your mattress to be ready, especially if you're very tired. There are mattresses that easily inflate with the push of a button in just minutes, and these are extremely convenient, especially when all you want to do is lie down and go to sleep.
Size
Intex Pillow Rest Raised Airbed
This bed is available in a twin size that is ideal for one adult or child. Additional larger sizes of this same model are also available for a higher price.
SoundAsleep Dream Series
This is a queen size air bed that is perfect for one or two people to sleep comfortably.
Serta EZ Air Mattress
One or two people can dream the night away in this queen size air mattress.
Weight limit
Intex Pillow Rest Raised Airbed
The weight limit on this air mattress is 300 pounds.
SoundAsleep Dream Series Air Mattress
This bed holds up to 500 pounds, so it's strong enough to hold two people.
Serta EZ Air Mattress
The weight limit recommended for this mattress is 500 pounds.
Inflation time
Intex Pillow Rest Raised Airbed
This mattress is equipped with a high-powered pump that fully inflates the bed in approximately three minutes.
SoundAsleep Dream Series Air Mattress
This mattress is fully inflated and firm in just about four minutes.
Serta EZ Air Mattress
This air bed inflates and deflates in less than four minutes.
Conclusion: Our Air Mattress Reviews Are In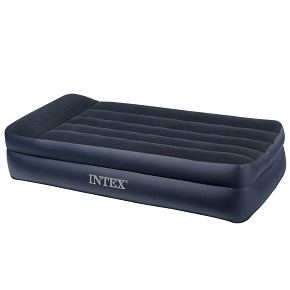 If you want an air mattress that's affordable but you don't want to settle for one that's uncomfortable, this one combines comfort with a great price. This air mattress is ideal for yourself or one person who needs a comfy place to sleep. It boasts great features found in more expensive beds, including a built-in pump that has this mattress ready to use in just three minutes.
This mattress is waterproof, and it has vinyl beams so it's nice and sturdy. You won't even need a pillow, as this mattress has one built right in. It deflates quickly and easily and comes with a bag for storage and portability.
Pros:
It is inexpensive. It is comfortable. It sits higher than most air mattresses at 17 ½ inches for increased comfort. It has customizable comfort levels.
Cons:
It only has a 90-day warranty. It loses air through the night and has no auto-inflate option. The seams come apart with extended use.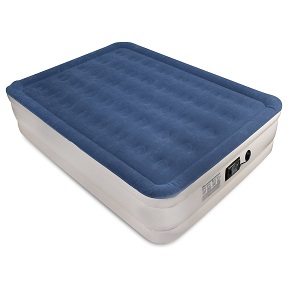 Let's face it – some air mattresses aren't very comfortable. If you want an experience close to your comfortable bed at home that won't break the bank, this mattress is a great choice. Its innovative design features 40 internal coils that provide you with the comfort and support you need. You won't wake up on the floor when you sleep on this mattress!
Other notable features of this bed include a no-slip grip on the bottom to prevent sliding across hard floors, puncture-resistant material, cord storage for the built-in pump, and a waterproof design. With a 19" design, it's taller than less expensive mattresses to provide you with the best sleeping outside of your regular bed.
Pros:
The pump works quickly and is quieter than other pumps. It inflates and deflates in just four minutes. It comes with a storage/travel bag. It is made with durable materials so you won't have to worry about holes and rips. It is backed with a 1-year warranty. It only loses a small amount of air with extended overnight use.
Cons:
It is a bit expensive. It is slightly smaller than a traditional queen size mattress.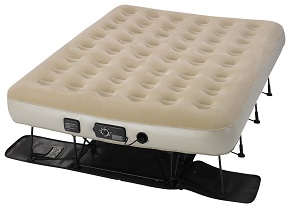 Impress your guests with this comfortable bed that mimics the look and feel of a real bed with its firm, supportive mattress and sturdy frame that keeps the bed off of the floor. This high-end bed is loaded with everything you could ever want in an air mattress, including dual pumps. One pump is designed to inflate the mattress before use, while the other measures your set comfort level throughout the night and silently adds or removes air as needed.
You can choose from three comfort levels, Plush, Medium, and Firm, so you can have a great night's rest. It's easy to set up – all you do is plug it in, turn it on, and it does all of the work for you in just minutes. It comes with a sturdy frame to make it more like a traditional bed, and it comes with a duffle bag for easy storage.
Pros:
It inflates in just minutes. It has a second pump that silently monitors and adjusts the bed to your set comfort level. There are three comfort levels. It has 48 circular coils for total comfort. It has a rolling storage bag. The flocked top is comfortable and holds sheets perfectly in place. It has a great 2-year limited warranty.
Cons:
It is very heavy. It is more expensive than other air mattresses. Over time, it may develop leaks at the seams.
Closing Thoughts
An air mattress is a convenient item to have in your household. Whether you have to sleep in another room because you've painted, you have family in town staying at your home, or you want to sleep outdoors under the stars without straining your back, an air mattress is just what you need for any situation where an extra sleeping surface is needed. Even though an air mattress isn't exactly like your real bed, the Serta EZ Air Mattress with Never Flat Pump is an excellent choice.
Despite the higher price tag, it's a top-quality air mattress with frame that is as close as you can get to a regular bed only with the added convenience of being able to be easily stored when not in use. This mattress is the one you should choose if you want to get a restful sleep outside of your own bed.