Some links on this page are monetized by affiliate programs - see disclosure for details.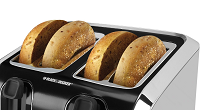 If you often cook breakfast for your family, you know how much of a hassle making toast can be. Sure, using a toaster is easy, but with just two slices at a time being made, it can take quite a while to make multiple pieces to fill up your entire family. Not only do you have to keep switching out toasted pieces, but with all of the waiting, some of your toast gets cold.
If you enjoy the convenience of your toaster but you want to be able to work more quickly while preparing breakfast, you should consider upgrading to a four slice model.
For more toaster comparisons, be sure also to check out our guide for Two Slice Toasters.
Shopping for a Four Slice Toaster
A four slice toaster is a toaster that has four slots as opposed to the traditional two found on most toasters. This allows you to quickly and easily brown four pieces of toast, two sliced bagels, or two sliced English muffins. A four slice toaster works just like any other toaster – simply add your bread, set your browning level, push down the lever, and wait for it to pop back up.
This simple process allows you to enjoy toasted bread for sandwiches or just with butter and jelly as a side for your morning breakfast, frozen waffles and pastries, bagels, English muffins, and anything else that can be toasted without having to load just two pieces with ever use.
What are the different types of Four Slice Toasters?
When shopping for toasters, you'll notice that there are two main types to choose from, traditional toasters and toaster ovens. There are a few differences between the two, so it's important that you're aware of what both have to offer (as well as potential drawbacks) so you can purchase the right toaster for your kitchen.
Traditional toasters
These toasters allow you to insert your bread, bagel, or English muffin vertically. These are the easiest types of toasters to use, and they typically take up less counter space, so they're ideal for smaller kitchens. The one drawback, however, is that you can only insert one smaller item into each slot, and you can't use it with a combination of ingredients, like trying to melt cheese on toast.
Toaster ovens
Toaster ovens function just like a traditional toaster. However, you can also use these ovens to melt cheese on sandwiches or burgers or put other, larger items inside that need to be heated or toasted. While toaster ovens are more versatile, they take up much more counter space than other toasters, and ones that are equipped with multiple functions may be far more expensive as well.
What are the Advantages of Owning a Four Slice Toaster?
The biggest advantage of owning a four slice toaster is that you can conveniently toast bread without having to use your oven. Toasters use less power and they're much quicker. You won't have to worry about preheating a toaster – it's ready to use immediately. Another advantage of owning a toaster is that you can set the browning level to your preferred setting for perfect toast every time.
You can continue making other items or setting the table while your toast cooks, unlike a traditional range that needs to be watched to avoid burning your toast. Finally, a four slice toaster is advantageous over a two slice toaster if you have multiple people waiting to use the small appliance. This is great for rushed mornings when everyone is trying to get something to eat before work or school.
Who are the contenders for Best Four Slice Toaster?
Black & Decker TR1400SB 4-Slice Toaster – If you're looking for a basic toaster that's affordable, this is the model you need for your kitchen. Its black and stainless finish give it a modern look, perfect for any kitchen, and it has dual control panels. If someone prefers darker toast while you just want yours slightly browned, it's easy to do with these separate panels. The controls are easy to use, and it comes backed with a warranty.
West Bend TEM4500W Egg and Muffin Toaster – This is a great multi-function toaster that can help you make an entire breakfast. Not only will you get four slots for your toast or bagels, but there's also an attached egg cooker that cooks your eggs to perfection, as well as a meat try for keeping your cooked meats warm while you finish up the rest of your breakfast. This model features dual controls, multiple settings for darkness, and a reasonable price tag.
Cuisinart CPT-440 Touch to Toast Leverless 4-Slice Toaster – When nothing less than the best will do, this toaster from Cuisinart offers everything you've been looking for. Its stainless design will look great in your kitchen, and you don't even have to push down a lever. You can get your food toasted just how you like it with the LCD controls, and it is backed with one of the best warranties in the business.
Considerations for Choosing the Best Four Slice Toaster
If you've ever looked at toasters online or in a department store, you know that there are hundreds of models to choose from. In order to narrow down your options, there are four key features that you should consider for every toaster that you think you may purchase. These four considerations will help ensure you get the right toaster at just the right price.
Warranty
If you make a purchase, especially a more expensive one, you want to ensure your product is guaranteed by the manufacturer. Having a warranty means that you're protected from potential defects in craftsmanship which can cause your product to fail prematurely. With a warranty, you can have your item fixed or replaced with no additional costs, so you can rest easy knowing you've made a solid purchase.
Finish
Most people leave their toasters sitting out on the counter, so you want to make sure that it complements your paint colors, countertops, and even your appliances. Buying a finish that matches your décor makes your kitchen look more stylish, all while you have a functional small appliance right within reach at any time.
Additional options
If you just want to toast your bread, you will probably be satisfied with a very basic toaster. However, the latest models do more than ever, including completely defrosting frozen breads, offering multiple toasting options, and may even have built-in cookers for items other than bread.
Price
Price should always be a consideration, but it shouldn't be the main thing you look at when you make a purchase. Consider all other features as well. You don't want to simply buy the most inexpensive model if you want multiple features and a very stylish design. You also don't need to spend additional money if you don't want a lot of complicated features. Consider what you want in your toaster, then budget accordingly to meet those needs.
Warranty
Black & Decker TR1400SB 4-Slice Toaster
This model comes backed with a 2-year limited warranty direct from the manufacturer that protects against manufacturer's defects.
West Bend TEM4500W Egg and Muffin Toaster
This multi-function toaster comes with a 1-year limited warranty from the manufacturer.
Cuisinart CPT-440 Touch to Toast Leverless 4-Slice Toaster
Your purchase is backed with a 3-year manufacturer's warranty from Cuisinart.
Finish
Black & Decker TR1400SB 4-Slice Toaster
This toaster is available in a black and silver finish that coordinates beautifully with almost every countertop, appliance, and color scheme out there.
West Bend TEM4500W Egg and Muffin Toaster
This toaster is available in black, which will complement the colors of most kitchens.
Cuisinart CPT-440 Touch to Toast Leverless 4-Slice Toaster
With its stainless steel housing and blue backlit displays, this toaster has a very sleek look that looks great in modern kitchens.
Additional options
Black & Decker TR1400SB 4-Slice Toaster
This has several functions available, including a bagel toasting option, defrost setting, and reheat.
West Bend TEM4500W Egg and Muffin Toaster
In addition to toasting, this great product also has a cooker for eggs, as well as a meat heating tray, making it one of the most functional toasters available.
Cuisinart CPT-440 Touch to Toast Leverless 4-Slice Toaster
This toaster is equipped with a bagel setting, reheating function, and defrost option to perfectly toast each and every time.
Price
Black & Decker TR1400SB 4-Slice Toaster
This is certainly one of the most affordable four slice toasters currently on the market.
West Bend TEM4500W Egg and Muffin Toaster
This toaster sells for right around the mid-range level when compared with other toasters.
Cuisinart CPT-440 Touch to Toast Leverless 4-Slice Toaster
This toaster retails at the more expensive end of the line when compared with other products.
Conclusion: Our Four Slice Toaster Reviews Are In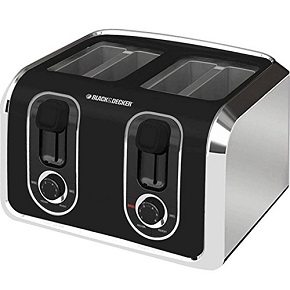 You'll be able to cut your toasting time in half with this four slice toaster from Black & Decker. Although it's one of the least expensive models available, it offers plenty of style and function for your kitchen. You can choose from six different browning levels to make sure your toast is just right. If someone else in the household likes theirs toasted differently, not to worry – this model has dual control panels that can be set independently.
The extra-wide slots mean that you no longer have to force your thicker breads or bagels in, and there's even a bagel toasting option, along with a defrost and reheat option. The controls are easy to use and the sleek black and silver finish looks modern without going overboard. If you've changed your mind, there's also a built-in cancel function that ejects your food.
Pros:
The removable crumb tray makes cleanup easier than ever. It has two control panels for different settings The slots are very wide. It has a retractable cord for storage. The high-lift carriage helps you avoid burns. It comes with a warranty. It is very affordable.
Cons:
It is very slow to toast. It feels a bit flimsy. On some settings, it toasts unevenly.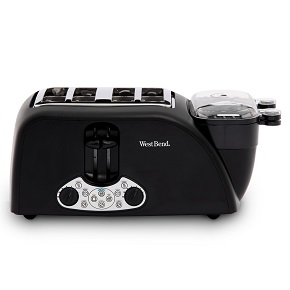 Make a full breakfast with just one small appliance when you purchase this toaster from West Bend. More than just a toaster, this affordable model also provides you with cooking space to make poached or scrambled eggs without the hassle and mess of using your range. If you want to heat up pre-cooked sausage or bacon that's been in the fridge or you want to keep the meat you just cooked warm until all food is prepared, there is a built-in meat tray for your convenience. There is also am egg basket that allows you to hard boil up to eight eggs at once.
You also have four slots to toast your breads, and dual control panels that offer light and dark toasting settings. It is extremely easy to use, backed with a warranty, and the sleek black finish will look great in your kitchen.
Pros:
Allows you to cook a full breakfast with just one device. It's affordable. The slots are wide enough for bagels and other thicker breads. It has dual controls for separate toasting settings. It has a defrost feature. The slide-out crumb tray makes it easy to clean. It has an auto-shutoff function and a cancel button.
Cons:
Longer breads (such as sub rolls) do not fit in this toaster. You have to use the egg function and the toaster at the same time. The non-stick surface in the egg cups peels over time. It is extremely large, so it is not ideal for anyone with limited counter space.
Making toast is easy, but this toaster takes the cake when it comes to ease of use. You won't have to worry about pushing down a lever that gets stuck or won't lock into place. Instead, you'll have perfectly toasted bread with just the push of a button with this modern toaster.
This toaster features a stainless steel design, and instead of traditional control knobs, everything is controlled with the LCD displays. You can easily adjust the browning settings, as well as reheat, defrost, or toast a bagel with the touch of a button. You can adjust the settings on the dual control panels so everyone gets their toast, bagel, or other food done just the way they like it. With the purchase of this toaster, you receive a 3-year warranty from the manufacturer for full protection of your product.
Pros:
The slots are extra-wide. It is very easy to operate. It has an audible alarm that you can hear if you leave the room. Two slide-out crumb trays for easy cleanup. It toasts evenly every time. It has seven browning levels.
Cons:
It is more expensive than other toasters. It does not have a retractable cord.
Final Thoughts
Whether you're making breakfast to start off your workday or enjoying a lazy Sunday with the family, a toaster is a must-have small appliance for any kitchen. If you really want to put the power of technology to work for you, you must try the Cuisinart CPT-440. You no longer have to worry about broken levers with the one-touch toasting option, it looks great, and it is backed with an impressive warranty that ensures you'll get years of use out of this quality four slice toaster.