Some links on this page are monetized by affiliate programs - see disclosure for details.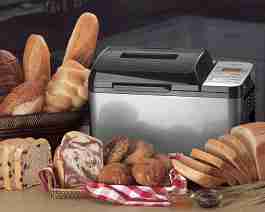 Nothing makes a meal better than homemade fresh baked bread. Whether you are using it to make a delicious sandwich for lunch or eating it as a side with your dinner, bread is a mealtime staple for many families. The one drawback with bread, however, is that it can be very expensive at the bakery and let's best honest – it never tastes as good as it does when its made fresh. In some cases, you may not even be really sure of when it was made, so you can't gauge the freshness until after you purchase it and take it home. You may have tried baking your own, but it takes hours, and it can just be a pain.
If you want bakery-fresh bread cooked right in your own kitchen without the hassle of using your oven, a bread maker may be just what you're looking for.
What is a Bread Maker?
A bread maker, also known as a bread machine, is a small kitchen appliance that bakes all different types of bread. You simply gather your ingredients, add them all to the machine in the right order, following the directions carefully, and then turn the machine on.
It will do everything from mix and knead the dough to bake it to perfection each and every time. After a few hours, you will have a hot, fresh loaf of bread in just a few hours without all of the work of baking it in the oven. There are specialty mixes designed to use exclusively for your machine, taking all of the guesswork out of making bakery-fresh bread at home.
Also See: Our guide to the best 2 slice toasters on the market
What are the different types of Bread Machines?
If you're in the market for this type of small appliance for your kitchen, you'll find that there are many brands, sizes, and styles available on the market. If you're new to making your own bread, you need to be informed of what types of these machines are available. There are two main types of bread makers: horizontal and vertical.
Vertical
These are the most common type of machines. The ingredients are poured in from the top, then the lid is closed. When it is done, you simply open the lid and remove the bread, which is tasty but not exactly shaped like the loaves you seen in the bakery.
Horizontal
These machines are less common but they are becoming more popular. In these models, the bread is made in a horizontal fashion, so the finished result looks more like a loaf of bread straight from the bakery. Both vertical and horizontal machines make different types of bread and perform much in the same way, but the finished product is the only difference.
What are the Advantages of Owning a Bread Maker?
If you prefer to make your own food at home without buying processed goods from the grocery store that contain a bunch of different preservatives and ingredients you don't know much about, a bread maker is a great investment for your household. You will have fresh bread for any meal, and you'll always know exactly what went into it.
You also won't have to knead dough or watch the oven for hours. Just add your ingredients, turn it on, and soon, you'll be enjoying delicious bread.
Who are the contenders for Best Bread Maker Machine?
Oster CKSTBRTW20 2-Pound Expressbake Breadmaker – You can be enjoying fresh, homemade bread in less than an hour with this efficient machine, which churns out two pound loaves, enough to feed a large family. You'll be able to choose from nine different bread settings and three crust settings to create bread that best suits your tastes. This machine has a large LCD screen, easy controls, and best of all, it's very affordable.
Panasonic SD-YD250 Automatic Bread Maker with Yeast Dispenser – No matter what type of bread you'd like to make, this quality model from Panasonic is ready for the job. It has multiple settings, as well as a time-delay so you can easily plan your meals – you can take your hot bread right from the machine to the table. With a choice of three different loaf sizes, this is the ideal machine for most households, and it's available at a great price.
Zojirushi BB-PAC20 Home Bakery Virtuoso Breadmaker – If you are avoiding gluten due to an allergy or because you are on a gluten-free diet for other health purposes, you can make your own gluten-free breads at home. No longer will you have to run to specialty stores and pay a fortune for these products – you can simply make your own bread at home. This high-end machine isn't limited to just gluten-free products, however. It makes traditional 2-pound loaves that are ready in just two hours.
Considerations for Choosing the Best Bread Maker
If you've decided you want to bake fresh bread with a bread maker, the first step is choosing one that best fits your needs. If you have never used one before or even if you have one now but just want a new one with more modern features, there are a few features you should consider before making your purchase. Take the following points into consideration for each model you may be interested in buying.
Loaf size
If you want to make enough bread for a few days or just a larger loaf to feed your whole family, you want to ensure you purchase a machine that creates large loaves. It's also a good idea to purchase a machine that has multiple size settings, so you can customize each loaf you bake.
Baking time
The point of a bread maker is to create a fresh loaf in a short period of time. Look for models that knead your dough and bake your bread to perfection in just a few hours. A programmable timer that can be set to start at a time that's right for you is also a nice feature to look for in your new machine.
Bake settings
If you want to enjoy different types of bread, you will need to find a machine that has several different settings so you can customize your loaf. With different settings, you can easily bake white bread, whole grain bread, wheat bread, or even banana bread.
Loaf size
Oster CKSTBRTW20 Expressbake
This model can make loaves up to two pounds, making it a perfect choice for larger families.
Panasonic SD-YD250
You can enjoy making up to 2 ½ pounds of bread at one time. There are three different settings available if you don't want to make a loaf quite this large.
Zojirushi BB-PAC20
You can make up to two pounds of bread with just one use with this machine.
Baking time
Oster CKSTBRTW20 Expressbake
This machine is equipped with an Expressbake setting that provides you with delicious bread in an hour or less.
Panasonic SD-YD250
Depending upon what type of bread you're making, you can expect to have the perfect loaf ready in between three to five hours.
Zojirushi BB-PAC20
The quick baking cycle allows you to create a perfect loaf of bread in just about two hours.
Bake settings
Oster CKSTBRTW20 Expressbake
Choose from nine different bread settings along with three different crust settings for any kind of bread you can think of.
Panasonic SD-YD250
There are six different bread settings, as well as three different crust settings to choose from on this machine.
Zojirushi BB-PAC20
There are seven different settings, as well as three homemade settings so you can customize your own recipes.
Conclusion: Our Bread Maker Reviews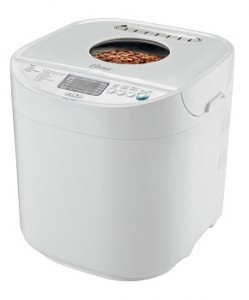 If you're looking for a bread maker priced competitively, you won't find many better than this one. You'll be able to enjoy a variety of great features found on more expensive models, including the exclusive Expressbake setting that ensures you'll be enjoying hot bread in less than one hour. This machine features a large, easy to read and easy to control LCD screen, which notifies you of every step of the baking process.
If you don't want to make your bread right away, there's 13-hour programmable timer that you can set to conveniently make your bread, even while you're away, and it can make a loaf up to a full two pounds. This is a great basic machine with enhanced features that's easy to use and easy on your wallet.
Pros:
Inexpensive. It is easy to use. It has multiple settings. The nonstick surface inside makes it easy to clean. It doesn't burn bread when used properly.
Cons:
The mixer paddle feels cheap. The overall construction feels cheaper than more expensive models. It doesn't work well for raisin breads or nut breads. The volume of the alarm is quite load and cannot be adjusted.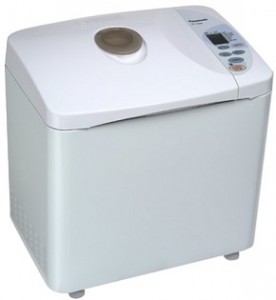 You can make up to 2 ½ pounds of bread per loaf in just a few hours with this great machine. If that's more than what you need, you can choose from a total of three load size settings, including Medium, Large, and Extra Large. In addition to bread, you can also make other delicious items, including pizza dough.
This machine is so great because not only does it have six different bread settings, including French, Pizza, Cake, and Rapid, but it is also equipped with an automatic yeast dispenser that releases the yeast at the perfect time, so you can always expect a perfectly baked loaf. This model is easy to use, features a unique temperature control system, and has a delay timer that makes it easy to make fresh bread, even with a busy schedule.
Pros:
The nonstick interior is very easy to clean. Rapid mode allows you to quickly bake your bread. It has multiple customizable settings. It does not have a viewing window, allowing more heat inside for more even baking. Creates a variety of great breads, including raisin bread and fruit cake. It comes with a 1-year warranty and a recipe book. It has light, medium, and dark crust options.
Cons:
A ceramic piece that holds the heater in place may break over time with heavy use. It vibrates more than other models.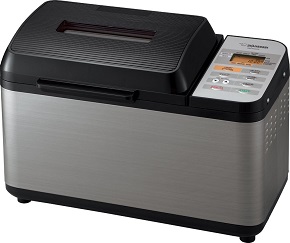 No matter what type of bread you're craving, this machine is ready for the task. You'll be able to choose from multiple settings to make more than just bread – you can also knead your meatloaf, make jams with fresh fruits, and whip up homemade pizza dough your family will love. This is a multi-function machine that makes everything you want from a 2-pound loaf of white bread to a smaller load of gluten-free bread.
One great feature that stands out on this model is the homemade setting. This allows you to customize three of your own baking settings to suit your personal tastes. If you don't want to use your own recipe, use a pre-programmed mode for delicious bread with every use.
The rapid mode allows you to bake your bread quickly, and it has two heaters, including one on the lid, for even baking every time. The control panel is user-friendly, and there is a 13-hour digital timer, so you can bake your bread at a time that's most convenient for you.
Pros:
Features multiple settings, including customizable options. It has a total of ten bread, dough, and jam settings, as well as three crust options. It has a modern stainless steel design. Easy to use. Dual heaters results in perfectly baked bread from top to bottom. It makes traditional rectangular loaves. It comes with a recipe book. The instructional DVD ensures you take full advantage of all this machine has to offer.
Cons:
It is more expensive than other machines. It is loud when it kneads.
Final Thoughts
If you love making homemade meals but you hate the hassle and length of time it takes to make bread, a bread machine is a small appliance you need to add to your kitchen immediately. If you want a reliable, durable, and high-quality bread machine, the Zojirushi BB-PAC20 is sure to meet your high standards. It has multiple options, including options for your own homemade recipes, and it makes dough and mixes jams with ease.
Even though it's a bit more expensive, the performance and modern styling of this machine makes it worth every penny.