Some links on this page are monetized by affiliate programs - see disclosure for details.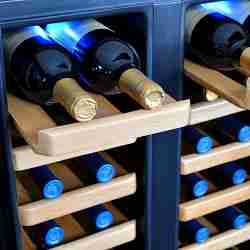 If you frequently enjoy a glass of wine with dinner, drink a glass to unwind after a long, hard day at work, or drink red wine for the health benefits, you know there are a few steps you must take before enjoying the perfect glass of wine. Selecting the right wine for your meal that suits your tastes is the first step, as well as having wine glasses that allow you to hold the stem so as not to heat up the wine while drinking it. Equally as important, which many people don't consider, is how the wine is stored.
Buying a bottle and just putting it in the fridge is commonplace, but did you know that wine should be served at a higher temperature than other beverages? Instead of cranking up your kitchen fridge and putting your other foods and beverages at risk of spoiling, those who enjoy a great glass of wine should invest in a wine refrigerator.
What is a Wine Refrigerator?
A wine refrigerator is a miniature refrigerator that is designed just for wine. While the ideal place to store wine is in a wine cellar that has a controlled temperature and humidity level, most homes aren't equipped with these, and building one can cost thousands of dollars. A refrigerator or cooler designed specifically for wine can be set at a higher temperature and may even have humidity settings that can be adjusted to add just the right amount of chill to your bottles.
These refrigerators also have a specialized design that allows you to carefully place your bottles inside where they won't roll around, which can ruin the taste.
You may be interested in: Our guide to 10 of the top wine aerators that make a great gift.
What are the different types of Wine Refrigerators?
Much like traditional refrigerators that are used to store food and beverages, refrigerators for wine come in many different types. If you're new to purchasing this type of appliance, the choices may be overwhelming. Make sure you get exactly what you're looking for by knowing the difference between the refrigerator types available.
Freestanding models
These models are designed to stand alone. They do not require installation, and they can be used anywhere that there is a power outlet nearby. These are the most convenient to use, although they do take up additional floor space.
Built-in units
These are built into a space, like under your counter in your kitchen or at your wet bar. Because they are built into your cabinets, they do not take up a lot of additional space. However, they do require installation, which is time-consuming if you do it by yourself or expensive if you hire a pro.
Compressor-based units
Like other fridges, these use a compressor for cooling. This allows you to get lower temperatures as needed. However, the compressor does cause vibrations which can affect the taste of your wine.
Thermoelectric units
Instead of compressors, these use thermoelectric cooling power to chill your wine. These do not use a compressor, so there are no vibrations, and they are very energy efficient. They cannot get as cold as compressor-based units, however, only allowing you to cool about 20 degrees less than the ambient temperature outside of the unit.
Single zone units
These have one large storage compartment that can be set to one temperature.
Dual zone units
These have two separate compartments that each have their own temperature settings. This is very convenient if you have multiple types of wine that require different cooling temperatures. However, these units are generally more expensive.
What are the Advantages of Owning a Wine Refrigerator?
Putting your wine in your regular refrigerator is fine on occasion, but these temperatures are set far below the recommended temperatures for storing wine. A separate refrigerator just for your wine allows you to choose the proper temperature without worrying about other items going to waste. This also allows you to store multiple bottles of wine without cluttering your fridge. Tall bottles may be difficult to store in a traditional fridge, but these units are designed to hold all bottles perfectly. If you have to lay a bottle on its side in your refrigerator, it may move around, disturbing the sediment and altering the taste. With a wine fridge, each bottle is held in place without movement, so it always tastes exactly as it should.
Who are the contenders for Best Wine Refrigerator?
Avanti EWC1201 Counter Top Wine Cooler – If you've held off on purchasing one of these units because you don't want to deal with the hassle of installation and you don't have a ton of extra floor space, this model is sure to change your mind. It fits right on your counter top, not only providing you with a cooling area for your favorite wines, but it also enhances the look of your kitchen. It has lots of great features, including a stylish curved door, no vibrations, and a very affordable price tag.
Haier Dual Zone Curved Door with Smoked Glass Wine Cellar – Store your wine at two different temperatures with this refrigerator, which also looks just as good as it functions with its smoked glass curved door. It has touchscreen controls that are very easy to use, a large capacity, and it doesn't vibrate, retaining the taste of each bottle.
NewAir AW-321ED Thermoelectric Wine Cooler – If you have lots of bottles that need to be chilled, this large appliance is just what you need for your home. It features dual zones, digital temperature displays, a very large capacity, and energy-efficient thermoelectric cooling that reduces vibrations. This is a high-end refrigerator that is a great addition to your wet bar or kitchen.
Considerations for Choosing the Right Wine Cooler
Any wine connoisseur that doesn't have a wine cellar should own one of these specialty refrigerators. They can add a unique touch to any kitchen or wet bar, they keep fine wines at the perfect ready-to-serve temperature, and it also saves space in your traditional fridge. If you've decided that one of these will make a great upgrade to your home, it's time to start shopping, beginning with evaluating each of these four features in every model you consider.
Price
The price of these appliances vary and can range from $100 for a very basic model to several thousand for a very large unit with advanced features. Make sure that you stay within your budget, but don't skip over important features or quality just to save a little bit of money. You want to ensure that you buy an appliance that fits all of your needs.
Warranty
Any type of electronic device or appliance you bring into your home should come backed with a warranty. Buying a product without a warranty means that if a defect causes it to fail, you're responsible for paying for the repairs or the cost of buying a replacement model. With a warranty in place, any type of defect that affects the functionality of your product is covered by the manufacturer.
Zones
As mentioned earlier, there are one and two zone models available. If you have different types of wine on-hand at all times that require different temperatures, purchase a dual zone model. If you generally drink the same type of wines or want a no-frills fridge, look for one with just one zone.
Capacity
The capacity is important because you want plenty of space to store all of your wines. Capacities can range from a couple of bottles to more than 20. Those with larger capacities are generally much larger in size, so you also need to take into consideration where you will be placing the refrigerator to ensure you have enough space in your home.
Price
Avanti EWC1201
This refrigerator is priced at the more affordable, budget-friendly end of the spectrum when compared to other products.
Haier Wine Cellar
This model retails for about average when compared to similar models of the same size.
NewAir AW-321ED
This larger unit is one of the more expensive refrigerators. But its size and features may very well make it worth the extra investment.
Warranty
Avanti EWC1201
A limited 1-year warranty comes standard with your purchase of this unit.
Haier Wine Cellar
For household use, this model comes with a 1-year parts and labor warranty from the manufacturer.
NewAir AW-321ED
This unit comes backed with a 1-year warranty that protects your purchase against manufacturer's defects.
Zones
Avanti EWC1201
This is a single-zone unit that can be set from 47 to 64 degrees.
Haier Wine Cellar
This is a dual zone unit. The top compartment can be set to temperatures ranging from 46 to 66. The lower compartment can be set to temps of 54 to 66.
NewAir AW-321ED
This dual-zone unit has separate temperature controls. Each compartment can be set from 46 to 66 degrees depending upon the type of wine being stored.
Capacity
Avanti EWC1201
This space-saving fridge holds a total capacity of 12 bottles.
Haier Wine Cellar
The model reviewed here has an 18-bottle capacity. However, this model is also available in sizes of 6, 8, 12, and 16.
NewAir AW-321ED
This model holds a full 32 bottles of wine.
Conclusion: Our Wine Refrigerator Reviews Are In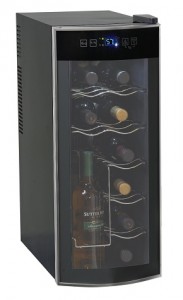 If you're short on space but you never want to be without a glass of wine for your dinners and gatherings, you can have a refrigerator that doesn't take up a lot of space when purchase this model from Avanti. This model is designed to sit right on your countertop, so it doesn't require hours of installation or take up a lot of your floor space. The classic black cabinet and curved glass door look great in any kitchen and add a decorative touch to your décor.
You can easily store 12 full bottles in this unit. Eight bottles are stored lying flat while four more can be stored standing up, perfect for those open bottles you don't want to go to waste. This has one zone that is cooled with thermoelectric power, so you don't have to worry about heavy vibrations or loud operation while it's cooling. It can be set from 47 to 64 degrees to add the perfect chill to any of your favorite wines.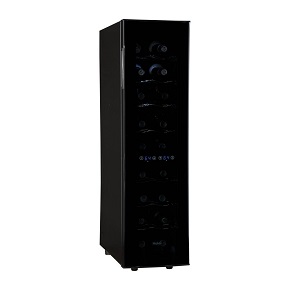 Instead of building a cellar that costs thousands of dollars and takes weeks or months to create, you can add a portable cellar to your home at a fraction of the cost with this refrigerator from Haier. This model holds a full 18 bottles of your favorite wine, and it has dual zones, so you can control each temperature setting separately, ideal if you have multiple types of wine that taste better at different temps. This unit is perfect for red or white wine.
This model has a black cabinet and nine chrome shelves to give it a modern look that looks great in any kitchen. It holds a total of 18 bottles, but other unit sizes are available at different price points. Each zone has its own LCD display to show the temperature, and touchscreen controls can be operated independently. It is cooled with thermoelectric power, so there are no vibrations and it is very quiet while cooling.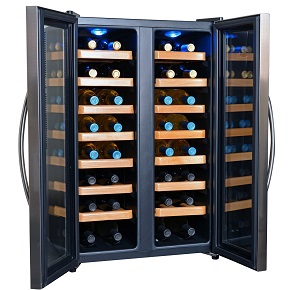 This refrigerator is the ultimate appliance for any wine lover. The first thing you'll notice about this model is the size. It holds an amazing 32 bottles of wine, so you'll always have space for your favorite beverages. This unit comes equipped with dual zones that can be set independently using touchscreen controls, so you can customize the temperature to your own preferences on each side.
The overall design looks very modern boasting a stainless steel and glass exterior and wood shelves inside that cradle your bottles so as not to disturb the sediment and ruin the taste. There are no vibrations and it operates very quietly, as it uses thermoelectric power. Each shelf pulls out so you can easily view and remove the bottle of your choice, and the unit features attractive blue lighting that adds a modern touch.
Final Thoughts
Whether you're enjoying a glass with dinner or throwing a celebration for your family and friends, there's always a great occasion that calls for a bottle of wine. Keep your wine at the optimum temperature without taking up your fridge space with a separate wine refrigerator. If you want maximum capacity, great cooling power with a quiet motor, and a very modern and stylish design, the NewAir AW-321ED is a great choice for your home. This large unit boasts a lot of great features that ensures your wine is cooled to the proper temperature and retains its taste, all while updating the look of any modern kitchen.